This post will walk you through deleting unused Wi-Fi networks from the newest Samsung Galaxy Z Flip smartphone. Here's a quick guide to delete saved Wi-Fi networks on the Galaxy Z Flip4 device.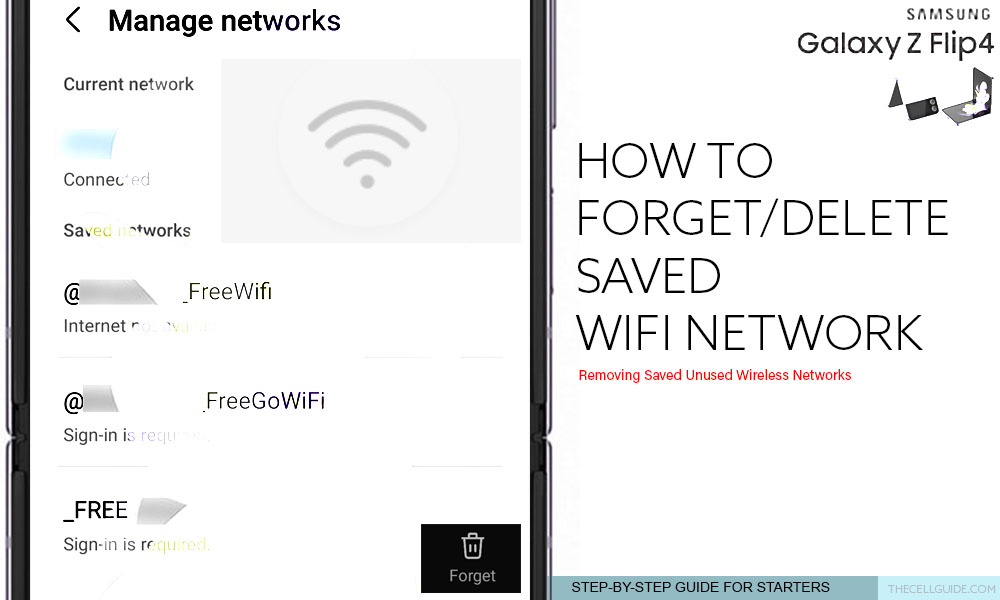 Forget Wi-Fi Network
Forget network is a network feature that's designed to delete a wireless network from the phone.
When your phone connects to a Wi-Fi network, that network will be added and saved to the Wi-Fi network directory so that the next time you'll use it, the device already has the credentials to reconnect. Active Wi-Fi network(s) are typically shown on the Wi-Fi menu, particularly beneath the current network.
Other saved networks that you haven't used for several days will be listed among other Saved networks under the Advanced Wi-Fi menu.
If you don't want your phone to automatically reconnect to any of the saved networks when returning within range of the network, then you will need to remove or erase the network from the network directory. And this is where the forget network command comes in handy.
Steps to Delete Saved Wi-Fi Networks on Samsung Galaxy Z Flip4
The following steps depict the actual process of removing an unused Wi-Fi network that's stored on the advanced wireless system folder on the new Galaxy Z Flip4 smartphone. These steps are based on the Android 12 with One UI 4.1.1 interface and therefore also applicable when deleting saved networks on other Samsung phones running on the same OS version.
Feel free to start whenever you're all set to manage Wi-Fi networks on your Samsung phone.
Step 1: To get started, launch the settings app menu by tapping on the Settings icon from the Home screen or Apps screen.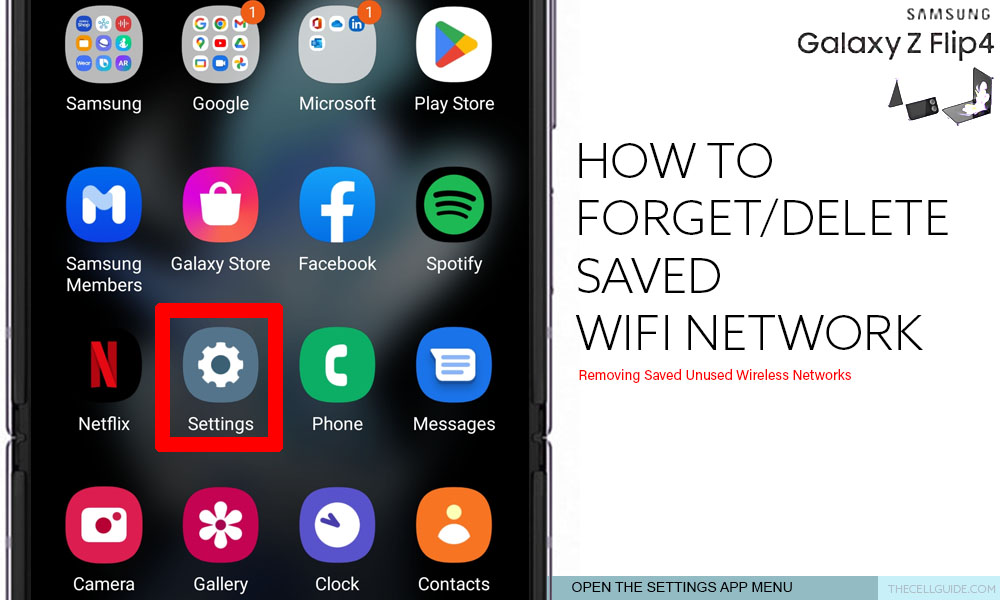 Step 2: In the main settings menu, tap Connections. Another menu opens with built-in connectivity features and relevant options.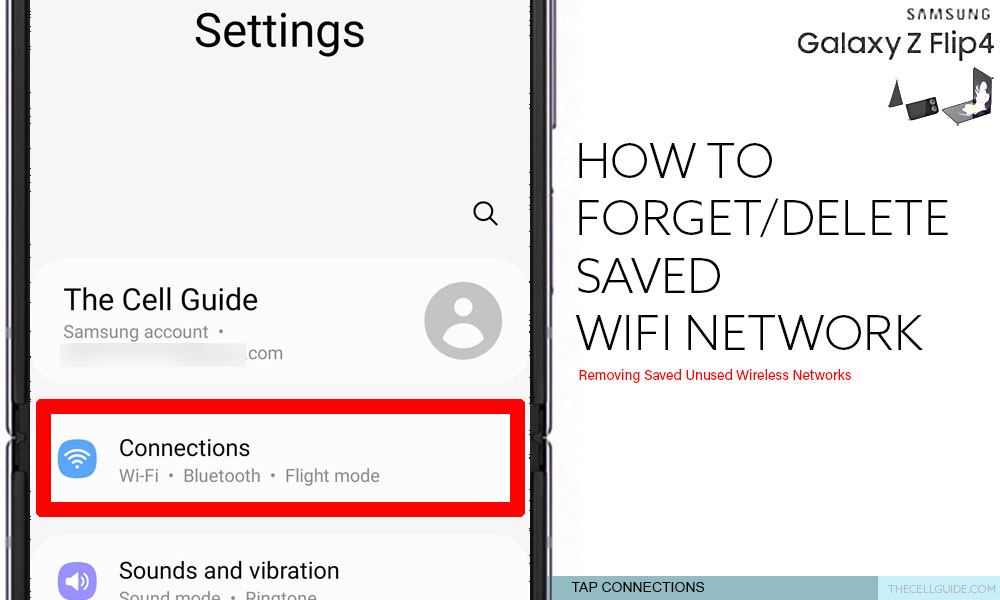 Step 3: Tap Wi-Fi to continue. The Wi-Fi menu opens next. Here, you will see the name of the current network and other relevant information.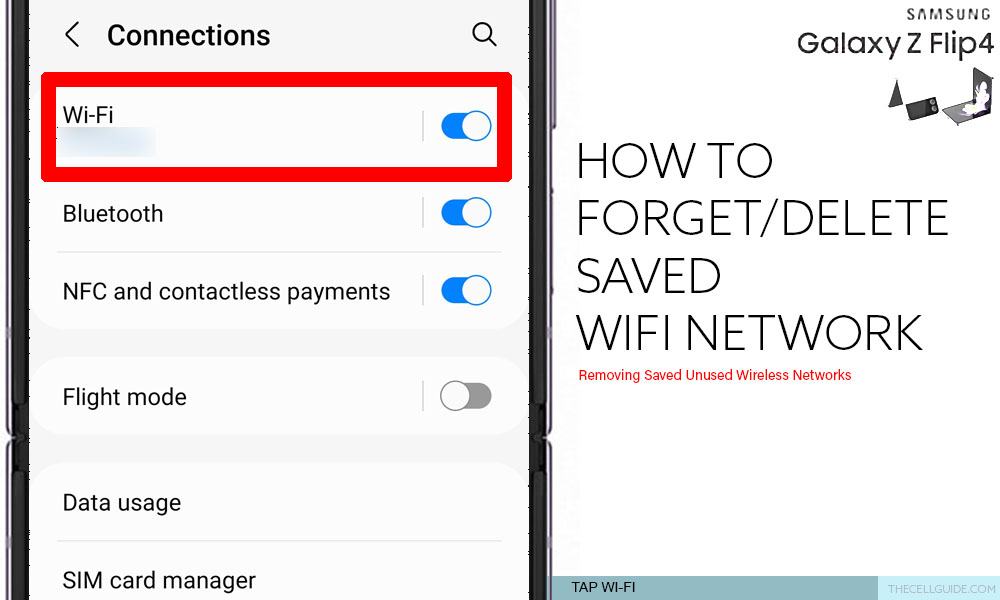 Step 4: To forget the Wi-Fi network that your phone is currently connected to, tap the Gear icon next to the name of the Wi-Fi network under the Current network section.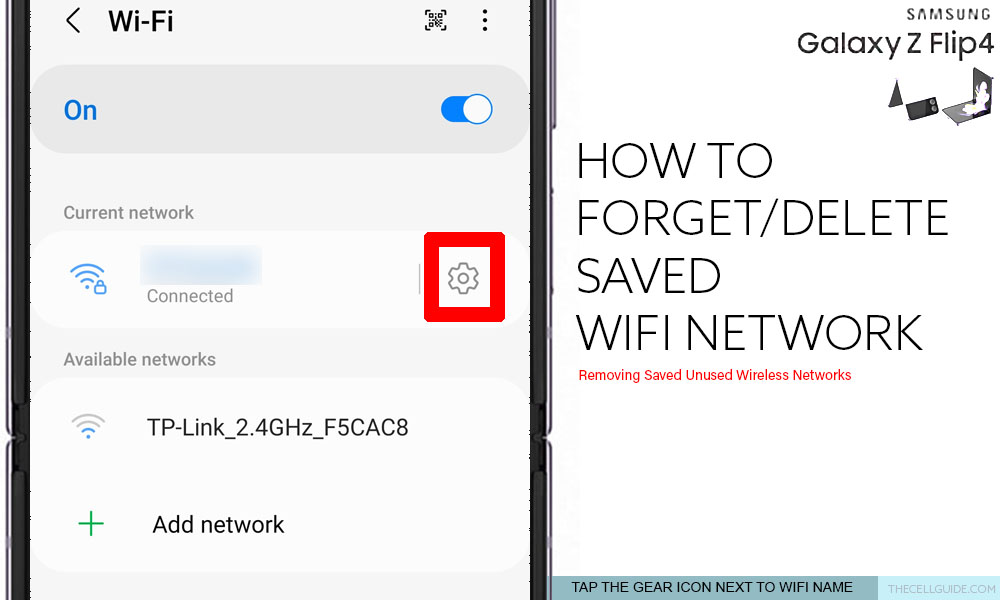 Step 5: On the next screen, tap Forget.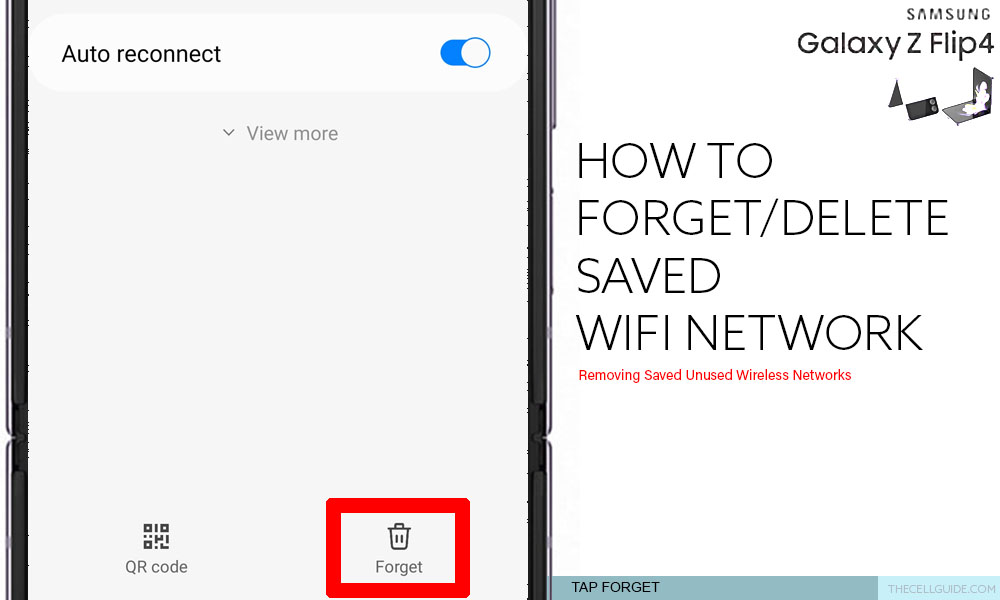 Your phone will then disconnect from the current network and forgets it. 
Forgetting Saved (Unused) Wi-Fi Networks
Just like other Samsung phones, the Galaxy Z Flip4 automatically saves previous networks that it's connected to. All saved networks are listed under the Saved Wi-Fi networks directory on the phone. These networks remain in this section unless you delete them manually.
While keeping previous networks may benefit in terms of not having to add and reconnect to them in the future, unexpected problems may also arise when any of them gets corrupted. To prevent this from happening, deleting unused Wi-Fi networks from your device is recommended.
And here's how to do this on the Galaxy Z Flip4:
Step 1: Go back to the Settings-> Wi-Fi menu of your phone.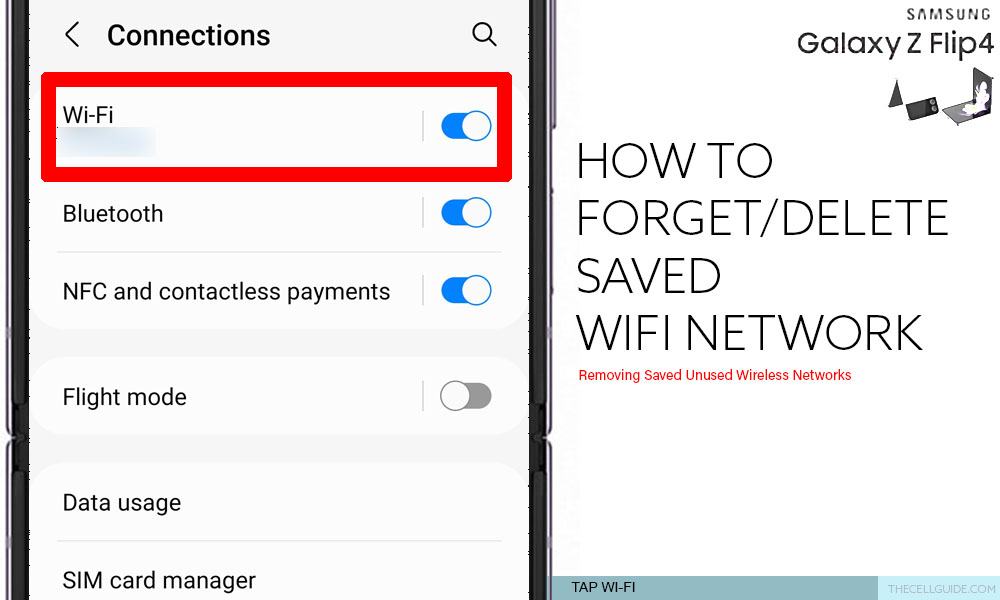 Step 2: While in the Wi-Fi screen, tap on the three dots located on the top-right corner. Doing so opens a side menu with a few options.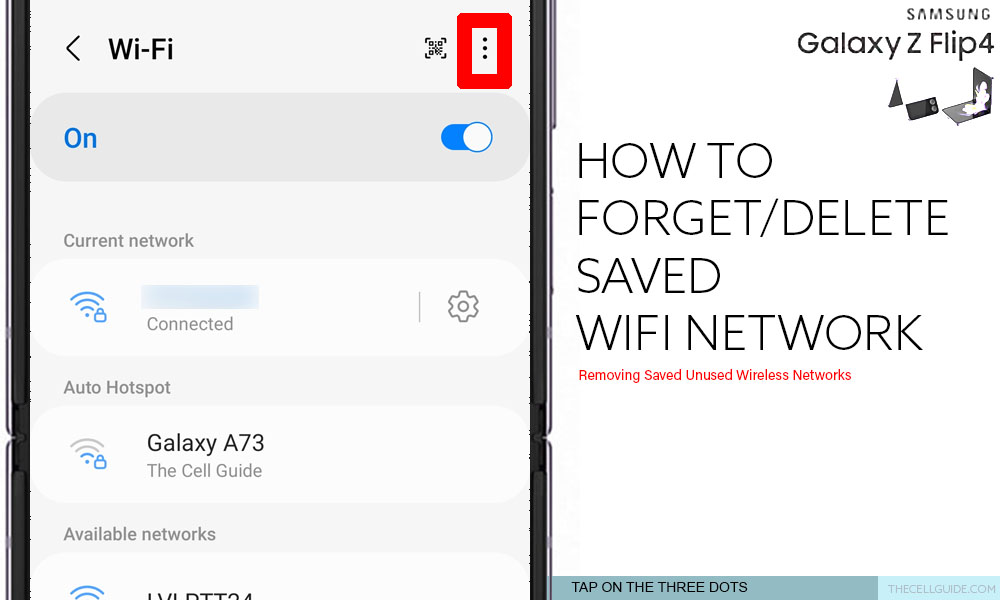 Step 3: Tap Advanced from the side menu options to proceed.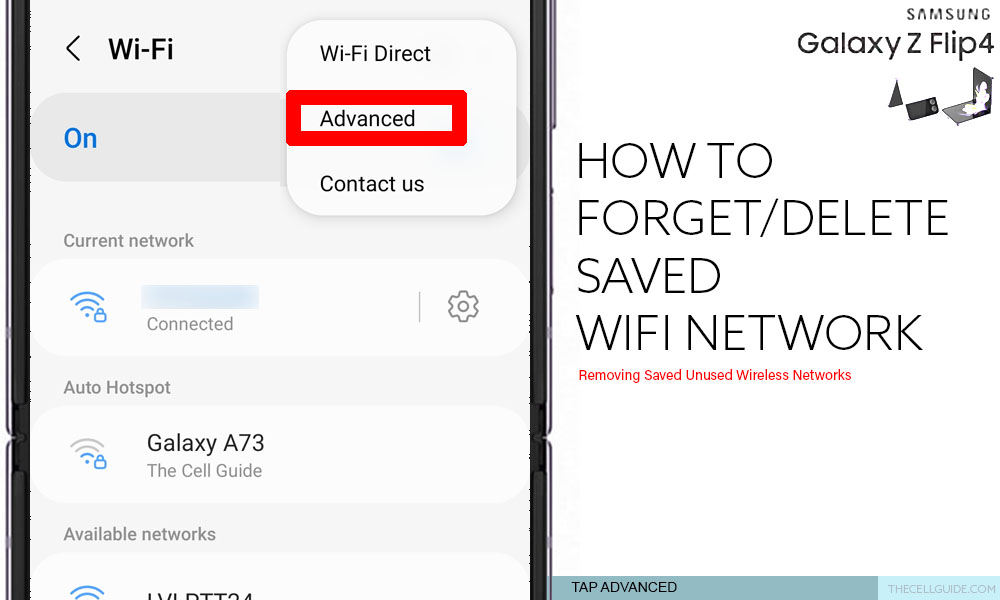 Step 4: On the Advanced Wi-Fi menu, you will see more advanced Wi-Fi settings and options. Scroll down to the Network settings section then tap Manage networks. On the next screen, you will see the current network that your phone is connected to and other Saved networks beneath it.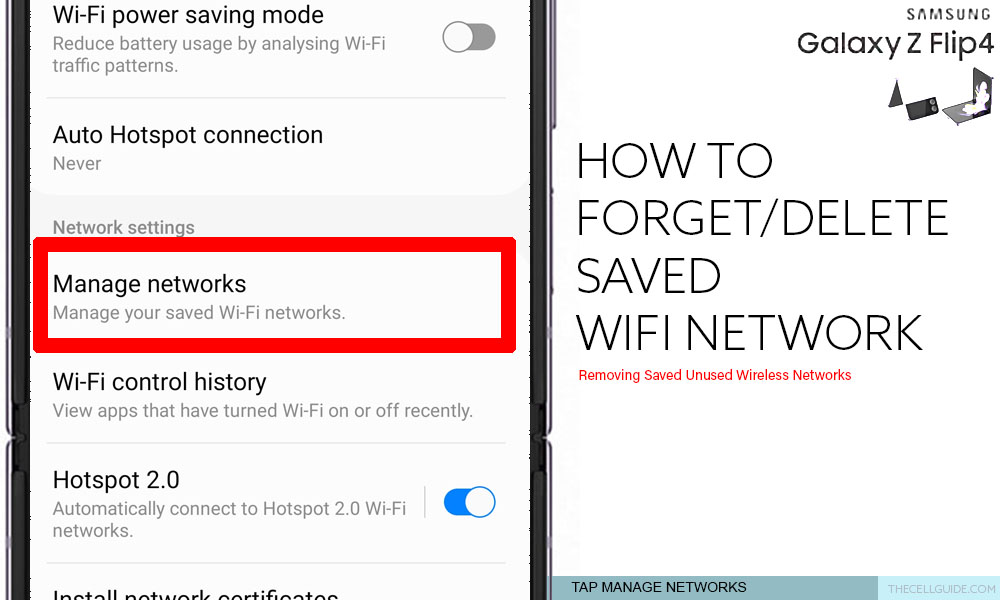 Step 5: To delete any of the saved Wi-Fi networks, simply tap to select the network then tap Delete at the bottom.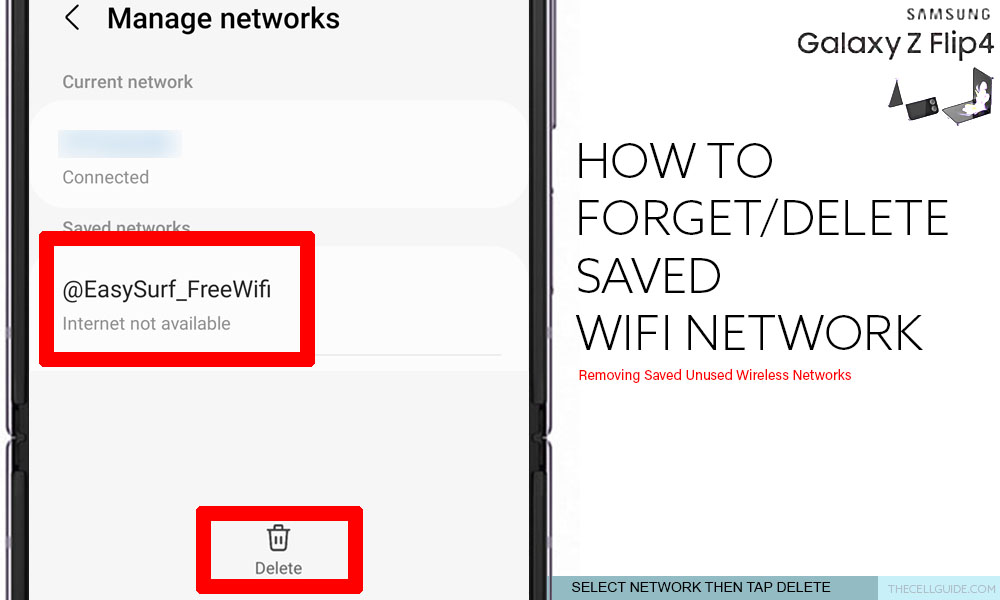 Repeat the same steps to delete other saved networks from your device.
Should you wish to reconnect to that same network, you will need to enter the Wi-Fi password just like the first time you connect to it.

When to Forget Wi-Fi Networks?
Forgetting a wireless network is likewise regarded among other potential solutions to common Wi-Fi issues including intermittent wi fi connections or Wi-Fi drops.
And if that doesn't solve the problem, resorting to a network settings reset (reset network settings) can be considered as the next option. Doing so erases all your current network configurations and then restores the default network options.
Aside from wireless networks, resetting network settings also affect your current settings for Bluetooth and cellular data connection. That said, you will need to re-pair and reconnect your phone to your Bluetooth accessories and/or re-enable cellular (mobile) data connections after the network reset.

Hope this helps!
Please check out our YouTube channelto view more tutorial and troubleshooting videos for popular iOS and Android devices.
You Might Also Want To Read: