This post will walk you through creating and sending an audio message on the new Apple iPhone device. Read on to learn how to make and send voice messages on iPhone 13 in iOS 13.5.1.
Tired of typing long text messages? If so, then you can just send a voice message instead.
iOS 15 Voice Message
Aside from typical SMS or text messages, the new iPhone also allows you to send and receive videos, photos and audio messages through the built-in messaging app (iOS Messages/iMessage).
Sharing, saving and printing of message attachments is also supported.
The process of creating and sending a photo, video or audio message in newer iPhones is fairly simple.
All you have to do is launch the iOS messaging app, compose the message body and embed the audio file you'd like to send using the preloaded messaging controls.
If you're new to iOS and need some input on how to get this done on your new iOS device, I've mapped out a step-by-step walkthrough as follows.
Steps to Create and Send Voice Messages on iPhone 13
The following steps are also applicable when composing a voice message to send from other iPhone variants that are running on the iOS 15.3.1 firmware version.
The actual interface on individual devices may have some slight differences given that screens and menu items vary between device models and cellular service providers.
Just be sure to keep your device software updated to ensure all critical controls and menus are present.
Once everything is set, you can go ahead and proceed with these steps to start create and send a voice message.
Step 1: First, tap Messages from the Home screen to open the Messages app on your iPhone.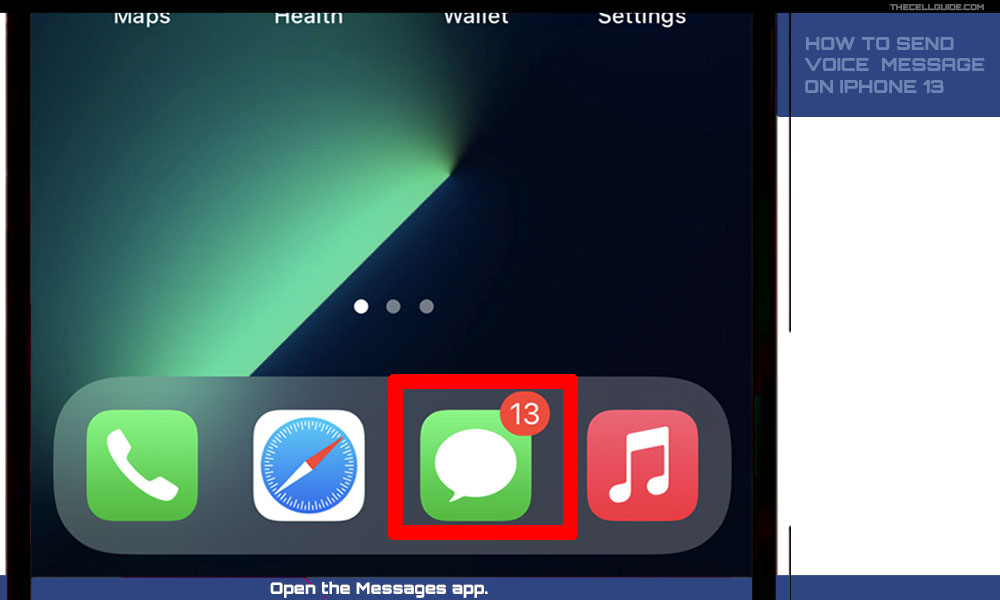 Step 2: On the Messages app screen, tap the Create New Message/Conversation icon to start a message draft from scratch.
Alternatively, you can open an existing conversation thread should you wish to reply to any of your previous conversations with an audio/voice message.
Step 3: If you're creating a new thread, be sure to indicate the recipient beforehand. Make sure you enter the correct contact number of the recipient, if it isn't saved in your contacts list. Just tap on the To section and then enter the contact number.
Step 4: After specifying the contact details of the message recipient, you can start creating your voice message. Just press and hold on the Audio icon located on the rightmost corner of the text/message field. Your phone will then prompt you to record your message.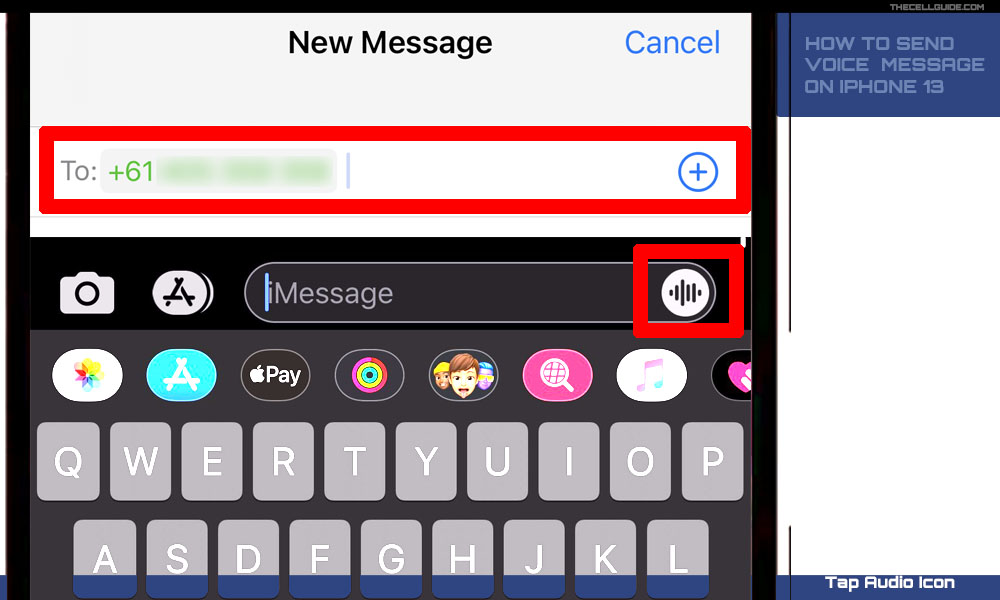 Step 5: To record, hold on to the audio icon and then speak your message.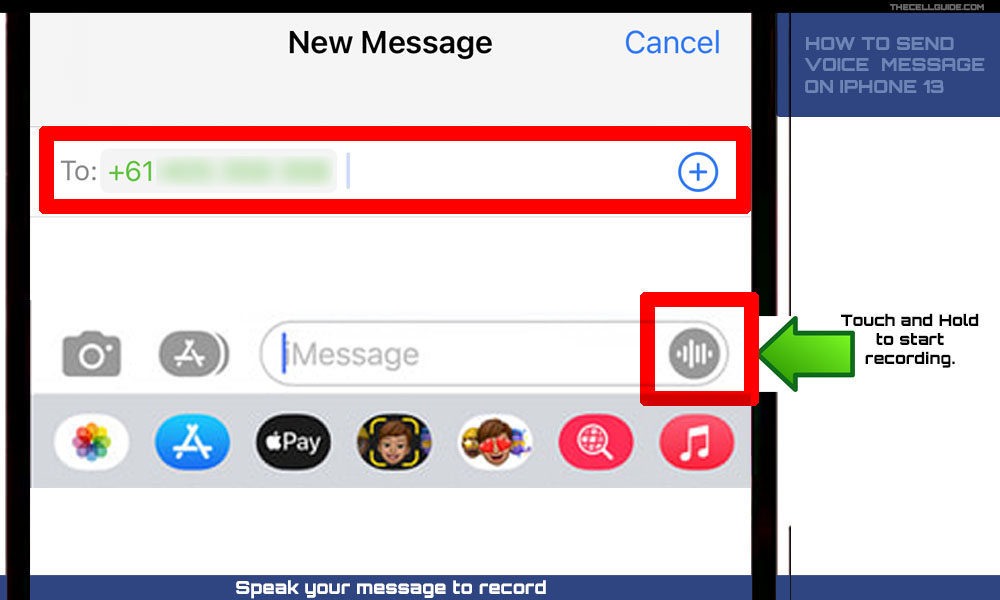 Make sure you're recording your voice message in a silent room or environment to make it comprehensible.
Step 6: Once you're done recording your voice message, you can let go of the Audio icon to stop/end the recording.
The processed audio file will be created. If you want, you can listen to the file and make necessary changes before you send it to the recipient.
Step 7: To listen to the recently recorded audio file, tap the Playback icon (Play button) next to the file preview.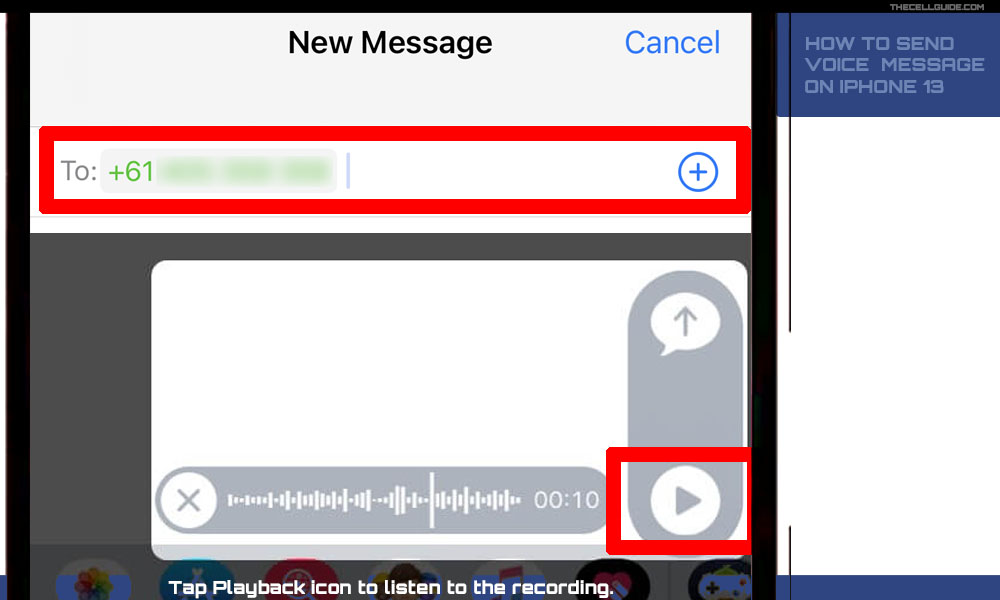 Step 8: If the message needs to be edited or enhanced, you can tap the X icon at the start of the audio file preview. Doing so will delete the current audio file and allow you to record/create a new audio message accordingly.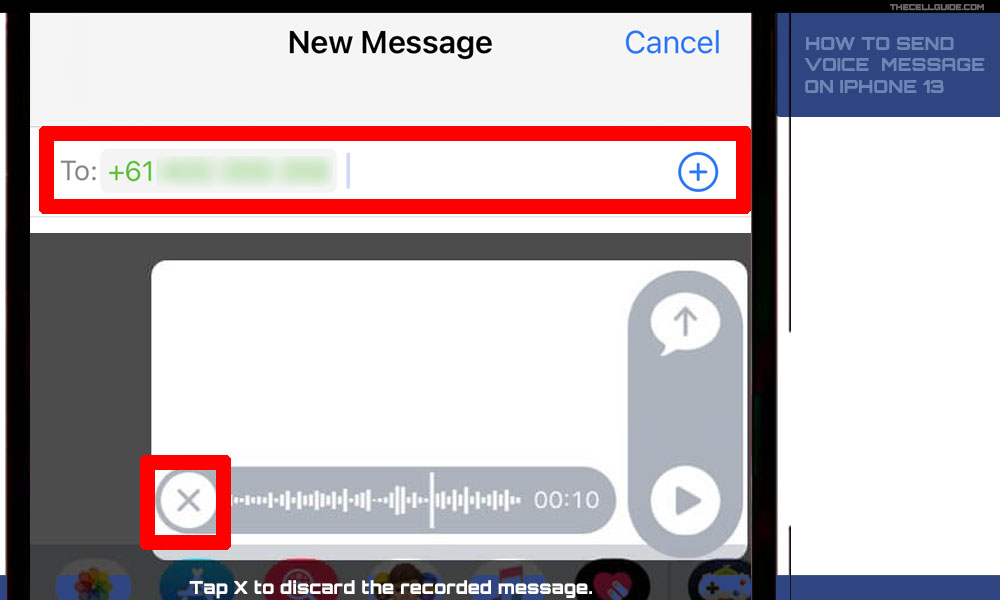 Step 9: Once you're done revising your message, you can finally send it by tapping on the Arrow Up icon on the right-corner of the message field.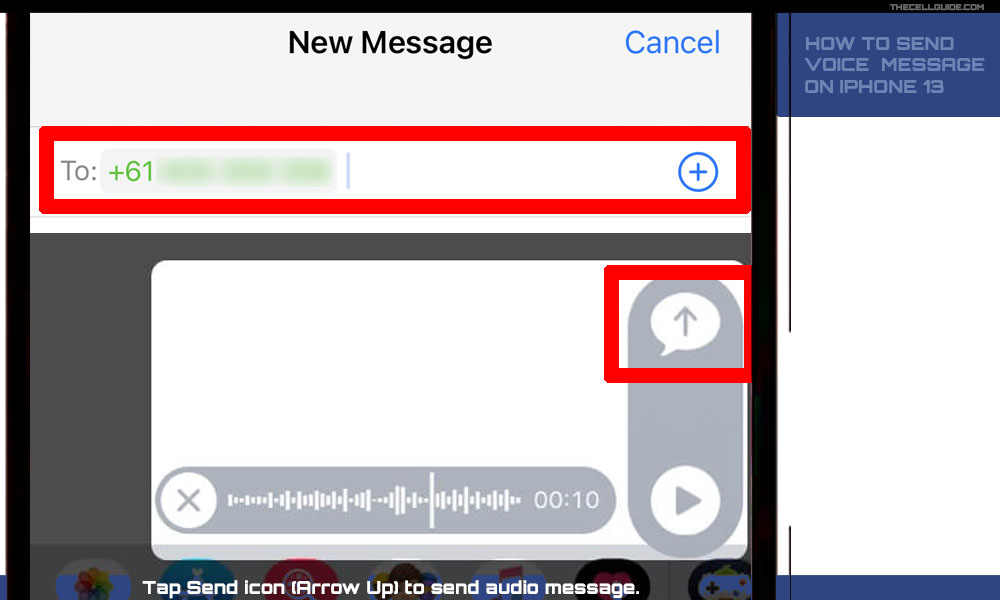 The audio message will then be sent to the recipient.
Unable to Send your Voice Message?
If you encounter errors while attempting to send the voice message like when message sending failed, verify and ensure that your iPhone has strong and stable cellular network reception.
Just like plain SMS and MMS messaging, sending and receiving of audio messages can also be halted by network connectivity issues resulting in weak and unstable cellular reception on the phone.
If necessary, move to another area where the reception is clear and stable.
Performing the Airplane mode tweak can also help clear out any random network glitching that might be halting SMS/MMS/voice messages.
It's also worth noting that voice messages created using the iOS Messages app can only be sent to other Apple devices.
This means that Android users won't qualify as recipients of your iPhone's voice messages.
Other Things about iOS 15 Voice Messages
Audio messages you sent through your iPhone are only available to the recipient for a certain period of time or temporarily. In fact, after they listen to the message, it will be automatically deleted after two minutes.
The recipient however may opt to Keep to hold onto the message by disabling the expiration settings in Messages.
If necessary, you can adjust the Messages settings by accessing the Settings app on your iPhone. This feature can be accessed and managed through the iPhone Settings-> Messages menu.
Benefits of Voice Messaging
If you're tired of typing or the text message you'd like to relay is very long, then conveying it through a voice message is indeed a better option.
All you have to do is utter your message and let your iPhone do the rest in converting it to an audio file that can be forwarded to the specified recipient (iPhone user) through the Messages app.
Using Voice Memos as alternative to Messages
If you want to send audio messages from your iPhone to an Android smartphone user, you can use other alternative messaging platforms like Voice Memos.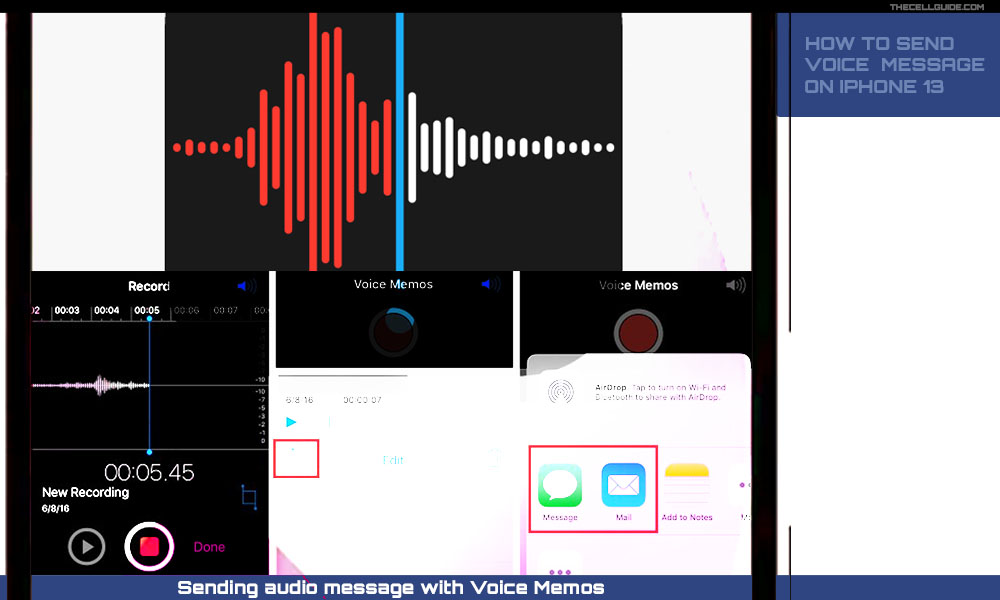 You can use this app to capture speakers messages in a session or record audio notes to send or share to certain individuals.
Just launch the Voice Memos app on your iPhone 13 and then tap the Red Record icon to start recording your message.
The exact length or duration of the recording is also visible as you speak. After recording your message, tap the red Stop recording icon to end the recording and save the audio file.
The processed audio file will then appear on the upper section of the display.
To listen to the recording, simply tap the Play icon.
To share it, tap the three-dots located at the bottom-left corner of the audio file then tap Share.
Depending on the available sharing apps, you may be asked to select your preferred sharing option. Just follow the rest of the onscreen instructions to finish sending/sharing your audio message to an Android phone user.
Aside from Voice Memos, there are also plenty of third-party messaging apps that you can use to send audio messages either to an Android or iPhone user. All you have to do is search the App Store and download the app that meets your demands.
Hope this helps!
Please check out our YouTube channel to view more tutorial and troubleshooting videos for popular iOS and Android devices.
You Might Also Want To Read: