This post will walk you through deleting temporary files and data from an app on the latest Galaxy smartphone. Here's a quick guide on how to clear app cache and data on Samsung Galaxy S21 running the latest Android 12 OS.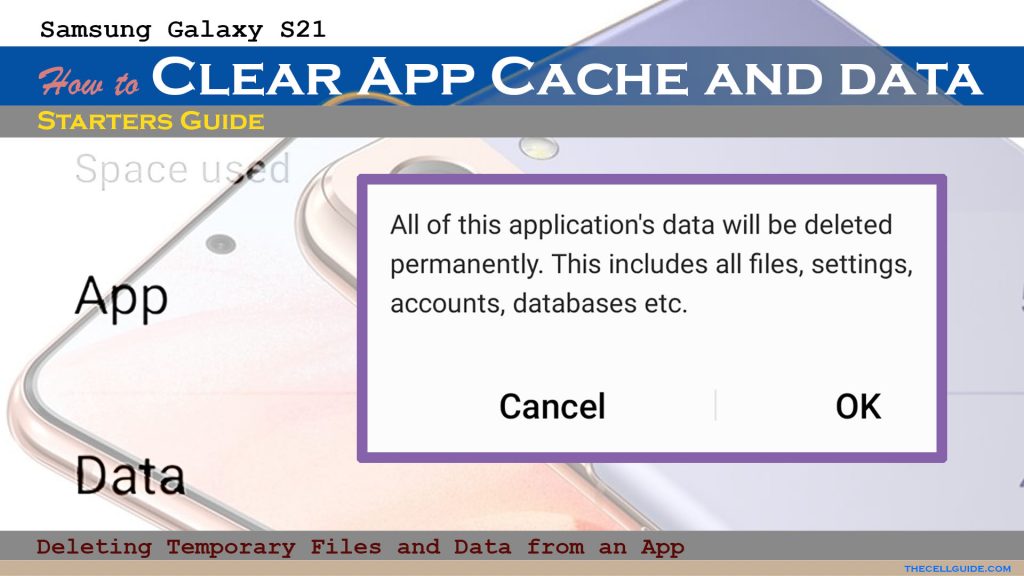 Need help dealing with in-app problems on your new Samsung Galaxy phone? Try clearing the app's cache and data to delete any corrupted files that are temporarily stored in the app's storage.
App Cache and Data
Every app has a reserved storage location that allocates temporary data. This location is called cache.
Temporary files that are stored as cache in an app are typically useful for websites, browsers, and apps to load faster.
For example, browser apps like Chrome save some information from previously visited sites in its cache and cookies. So the next time you visit the same website or page, it would be easier for Chrome to load things up because it will just reload the same critical information for that site from its cache. This therefore results in seamless and swift browsing.
Nonetheless, temporary data that are stored in the app's cache may also cause some conflict especially when any of them gets corrupted.
In addition, accumulated cached files also utilize a portion of the device's overall storage. Having said that, regular clearing of cache and data from an app is recommended.
If you're wondering how to get this done on the updated (Android 12) Galaxy S21 smartphone, I've mapped out a simple guide as follows.
Easy Steps to Clear App Cache and Data on Samsung Galaxy S21
The following steps are also applicable when clearing cache and data from an app on other Samsung Galaxy phones with the same software (Android/One UI) version with that of the Galaxy S21 series.
Actual screen and menu items may vary between device models and services providers so expect some slight difference on each phone's graphical user interface.
Feel free to start whenever you're all set to delete temporary app files and data on your phone.
Step 1: Tap the Settings icon from the Home or Apps screen to launch the Settings app.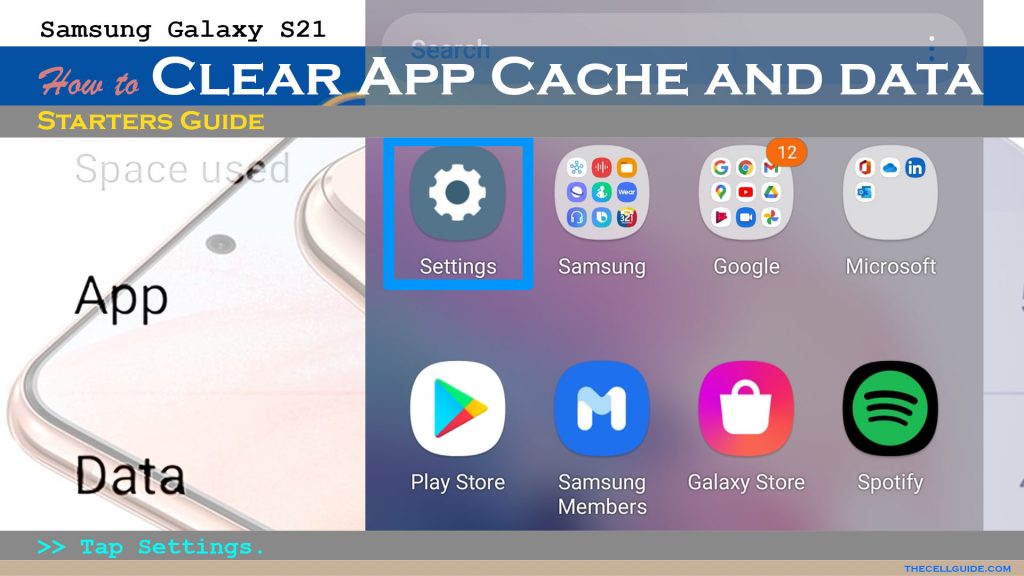 Step 2: While on the settings app menu, scroll to find and then tap Apps. Doing so will launch a new menu with a list of all apps and system services.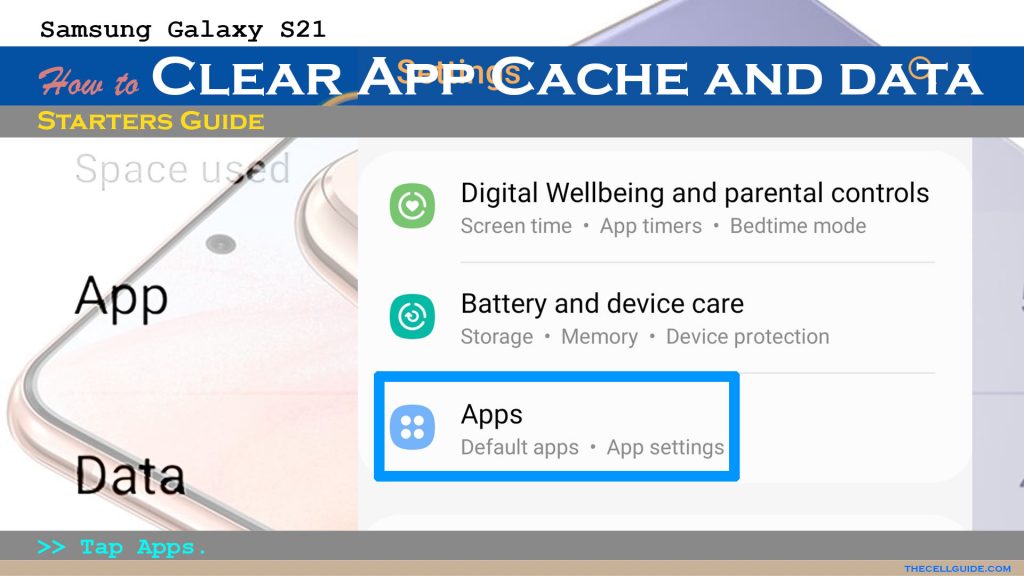 Step 3: Find and then tap the app that you'd like to clear cache and data from.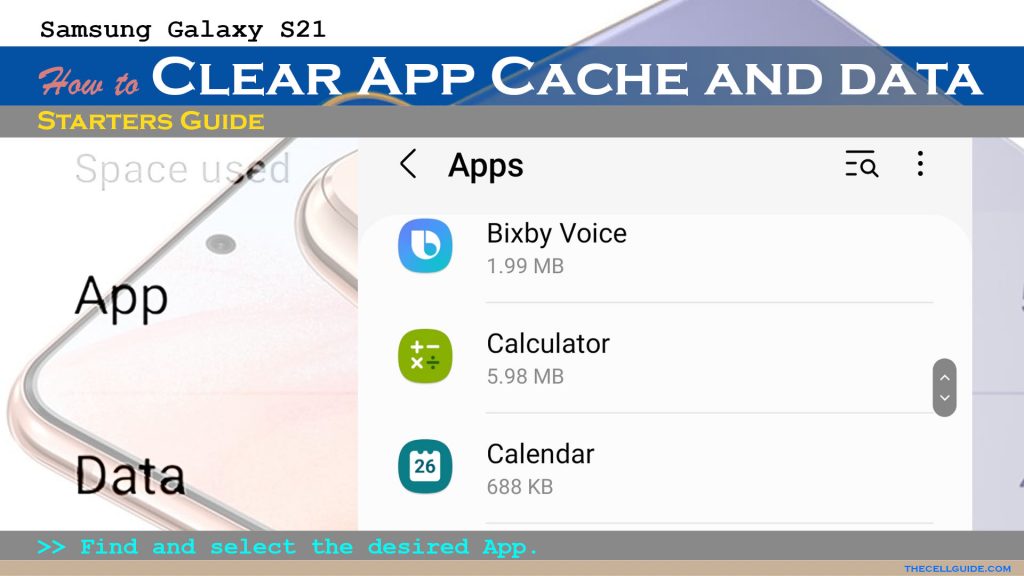 Step 4: On the App Info screen, tap Storage. More storage details for the selected application will be displayed on the next menu.
Step 5: Scroll down to the bottom section and you should see two main commands. Tap Clear Cache to delete the app cache.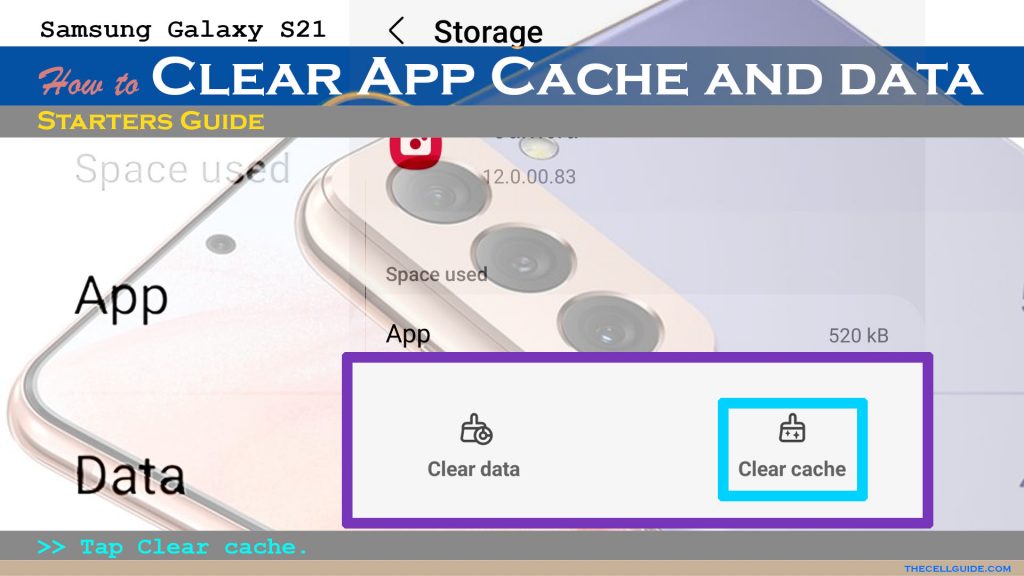 Step 6: To delete the app's data, tap Clear Data. A quick warning will show up next.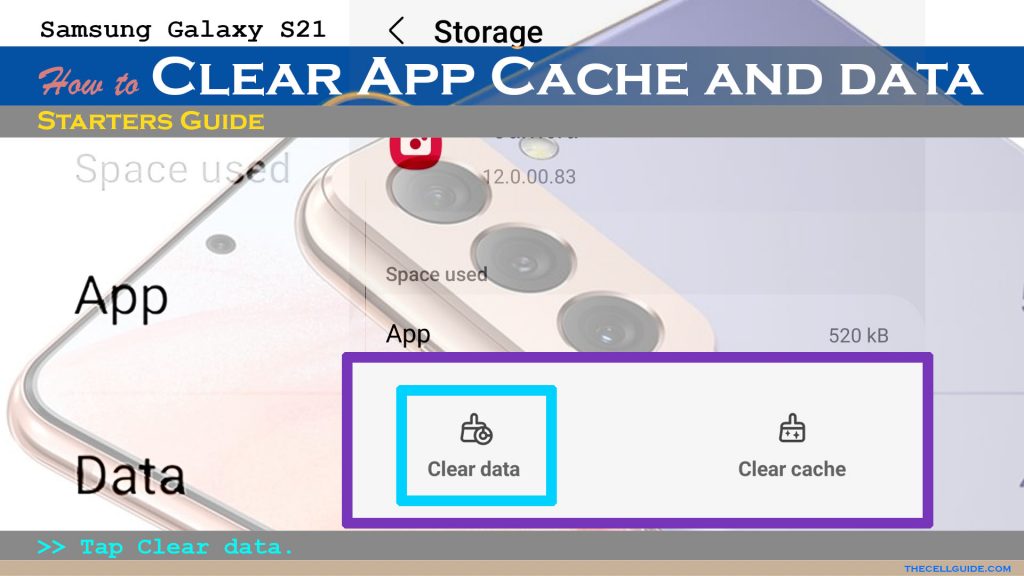 Step 7: Read and review the warning details and then tap OK to confirm. Clearing of the app's data will then instigate.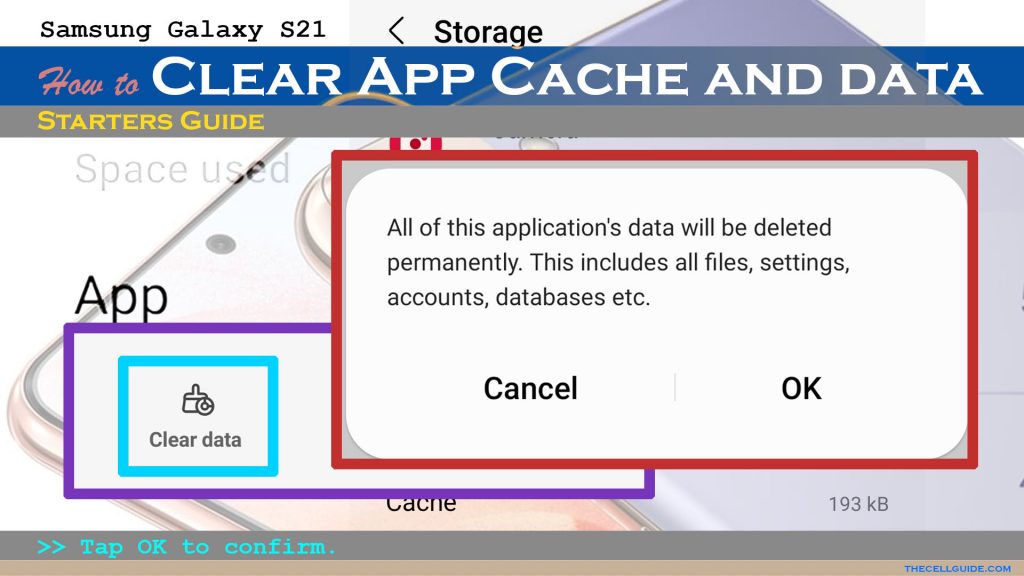 Afterwards, all accumulated residual data for that app will then be deleted including login credentials. This denotes the need for you to enter your username and password to sign into your account the next time you use the app on your phone.
In the case where you've clearing data from a gaming app, all your saved scores, ranks and other relevant in-game information will likewise be removed.
What Happens After Clearing App Cache and Data on the Galaxy S21?
After clearing the app cache, all temporary files pertaining to that app will be deleted without affecting saved settings for the app.
Clearing data from an app on the other hand deletes all critical data and restores the app to its factory default state. All saved states, settings and preferences for that app will therefore be obliterated.
After clearing the app's data, the app will act as if it was first launched from installation.
When to Clear Cache and Clear Data?
There are certain instances when it's highly recommended to clear app cache and data on your device. First is when your device is running low on storage.
Some apps store several gigabytes of data and temporary files. Clearing the app cache and data will therefore free up some storage space on your phone.
The Clear Cache and Clear Data commands are also regarded as miracle remedies for app-related issues in Android devices. So, you may consider triggering these commands when any of your apps becomes problematic, buggy or disruptive.
Both the clear cache and clear data commands for an app don't affect user data so you won't lose any critical information from your device.
And that's all about clearing app cache and data on the Samsung Galaxy S21 and other Android 12 devices.
Hope this helps!
Please check out our YouTube channel to view more tutorial and troubleshooting videos for popular iOS and Android devices.
You Might Also Want To Read: