The iPhone comes with a really nice camera setup around the back, but the cameras on the front haven't seen a whole lot of change, necessitating selfie sticks for iPhone . You can take some great selfies with it, but unfortunately, the field of view isn't very great. That said, getting a whole group of people in a selfie can be difficult. Luckily, there's a way you can fix that, and that's with a selfie stick.
* If you buy through links on our site, we may earn an affiliate commission. For more details, please visit our Privacy policy page.
A lot goes into taking the perfect selfie — for the perfect selfie, you need a great angle and optimal lighting at the very least. If you have a couple of people you're trying to get in your selfie, simply extending your arm is often not enough to get the correct angle. That's where selfie sticks come in — allowing you to extend out your phone a couple of feet to capture a great selfie.
Set your iPhone into a selfie stick holder, pair it up via Bluetooth, and then extend it out, and you can take some excellent photos. Extended out, you can get some excellent field of view, able to get all of your friends in the photo.
Not sure what the best selfie sticks are for the iPhone ? If you follow along below, we'll show you the best selfie sticks that you can pick up for the iPhone. Let's dive right in.
Best Selfie Sticks For iPhone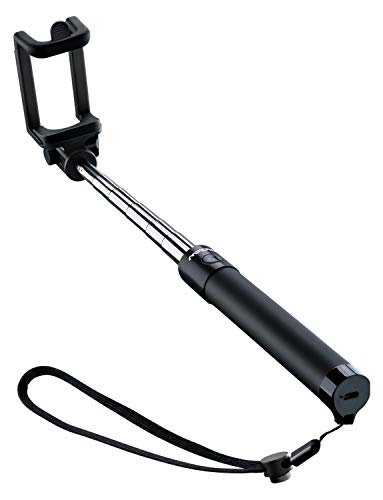 Coming up first on our countdown, we have Mpow's very own selfie stick. This one has a hardened construction process, which provides more security for your iPhone, especially when it is extended out aways.
One of the cool things about the Mpow Selfie Stick is that the phone holder itself is a U-Shape with rubber grips attached, so your phone will stay firmly in place, and without scratching up the frame of your smartphone.
Fugetek might be a very little known brand, but this one is an excellent choice for many phones today, including the iPhone . This one is another with that two-in-one style. Use it in selfie stick mode, or take it out as a tripod. In selfie stick mode, one of the nice things about the Fugetek is that you can extend it out around 51-inches. Suffice to say, you're getting plenty of field of view here.
The Fugetek is a little on the thicker side, but worry not. This gives you some heftier security and protection for your iPhone. You don't have to worry about it falling out at all.
The Yoozon Selfie Stick might be last up on our countdown, but the selfie stick actually works really well with the iPhone. Even with its large size, the selfie stick is able to handle it no problem. One of the things that we really like about this one is the 360-degree rotation, bringing you some really unique photo taking abilities.
With that rotation, you can switch this into horizontal or vertical camera modes. And it's super easy — just twist the cradle head or phone holder to switch into those horizontal or vertical modes. This one connects to your phone over Bluetooth, which is what enables you to use that you will have to make sure that the Yoozon stays charged for your trips.
The Lifestyle Designs Selfie Stick is also quite nice. This selfie stick will help you in a couple of different situations. First, it extends pretty far, so you can take a great selfie. Not only that, but it's powered, so there's a detachable remote that allows you to take photos, start and stop video capture, and more. This also works well as a tripod — the bottom portion of the selfie sticks fold out into three arms that hold your iPhone 8 relatively stable — perfect for capturing cinematic-like video, or even timelapse. You really cannot go wrong with this particular selfie stick — also famed YouTube star Casey Neistat uses it daily to film his videos.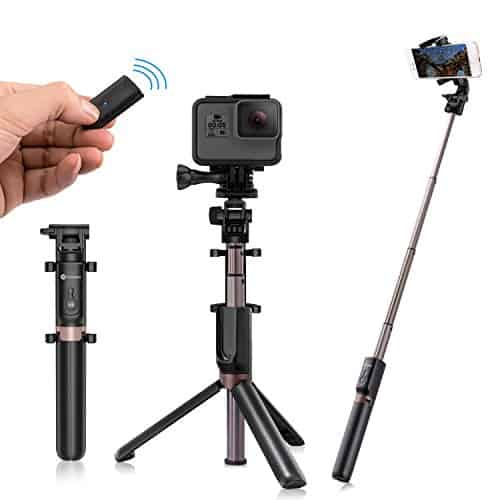 Coming up as number five on our list, we're a big fan of the Humixx 2-in-1 selfie stick. It actually has multiple ways that you can take photos and record video. The first way is its traditional, selfie-stick form. Extend it out and get a better field of view for more scenic details in your pictures. Or, you can compact it down, pull the legs out at the bottom, and turn this selfie stick into an almost tripod. The Humixx Selfie Stick does come with a remote control so that you can remotely take the picture without awkwardly reaching for the shutter button on the selfie stick.
The Humixx Selfie Stick comes with some pretty nice warranties and guarantees as well. If you don't like Humixx Selfie Stick, you can return it for a full refund within 30-days. On top of that, you get a 6-month warranty, which gets you a free replacement if there are any problems with the hardware.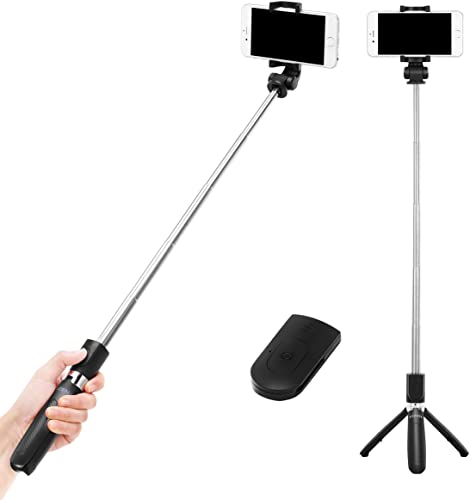 Kizen's Monopod is an excellent choice for folks looking for something that they can rely on for a big phone like the iPhone . This one is actually a two-in-one selfie stick. So, you have the selfie stick mode where you can take great field of view photos, but you can switch it up for improved video stability in the tripod mode.
And no matter what mode you're using — the Kizen Monopod is extremely portable — it compacts very nicely, allowing you to easily take it with you on travel. It comes with a 18-month warranty right out of the box, which keeps you protected against any potential faults.
7. Anker Monopod
You can't go wrong with the tried and true — Anker. Anke is a brand that we always come back to, because of the sheer quality that they offer. They make all sorts of great portable batteries, chargers, and as you can see, even selfie sticks.
Anker is one of our favorite accessory makers, with an excellent selfie stick for the iPhone. It's a sturdy selfie stick that will keep your iPhone completely secure for taking good field of view photos, even when extended all the way out.
We really like this one for travel, since it hardly takes up any space at all. The handle itself is ergonomic, giving you a better grip on the selfie stick as well.
8. Premium 5-in-1 Selfie Stick
Next up, we have the Premium 5-in-1 Selfie Stick. This is more optimal for travel and on-the-go photo and video. Its low profile makes it easy to throw in a bag without taking up too much space. Not only that, but you could easily just set it in your back pocket. The neat thing about this selfie stick is that it is powered, but it doesn't require batteries. It gets power from your phone. Set it in the selfie stick's cradle, connect up the cord going from the selfie stick to your phone, and you're ready to roll!
9. JSAUX Extendable Selfie Stick
Next, we have the JSAUX Extendable Selfie Stick. Really, it does the same thing as the rest of the options on this list. Hook up your iPhone 8 into the cradle and get ready to take spectacular selfies from a great angle. It has a detachable remote so that you can capture photos and start and stop video remotely. Similar to the Lifestyle Designs Selfie Stick, the bottom portion folds out into three arms, fundamentally transforming into a tripod.
10. Spigen Velo S530
Lastly, we have the Velo S530 by Spigen. Most folks will enjoy this selfie stick because it's lightweight and super compact — easy to throw in a big for quick travel. No batteries is sort-of nice because you don't have to worry about keeping it charged; however, the remote capabilities that a powered selfie stick gives you are quite lovely. For just a couple dollars, you really cannot go wrong with the Spigen Velo S530 — it'll be up your selfie game on the cheap!
Verdict on Selfie Sticks For iPhone
As you can see, selfie sticks are pretty similar. There's not a whole lot that differentiates them; however, the options on this list are pretty much the creme of the crop, as they are multi-functional, allowing you to use them as a selfie stick and a tripod. But, which selfie stick should you get? They're all rated well, so you certainly won't be buying anything bad; however, it's simply a choice between powered and non-powered selfie sticks. If you want to capture photos and video remotely without awkwardly fumbling around, the powered selfie sticks are probably the way to go.
All of these are excellent choices; with a phone as large as the iPhone , you can trust all of these selfie sticks to be able to handle the weight of the smartphone.
Do you have favorite selfie sticks for iPhone? Let us know in the comments section below, and you may just see your suggestion highlighted in the future!
* If you buy through links on our site, we may earn an affiliate commission. For more details, please visit our Privacy policy page.