One of the big problems with smartphones is that, if you don't put a screen protector on, they seem to accrue scratches, nicks, and scuffs easily. You could take your phone out on the town, leave it in your pocket, and scratches would magically appear! The wind blows the wrong way, and they seem to just appear out of nowhere. This can be especially frustrating if these scratches are deeper and start affecting the quality of your media — this could be movies, TV shows, YouTube videos, or regular online reading. Not only that, but it tanks your resale value when you go to sell it. This is why having a screen protector on your phone is so important.
| Product | Brand | Name | Price |
| --- | --- | --- | --- |
| | Maxboost | Maxboost Screen Protector for Apple iPhone Xs & iPhone X & iPhone 11 Pro (3 Packs, Clear) | Check Price on Amazon |
| | Trianium | Trianium (3 Packs) Screen Protector 0.25mm Tempered Glass with Alignment Case Frame | Check Price on Amazon |
* If you buy through links on our site, we may earn an affiliate commission. For more details, please visit our Privacy policy page.
Not sure what screen protector to get for your iPhone XS? If you follow along with us below, we'll show you the best options that you can buy today. Here are our top picks.
Best Screen Protectors For iPhone XS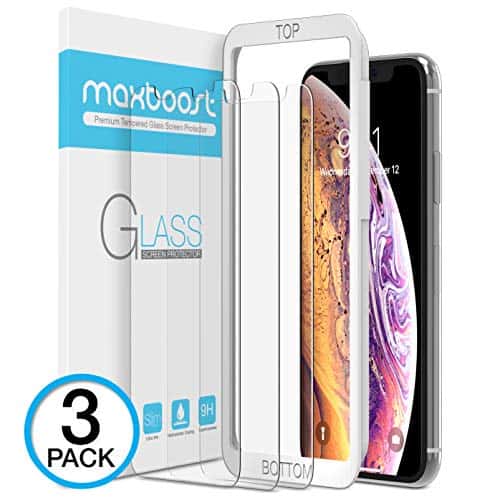 First up, and coming in at fifth place on our countdown, we have the MaxBoost iPhone XS Tempered Glass Protector. Place this screen protector on your screen and you'll get the maximum protection against scratches and everyday nicks — tempered glass is one of the best materials out there for absorbing damage.
These screen protectors are actually self-healing, so over time, those scratches will disappear off of the protector as well. MaxBoost provides an excellent amount of value for money here, giving you three tempered glass protectors in the package for a price. You don't have to worry about the protector ruining any function on the screen either — with this on, you'll still be able to access features like 3D Touch. These have a 99.9% transparency rating as well, so screen quality is not diminished.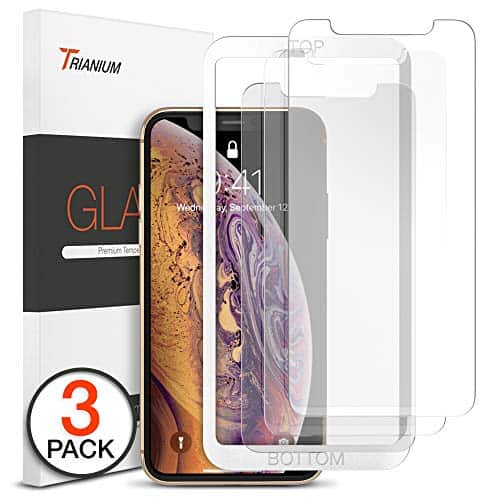 In second place, we have the Trianium iPhone XS Screen Protector. This is another tempered glass screen protector, so you know that you're going to get the maximum amount of protection against everyday damage. Daily abuse won't harm your screen at all. These protectors are pretty thin, as they only add a thickness of about 0.25mm to your screen. These have a 99.9% transparency rating as well, and features like 3D Touch won't be affected with this on.
3. Eastoan iPhone XS Glass Screen Protector
In third place, we have Eastoan's iPhone XS Glass Screen Protector. The value for money is actually really good in this package, with three protectors in the package. Not only that, but they have an industry leading hardness rating of 9H, so you're getting the maximum protection for your display. 3D Touch features stay intact, and there's a coating over top of this protector to repel fingerprints and liquids. And with a 99.9% transparency rating, you won't lose any of that Retina screen clarity with this protector on.
4. KZLVN Screen Protector For iPhone XS
Next, we have one that you may not have heard of before — KZLVN's Screen Protector for the iPhone XS. This one is actually fairly unique. Yet another 9H tempered glass protector, the KZLVN will keep your iPhone XS' screen free from scratches, nicks, and everyday damage. However, it has a border around it that keeps your frame protected as well. Don't worry though, there is a small cutout for the voice speaker at the top. You won't have trouble with features like 3D Touch with this applied. Much like the others, this does have a 99.9% transparency rating as well.
5. Cafetec iPhone XS Glass Screen Protector
And finally, we have the Cafetech iPhone XS Glass Screen Protector. This one, like many of the others on our list, will still offer you ample protection against scratches and every day damage. This is self-healing, so the screen protector is actually able to absorb scratches really well, too. This makes it last a whole lot longer. It has a 99.9% transparency rating, so you won't see a diminished screen quality. This screen protector is actually case-friendly as well, so you shouldn't have a problem using it with one of the phone cases you've already picked up for the phone.
Best Screen Protectors For iPhone XS Verdict
As you can see, there are a lot of excellent screen protectors available for the iPhone XS. Really, any one of these will give you the protection that you need to fend off the daily abuse that we put out phones through. However, if you're looking for the creme of the crop in screen protector technology, the Cafetec is easily the best way to go here.
| Product | Brand | Name | Price |
| --- | --- | --- | --- |
| | Maxboost | Maxboost Screen Protector for Apple iPhone Xs & iPhone X & iPhone 11 Pro (3 Packs, Clear) | Check Price on Amazon |
| | Trianium | Trianium (3 Packs) Screen Protector 0.25mm Tempered Glass with Alignment Case Frame | Check Price on Amazon |
* If you buy through links on our site, we may earn an affiliate commission. For more details, please visit our Privacy policy page.