The iPhone X has a huge screen, and that makes video, photos, YouTube, movies and other content look great on Apple's latest innovation. However, since it is a bezel-less (close to, anyway) phone, there's a whole lot more screen susceptible to scratches, nicks and even cracks! This is especially true if you're one to leave the iPhone X in your pocket with a bunch of change and even keys clanking around — this can scratch up (and even crack) a screen in no time! A screen protector, particularly a tempered glass screen protector, can keep things under looking brand new!
* If you buy through links on our site, we may earn an affiliate commission. For more details, please visit our Privacy policy page.
If you want to keep your screen in tip top shape, be sure to follow along below, as we'll show you the 5 top best screen protectors for iPhone X.
Best Screen Protectors For iPhone X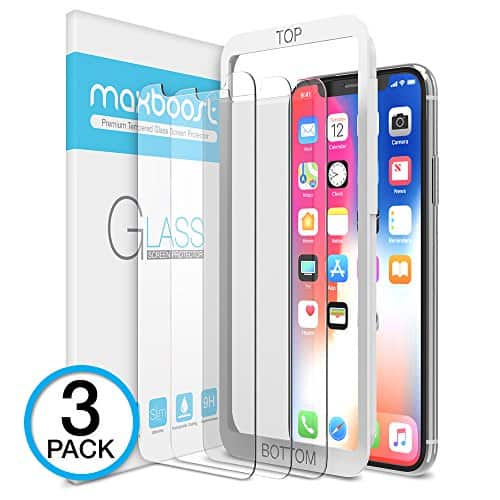 The Maxboost Premium is another great screen protector. Similar to the TechMatte amFilm, it is a tempered glass screen protector. That said, you can expect to get the best possible protection against scratches, nicks and cracks. It's a form of insurance worth investing in. The neat thing about this screen protector is that it is super transparent. That means that you're going to get the most clarity out of your iPhone X's screen with this protector on. Not a lot of screen protectors are transparent like this one.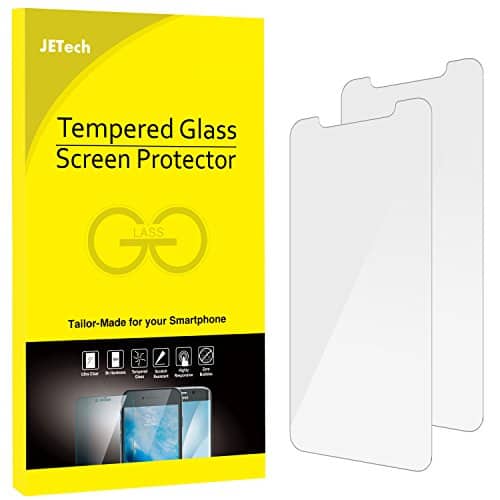 If you don't mind spending a bit of money on protection for your phone, you should consider the Peel Glass screen protector. This glass screen protector will set you back about $30, but it actually goes right up to the rounded edge of your iPhone X. This means that it should keep your screen protected even if you have one of the more thin cases on it. It comes with neat installation gear, but once the Peel Glass is on the phone, you can hardly tell it's even there! Check it out at the link below.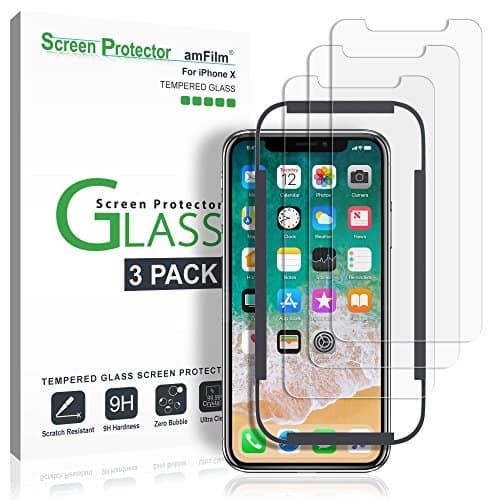 The first screen protector that you might want to consider is made by TechMatte. Called the amFilm, this tempered glass screen protector will keep your iPhone X's screen in like-new shape. Once you peel it off when you're ready to sell it or upgrade it, it'll be as is your screen has never been used before! The TechMatte amFilm has some serious benefits being a tempered glass screen protector — not only are you protecting your screen against scratches and nicks, but you're also keeping it protected against potential screen cracks. Tempered glass screen protectors do a fantastic job absorbing a good portion of the blow, and in most cases when you have this type of screen protector on, it will be the actual screen protector that cracks, not the phone itself.
Spigen makes an excellent screen protector for the Apple iPhone X. Called the Glas.tr, this super thin screen protector is made of tempered glass. There's only one layer, so you're not getting something as thick as the Maxbook Premium or the Tech21; however, even though it is one layer, it should keep your screen protected just fine. You won't have to worry about scratches, nicks or cracks showing up on your iPhone X. And with its thin design, this screen protector should work with about any case on the market right now.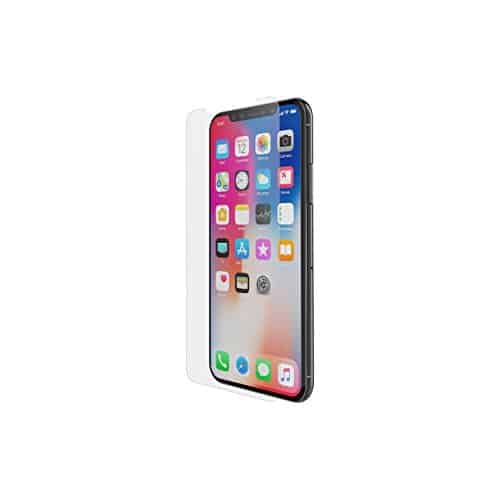 Last up, we have the Belkin InvisiGlass. This is yet another tempered glass screen protector, and just like the others on this list, it'll keep you protected against scratches, nicks and even cracks. It's not much different from the rest of the tempered glass screen protectors on our list, but it does come with one neat feature: with the Belkin InvisiGlass screen protectors, Apple offers a free installation. That said, if you have Apple do it, you don't have to worry about messing it up — you'll get a perfect application almost every time.
Best Screen Protectors For iPhone X Verdict
So, which screen protector should you pick up? We recommend going with either the TechMatte amFilm, the Peel Glass or the Spigen Glas.tr. Either screen protector you pick up will keep your iPhone X's screen in tip top shape; however, these are the top-rated screen protectors that have been tested time and time again. For your iPhone X, you couldn't ask for any better options than those three. The Spigen Glas.tr is probably the best way to go, as it's one really thin layer that almost disappears after it's applied on your smartphone.
* If you buy through links on our site, we may earn an affiliate commission. For more details, please visit our Privacy policy page.