This post will walk you through adjusting the current font size and other text display elements on the recent Galaxy A devices. Here's a quick guide on how to change font size on Samsung Galaxy A13.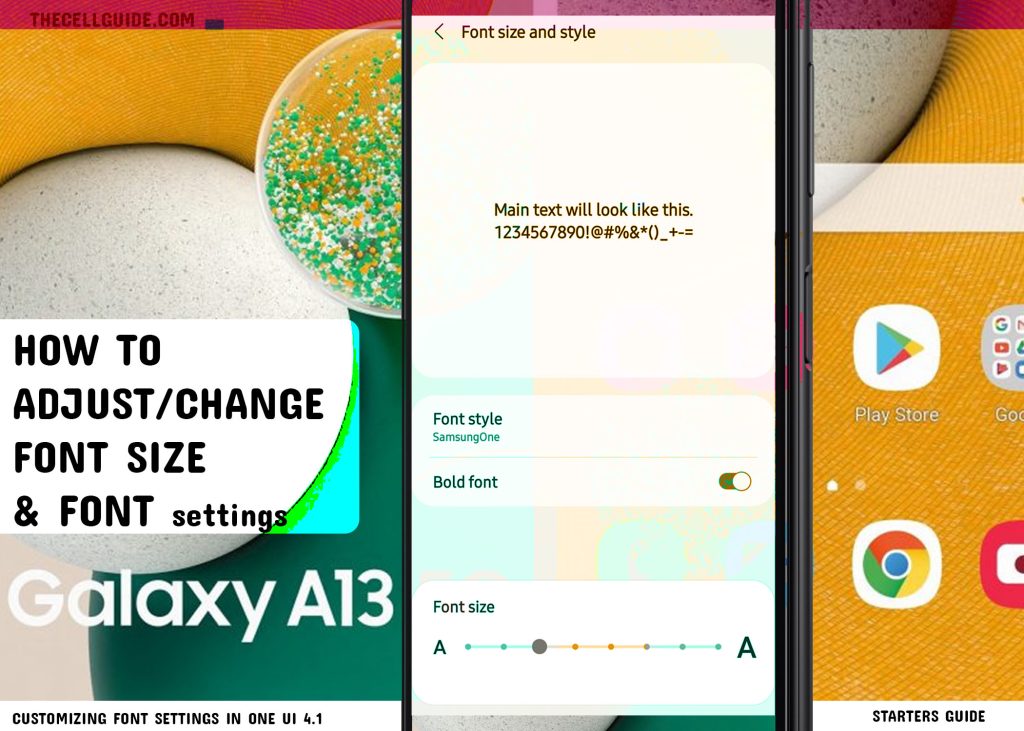 Is the current font on your Galaxy phone too big or small? If so, then you can adjust the font settings to make the font appear the way you wanted. Keep reading for more detailed instructions.
Samsung Galaxy A13 Fonts
Although the default font in every Samsung phone is already calibrated based on standard, it may still fail to meet some people's specific visual needs. For this reason, every Samsung phone comes with customizable display features to adapt to every user's distinct preferences.
That said, Samsung phone owners can customize the screen features of their phone based on their every day activities and device usage.
One of these customizable display features is the font size and style.
If looking at your phone screen strains your vision, then you can adjust the font to make it bigger or more comfortable for your eyes to read.
Depicted below is the actual process of adjusting the default font settings on the Samsung Galaxy A13 5g smartphone, particularly the font size and style.
If you're new to Android and need some input on how to get this done on your Samsung Galaxy phone, then you may refer to this quick walkthrough as follows.
Steps to Adjust/Change Font Size on Samsung Galaxy A13 5g
Performing these subsequent procedures will allow you to alter the default font size and font style on your Galaxy A13. These steps are also applicable when adjusting fonts on other Samsung phones with One UI 4.1 or Android 12 OS.
Actual screens and menu items may vary between device models and network operators so the actual interface may likewise differ slightly.
Just keep your device software updated to ensure all key features and menu options are accessible.
Feel free to start whenever you're all set to configure the display settings of your phone.
Step 1: From the Home screen, tap the Settings icon to launch the Settings app. Built-in features and system services will show up next.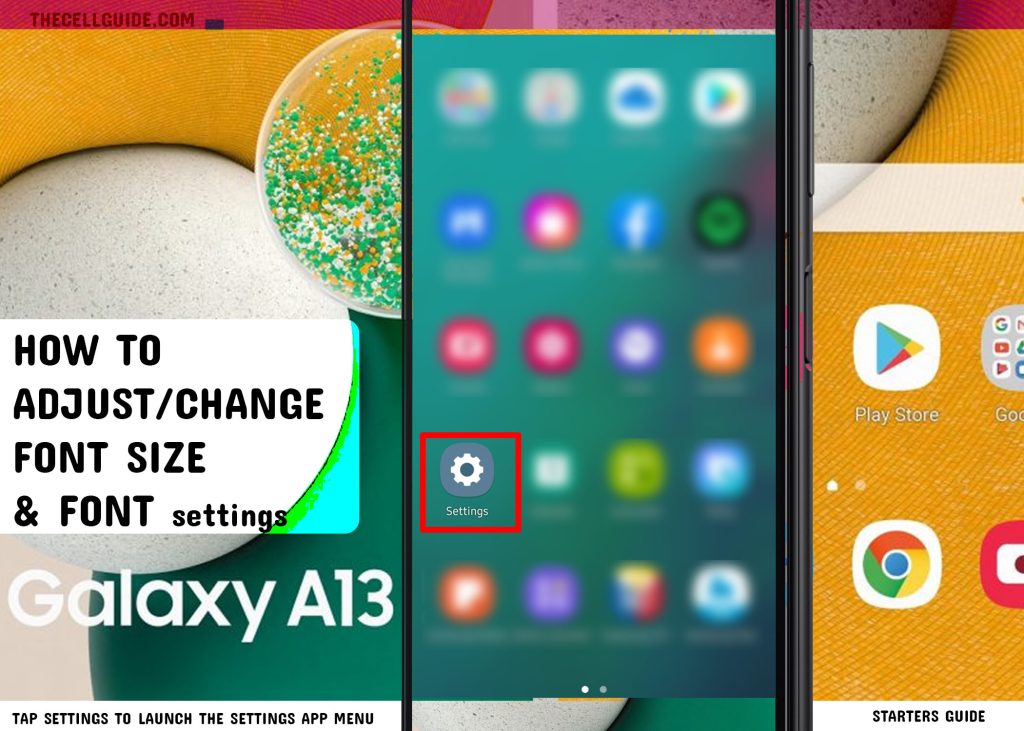 Step 2: While in the main Settings menu, find and then tap Display. Relevant features and display options will load up on the following menu.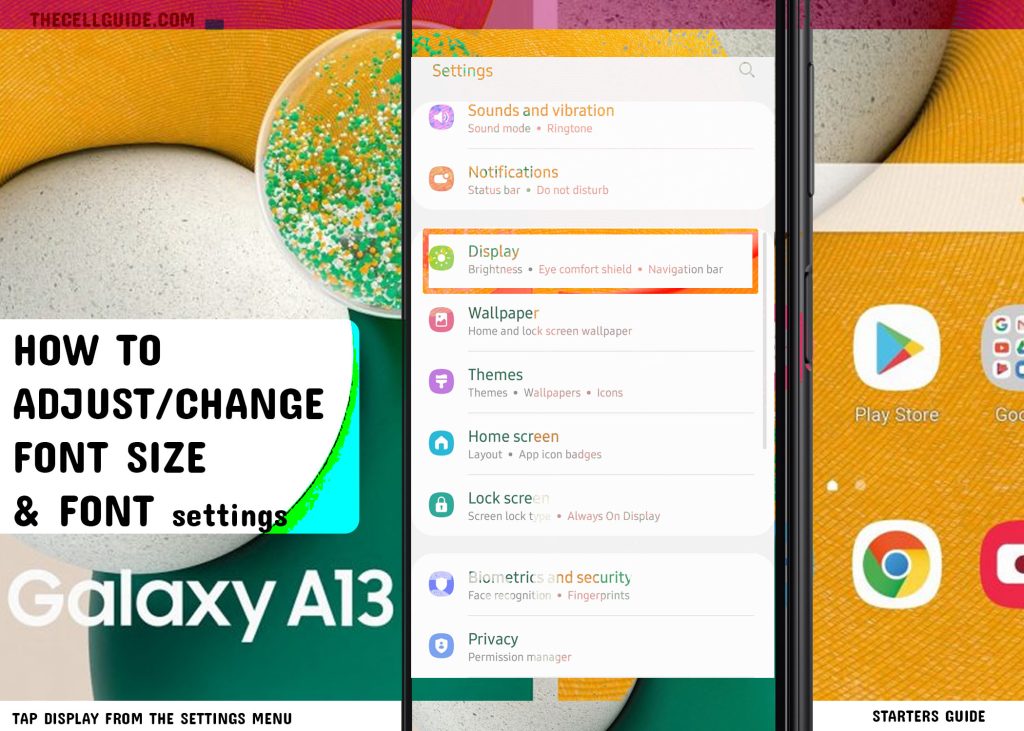 Step 3: Find Font size and style and then tap on it. On the next window, you'll see the preloaded font attributes.
Step 4: To make the font bigger or smaller, drag the Font size slider to the right or left. Dragging to the right makes the font bigger and smaller when dragged to the left.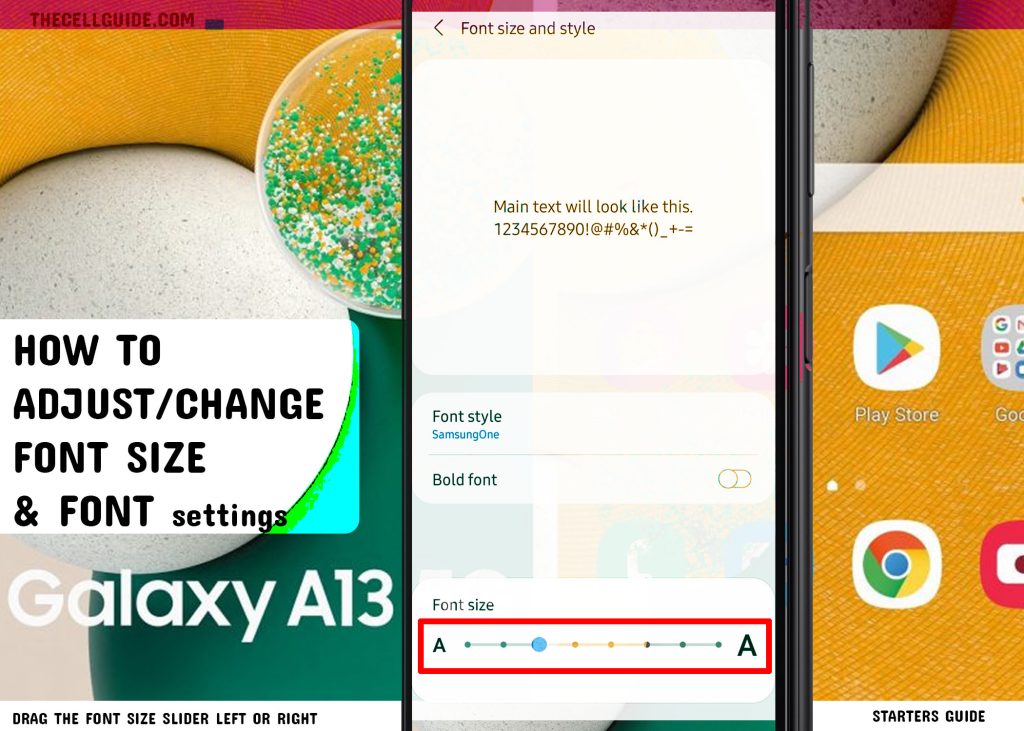 Just adjust the slider until you get the desired font size.
If your phone's display is still giving you eyestrain even after you change the font, then adjusting other display options would be necessary.
Other Customizable Display Features
Aside from the font size, other font attributes like the font face or font style are also customizable. To change the current font or download a new font, tap font style. The existing font styles are just a few. To view more font styles, tap download a new font so you'll be routed to the Galaxy Store's font section where you can scour for a number of font styles to choose from.
To use bold font for the entire system interface, simply toggle to turn on the Bold font switch. Otherwise, keep the switch disabled for the normal font face to be used sitewide.
Aside from font size and style, you can also customize other display features to make your phone as eye-friendly as possible.
Among other customizable display features in One UI 4 or later devices include screen zoom, full screen apps, screen mode, easy mode, screen brightness, and dark mode, to name some.
Swap Fonts with Android Launchers
Meanwhile, if you're not a fan of the default system fonts on your Samsung phone, you can always swap fonts with a third-party launcher app that's compatible with your device.
These apps can be downloaded via Play Store for free or one-time purchase (for premium versions).
Some of the most popular launcher apps for recent Android devices include Nova Launcher, Go Launcher and Action Launcher among others.
Just read existing reviews to gauge the performance of individual launchers and decide which to pick.
And that's all about adjusting the font size and other font elements on the Galaxy a13 5g device.
Hope this helps!
Please check out our YouTube channel to view more tutorial and troubleshooting videos for popular iOS and Android devices.
You Might Also Want To Read: