Issue
Virus pop up on iPhone 8 or iPhone 8 Plus. Spam pop up appearing on iPhone 8. Fake FBI popup iPhone 8. You may have one of these popup messages : Your iPhone has a spyware. Your iPhone has been infected by a virus. Your credit card information might be at risk popup on iPhone 8. Your webcam could be accessed remotely by a stalker popup message on iPhone 8. FBI or NSA or CIA warning popup on iPhone 8. Popup stuck on iPhone 8 screen.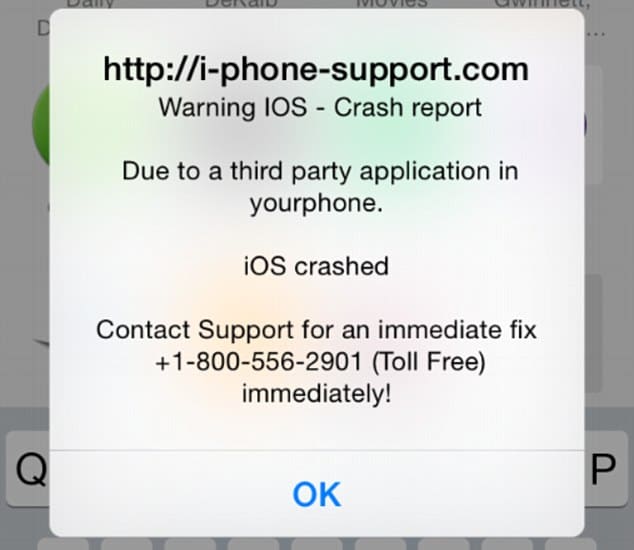 Solution
If you suddenly get a popup on your iPhone 8 telling you to call a certain number, warning you that your iPhone is at risk, please DO NOT call the number at any moment. This is a spam popup originating from Safari, usually by a website visited or an intrusive advertisement, and we will show you exactly how to get rid of it. There is nothing infected or wrong with your iPhone 8, and removing the spam popup is a simple process.
The first step is to force restart the iPhone, so we can access our settings and get rid of that intrusive popup.
To force restart your iPhone 8, press and release the Volume Up button, then press and release the Volume Down button, then press and hold the Side button until you see the Apple logo.

Once the Apple logo appears, the iPhone 8 will restart
Go to Settings > Safari

Scroll down and tap on Clear History and Website Data

Turn off your iPhone, then turn it back on again
The spam popup should now be completely gone and you should be able to use Safari with no issues
Tags: spam popup on iphone 8, virus popup on iphone 8, iphone 8 has spyware, iphone 8 has been compromised, virus scam popup, iphone at risk, child porn iphone popup, fbi warning popup on iphone 8, credit card at risk, iphone could be accessed remotely, how to remove iphone 8 virus, cant remove popup iphone 8, cant get rid of iphone 8 spyware popup, adware, iphone 8 has been infected by a virus, popup to call apple on iphone 8, iphone 8 fake virus popup stuck on screen, iphone 8 locked down cyber police, iphone has virus, iphone 8 popup asking to call number, fbi locked down iphone, police locked iphone, iphone warning message, Can't remove popup from iPhone screen, iphone 8 plus