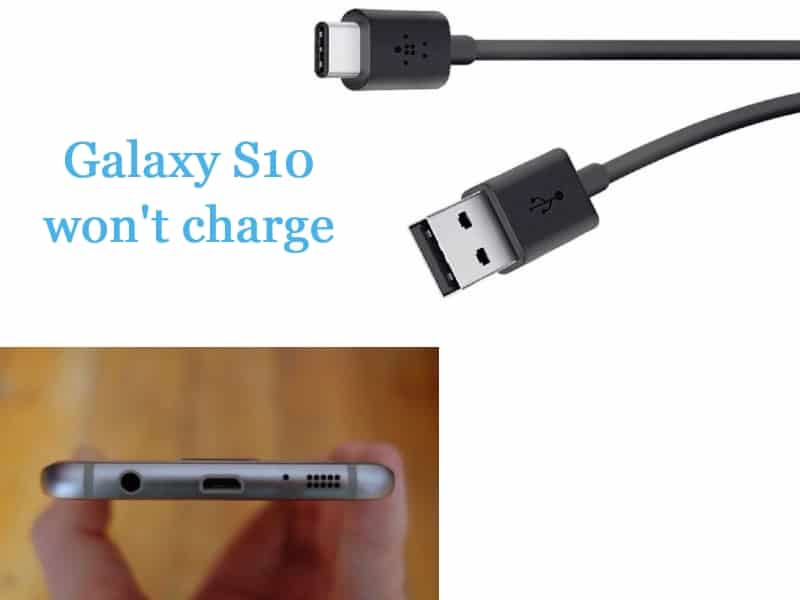 If your Samsung Galaxy S10 won't charge, the problem could be temporary and may be fixed by performing some basic troubleshooting procedures. However, there's also a possibility that it's a hardware problem and a technician might be needed to fix it. But here's the most important thing; if ever your new Galaxy S10 isn't charging out of the box, there's no point in troubleshooting it. You must bring it back to the store and have it replaced as soon as possible.
New devices should work without a hitch and if a problem already exists in the phone out of the box, it could be a manufacturing problem and you don't have to deal with issues like that. That's why it is very important to test your device to know if it charges or not the moment you take it out of its packaging.
In this post, I will walk you through in troubleshooting your Galaxy S10 that won't charge after Android 10. There's only a few procedures you could do and if the problem continues after that, then I am sure Samsung will replace it. Continue reading to know what to do.
Before we move on to our tutorials, if you are looking for a solution to a different problem, drop in on our Galaxy S10 Help Guides page for we have already fixed some of the most common issues with this device. Browse through the page to find issues that are similar with yours and feel free to use our solutions.
Samsung Galaxy S10 won't charge troubleshooting procedures
If you were able to charge the phone before but suddenly stopped charging after installing Android 10, here are the things you need to do on your end to know what the issue is all about and whether or not you can make it work again.
First solution: Force restart your Galaxy S10 that won't charge after Android 10.
It is very much possible that the problem is simply due to a minor firmware issue. So, if your phone is still powered on and there's at least 5% battery left, you can perform this procedure and see if you can make it work again.
Press and hold the volume down and power keys simultaneously for 10 seconds or more.
This will reboot the phone like it normally does but the memory will be refreshed and all apps and services reloaded. Once the phone becomes active, try charging the phone to see if it responds this time. If still not, then move on to the next procedure.
ALSO READ: How to fix Samsung Galaxy S10 that won't turn on
Second solution: Try charging the phone while it's powered down.
There are times when the firmware isn't working well and prevents the phone from charging normally. To rule this possibility out, turn your phone off first and then try charging it. This is also one way to conserve battery because you cannot do anything if the phone is no longer turning on due to a drained battery.
If the phone charges while powered down, leave it connected to the charger for as long as it's not overheating. It is very important that you see to it that it's not heating up fast because if it does, you can expect that it's a hardware problem and there's only so much you can do about it. And if the phone overheats while it's connected to the charger, disconnect it immediately and bring the phone back to the store so that a technician can check it properly for you.
However, if the phone is still not charging but also not overheating, then move on to the next procedure.
Third solution: Check charger and cable.
If the phone isn't responding to its charger, it's possible that something is preventing it. It could be that foreign materials are present in the port in the power adapter or something is corroding the connectors of the cable and obstructs the usual charging process. So, physically check the charger for any foreign materials like debris or lint in the port. Then check both ends of the cable to make sure there's no obstruction.
After making sure it's not the case, check also the charger port in your phone for foreign materials. You can easily get rid of them if you see any.
Fourth solution: Try wireless charging to fix Galaxy S10 that won't charge.
Of course, you will need a wireless charger to be able to try this. But here's the thing, even if your phone has an issue charging with wired charger, there's always a bigger chance that it would charge wirelessly. I know this isn't a solution but if you can do this, you can replenish your phone's battery and continue using it setting aside the problem for later. Your productivity won't be affected even if your phone isn't charging with wired charger. If this isn't possible however, then try the next procedure.
Fifth solution: Make sure it's not due to water or physical damage.
Your phone has a Liquid Damage Indicator (LDI) in the SIM/SD card slot. Remove the tray and look into the slot to find a small sticker. If it's still white, it means it's not due to liquid damage. But if it turned pink, red or purple, then the reason why your phone is no longer charging could be due to liquid damage.
After doing all these and your phone still refuses to charge with wired charger, it's better to just bring the phone back to the store and have the technician check it for you. It will be properly checked and if it's a hardware problem and that the technician can't fix it, you may be provided with a replacement unit. So, make sure to bring all its accessories together with the main unit including the box if possible.
I hope that we've been able to help you fix the problem with your device. We would appreciate it if you helped us spread the word so please share this post if you found it helpful. Thank you so much for reading!