When your iPhone shows no service on its status bar instead of signal bars, it means that your phone is not acquiring cellular network signal. As a result, cellular services such as calling and texting aren't available. This therefore denotes the need for you to fix something on your device. Tackled in this post is a relevant issue on the new iPhone 11 Pro having a no service error. Read on to find out why this happens and what to do in order to fix it before calling your carrier's network support for help.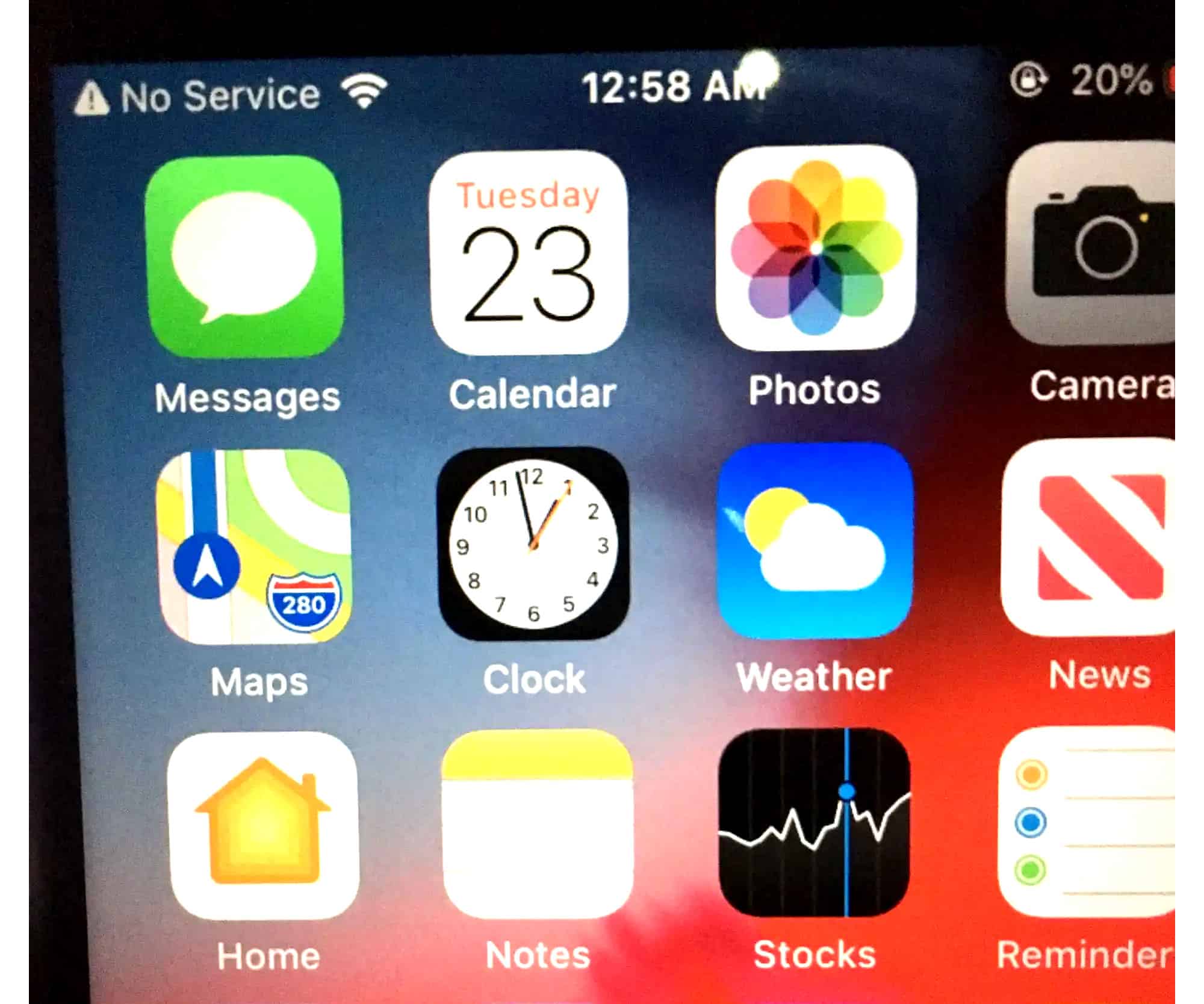 Possible causes of no service error
There are many factors that can trigger network errors to occur. Among these are temporary outages from unexpected technical problems or scheduled network system maintenance conducted by your service provider. Other possible triggers are software-related and they are as follows.
Faulty SIM card. Your SIM card is the key component to access your carrier/network provider's services. Without a SIM card, you won't be able to access or use your carrier's network services including basic calling and texting. This is because your phone won't be able to connect to the cellular network. The same thing can happen if your iPhone's SIM card system is corrupted.
Temporary network problems. This is when network outages are present. Problems attributed to network outages don't require any troubleshooting because the underlying cause isn't on your end. Rest assured, all network services should resume once the outage is over.
Software-related issues on the phone. Network problems attributed to system errors on the phone are the ones that need troubleshooting. Minor issues inflicted by random system flaws are usually remedied by performing basic tweaks including a soft reset while others require more advanced solutions like a full system reset or iOS restore.
Account-related issues. This is when you've left some issues unsettled like unpaid bills on your account. Carriers usually imposed a soft disconnect to delinquent accounts. When this happens, outgoing services are temporarily disabled. Thus, it could also be the main reason why you're getting a no service error on your phone.
In worst case scenarios, a no service error can be attributed to some hardware damage like a damaged network antenna or relevant components on the phone. Unfortunately in this case, there's not much can be done on your end because what your iPhone really needs is a physical repair.
---
---
Troubleshooting no service error on your iPhone 11 Pro
The following are basic solutions to network-related issues, particularly no service error on a new iPhone. Try these methods to rule out software-related factors from the underlying cause.
First solution: Reinstall the SIM card on your iPhone.
Many people who have faced with no service error figured that the problem is attributed to a corrupted or dislodged SIM card. Thus, reinstalling the SIM card on your iPhone 11 Pro is the first suggested solution. Just follow these steps whenever you're all set:
Turn off your iPhone completely.
While your iPhone powered off, gently insert the SIM ejector tool into the small hole on the SIM card tray found on the side of your iPhone. If you don't have the ejector, you can use a small paper clip instead.
Slowly push the ejector tool until the tray ejects.
Remove the SIM card from the tray and check for any possible signs of damage like scratches or dents.
If everything looks good, insert the SIM card back into the tray in the same orientation before your took it out.
Push the SIM tray back into the phone until it locks.
When the SIM tray is secured in place, you can turn your iPhone back on and see if the no service error is gone already. If it isn't, then you have to try other means to rule out other factors and fix the problem.
Second solution: Toggle Airplane Mode on and off to fix iPhone 11 Pro No Service error.
Problems affecting the phone's wireless services including cellular functions can also be remedied by the Airplane Mode trick. It works by simultaneously refreshing the phone's wireless features and thereby clears out any random flaws. Just follow these steps if you want to give this trick a shot:
From the Home screen, tap Settings.
Select Airplane Mode.
Toggle the switch next to Airplane Mode to turn on. Doing so simultaneously disables the wireless radios and relevant features of your iPhone.
While Airplane mode is turned on, restart or soft reset your iPhone to dump cache.
After your phone reboots, go back to Settings-> Airplane Mode menu.
Then toggle the Airplane Mode switch to turn the feature OFF again.
Give your phone a few moments to re-establish wireless signals then see if the No service error on the status bar is gone.
Third solution: Update carrier settings on your iPhone.
Network connectivity issues can also be dealt with by installing carrier updates. These are updates released by your carriers to bring in additional network features as well as network fixes. Most of these updates are automatically implemented while others require manual installation. If your iPhone has a stable Wi-Fi internet access, try to check for any carrier update available to download and install. Just follow these steps:
Tap Settings from your Home screen.
Select General.
Tap About.
If a new carrier update is available, a notification containing the details will show up. Just follow the given instructions to implement the update when ready.
Installing the latest iOS update available for your iPhone is also recommended. Not only that it brings in some new features but more importantly, an iOS update also embeds fix patches that are programmed to get rid of stubborn bugs that are causing various issues on your phone. That said, check for any available iOS update for your iPhone with these steps:
From the Home screen, tap on Settings.
Select General.
Then tap Software Update.
You will see a notification if a new software update is up for grabs. Be sure to read the prompted information then follow the onscreen commands to download and install the update on your phone.
After installing updates, perform a soft reset or just restart your phone. This will ensure that all new system changes are properly saved and implemented. Then try to see if that solves the problem.
Fourth solution: Reset network settings on your iPhone.
Resetting the network settings on your iPhone can also help resolve recurring issues, particularly those attributed to some incorrect network configuration. That said, this can also be deemed among the potential solutions to a no service error on your iPhone 11 Pro. If you wish to proceed, be sure to take note of your Wi-Fi password beforehand because this reset deletes all saved Wi-Fi networks and your network preferences. No internal data is affected though so there's no need to back up files from the internal memory. Just follow these steps whenever you're all set to reset network settings on your phone:
From the Home screen, tap Settings.
Select General.
Scroll down to and tap Reset.
Select the option to Reset network settings.
Enter your passcode if prompted to continue.
Then tap Reset network settings again to confirm that you want to reset your iPhone's network settings to defaults.
Your iPhone will reset when the reset is finished. Just until it's done rebooting and then start setting up your wireless network to connect to your Wi-Fi network and get back online. See if that solves the no service error on your iPhone too.
Fifth solution: Factory reset your iPhone.
Network problems that could not be remedied by the above solutions are usually deemed complex and thus, a more advanced solution is required. To deal with complex system errors affecting your iPhone's cellular functions, a factory reset can be considered among the last options. But before you do so, be sure to back up all important data from your iPhone to iCloud or iTunes. Failure to do so will result in permanent data loss because a factory reset wipes everything from your device. If you wish to continue, then secure your iPhone backup then follow these steps to factory reset your iPhone 11 Pro:
From the Home screen, tap Settings.
Select General.
Scroll down to and tap Reset.
Select the option to Erase all content and settings.
Enter your device's passcode if prompted to continue.
Tap the option to confirm factory reset on your iPhone 11 Pro.
Follow the rest of the onscreen prompts to finish erasing and restoring your device. When the reset is finished, your phone reboots and then loads up the factory default settings. By then you can start setting up your iPhone as new. For faster setup, you can use the start-up wizard to set up all necessary features using automatic settings.
You can also use iTunes to manually erase your iPhone and restore factory default settings on a computer. This would be a better method if you prefer to back up your iPhone data straight to your computer's hard drive.
What to do if your iPhone 11 Pro still shows no service?
Network errors usually persist if the underlying cause is from within the network base. And that's more likely what's going on in your case unless your device has already obtained some sort of physical or liquid damage that eventually immobilized its network or cellular system. To rule out the possibility of hardware damage, take your device to the nearest Apple-authorized service center in your area and have it scrutinized by an iPhone technician.
Contacting your carrier or network service provider is also an option to verify your account and service status. Sometimes, a no service error is also attributed to some account problems that need to be settled. Another possibility is a damaged SIM card in use. To deal with network errors tied to a damaged SIM card, all you need is to ask your carrier for a new SIM card replacement.
RELEVANT POST: No service on iPhone after performing software update