This post highlights potential solutions to incoming call problems with the Samsung Galaxy S21 smartphone. Here's what you can do on your end if your Galaxy S21 can't receive calls.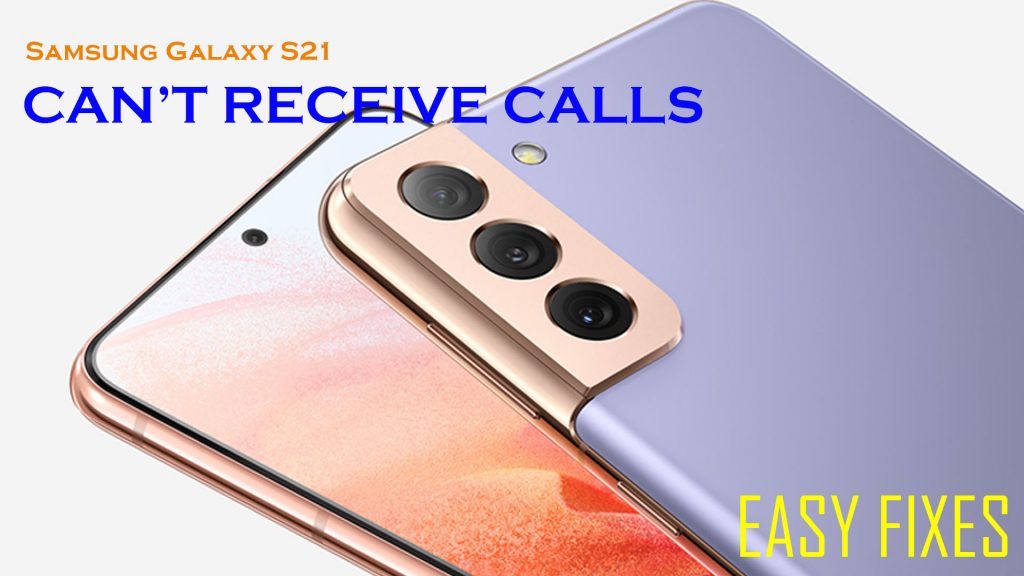 Why is your phone unable to receive calls?
There are many factors that can cause calling issues in mobile devices. Aside from poor reception, software-related factors such as random firmware issues, phone app glitches, update bugs, misconfigured phone settings and minor data corruption affecting cellular system and services are also among other factors to eliminate.
A faulty or damaged SIM card in use is also found to be the underlying cause.
In worst case scenarios, hardware damage present on the device or certain cellular components including a damaged SIM card tray and network antenna are to blame.
Network-outage such as unexpected technical difficulties and scheduled system maintenance affecting network services are also among the possible causes of the problem.
Troubleshooting the Galaxy S21 can't receive calls issue
Before you begin performing the following solutions, verify and ensure that your phone is getting a strong and stable signal strength. If the cellular reception is unstable or weak, chances are that your device won't be able to make or receive phone calls. Other cellular services like SMS and MMS are likewise affected.
Also ensure that your phone software is up-to-date. If necessary, download and install the latest software version available.
If the phone is updated and the signal reception is good but for some reason incoming calls don't work as intended, then you can start ruling out common culprits individually with these methods.
Don't forget to make a test call after carrying out every solution to determine whether or not the problem is fixed.
These methods are also applicable to other Galaxy phone.
Solution #1: Force Stop Phone App.
In-app glitches can also cause the phone app to suddenly become erratic and unable to work as intended. To clear these glitches out, performing the force stop command on the phone app can help.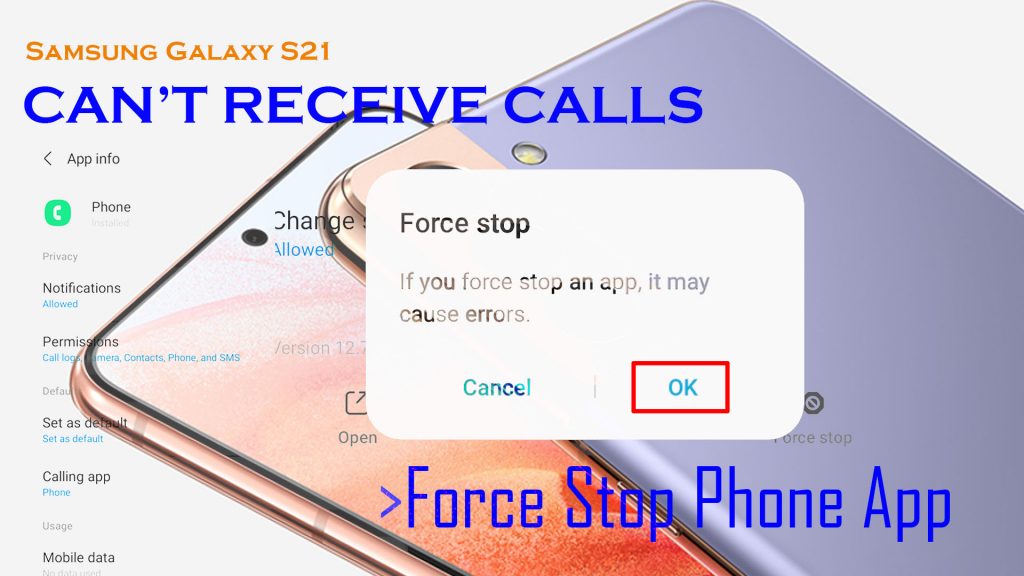 Here's how you do it:
Swipe up or down from the center of the Home screen to access the Apps viewer.
While on the Apps viewer, tap the Settings icon.
On the settings menu, tap Apps.
Find and select the Phone app from the list.
On the Phone App Info screen, tap Force Stop.
If prompted, review the pop-up warning and then tap OK to confirm.
The Phone app will then be forcibly ended.
Solution #2: Restart the phone (soft reset).
A soft reset or restart can help fix various software errors including random system flaws affecting incoming calls. It's an easy and safe process as it doesn't delete any apps and information from the internal memory. Just follow these steps:
Step 1: Simultaneously press and hold the Volume Down and Side/Power keys for a few seconds.
Step 2: Release both keys when the power options appear.
Step 3: To instigate a system reboot, tap on the Restart icon.
Wait for the phone to finish rebooting and then see if the problem is fixed.
Solution #3. Clear Phone App Cache.
Temporary files that are stored as cache on the Phone app storage can also cause problems if any of them gets corrupted. They can also use up storage when piled up. Thus, regular clearing of cache is recommended.
To clear cache from the Galaxy S21 phone app, just follow these steps:
Swipe up or down from the center of the Home screen to access the Apps viewer.
While on the Apps viewer, tap the Settings icon.
On the settings menu, tap Apps.
Find and select the Phone app from the list.
On the Phone App Info screen, tap Storage. Storage details for the phone application will be displayed.
Scroll down to the bottom and then tap the Clear cache button.
Doing so will erase all temporary files accumulated while using the Phone app including corrupted data segments that cause some conflicts.
Solution #4. Toggle Airplane Mode on and off.
Turning Airplane mode on and off shortly can also help fix different issues affecting wireless features in mobile devices. It's another way to refresh the phone's wireless functions. This trick has also been proven effective when dealing with wireless connectivity issues including calling problems.
Should you wish to try it, just follow these steps:
Tap the Settings icon from the Home screen to launch the Settings app.
Next, tap Connections.
Then, toggle to turn the Airplane mode switch ON. All wireless features are then disabled simultaneously. This means you'll be disconnected from Wi-Fi and cellular data networks.
While Airplane mode is enabled, restart the phone.
As soon as it's finished rebooting, turn Airplane mode OFF again.
Wait for the phone to re-establish cellular signal and then see if incoming call is already working properly.
Solution #5: Reset network settings.
A network reset is often needed when dealing with recurring network problems including those that instigated from a software update. This reset works by deleting all custom network settings and restores the original network configuration on the phone. It doesn't affect any saved information on the internal storage so you won't lose any important data in the process.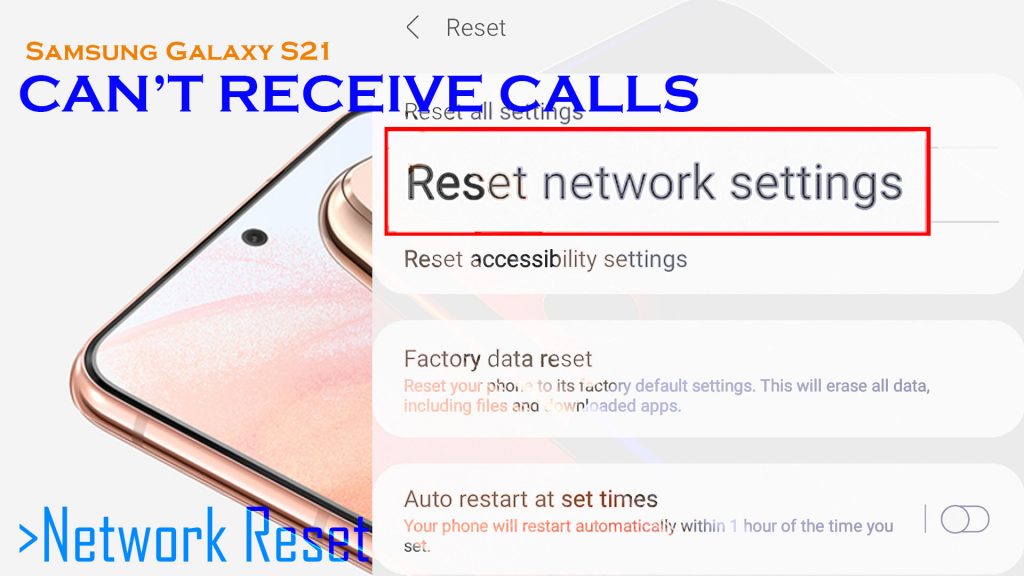 Just follow these steps:
Go to the Home screen and tap the Settings icon. Doing so will launch the Settings app.
On the Settings menu, scroll down and tap General management.
Then, tap Reset to proceed.
To instigate a network reset, select Reset network settings from the given options.
Read the succeeding details about the reset then tap Reset settings to proceed.
If prompted, enter your device pattern, PIN or passcode and then tap Reset or Reset settings to confirm.
The phone will then start resetting the network settings and then restore the default network options.
When the reset is finished, automatic reboot follows. Just wait for the phone to finish rebooting and once it's up, you can start setting up network connections like the first time.
Still can't receive phone calls on your Samsung Galaxy S21?
The following are other useful workarounds that can help you deal with incoming call problems on your Samsung Galaxy S21.
1. Check your Blocklists.
If you cannot receive an incoming call only from a certain number, then it could be that the number is block listed.
To clear this out, access your phone and call app settings and make sure that the number isn't listed in the block numbers.
To do this, go to the Phone-> Settings->Block numbers menu. If you configure the phone app to block unknown callers, try to disable it for now to make sure all incoming calls from unknown callers will go through.
If the problematic contact number appears on the blocklist, just remove it by tapping on the Minus (-) sign next to the number.
2. Disable DND Mode.
Another feature that can possibly block a phone call is the DND or Do Not Disturb. When enabled, DND mutes sound notifications and rejects phone calls based on the rules you've set. That said, you may also not be able to get phone calls while in Do Not Disturb mode. To make sure that this isn't causing the problem, you can try disabling it on your phone settings.
To do this, go to Settings-> Do Not Disturb menu and then toggle the switch to turn off DND mode.
You can also access and toggle the Do Not Disturb icon straight from the notification panel.
3. Disable Call Forwarding.
Call forwarding is a feature that forwards or reroutes phone calls to a different phone number. To make sure that this isn't the main reason why you're not getting any phone calls, try to disable it.
To do so, tap the Phone icon to launch the phone application. While on the Phone app screen, tap Menu (triple dots) then tap Settings. Select Supplementary services and then tap Call forwarding. Finally, tap to turn off the Always forward option.
That should stop the phone from forwarding calls to the specified phone number.
4. Reinstall the SIM card.
If both outgoing and incoming phone calls aren't working on your phone, chances are that the SIM card might not be properly installed or worse, damaged.
To clear this out, remove and inspect the SIM card. If you see any signs of damage and want a replacement SIM, just contact your carrier. They can assist you in testing the SIM further or replace it if needed.
5. Try another SIM card.
The phone's SIM card might also be the problem. If you have a spare nano-SIM card for your Galaxy S21, try to switch between SIM cards. Doing so will help you isolate whether or not the problem is with your current SIM card. If incoming calls work using other SIM cards, then it's a SIM card issue. Thus, getting a new SIM card is the solution you need.
Seek More help
To many people, contacting their service provider's technical support is a hassle. However, there are certain issues that only the service provider can resolve. Thus, calling tech support is recommended among the last resorts when dealing with calling and relevant issues.
Just provide them all the needed information so that they can assist you better. Also don't forget to verify your account and service status to ensure that account-related issues have nothing to do with the current problem.
If you've recently switched carriers and decided to keep using the same phone, then you may need to have the phone reprogrammed by your current carrier to activate and use their service. This is one of the reasons why you should give your carrier a call.
Repair Options
If you suspect that hardware damage is the underlying cause of the problem, then you better take your phone to the nearest service center so that it can be properly diagnosed by an authorized technician.
Hope this helps!
Please check out our YouTube channel to view more tutorial and troubleshooting videos for popular iOS and Android devices.
You Might Also Want To Read: