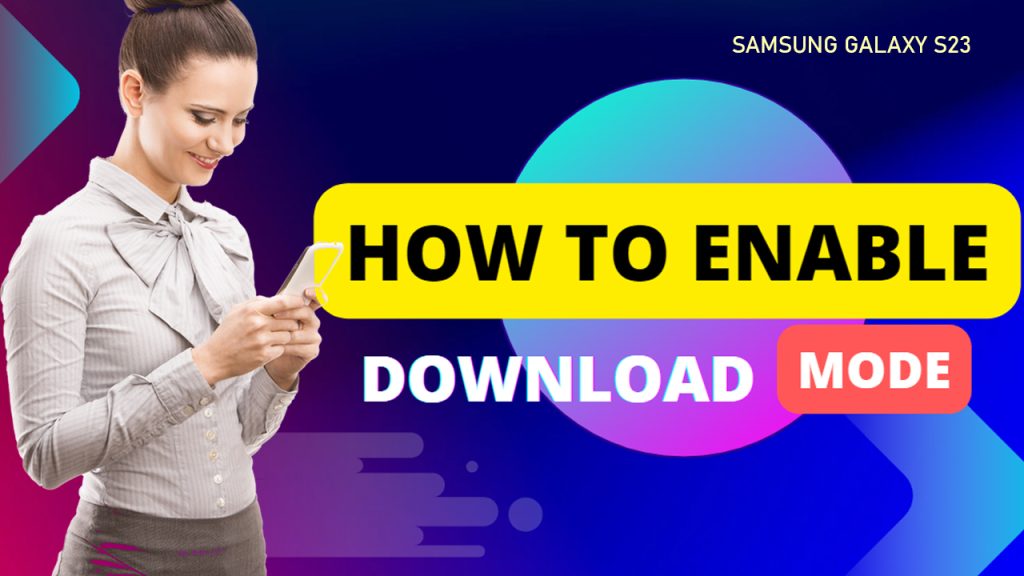 High-tiered Samsung Galaxy smartphones are programmed to run in different types of modes including normal mode, safe mode, recovery mode, download mode, and developer mode, to name some. Each of these system modes are designed for specific purposes. Tackled in this post is the process of booting the new Samsung Galaxy S23 into Download Mode. Read on to learn more.
What is Download Mode?
Download mode refers to special boot mode on Samsung Galaxy S21 that allows you to flash firmware or install software updates using a computer. It is also known as Odin mode, named after the software used to flash firmware on Samsung devices.
This mode is also known as Odin mode. It is typically used by advanced users and developers to modify the device's firmware or recover the device from a soft brick.
Download Mode Prerequisites
Before booting into Download Mode on your Samsung device, it is imperative to take necessary precautions to avoid any potential data loss or damage to your device. Here are the things that you should do prior to putting your device in Download/Odin Mode.
1. Backup your data.
It is essential to backup all your important data, including photos, videos, contacts, and other files before accessing Download Mode. In case something goes wrong during the flashing process, you still have backup files to retrieve.
2. Charge your device.
Make sure that your device has enough charge to complete the flashing process. It is recommended to have at least 50% battery before starting the process.
3. Install necessary drivers.
To communicate with your device, you need to install the necessary drivers on your computer. You can download the latest Samsung USB drivers from the official Samsung website.
4. Download the firmware or ROM.
Before starting the flashing process, make sure that you have downloaded the correct firmware or ROM for your device model. You can find the appropriate firmware on the official Samsung website or from trusted third-party websites.
5. Disable anti-virus software.
Before flashing your device, it is recommended to disable any anti-virus software or firewalls on your computer. These programs can interfere with the flashing process and cause errors.
How to boot the Galaxy S23 into Download Mode?
The process of booting a Samsung Galaxy smartphone in Download mode is pretty straightforward. Just follow these steps whenever you're all set to proceed:
Step 1: Power off your device completely.
Make sure your phone is not in sleep mode or any other mode.
Step 2: Press and hold the Volume Up button on the left side of your device and the Power button on the right side at the same time.
Step 3: Keep holding both buttons until the Samsung logo appears on the screen. When you see the logo, release the Power button but keep holding the Volume Up button.
Step 4: Continue holding the Volume Up button until the device enters download mode. You then should see a message on the screen that says "Downloading… Do not turn off target" or something relevant. This means that your device is now running in download mode.
Step 5: As soon as you see the Downloading message, connect your Samsung Galaxy S23 to your computer using a USB cable.
By then, you can start flashing firmware or install software updates using Samsung's official software Odin.
Odin is a powerful tool that can perform a wide range of operations on a Samsung device, including firmware flashing, rooting, and recovery.
Improper use of Odin or incorrect firmware flashing can result in data loss or even permanent damage to the device. Therefore, it is recommended that you follow the instructions carefully and backup your data before proceeding.
What happens when your phone is running in Download Mode?
When your phone enters Download mode, the system boots up with a minimal set of drivers and services necessary for communication with a computer. This allows the phone to establish a stable and reliable connection with a computer through a USB cable.
What to do if you cannot boot into Download Mode?
If for some reason, your phone cannot boot into download mode, you can try these subsequent workarounds to determine the possible cause and fix the problem.
1. Check the hardware.
It is important to ensure that the hardware is functioning properly beforehand. Thus, check and ensure that the USB cable is not damaged and that the phone's USB port is clean and free from debris. You can try using a different USB cable or port to see if that resolves the issue.
2. Charge the battery.
If the phone's battery is low, it may not be able to enter download mode. That said, make sure that the battery is charged to at least 50% before attempting to enter download mode.
3. Try a different button combination.
Entering a different mode other than the normal Android system mode requires a series of hardware key combinations. So make sure that you've pressed the correct keys on your phone. You can retry pressing the buttons and see if it works this time.
4. Boot into recovery mode.
If you are unable to enter download mode, try booting the phone into recovery mode instead. In recovery mode, you can perform a factory reset or wipe the cache partition to resolve software issues that may be preventing the phone from entering download mode. This can be considered a good alternative, if applicable.
How exactly Download Mode works in Android phones?
Download mode is critical for Android users who want to install custom firmware or update their devices using official software releases. It basically works by sending firmware and software update packages to the phone from a computer.
Once the update packages are sent, the device bootloader program then flashes these packages to the device's internal memory, overwriting the existing firmware or software. This results in an updated software/firmware version.
Be sure to only flash firmware or software packages that are compatible with your device because flashing incompatible packages can cause irreparable damage to your device.
Aside from firmware flashing and installing software updates, you can also use Download mode to bypass the standard boot process of your device. So instead of loading the Android OS and launching the user interface, the phone loads a minimal bootloader program that can communicate with the computer over a USB connection.
How to Exit Download Mode on Galaxy S23
Exiting download mode on your Samsung smartphone is a straightforward process that can be done quickly and easily by following these steps:
Step 1: Press and hold the Power button and Volume Down button at the same time for about 10 seconds. Keep holding both buttons until the device restarts.
Step 2: Once the device restarts, release both buttons.
Your device should now be out of download mode and should boot up normally.
What to do if your phone is stuck in Download Mode?
If your Samsung Galaxy S23 gets stuck in download mode, performing the following tweaks can help.
1. Restart/Soft reset.
The simplest effective solution to various types of firmware issues in smartphones is to perform a soft reset.
To do this, press and hold the power button for 10-15 seconds until the phone turns off. Wait for a few seconds and then turn the phone back on.
This may help resolve the issue and allow you to exit download mode.
2. Force restart.
If performing the standard restart/soft reset is not applicable because your phone gets stuck or unresponsive, you can use the alternative method called a forced restart. It's equivalent to the battery removal procedure in devices with removable batteries. As the name suggests, it forces the system to shutdown and restart.
To force restart the Galaxy S23, simultaneously press and hold the Power button and Volume Down button for about 15 seconds or until the screen goes black and then release.
Wait for your phone to finish booting up and it should then start running back in normal mode.
And that's all there is to entering and exiting the Samsung Galaxy 23 Download Mode.