This post will walk you through an inbuilt wireless connectivity feature on the Galaxy Z Flip4 smartphone that allows you to share your phone's cellular/mobile data connection with other compatible devices nearby. Here's a quick guide to enable mobile hotspot on Samsung Galaxy Z Flip4.
Planning to go for a road trip but need to stay online? You can make that happen with your new Samsung Galaxy Flip phone's mobile data feature. For as long as you have a good cellular network reception, an active data subscription or sufficient prepaid data credits, you should be able to connect to the internet. Just read on for more detailed instructions.
Galaxy Z Flip4 Internet Sharing Feature
One of the useful features of modern smartphones is their ability to work as a wireless modem or router. The new Samsung Galaxy Z Flip 4 for example, can serve as a wireless router for your other devices in the absence of a Wi-Fi network. All you have to do is activate and set up its mobile hotspot feature and start sharing your phone's 4G or 5G internet connection with your other mobile devices and computers.
When enabled , your Samsung Galaxy Flip 4 will utilize its mobile data from your cellular network and make it available to any nearby device. For your other devices to connect to your Flip4's hotspot network, they have to connect to the correct SSID and password. You can set multiple users to use the same mobile hotspot and share your internet connection.
If you're new to Android phones and wondering how to access and manage this feature on your new Samsung Galaxy Flip phone, just refer to the outlined instructions.
Steps to Enable Mobile Hotspot on Samsung Galaxy Z Flip4
Before you start sharing your phone's mobile data connection, make sure that it's sufficiently charged and has a stable cellular signal.
Once you've got everything ready, go ahead and follow these subsequent methods to configure your phone's mobile hotspot settings.
Hint:
A quicker way to enable mobile hotspot on your Samsung phone is through the quick settings panel. To do this, just launch the quick settings panel by swiping down from the top of the Home screen. While on the quick settings panel, find and then tap to turn on the Mobile Hotspot icon. That should immediately enable your phone's mobile hotspot connection.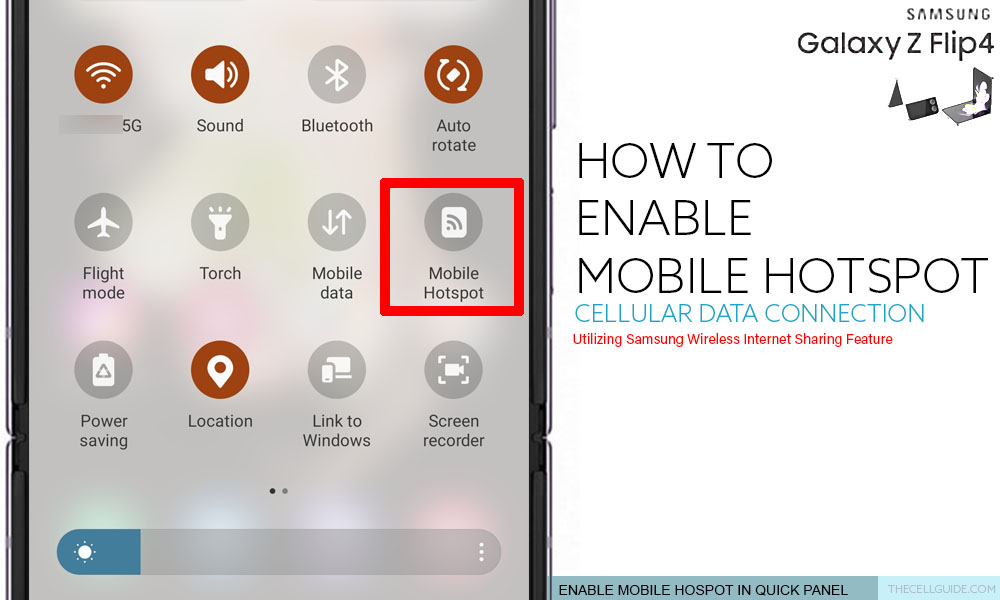 If you wish to access and manage individual options to personalize your mobile hotspot connection, then you can do so by accessing the mobile hotspot menu from the Settings app. Just follow these steps whenever you're all set.
Step 1: To get started, launch the Settings app by tapping on the Gear/Settings icon from the Home screen or Apps screen.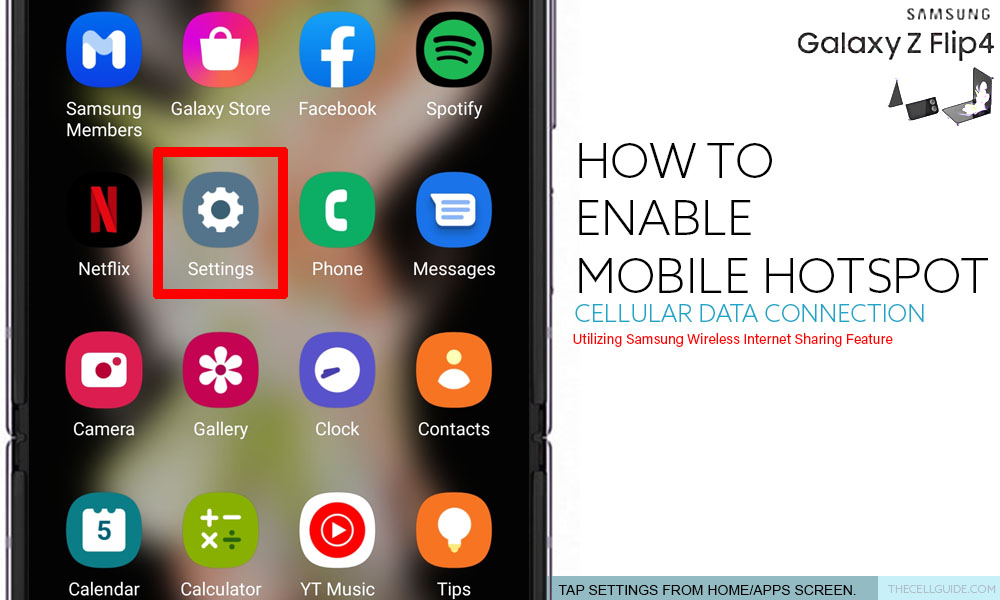 Step 2: In the Settings app's main menu, tap Connections. A list of all built-in connectivity features will load up next.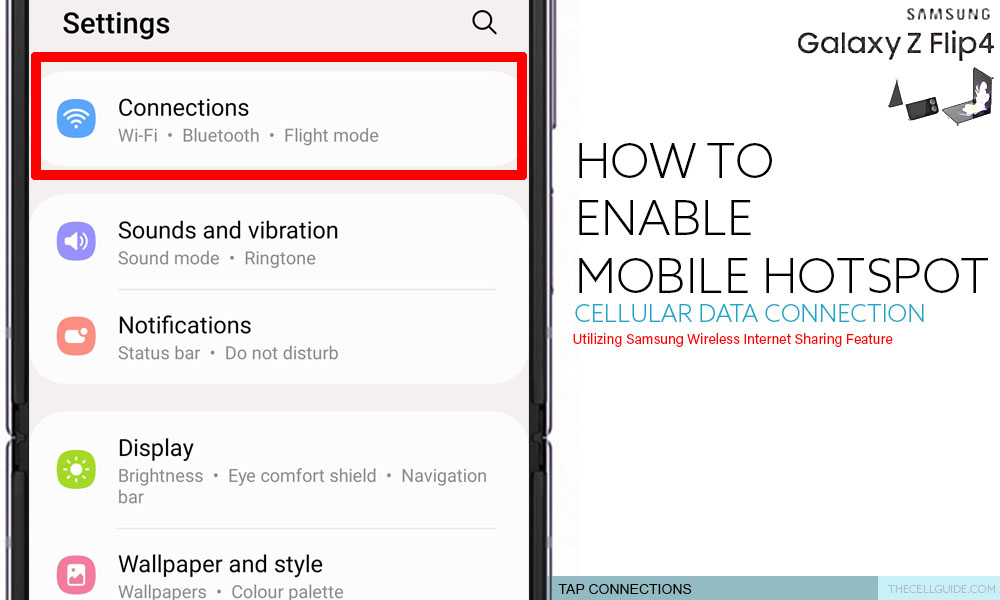 Step 3: Tap Mobile Hotspot and Tethering to proceed.
Step 4: On the next screen, you will see a few relevant features and options. Tap Mobile Hotspot to access and manage your phone's hotspot settings.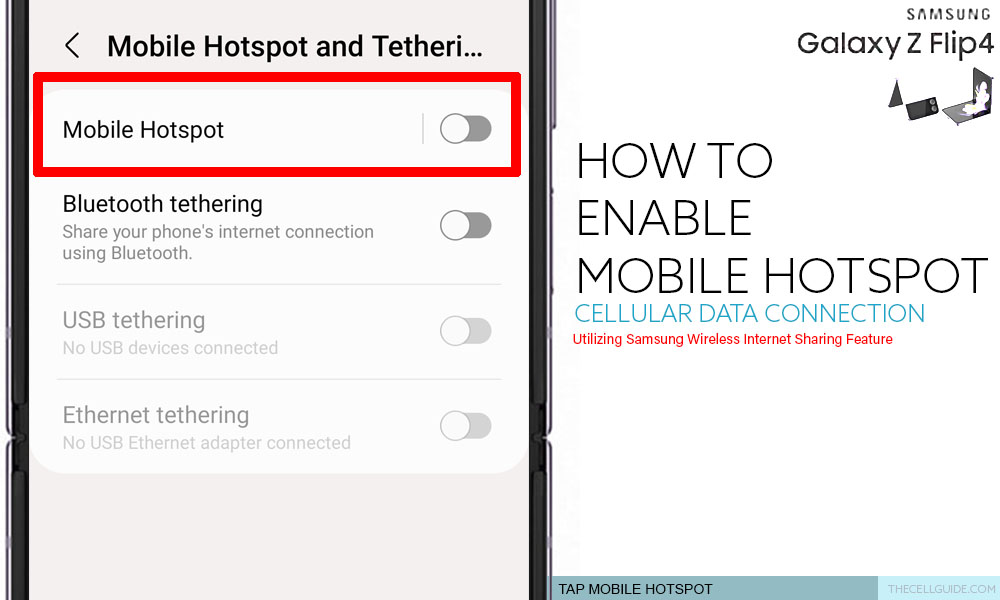 Step 5: On the Mobile Hotspot screen, tap to turn on the Mobile Hotspot switch.
Step 6: To edit or manage the SSID and password, tap Configure.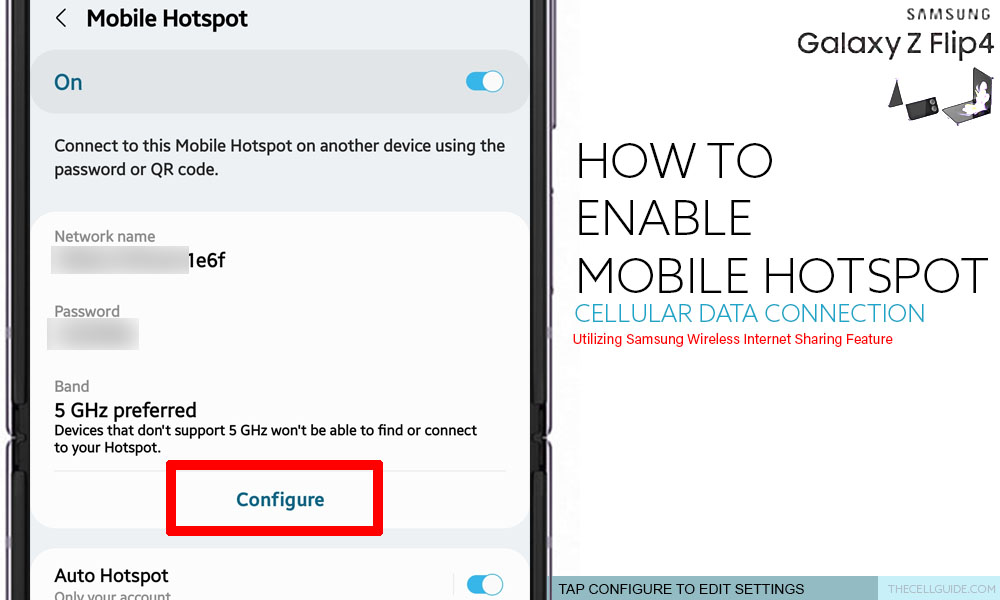 Step 7: On the succeeding window, you will see the editable fields for Network name, password, network band and advanced settings.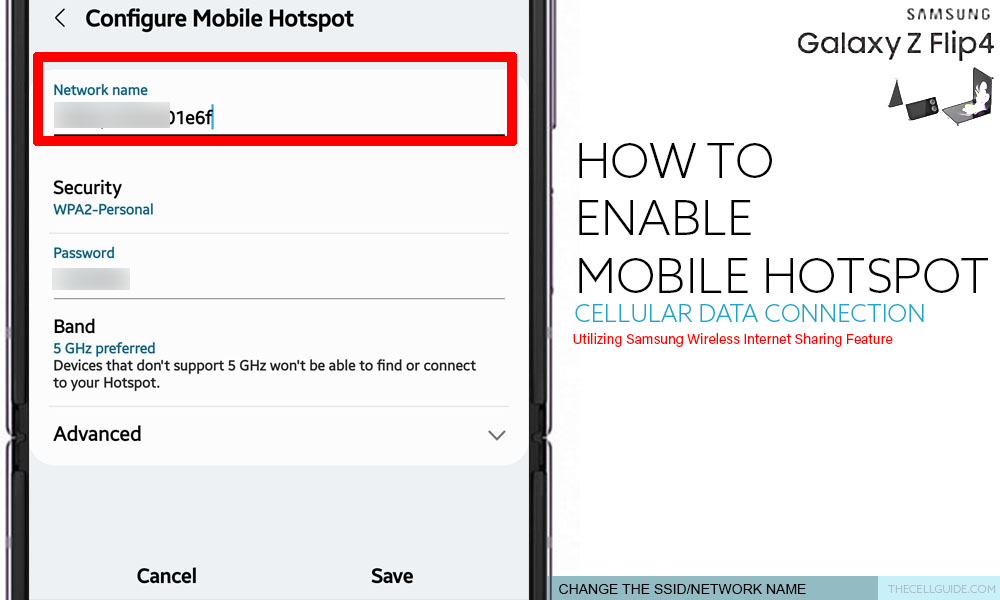 Step 8: To change the network name (SSID), just erase the current name then enter the new name that you'd like to use for your mobile hotspot network.
Step 9: To change the network password, delete the current password then replace it with your new password. Take note of the changes you've made as you will need that information to connect your other devices successfully.
Step 10: To change the network band, tap Band then select any from the available network band selections. Available options may vary depending on the network band your device supports like 2.4 GHz or 5 GHz, for instance.
Step 11: To view more mobile hotspot settings, tap Advanced. On the drop-down menu, you will see more advanced settings and options that you can use to customize your mobile hotspot connection.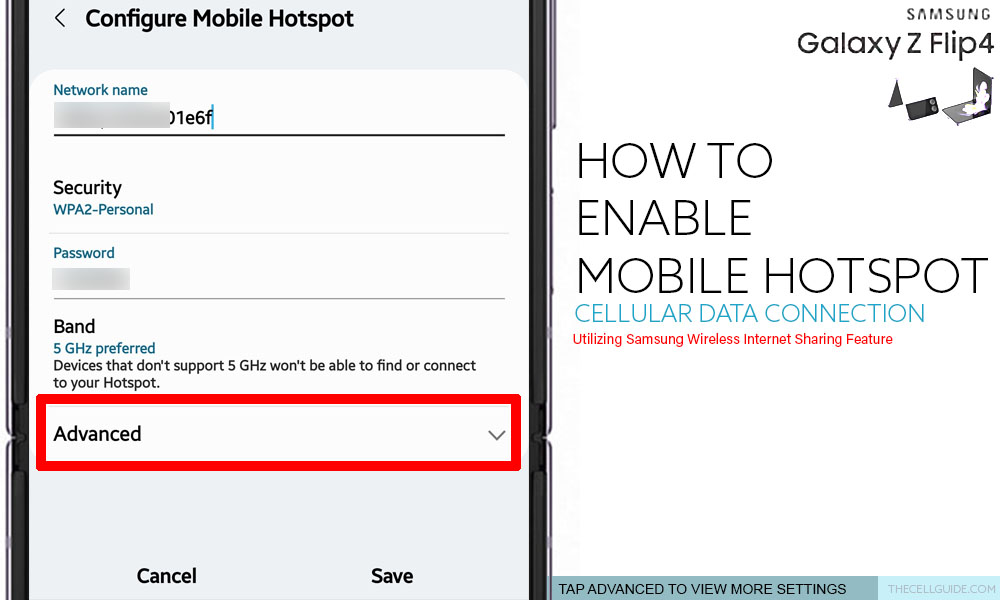 Setting Data Limit
Should you wish to impose a data limit to your other devices, just tap Set mobile data limit then enter the data limit you want to set.
If the set data limit is reached, the mobile hotspot will automatically disable and all your devices will be disconnected. When you re-enable mobile hotspot, the data usage will reset to zero.
Meanwhile if your data subscription is unlimited, then you can just set no limit instead.
Automatically turn off data
You can also configure your phone to automatically turn off mobile data when no device is connected for a certain period of time like 5 minutes, 10 minutes, 20 minutes, 30 minutes or 60 minutes.
Mobile Hotspot with power-saving
To preserve battery while on mobile data, turn on Power saving mode so that the battery usage will automatically be reduced by analyzing your phone's mobile data traffic. However, enabling power saving mode while on mobile data may affect performance of other mobile data features like online games or video streaming. Using this feature is therefore optional.
Step 12: After making necessary changes, tap Save at the bottom-right edge.
Your Samsung phone's mobile hotspot feature receives the signal from the cellular network and then converts it to a Wi-Fi signal (Wi-Fi hotspot) that's shareable to other compatible devices within range.
Beware of Additional Data charges
To avoid incurring extra charges for excess data, be sure to talk to your carrier beforehand. This is imperative if your monthly data subscription is NOT unlimited.
Mobile data caps
Depending on your plan, there might be some data caps imposed by your network carrier that restrict the amount of internet you can use. Usually in this case, the ISP will slow down your internet speed to a point that your devices are only able to carry out the simplest tasks online. Going beyond your plan may also denote extra charges for excess data usage.
Unable to connect to mobile hotspot?
If any of your other devices have trouble connecting to your Flip4's hotspot connection, verify and ensure that you're connecting to the correct SSID. Also ensure that the Hotspot password you entered is correct.
If your device uses auto-fill, retry connecting by manually entering the password for your mobile hotspot. Sometimes, the device may store (cache) the previous password in the auto-fill section.
Also ensure the Cellular Data or Mobile Data on your Samsung Galaxy Z Flip4 settings is enabled.