This post will show you how to enable call waiting on the iPhone 13. Read on to learn how to configure your new iPhone to put other calls on hold while attending to a more important phone call.
Call waiting is a cellular service that was first introduced in North America way back in the 1970s. The old system though was quite complicated compared to the present service. Nonetheless, the feature serves the same purpose and that is to let you know about an incoming phone call while you're attending one.
iPhone 13 Call Waiting
Aside from call forwarding, iOS devices also support call waiting.
Call waiting is an iOS Phone app feature that will let you know about a new incoming call while you're busy on a phone call. Enabling this feature will help you ensure that you don't miss any important phone calls.
You can put your current call on hold and take the new phone call. You can also merge calls to form a conference call, if necessary.
Steps to Enable Call Waiting on iPhone 13
In order to use the call waiting feature on your iPhone 13, you will need to activate the service beforehand. Among the key requisites to set up and use call waiting on a smartphone include a cellular service through a GSM network.
For those who are new to the iOS platform and need some input on how to activate the service on the recently released iPhone 13 device, then feel free to refer to these steps: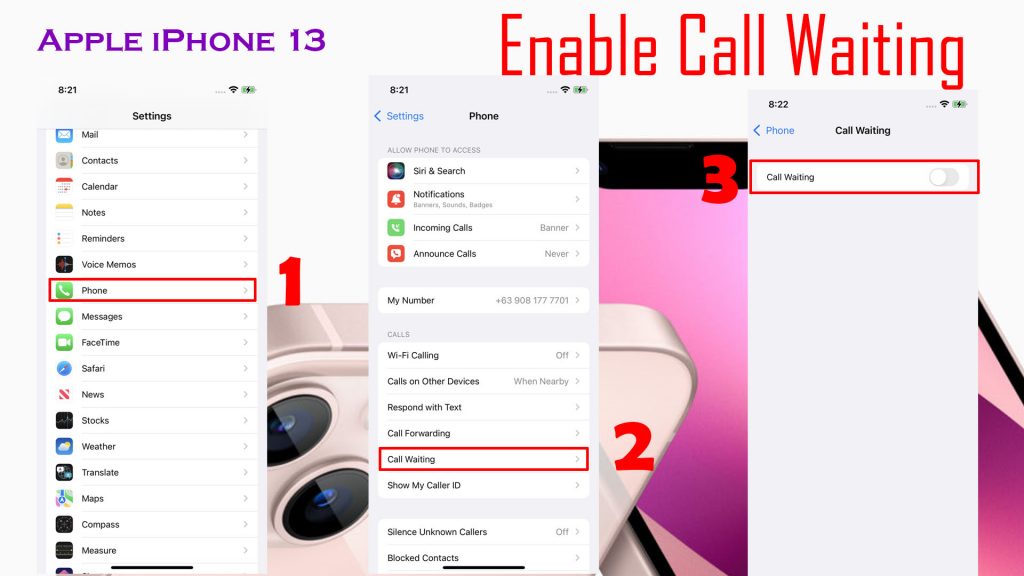 Go to the Home screen and then tap the Settings icon to launch the iPhone settings.
While on the Settings menu, tap Phone.
Navigate to the Calls section and then tap Call Waiting to proceed.
On the succeeding window, toggle the Call Waiting slider to turn the feature ON.
When the switch turns green, it means that the iPhone call waiting is turned on or activated and therefore all set for use on your next calls.
Carriers supporting Call Waiting
Call waiting is supported by the four leading carriers/network service providers in the U.S.
If you're on Verizon, Sprint, AT&T and T-Mobile, call waiting is enabled by default. This means that there's no need for you to enable the feature using the above steps as it's already activated on your device.
Disabling call waiting on AT&T and T-Mobile
Should you wish to disable the feature temporarily on the Phone settings, all you have to do is configure your iPhone's call waiting settings. Here's how: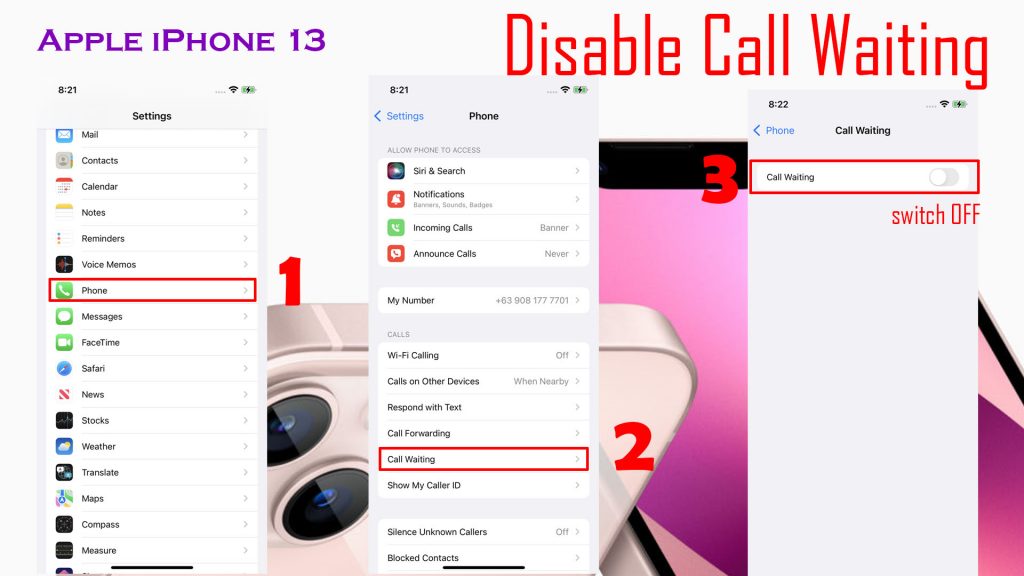 First, go to your Home screen and then tap Settings to access your iPhone settings.
On the Settings app menu, tap Phone.
To continue, tap Call waiting and then toggle the switch to turn the feature OFF.
All incoming calls during an existing phone call will go straight to your voicemail.
Disabling call waiting on Verizon and Sprint
As mentioned earlier, call waiting is also available on Verizon and Sprint and the service is also enabled by default.
If your iPhone carrier is either of these two and you'd like to suspend or disable the service temporarily, just dial *70 and then enter the number you are calling before placing a call.
Doing so will suspend the call-waiting service temporarily for the entire duration of that specific call only.
Is Call Waiting Not Working?
If call waiting is supported by your carrier but for some reason it doesn't work as intended, try to restart your iPhone. Random software glitches might have halted the service and that therefore needs to be refreshed.
There are also some instances when a corrupted SIM card data is to blame. In this case, reinstalling the SIM card will likely fix the problem. Just remove and then reinsert the SIM card on your iPhone and you should be all set.
In the case where the service is not available on your phone, contact your carrier for further assistance and recommendations.
Please note though that the call waiting feature is not supported by all carriers and thus, there's a chance that it's not available on some iPhone 13 settings.
What happens if Call Waiting is disabled?
Disabling call waiting on your iPhone will send all incoming phone calls to voicemail if they arrive while you're engaged in a call.
Alternative to Call Waiting
Aside from call waiting, iOS devices also offer other useful features that you can use as a substitute if call waiting is not available. One of these features is the Announce Calls. When enabled, your iPhone will let you know about the new incoming call.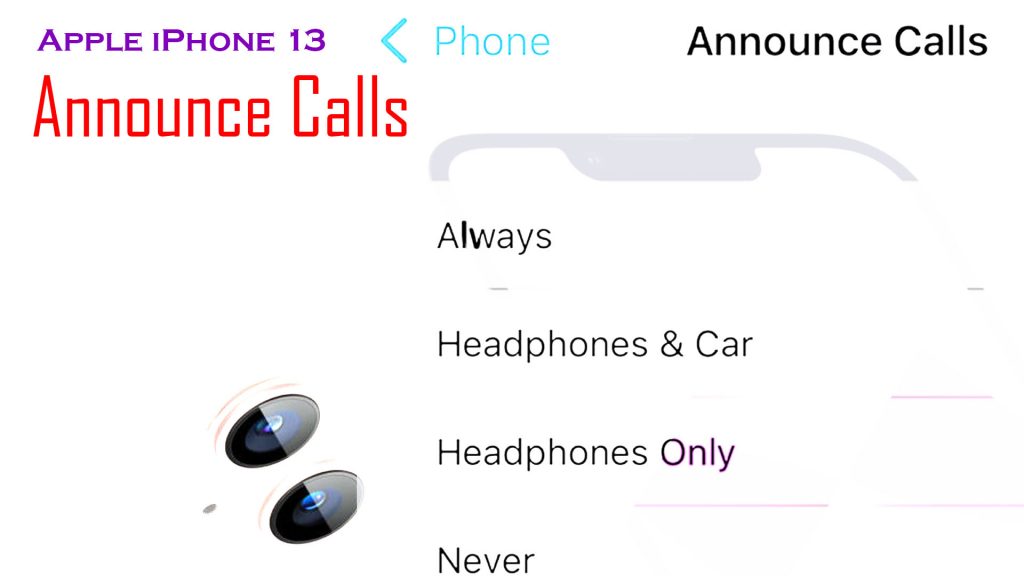 When enabled, this Announce Calls feature makes your device speak the name of the caller given that the person's number is saved in your Contacts app. This therefore gives you an option whether or not to answer incoming calls.
You can also set your device to forward calls or new call through call forwarding.
Similar to other Phone app features like call waiting, wi-fi calling and call forwarding feature, announce calls feature also needs to be activated prior to using. All you have to do is access the Phone settings on your iPhone 13.
Other handy Phone features on the iPhone 13 include caller ID, Facetime Call, and call blocking (block caller ID), to name a few. And some of these features can also be activated using secret code.
And that's all about activating call waiting service on the new Apple iPhone 13.
Hope this helps!
Please check out our YouTube channel to view more tutorial and troubleshooting videos for popular iOS and Android devices.
You Might Also Want To Read: