When your iPhone is suddenly unable to make or receive phone calls, you have the option to either troubleshoot or immediately contact your network service provider to report the problem for further assistance. Although the latter would certainly render positive results, it may not be a better option especially if you'll be placed on hold or waiting in queue for long. Hence, performing basic troubleshooting on your end is likewise imperative. The procedures I've mapped out below are simple yet very effective solutions to deal with a similar issue with the iPhone 11 handset. Read on to find out why and what to do if your new iPhone is suddenly not receiving any phone calls.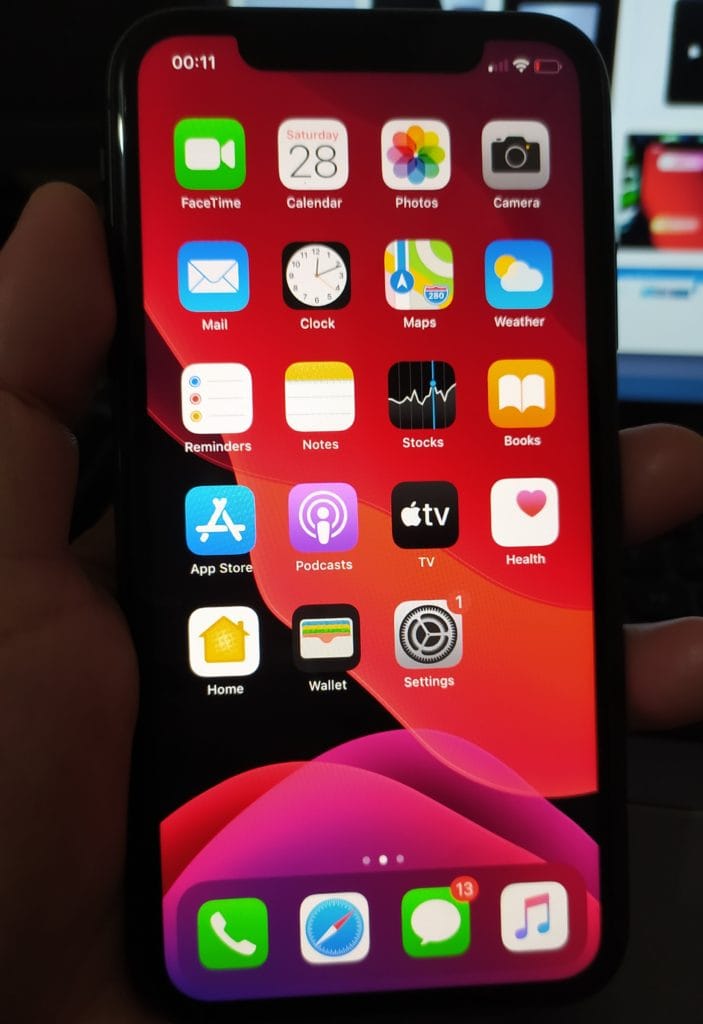 Possible causes
Perhaps you're not just getting any phone calls at the moment or maybe something is really preventing your iPhone from receiving phone calls. To give you some clues as to why such problems arise, I've listed some of the possible causes, as follows.
Phone app is glitching.
Calling issues that suddenly occur are likely just random glitches transpiring on the phone app. These problems are deemed among other minor software issues that can easily be remedied by restarting apps or the device itself.
Call settings are not properly configured.
Your iPhone has several features that can cause calling issues when enabled or not configured properly. Among the settings you should consider checking are Call Forwarding, Do Not Disturb, Silence Unknown Callers and Restrictions.
Network-related problems.
These are inevitable factors, hence the problem may or may not be rectifiable at home. Network problems that can halt incoming calls would include temporary network outages caused by scheduled network maintenance or unexpected technical difficulties on your network service provider's end.
Hardware issues.
A damaged SIM card, phone antenna or other relevant components on your iPhone can be the worst possible causes to consider ruling out. This is usually the case if everything was working fine until you've accidentally dropped or got your iPhone wet. A busted or defective SIM card in use is also another factor to consider when dealing with calling issues attributed to hardware issues.
Troubleshooting incoming call problems
Below are a few potential solutions to deal with incoming call issues on an iPhone that are tied to common software-related factors including a corrupt SIM card. Don't forget to place a test call after performing each of these methods to find out whether or not the problem is solved. But before you do, check and ensure that your iPhone is getting a stable cellular network signal. Otherwise, you'll have to deal with signal issues firsthand.
First solution: Quit the Phone app then restart your iPhone.
To rule out random in-app glitches, start by restarting the Phone app and your iPhone system. Just follow these steps to force close the Phone app (if it's currently running in the background):
From the Home screen, swipe up from the bottom of the screen then slightly pause in the middle. Doing so will show up previews of all suspended applications.
Swipe left or right to find the Phone app's preview.
Then swipe up on the Phone preview to close the app.
Repeat the same steps to clear all other background apps. Once you're done closing all background apps, restart or soft reset your iPhone to clear cache and to refresh its internal memory. Simply follow these steps:
Press and hold the Power button and either Volume buttons of your iPhone for a few seconds.
Release the buttons when the power off slider appears.
Drag the slider to the right to power off your device.
After 30 seconds, press and hold the Power button again and then release when the Apple logo appears.
Wait until your iPhone is finished rebooting and then re-establish a stable cellular network signal.
Second solution: Toggle Airplane Mode on and off.
When enabled, Airplane Mode will disable all wireless radios and features of your iPhone. An indication that Airplane Mode is enabled is the crescent moon icon on the status bar. If you see this icon, all you need to do is turn the feature off and that should fix the problem.
You can also Airplane Mode to refresh your iPhone's wireless features including cellular services. A lot of iPhone owners were able to find wonders from performing this trick. If you wish to give it a shot, then you may through these steps:
From the Home screen, tap Settings.
Select Airplane Mode then toggle the switch next to it to enable the feature. Doing disables your iPhone's wireless radios and relevant features.
While Airplane Mode is enabled, restart or soft reset your iPhone.
When your iPhone is finished rebooting, head over back to Settings-> Airplane Mode menu.
Then tap the switch again to turn Airplane Mode off.
Wait for your iPhone to re-establish wireless and cellular signal. And when the signal bars/indicators become stable, try placing a test call to your iPhone 11 using another phone to see if the problem is fixed.
Third solution: Disable Call Forwarding, Do Not Disturb, Silence Unknown callers, and Restrictions features.
As mentioned earlier, there are some features that you need to consider turning off in order to ensure that they're not blocking incoming calls on your iPhone 11. Just refer to the following methods.
Disabling Call Forwarding feature on iPhone 11
When enabled, incoming calls on your iPhone will be forwarded or routed to other designated phone number.
From the Home screen, tap Settings.
Scroll to and tap Phone.
Tap Call Forwarding then toggle the switch next to it to disable or turn off Call Forwarding feature of your phone.
Disabling Silence Unknown Callers on iPhone 11
When enabled, Silence Unknown Callers will prevent calls from unregistered numbers from coming in. Hence, you won't be getting any phone calls from unknown contacts or unsaved contacts. To make sure that this is what's barring your calls, try to disable the feature on your iPhone. Here's how:
Tap Settings from the Home screen.
Select Phone.
Scroll down to and tap the option to Silence Unknown Callers.
Then toggle the switch to turn the feature OFF.
Disabling Do Not Disturb feature on your iPhone 11
When enabled, DND can block or delay incoming calls on your iPhone. To turn off this feature, simply do these:
Tap Settings from the Home screen.
Select Do Not Disturb.
Toggle the switch to turn off Do Not Disturb feature without setting any exceptions.
Disabling Phone restrictions on your iPhone 11
When enabled, the Phone app may not be able to work as intended. Here's how to turn off this feature:
Tap Settings from your Home screen.
Select Screen Time.
Tap Privacy & Content Restrictions.
Navigate to the Allowed apps section then toggle the switch next to Phone to turn it on.
Or you also turn the Privacy & Content Restrictions switch off. Doing so will lift all app restrictions set on your iPhone.
Fourth solution: Install new firmware and carrier updates, if available.
Installing updates can also be the key to resolving calling issues that are inflicted by some stubborn software bugs. If your iPhone doesn't have any trouble connecting to Wi-Fi internet, you can do a quick check to see if there are any available updates to implement.
To check for available iOS update, simply go to Settings-> General-> Software Update menu.
You will see a notification containing further details of the new iOS update available for your iPhone. Just follow the onscreen prompts to download and install the update on your phone. If you don't see any notes, it means that your iPhone software is up to date.
To check for available carrier updates on your iPhone 11, go to Settings-> General-> About menu.
Just follow the onscreen prompts to update your carrier settings, if necessary.
Fifth solution: Reset network settings on your iPhone.
Network-related issues including problems with incoming calls can also be resolved by a network settings reset. This reset will erase all your current network settings and thereby eliminates any relevant issues attributed to a corrupted network or incorrect network settings on your iPhone. This reset doesn't affect any saved data on your phone so there's no need to back up files beforehand. Just follow these steps:
From the Home screen, tap Settings.
Select General.
Scroll down and tap Reset.
Tap to select Reset network settings from the given options.
Enter your device passcode if prompted to continue.
Then tap Reset network settings again to confirm.
Wait for your iPhone to finish resetting and then restarts on its own. As soon as it's finished rebooting, you can start re-enabling wireless features for re-use.
Last resort: Reinstall your SIM card.
Removing and reinstalling the SIM card on your iPhone can also help fix calling issues, particularly those attributed to a corrupt SIM card data. If you wish to try your luck in this tweak, then simply refer to these steps:
Turn off your iPhone completely.
While your iPhone is powered off, insert the SIM ejector into the small hole on the SIM card tray located on the side of your phone. You can also use a small paperclip (bent) as an alternative if you don't have the SIM ejector.
Gently push the ejector tool until the tray pops out.
Remove the SIM card from the tray.
Examine the card and tray for any visible signs of damage like scratches or dents.
If everything looks fine, insert the SIM card back into the tray in the same orientation before you removed it.
When the card is secured, push the tray back into your phone until it locks in place.
By then you can turn your iPhone back on again. It may take a few moments for your iPhone to re-establish network signal so just wait patiently until the signal becomes steady.
Is your iPhone still not getting phone calls?
If you're only having trouble receiving a phone call from a certain contact or phone number, try to check your iPhone's call blocking and identification list. It's possible that the number or contact is in the list, hence you won't be able to receive incoming calls from it. If it's there and you'd want to unblock the contact, simply make necessary adjustments to your phone settings.
To do so, go to Settings-> Phone-> Call Blocking & Identification menu and then tap Edit. Find the number or contact that you wish to unblock then tap the minus sign next to it. Finally, tap Unblock to remove the contact/number from the list.
If you wish to continue troubleshooting, wiping your iPhone through a factory reset will be your next option. Otherwise, contact your carrier or network service provider to verify the current network status. There might be some ongoing outages that causes temporary downtime to network-related services. If you suspect that the problem is with the SIM you're using, try to ask your carrier if you can have the SIM card replaced with a new one or better yet, subscribe to an eSIM (if your carrier already supports it).
ALSO READ: How to fix Apple iPhone XS that can't receive incoming calls