You should be able to fix iPhone XS Max with black screen of death issue by force restarting the device. The problem could just be due to minor firmware crashes and this basic tweak should address the problem. If the problem persists, troubleshoot further using the methods we listed below.
A flagship smartphone like iPhone XS Max may look and feel premium but is also not free from serious issues like being stuck on black screen of death. Several factors from fatal system errors and hardware damage may trigger this type of problem to occur regardless of how well-built and robust the device could be. To give you some input in case you'd bump into a similar issue, wherein your iPhone gets stuck on black screen of death, I've mapped out some simple solutions and quick workarounds for you to refer to. Performing these subsequent solutions will help rule out software-related factors that caused the phone to be stuck on black screen of death.
Before we move on to our troubleshooting, if you happen to find this post while looking for a solution to a different problem, then visit our iPhone XS Max Help Guides page for we have already addressed some of the most common issues with this device. We may have already published articles that could help you fix your problem. Find issues that are similar to yours and feel free to use our solutions.
Fixing the iPhone XS Max Black Screen Issue
When a high-end smartphone like this gets stuck on a blank screen or won't turn on, the problem can be a minor one depending on how it started. If it occurred after the iPhone XS was dropped, then it's more likely that it's a physical damage but if it occurred without apparent reason or cause, then you can always fix it. Here's what you need to do…
First solution: Perform a force restart on your XS Max.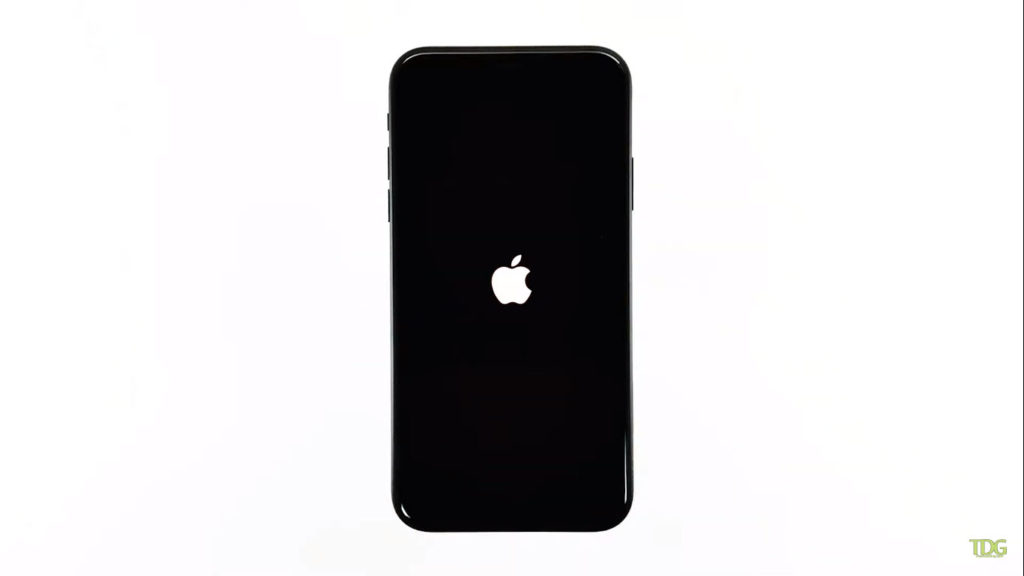 When it comes to rebooting a stuck iPhone, a force restart is among the first recommended solutions. This method should suffice if the underlying causes of the problem are just minor firmware crashes. It is a simulated battery removal procedure that aids in forcibly shutting down and restarting iOS. This won't affect any saved data so it's safe to carry out even without creating backups. Just follow these steps:
Press and release the

Volume Up button

quickly.

Press and release the

Volume Down button

quickly.

Finally, press and hold the

Power/Side button

until the Apple logo appears.
It may take longer for the Apple logo to appear, so you may have to press and hold the Power/Side button a little bit longer. Errant caches that may have ruined the phone's system functions are likewise cleared out in the process.  
ALSO READ: How to fix delayed touchscreen response, screen lags on iPhone XS Max
Second solution: Try charging your device and do the Forced Restart.
Another possible reason as to why your iPhone gets stuck on a blank screen is simply because it ran out of power. Many people would fail to consider this possibility and jump up to performing unnecessary procedures only to find out that all the phone needs is a recharge.
To rule out total battery drain from the underlying causes, connect your XS Max to its charger and let it charger for at least 30 minutes. 
You can also force close all apps and system tasks that might have drained your iPhone's battery. Just follow these steps:
Connect your iPhone XS Max to its supplied/built-in charger. Make sure to use the original or Apple-supplied charger.

Plug the charger into the power outlet. 

Let it charge up to 30 minutes if you'll see the battery icon indicating that your iPhone XS Max is charging. 

You can also try pressing and holding the

Power/Side button

until the Apple logo appears while it's charging. This will help your phone to initiate its boot sequence even if it's stuck.
Allow your phone to complete the boot up process. As soon as it's back on, check and use your phone to see if the problem is gone. If it gets stuck on blank screen again and your iPhone won't respond at all, troubleshoot further and eliminate complex system errors.
Third solution: Perform Recovery Mode restore on your iPhone XS Max via iTunes. 
Fatal system errors that might have caused your phone to get stuck on black screen of death are usually fixed by performing an iOS restore via iTunes. This can be considered among the last options when dealing with persistent system errors including those depicted by blank screen symptoms. In order to perform this procedure, you will need to use a Mac or Windows computer with the latest version of iTunes installed. 
Also ensure that your computer runs on the latest operating system that is compatible with your iPhone XS Max. Once all these requirements are met, connect your device to the computer using the Apple-supplied USB/lightning cable. Then allow iTunes to sync with your iPhone and backup files, if possible. Once the backup is secured, follow these steps to put your iPhone XS Max in recovery mode and then restore iOS in iTunes:
Press and release the Volume Up button quickly.
Press and release the Volume Down button quickly.
Then press and hold the Power/Side button once prompted with Connect to iTunes screen. Do not release the button when Apple logo appears as  you will need to enter recovery mode state.
Once you enter the recovery mode, you'll see either Update or Restore option.
Select Update if you wish to update your iOS, or Restore if you want to reinstall and download iOS on your device without erasing data.
Keep your phone connected to the computer and do not disconnect until the entire restore process is finished. 
Fourth solution: DFU Restore your iPhone. 
A Device Firmware Upgrade (DFU) mode restore will put your device in an advanced state that allows iTunes to sync even when the bootloader is not activated. This is likely what your iPhone needs if it's stuck on black screen of death due to a corrupted operating system. Just make sure that your device hasn't obtained any sort of physical or liquid damage though. Note that performing a DFU mode restore on an iPhone with hardware damage could result in a totally bricked device. If you're willing to proceed at your own risks, then you may refer to these steps to put your iPhone Xs Max in a DFU mode and then restore iOS through iTunes:
Connect your iPhone XS Max to the computer using the Apple-supplied USB/lightning cable.
Once connected, press and hold the Power/Side button for at least 3 seconds.
Continue pressing the Power/Side button and then press and hold the Volume Down button for at least 10 seconds. Make sure not to hold the buttons too long so that Apple logo will not appear. If ever it happens, redo the steps.
Release the Power/Side button but continue holding the Volume down button for another 5 seconds.
If the screen shows nothing and stays black, this means that you have successfully entered DFU mode. Wait until an alert message will prompt on your computer screen. Once you see "iTunes has detected your iPhone in recovery mode.You must restore this iPhone before it can be used with iTunes" message, follow the on-screen instructions to complete the DFU restore process.
If the DFU mode restore process is successful, perform a forced restart on your iPhone XS max to exit DFU mode and switch back to normal mode. You then can start configuring your phone as new or restore from a previous iOS backup.
You can also try using alternative tools to repair and restore corrupted iOS that caused black screen of death symptom on your phone. You can download and install any of these tools on your computer just like what you did with iTunes. Once you have the software installed, connect your iPhone to computer and then start repairing and restoring your iPhone's corrupted operating system.
Is your iPhone Xs Max still stuck on black screen of death?
If none of the given solutions is able to solve the problem and your iPhone XS Max is still stuck on black screen of death, your last option is to bring the device to the nearest Apple service center in your area and have it checked by an authorized iPhone technician. Hardware damage might be present on the phone and thereby caused the system to stop working and get stuck on black screen instead.
Connect with us
We are committed to helping our readers fix the problems with their phones as well as learn how to properly use their devices. So, if you have other issues, you may visit our Help Guides page so you can check by yourself the articles we've already published that contain solutions to common problems. Also, we do create videos to demonstrate how things are done on your phone. Visit our Youtube Channel and please subscribe to it. Thanks.