Phones used to be pretty durable, but as innovation in design continues, they're getting a whole lot more fragile. Just one example is that the new iPhone XR comes equipped with a glass back — drop that on the ground and it might shatter into a million pieces. That's why it's so important to equip your iPhone XR with a phone case. After all, you don't want to completely debilitate your smartphone, especially if you still owe on it, right? With a case on your iPhone XR, you can keep it protected from many typical and accidental drops and ensure that you keep it for a long time.
* If you buy through links on our site, we may earn an affiliate commission. For more details, please visit our Privacy policy page.
But, with so many case options available for the smartphone, which one should you pick? Follow along below and we'll help you choose the most stylish, but protective cases for your iPhone XR. Here are our top picks.
Best Phone Cases For iPhone XR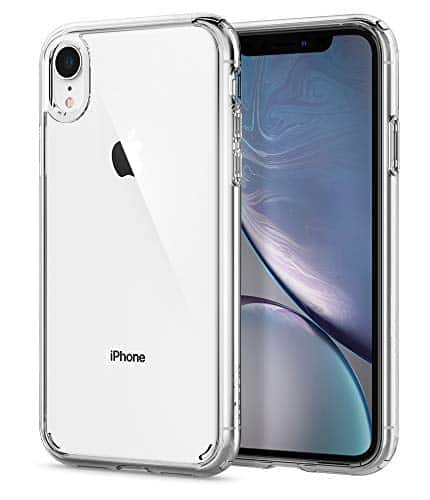 First on the list, we have the Spigen's Ultra Hybrid is a great option. This case is actually a personal favorite here at The Droid Guy, largely because of its unique, but beautiful Matte Black design. If you weren't a fan of Apple's Space Gray colors and wanted a true "black" color for your iPhone XR, this Matte Black Spigen Ultra Hybrid case will do it. The neat thing about this case is that it offers the perfect blend between style and protection. You can keep your iPhone XR looking nice, while keeping it encased in good protection.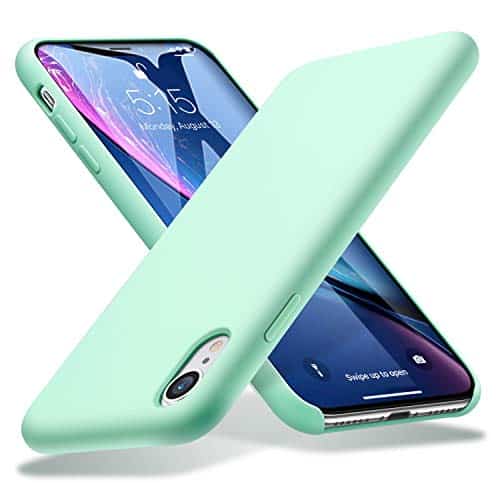 Next, we have a completely different case than the rest on our list – the ESR Yippee Color soft case. If you were a big fan of the soft silicone cover that Apple offered back in the day, you'll love this case from ESR. It won't provide you much protection at all, but it will reduce the shock from falls and drops, potentially keeping your iPhone XR from a glass-shattering experience — in addition, it'll protect the glass back from surfaces that might scratch it up. ESR offers this case in all sorts of different colors, so there's something for everyone here.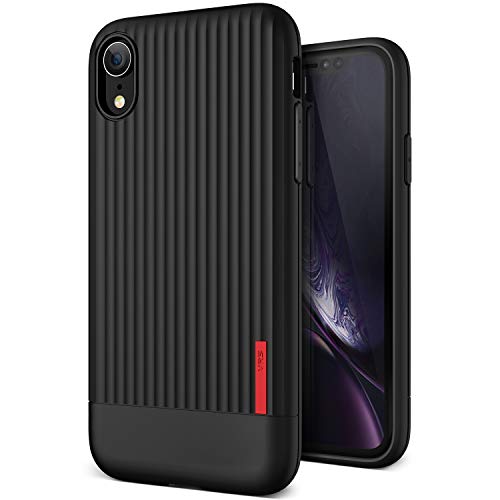 VRS Design makes some really nice cases for the iPhone XR, and one of those is the Slim Full Body Black Case. If you didn't like their Crystal Clear case that we showed you earlier, you'll enjoy this unique textured case for your iPhone XR. This case is black, but it has some notable texture on the back in the form of vertical lines — it adds a really unique style to your phone. There's a solid black portion at the bottom, and then VRS Design has their logo in Red. It's a nice looking case with some cool, dual color tone blends.
4. VRS Design Heavy Duty iPhone XR Case
Fourth on our list, we have the Heavy Duty iPhone XR Case by the renowned VRS Design. This one is designed to provide your iPhone XR with the ultimate protection while still not hiding the beauty of the iPhone XR. Drop your smartphone on pavement or cement and this case should keep it fully intact. And with a Crystal Clear case from VRS Design like this, you can still show off the beautiful design of your iPhone XR without covering it up, whether you have it in Red, Rose Gold, Black, or another color. There's some added thickness, but not a whole lot.
5. VRS Design Vegan TPU Leather Case
Lastly, we have the Vegan TPU Leather Case by VRS Design.Made more for the professional, this case actually has a faux-leather material over the standard hard polymer. This feels nice in the hand, and gets rid of the slipperiness of the glass back. It will still offer you some decent protection, but the primary function of this case is to upgrade your phone's style. It actually has a pretty unique textured back, and the typical VRS Logo in red. Between the unique texture on the back, and the Navy and Red contrast colors, this one is difficult to pass up.
Best Phone Cases For iPhone XR Verdict
Here we've shown you five of the best phone cases for iPhone XR. All of these offer up an excellent cross between style and protection for the smartphone. If you're a big fan of leather, then you'll like the Vegan TPU Leather case by VRS Design. Or, if you like the traditional hard polymer, the VRS Design Heavy Duty case or Spigen Ultra Hybrid are great ways to go.
What's your favorite phone case for the iPhone XR?
* If you buy through links on our site, we may earn an affiliate commission. For more details, please visit our Privacy policy page.