The new Apple iPhone SE which was released earlier this year has received quite positive reviews mainly due to its build and price.
Apparently, the device has a pretty decent hardware specifications that makes it ahead of the competition, not to mention it comes with latest iOS version.
But no matter how good a smartphone is, there will always come a time where you encounter a couple of issues that might seem serious but in reality pretty minor compared with other problems.
Among them is the issue wherein the iPhone gets stuck on a black screen and will no longer respond no matter what you do.
It is possible that it's a hardware issue. However, if it occurred without apparent reason or cause, then it's probably just due to a minor firmware-related issues, which you can actually fix on your own without any help from a tech.
Force Restart Your iPhone
The first thing and probably the only thing you need to do to fix an iPhone that won't turn on is the forced restart. What it does is virtually cut off the power to the circuitry for a second or two, thus simulating battery removal.
This will often make unresponsive iPhones respond again and that might be what you need here. This is how it's done: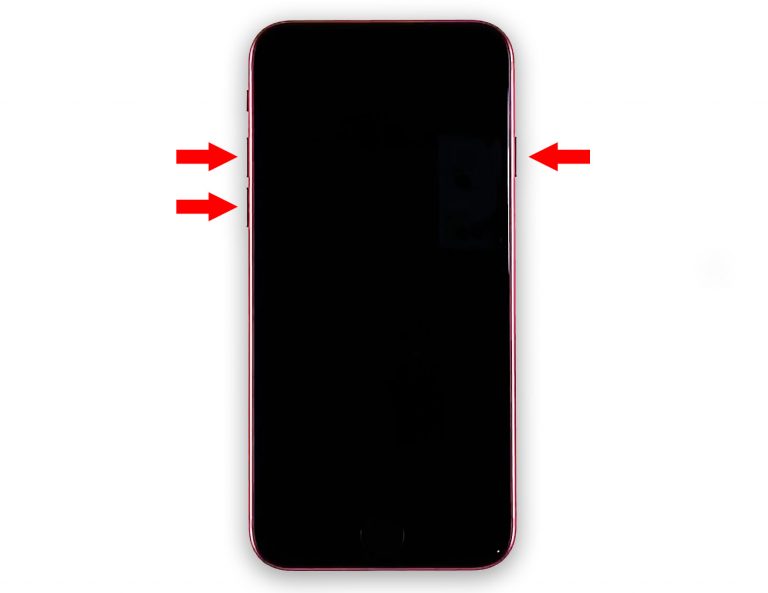 Step 1: Press and quickly release the Volume Up button and then Volume Down button. It should be done in rapid succession and followed by the next step immediately.
Step 2: Immediately after releasing the Volume Down button, press and hold the Side button or the Power key for 10 seconds or more. Actually, just halfway through that, you'll notice that your device will respond.
Step 3: Once the Apple logo appears on the screen, release the Power key. Allow your iPhone SE 3 to continue the boot process until it brings you to the lock screen or the home screen.
In most cases, this is already enough to fix the issue but if your iPhone SE 3 won't turn on still after this, then move on to the next solution.
Charge & Force Restart
Another possibility you have to rule out is that your device might have just a drained battery, although you might have already tried connecting it to the charger with no avail. There are times when its firmware crashes just before it shuts down due to a drained battery. That might be the case here.
So what you need to do next is to try and charge it for a few minutes and then do the forced restart again while it's still connected to the charger. Here's how you do that:
Plug the charger into a working wall outlet.
Using the original lightning cable, connect your iPhone SE 3 to the charger.
Regardless of whether the phone shows the charging sign or not, leave it connected to the charger for at least 10 minutes.
After such time and while it's still connected to the charger, quickly press and release the Volume Up button, and then the Volume down button.
Immediately after that, press and hold the power key for 10 seconds or more.
If the white Apple logo shows, then release the power key and your iPhone will continue to boot up.
In most cases, iPhones will respond a few seconds after connecting it to its charger but force restarting it will often fix issues like this.
For a new iPhone that won't turn on, as long as there are no signs of physical or liquid damage, these are just the things you should do. However, if the problem keeps happening in the future, you should try connecting the device your computer's USB port, boot it up in recovery mode and then restore it before you go back to the Apple Store and have it checked.
We hope that this troubleshooting guide can help you one way or another.
Have a great day!