If you're a smartphone owner, even with a smaller smartphone like the iPhone, then you've no doubt tried to watch video on the go. If you're watching it for any decent amount of time, that can get uncomfortable. Luckily, a ring grip can solve that issue. Ring grips are designed to not only make your iPhone more accessible for media viewing by acting as a kickstand, but also easier to grip onto so there's less of a risk of dropping. Apply by way of the adhesive, and you'll be able to easily use the ring grip as a kickstand to more comfortably watch media like movies and TV shows.
* If you buy through links on our site, we may earn an affiliate commission. For more details, please visit our Privacy policy page.
You, however, don't want to buy any 'ol ring grip. You have to be quite careful when purchasing one, because there are tons of them on the market that aren't built with quality standards. Many ring grips for no reason at all won't last more than a couple of days. However, worry not, we've done much of the legwork for you and have compiled the five best ring grips for the iPhone below. Here are our top picks.
Best Ring Grip For iPhone
Lamicall's Finger Ring Stand comes up next, and acts quite similar to the Humixx; however, it's just a little bit sleeker because of its glossy, black color. This one still has a fairly large and annoying logo on it, but still functions quite well. This Ring grip can hold up almost any device, including most tablets.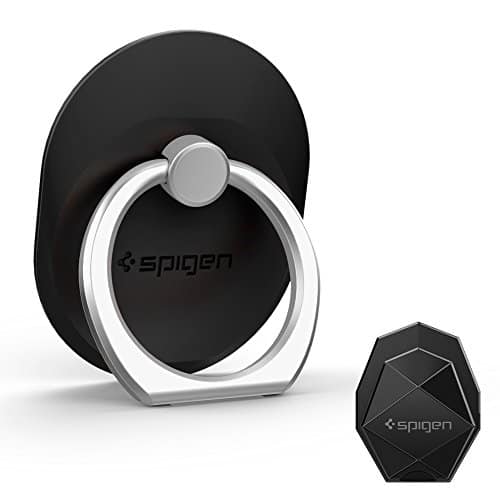 This option from Spigen might come up last on our list, but it's actually one of our favorites because of the sheer quality and reliability in this ring grip. Spigen is well known for their quality, and standing behind their products. Attach this ring grip to your iPhone, and you'll get something that'll stick with you for a long time. This one actually has a hook mount, which makes it easy to attach to your car's dashboard for on the go travel.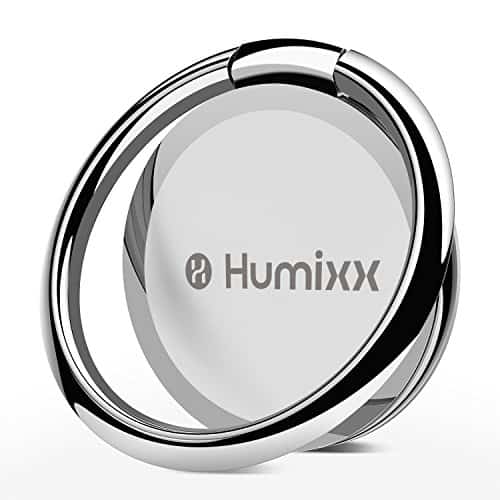 Coming up as number one on our list, we really like the Humixx Phone Ring Holder Stand because of its style and its versatility. This one has some nice, glossy silver tones to it — it'll keep any phone looking stylish. As far as cons go, the only one to be concerned about is the overly large Humixx logo on the Ring Grip — it's just not that attractive.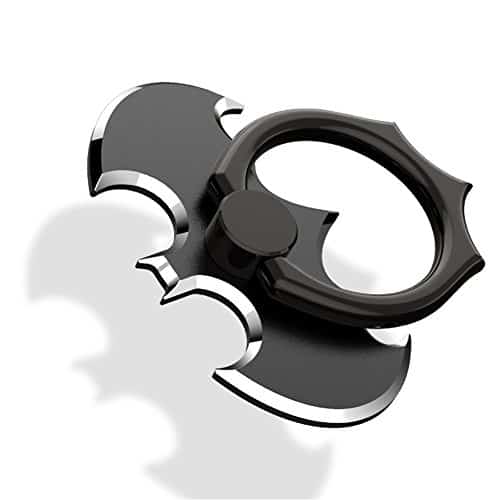 As you've probably caught onto, ring grips look quite similar to each other. However, if you want something a little more unique from the rest, HaloVa has a pretty cool option for Batman fans — the Batman Ring Grip. You still get the ring to act as the kickstand, as well as a better grip on your phone; however, you also get the sweet Batman design on the back. You can expect 360-degree rotation our of this Ring Grip and 180-degree foldability. As you might imagine, it's easy to install with the 3M adhesive. This Ring Grip comes in Black, White, or Red.
5. OCYClone Cell Phone Ringer Holder
Maybe you want your ring grip to provide you a decent amount of function, but also look pretty stylish while it's at it. OCYClone's Cell Phone Ring Holder will be right up your alley then. As you might imagine, the function is virtually the same as the other Ring Grips on our list, but it does have a unique design. There are fairly sleek-looking colors with the OCYClone, and then faux-diamonds are placed all throughout, making the ring grip shine.
Best Ring Grip For iPhone Verdict
As you can see, there are a lot of great ring grips out there. They're an excellent way to not only start improving your media experience with the iPhone by getting you in a better position to watch movies and TV shows, but also a great way to keep your phone safer. With a ring grip, you'll be able to easily prop the phone up on surfaces, and it'll also give you a better grip on the already slippery smartphone. Here we've shown all of the great ring grips on the market, and really, any one of them that you pick up will do the job that you're looking for. But, if you want to make your iPhone stand out, the Batman Ring Grip or the OCYClone aren't bad options.
Do you have a favorite ring grip?
* If you buy through links on our site, we may earn an affiliate commission. For more details, please visit our Privacy policy page.