So imagine this: you just bought the iPhone, but only bought the 64GB model because it's ridiculously expensive. You transfer everything over from your old phone to your new iPhone, and now, you only have a few gigabytes of space left. After a few months using your iPhone, you've filled up even more with photos, new apps, etc. And now, your iPhone is slowing down because you're reaching its maximum storage capacity. What do you do? Well, Apple gives you a couple of gigabytes of Cloud space to offload some stuff, but it's still not nearly enough. You need an external storage solution, such as a microSD card. You can start offloading data from your iPhone to a microSD card fairly easily, even though there isn't a built-in slot.
* If you buy through links on our site, we may earn an affiliate commission. For more details, please visit our Privacy policy page.
Before we show you the best microSD memory cards to get for the iPhone, you'll need to pick up an adapter. So before we can start offloading storage to a quality microSD card, pick up the Geekgo SD Card Reader. It's lightning to microSD adapter, allowing the iPhone to use microSD storage (but do keep in mind that you'll need to download the companion app to go with the card reader to transfer storage).
So, once you have that, be sure to follow along below, as we're going to show you the best microSD memory cards to go with your iPhone and new Lightning to microSD card reader.
Best MicroSD Memory Card For iPhone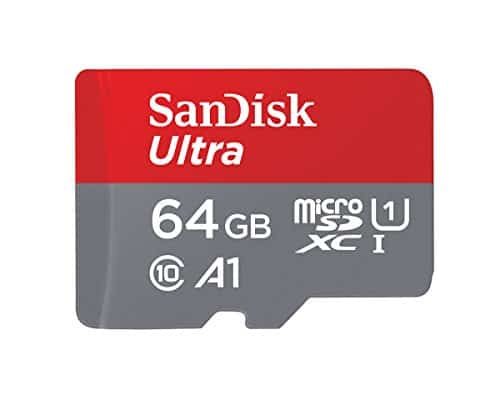 Want something cheaper? The SanDisk Ultra might be just up your alley. You can get a 64GB SanDisk Ultra microSD memory on Amazon for a few dollars. It doesn't get much better than that. And, you get similar speeds to the EVO Select — the SanDisk Ultra has transfer speeds that sit at around 100MB per second. You can't go wrong with this particular microSD card.
You might want first to consider picking up Samsung's EVO Select MicroSD card. This is because Samsung makes excellent storage solutions, and their miniaturized storage options are just as stellar. This EVO Select memory card comes in a couple of different capacities — this particular one has 128GB of storage. If you don't need nearly that much, they do have a 64GB one as well.
In number four place we have the Samsung EVO Select memory card. Samsung designed this one as a mid-range option, but really, it's only slightly lesser in speed and quality than its top performing EVO Plus, making it really good value. You'll be able to hold countless photos and videos with this card.
This memory card is rated for about 100Mbps, which is similar to the SanDisk. Write speeds should come in at similar transfer rates. That said, moving files around will happen in a jiffy. Samsung supports some pretty good resistance in the EVO Select as well — dust, water, and shock shouldn't both the EVO Select at all.
Next up, we're taking a loot at yet another one from SanDisk — the Ultra MicroSDHC. This one is just a little slower than the original Ultra lineup, and that does mean that this one is just a little cheaper. You get a smaller storage capacity here, and you also get some slower data transfer rates. That said, don't expect to get 100Mbps out of this one, actual transfer speeds will depend on how many files you're transferring as well as the size of them, but data transfer rates usually sit around 60 – 80Mbps.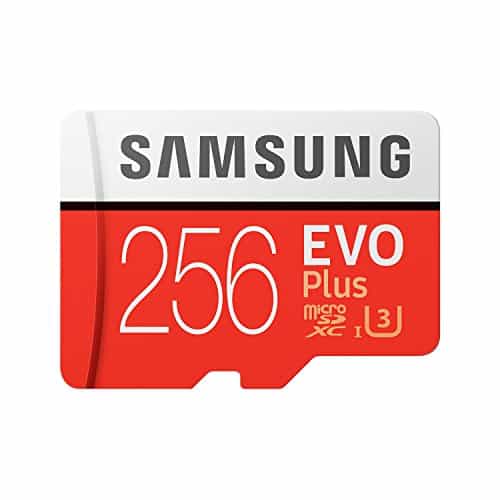 And finally, coming in at number one spot on our countdown, we have the Samsung EVO Plus memory card. This one will provide you with plenty of storage at a whopping 256GB capacity. Not only that, but you get some decent write speeds at 90Mbps, too. With your purchase, you get a SD adapter, which allows you to make your microSD a little more versatile.
Samsung says this microSD card is an optimal solution for 4K applications — due to its speed, it'll be able to easily keep up with the demands of that resolution. Samsung has included resistance against dust, shock, and water in here, too.
Want something a little beefier than what Samsung offers in the EVO Select? Then you might want to consider Samsung's EVO Plus line of microSD memory cards. It has faster read speeds of up to 100MB per second; however, the write speeds are substantially slower at 60MB per second. Still, the EVO Plus is super reliable, as you should be getting those fast speed all the time. Besides, you get an SD adapter with your purchase for use in other devices.
We love what Samsung is offering in their memory cards. Samsung is well-known for their storage products, and they actually do super well with the Samsung Pro+ microSD card. This one actually has a massive 128GB storage capacity, which is ideal for those larger photo and video libraries.
You will have no problem at all storing hours upon hours of 4K video. Things get really impressive in terms of data transfer rates, with read speeds at 95MB/s and write speeds at 90MB/s. Moving files around is a breeze.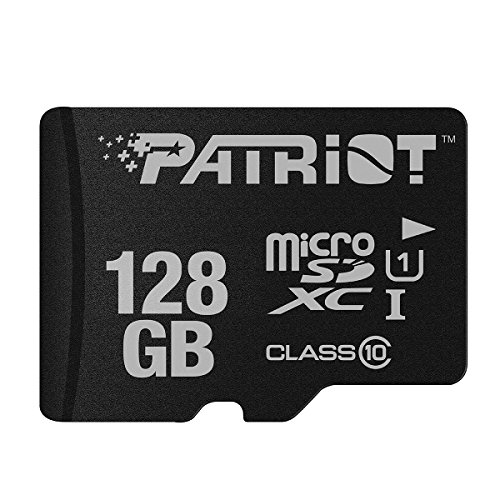 One name you might not have heard of before is Patriot. Patriot makes a variety of storage solutions — mostly USB sticks (which are extremely fast and high quality), but they also make microSD memory cards. One of those is the Patriot LX, which has 128GB of storage space. That's precisely what the EVO Select has, but it's a little cheaper. However, file transfer speeds are just slightly slower at about 85MB per second.
Coming up first on our countdown, we have the SanDisk Extreme Pro V30 memory card. Slide the card into the microSD adapter, and the microSD adapter into the iPhone, and it will instantly recognize it. You can use this card to move photos and videos around with your smartphone, but on top of that, you can use it for moving documents and other files around, too.
This one has 64GB of storage space out of the gate, but there are a variety of models for larger storage sizes as well.
Coming in as another from SanDisk, the Extreme Plus U3 will work just like any other memory card. And just like the name of this card implies, this card was designed for extreme conditions — heat, water, dirt, and more. That said, this card will work with your iPhone and its adapter just fine, but you can use it well with your iPhone, too.
This one actually has plenty of storage space inside for holding high-definition videos like 4K or Ultra HD. Data transfer rates are great here — read speeds sit at 95MB per second while write speeds sit at 90MB per second.
One thing in particular that we love about this card from SanDisk is that it comes with built-in software to recover files that you may have accidentally deleted — so just about anything is easily recoverable.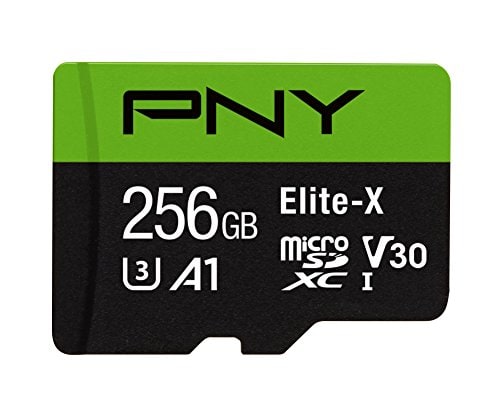 You might also want to consider picking up the PNY Elite X. It's a little pricey, but it has a ton of features that avid smartphone users don't want to miss out on. It has a massive amount of storage — a whole 256GB. With that amount of storage, unless you're taking regular 4K video in 60 frames per second (which you can with the PNY Elite X), you'll never run out of storage. You'll get fast transfer speeds as well, sitting at around 100MB per second.
12. Silicon Power 32GB High Speed Memory Card
Cash strapped? Don't want to spend gobs and gobs of money on a memory card? That's why you'll really like the Silicon Power option, which comes in at third. This one is definitely lower in quality, but you should still get some decent data transfer rates at around 100Mbps. Write speeds are a lot slower. 32GB should be plenty of space to house a modest photo library — Silicon Power says you should be able to hold 12,000 photos in here, or up to seven hours of straight video recording.
Best MicroSD Memory Card For iPhone Verdict
Unlike a lot of phone accessories, microSD cards are fairly different from memory card to memory card. Yes, they all look similar, but they're integrated features are fairly different — you'll experience different transfer speeds, different storage sizes, different software optimizations, etc. If you want the best that microSD cards can offer, we recommend going with the PNY Elite X — it's the largest and fastest microSD Card on this. But, if you're looking for something at the mid-range level, go with either the Samsung EVO Select or Samsung EVO Plus. On the low-end of the spectrum, you can get the SanDisk Ultra or the Patriot LX.
* If you buy through links on our site, we may earn an affiliate commission. For more details, please visit our Privacy policy page.