Let's face it, the iPhone is a massive phone. Phone calls aren't impossible, but the phone does get extremely tiring to hold up during some of those long calls. Those work calls that last thirty minutes or more just make it super annoying, usually irritating your ear, too. The good news is — there's an accessory for that!
* If you buy through links on our site, we may earn an affiliate commission. For more details, please visit our Privacy policy page.
Enter, Bluetooth Headsets for the iPhone. You can insert these in or over your ear, and then connect them up to the iPhone via Bluetooth; and from there, your phone calls are then routed through your phone, to the Bluetooth headset.
Not sure what the best Bluetooth Headsets are for the iPhone? Follow along below, and we'll show you only the best that you can pick up for Apple's latest and greatest.
Let's Review the Best Bluetooth Headsets For iPhone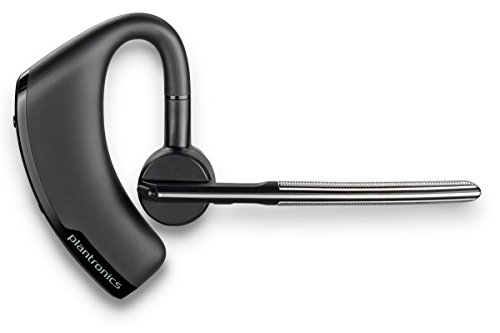 Enter, the Voyager Legend from Plantronics. You don't have to worry about discomfort in phone calls ever again. Set this up on your ear, and you won't be irritating your ear at all.
Call quality is seriously upgraded in the Voyager Legend, too. This one is really nice because of the noise cancellation — you can be in areas where it's a little more noisy, and still get great call quality.
What really makes this one unique is the built-in technology that senses when the headset is being worn. With that, it is able to automatically answer calls as you place the headset on your ear, or redirect audio to your phone when you set down your headset.
This Bluetooth headset can give you all-day battery life as well, which is perfect for those who have to rely on calling all day long. Or, if you only make only a few calls a day, this can last an extremely long time on just one charge.
Buy it now: here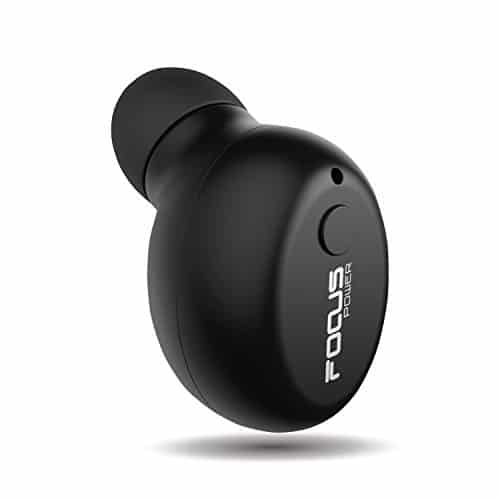 This headset by FocusPower is just one single earbud, but it's powerful enough that you won't even miss a second one if that's what you're used to. You can connect this earbud to 2 mobile devices at once, so you'll get notifications from either two phones, or a phone a tablet, etc.
At full charge, this earpiece should last a whole 6 hours (or more depending on how you plan to use it), and charging the little thing is a breeze. Because it's designed to be completely wireless, the charger is a small piece that fits into a USB plug, and then you plug the FocusPower earbud into that.
Buy it now: here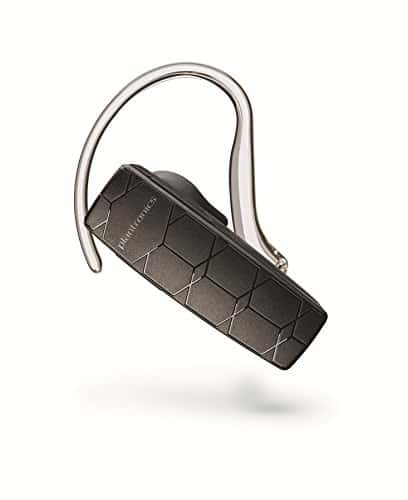 Another one from Plantronics, you cannot go wrong with the Explorer 50 either. You're going to get pretty similar function, ultimately. However, this one only operates on Bluetooth 3.0 — a much older version of Bluetooth.
Ergonomic and lightweight, this one stays comfortable even during those longer calls. You're not going to experience any sort of discomfort or even sweaty ears. And, of course, the 11 hours of battery life in this bad boy will really help you get through the day.
Buy it now: here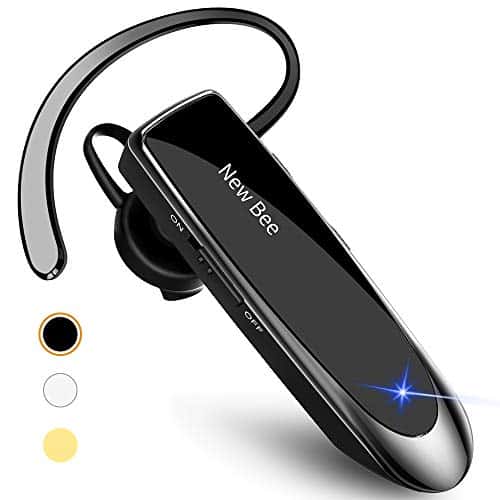 Next up, we have the New Bee Bluetooth Earpiece. This hands-free headsets actually comes with noise cancelling technology, so your phone calls are able to stay super clear. It does give you the more traditional design of a Bluetooth earpiece, so it has a very business-y look. It's still very comfortable, and practically eliminates the ear irritation that you would experience with your phone.
In addition to the iPhone, the New Bee Bluetooth Earpiece will work flawlessly with just about any other phone, too.
Buy it now: here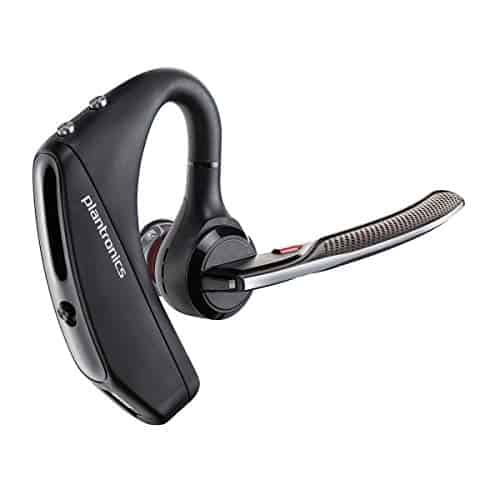 The Voyager 5200 by Plantronics has some great noise cancellation technology here, eliminating the ambient noise in your calls for clearer microphone quality.
This one focuses on clarity , the Plantronics Voyager 5200 actually comes with four built-in microphones. That means that clients, friends, and family are going to be able to clearly hear you, especially when paired with the noise cancellation tech.
Battery life is yet another plus, bringing you around seven hours of non-stop talk time. Depending on how much you talk, you could easily get a week's worth of battery life out of this one. Battery life brings you around seven hours of non-stop talk time.
Buy it now: here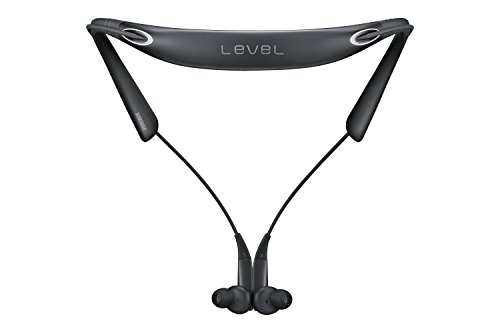 The Samsung Level U Pro is one of the most unique Bluetooth headsets out there, but still one of our favorites. Samsung eliminates all discomfort here, by resting the main headset unit around your neck. That's why it has a U-Shape design.
When you're ready to get on the phone, you can pull the earbuds out of the headset, and then insert into your ears. When you're done talking, you can simply pull the earbuds out. They are pretty comfortable though, so it can be easy to forget that they're even there in the first place.
It operates over Bluetooth, and connects seamlessly with the iPhone. It has some voice controls for wirelessly initiating phone calls, allowing you to use Siri for hands-free calling. Battery life is great in this one as well, lasting up to 9 full hours of talk time on a single charge.
Buy it now: here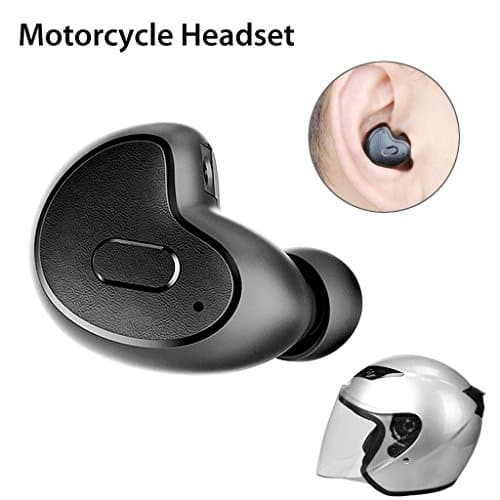 Avantree's contender is up next, working as an excellent pair that are simple and straightforward. Barely noticeable when in use, these earbuds are designed to get the job done and give you hands-free access to media wherever you are.
Incredibly light, Avantree has created earbuds that you'll hardly even feel while wearing. One of the highlights of the Avantree is that they can connect up to two different devices are once, allowing you to hear audio from multiple handsets without having to do some Bluetooth switching.
Buy it now: here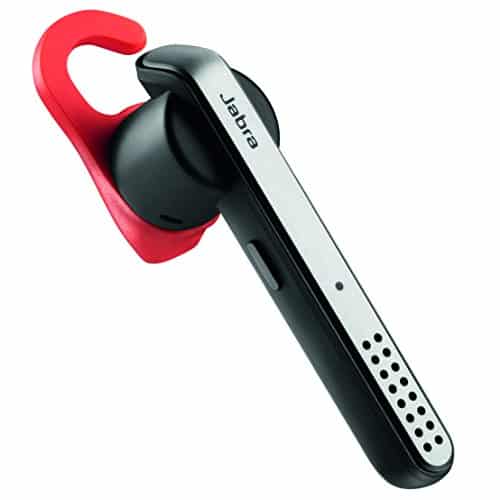 Another one that you cannot go wrong with is the Jabra Stealth. It's a little different from the others in that it's a box-y single earpiece, but Jabra still gives you some excellent sound and mic clarity with it. It's still very comfortable, and practically eliminates the ear irritation that you would experience with your phone.
You really do get "crystal clear sound at both ends of phone calls," just like Jabra says. That is great for client calls, or for casual talking on the phone. Unfortunately, there's only six hours of battery life here.
Buy it now: here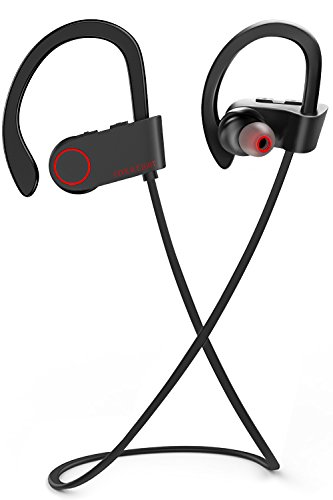 These headphones by Five 0 Eight come with black and red earpieces that are attached either by a black cord or a red cord (your choice). These are not your typical earbuds but are rather earbuds attached to a clip that slides over your ear, to ensure that they don't move around or fall out, even if you're out on a great run or are trying out a new program at the gym.
One of the remarkable things about these headphones is the battery life. At a full charge, you should have about 9 hours of playtime before they begin to die down, which is plenty of time even to use them for the day. It also has a voice prompt, so you can answer or reject calls without even using your hands. Included with your purchase is a 30-day money-back guarantee if you're not happy with your headset, and a full 12-month warranty, boasting of response time as quick as within 24 hours.
Buy it now: here
10. Syllable
Syllable's entirely wireless Bluetooth headphones are fantastic, featuring crystal clear sound quality and a shape that's both minimal and designed to fit the shape of your ears. This comes with two earbuds, and you'll want to use both if you want a stereo-like experience, but you can also use one if you're doing other things and multitasking.
These headphones by syllable come with a sleek, heavy-duty charging case. When not in use, you can plug the earpieces into their ports within the charging case, and then charge it with a wall charger or USB. The charging case has enough battery to provide your earbuds with full power, 4-6 times between charging it.
11. LBell Headset
This Bluetooth headset is a little unique from the others on this list, with both earbuds attached to retractable cords inside a foldable plastic piece that sits around the back of your neck comfortably. It comes in four colors: black, white, red, and blue, and is small enough to fold up and carry in your pocket if need be.
The neat thing about this headset is how much playtime you'll have. At full charge, you'll have up to 16 hours of music playtime or 18 hours of talk time. It also comes with a 12-month warranty, where you can get a headset replacement or a refund.
12. WSCSR Bluetooth Wireless Headset
WSCSR's Bluetooth Wireless Headset is the perfect option for the professional on the road quite a bit. This is a singular piece that slides on to your ear. You'll be able to listen to music, use your GPS, and even receive or decline calls with this headset.
Because this headset is designed to be seamless and hands-free, you'll only find one button, which controls everything from the pairing to volume, outgoing calls, music tracks, and more.
13. Soundmoov
Soundmoov's Bluetooth headset is a bit on the pricier side of the other items on this list, but that's just because they're incredibly high quality. We're reasonably sure that once you try these, you won't regret spending a couple of extra bucks on them. While you can control how loud these get, the sound quality is stereo-grade and built for an immersive experience every time you use them.
On top of that, the case for these allows for them to be charged on the go. With this package, you'll get both earbuds, but they're designed to work in Twin mode and SIngle mode. Twin mode is where you can share one of the earbuds with a friend and listen to the same thing, whereas a single mode will utilize just one of the earbuds: left or right—your choice. At full charge, you'll get anywhere from 2 to 4 hours of activity with these.
14. Charlemain
These Charlemain earbuds are magnetic, so when you're not using them, you can wear them around your neck without having to worry about them falling or getting lost. They are connected by a cord, similar to the ones designed by LSXD. It also has features like hands-free calling, where you can accept and reject calls by using just your voice.
The earbuds themselves are lined with silicone for maximum comfort while wearing. But still, they have that shape that should fit your ear to a T. This is great, because it's different than the hard plastic that has seemed to become the norm with other ergonomically designed Bluetooth earbuds. The best part? These come with a 12-month warranty and a 30-day money-back guarantee.
15. Kelodo True Wireless Stereo Headphones
Kelodo's True Wireless Stereo Headphones were built with the consumers in mind. The creators paid attention to detail, committed to delivering the best possible audio quality to their customers.
With these headphones, you'll find that they're designed ergonomically to fit perfectly in your ear. The sound quality is also considered stereo-grade because it's so clear, and if you're using the built-in microphone to answer a call, you'll wonder if the person is standing right beside you, just because the quality is that great. These charge in the Qi wireless case, which is extremely small and portable, and keeps your headphones charged up on the go.
16. Licheers
If you're looking for a premium product at a stellar price that doesn't sacrifice quality in the least, then we recommend checking out these earbuds by Licheers. These are entirely wireless, Bluetooth earbuds that can be used with a paired device up to one hundred feet away, and they're ergonomically designed for maximum comfort. You can use just one headphone, or both at the same time.
These come with a portable charging case, and it's specially designed to be as flat and compact as can be, to be easy to travel with. This is so small that you can even fit it in your pocket. At full charge, you'll be able to use these for up to 5 hours.
17. YoStyle
Although powered by Bluetooth, this headset is not wireless. A cord connects the two earpieces. In this case, however, the cable is handy because it's small, and it keeps the two earbuds together and safe from being lost so easily. It does feature hands-free calling, so you can both accept and reject calls just by using your voice, although there are buttons if you prefer that and have your hands free for it.
Another neat thing about these headphones from YoStyle is that they're designed to provide a stereo-like experience, no matter where you are. The clear, quality sound emitting from these create an immersive experience, whether you're out shopping, spending a day at the gym, and so on. Also, they come with a one year warranty, so if you have any problems, be sure to contact the company.
18. LSXD Bluetooth Headphones
The neat thing about these Bluetooth headphones is that they're not completely wireless. While wireless has it's advantages, as we'll talk about here soon, with these, you'll never have to lose one earpiece and wonder where the other one is because they're connected. However, because they're Bluetooth, you won't need a phone with a headphone jack, so they'll work seamlessly with your iPhone.
With the option of crisp white or a deep black, these headphones are fit for every occasion, ranging from cross-country road trips to every training session at the gym. The shape itself of the headphones are designed to fit differently than your typical earbuds. The design is ergonomic, so they're incredibly comfortable. On the other hand, these are also magnetic, so when you don't have them in your ears, you can easily keep them around your neck.
19. Ignus Bluetooth Earbud
This earbud by Ignus comes with a singular earbud (designed to fit in your right ear), as well as a car charger. It will only take about a half-hour (give or take a few minutes) to charge, and that will get you an entire 4 hours of use, or it will last for 72 hours just on standby. You'll even be able to use this if the device you're paired with is up to 33 feet away.
Because this is just a single earbud, outside noise may be a concern for those who want something that's noise-canceling, so they can keep their focus on what they're doing, whether that be running, working, driving, and so on. However, this earpiece is designed precisely for that, even though it's just one. It's also sweat-proof, ergonomically designed, and comes with a lifetime replacement warranty.
Verdict on Bluetooth Headsets For iPhone
As you can see, there are some excellent Bluetooth headsets for iPhone. Just about any one of these are going to accomplish the goals that you're after. So, ultimately, it comes down to a matter of design choice. But one thing's for certain — this is going to upgrade your calling experiences exponentially.
Do you have a favorite Bluetooth headset for the iPhone? Let us know in the comments section below, and you may just see your choice thrown on our list in the future!
* If you buy through links on our site, we may earn an affiliate commission. For more details, please visit our Privacy policy page.