Wondering how to take a screenshot on your new Samsung Galaxy smartphone? This post highlights all available methods for you to do so. Read on to learn how to take a screenshot on Samsung Galaxy S22.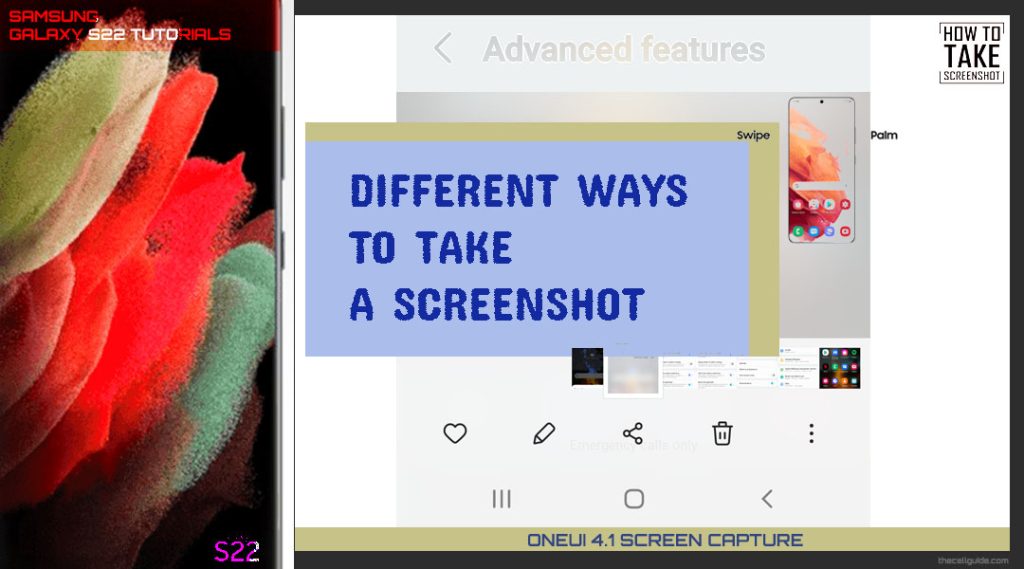 Galaxy S22 Screenshot Feature
Aside from a built-in screen recorder, modern smartphones and tablets do offer various methods to capture screens and images. The newest Galaxy phone for instance allows users to take a screenshot by pressing on specific hardware keys, saying a preset command or doing a certain hand or palm gesture.
Once the screen is captured, you will see a preview along with editing options at the bottom of the image. You can use these controls to crop, draw on the image or share it to other platforms.
For those who are new to the OneUI platform and need some input about how screenshots are captured on the latest Galaxy S22 smartphone, I've mapped out a simple walkthrough as follows.
Different Ways to Take a Screenshot on Samsung Galaxy S22
Taking a screenshot on a Samsung phone can be carried out in different methods. The following smart capture methods are applicable to the latest Galaxy S22 series and some prior Galaxy smartphones that have the same placement of the Power/Side key and Volume key on the right side.
First Method: Taking a Screenshot using Physical Buttons
This is deemed the more traditional and most common way of taking screenshots on a recent Samsung Galaxy phone that only takes one second.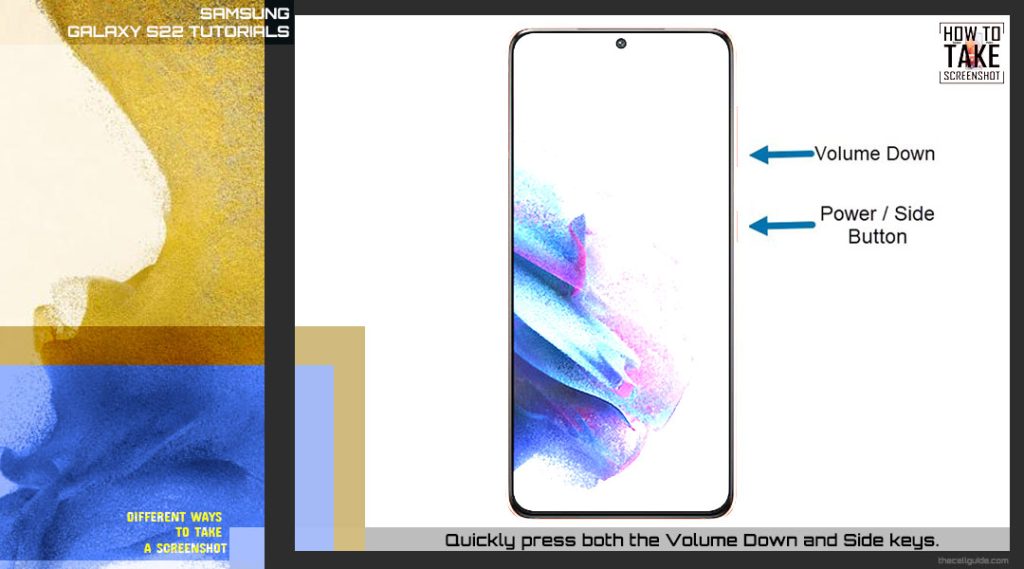 Quickly press and release both the Power/Side key and the Volume Down key. When the screen flashes, the screenshot of the current screen will be saved.
If the previous method doesn't suit you best, then you can try other ways to take a screenshot on your Galaxy S22.
Second Method: Taking a Screenshot using Palm Swipe
Newer Samsung phones are packed with more advanced features including motion and gesture commands for screen capture or recording.
In order to make use of this feature, you will need to enable it first from the phone settings.
And here's how it's done:
1. Tap Settings from the Home/Apps screen, to open the Settings app.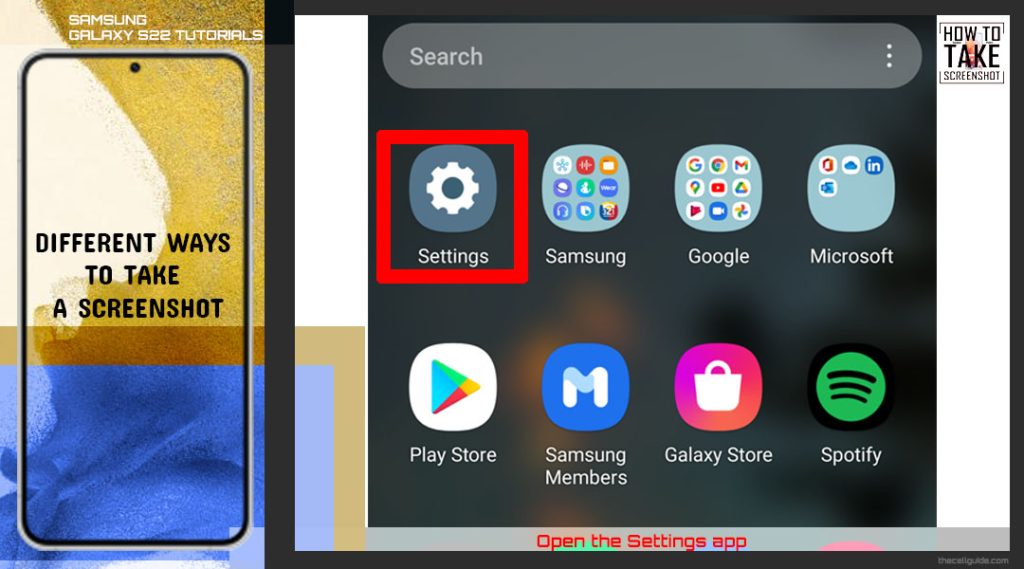 2. On the Settings menu, scroll down and tap Advanced features. Another screen will launch with the built-in advanced features.
3. Tap Motions and gestures to proceed. A list of all motions and gestures commands will load up next.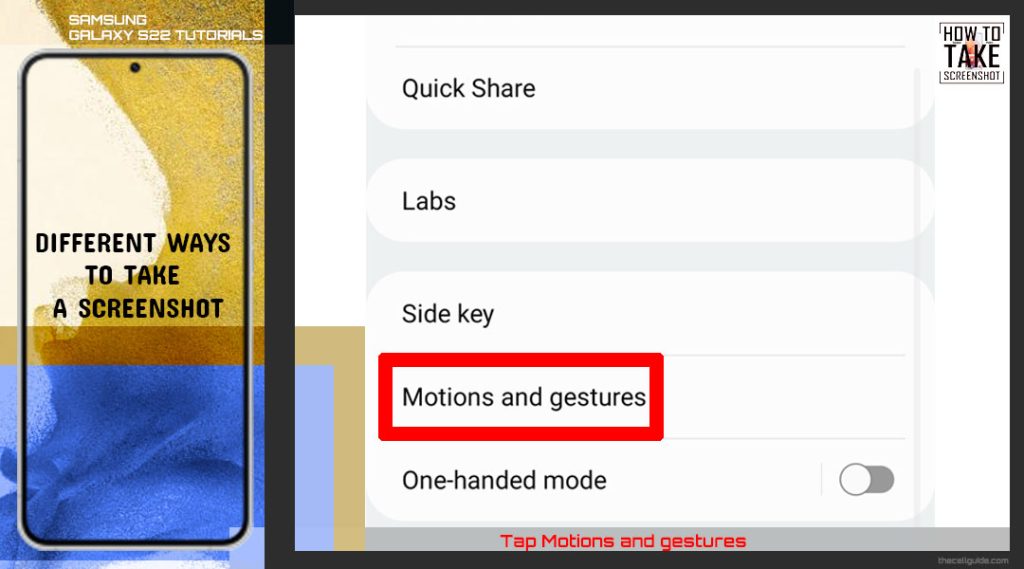 4. Find the Palm swipe to capture command then toggle to turn on the switch next to it.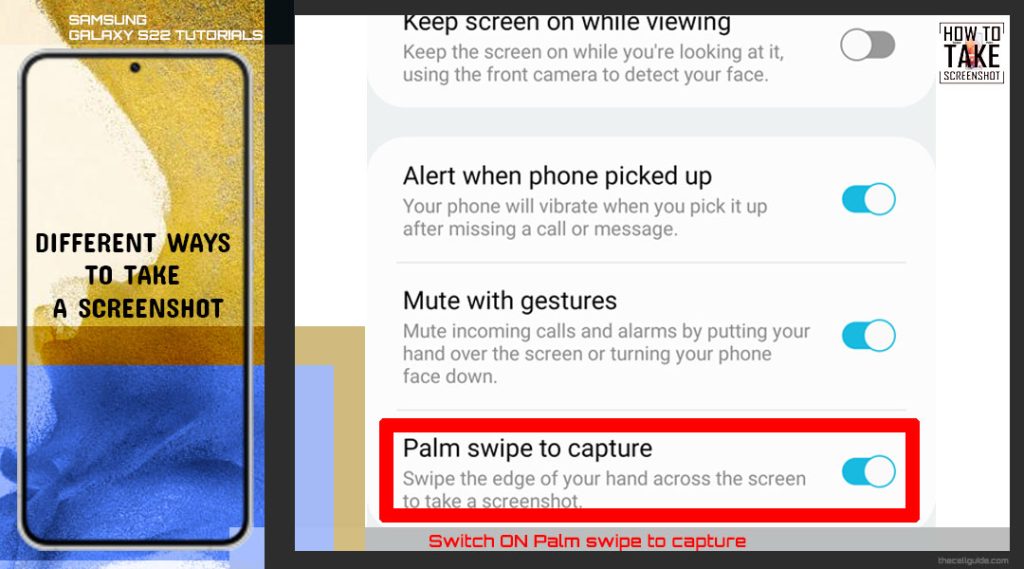 When the switch turns blue, the feature is activated.
By then, you can start taking a screenshot by swiping the edge of your hand horizontally from left to right, right to left or edge to edge. Be sure to keep your hands in contact with the screen to make the screen capture successful.
Other Ways to Take a Screenshot on Galaxy S22
A. Taking a Screenshot with Google Assistant
You can also use Google Assistant to take a screenshot on your Samsung Galaxy S22. With the Google Assistant enabled on the phone, taking a screenshot can be done by saying 'OK, Google. Take a screenshot.'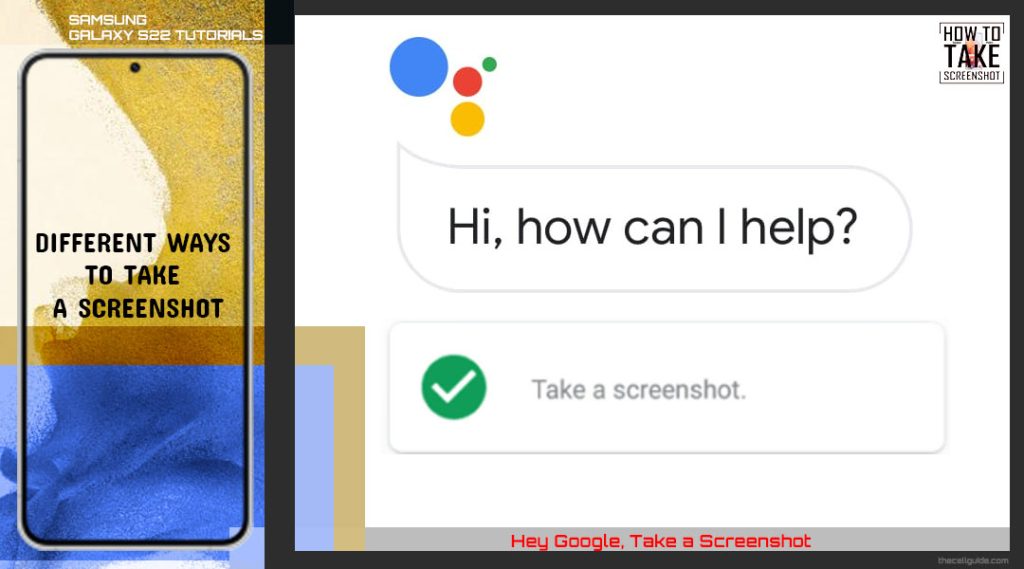 Just be sure to speak clearly so that Google can execute the command correctly.
Google's voice assistant will then process your voice input command and execute screen capture.
B. Taking a Screenshot using Three Fingers Gesture
The new Samsung Galaxy S22 smartphones also allow you to take screenshots using the three finger gesture.
To do this, just use your three fingers to swipe down from top to bottom on the area of the screen that you'd like to capture.
The screenshot will then be saved straight to the default storage or folder.
C. Third-Party Screenshot Apps
The Galaxy S22 also allows you to download third-party made apps for taking and editing screenshots.
All you have to do is head over to the App Store and search for a compatible screenshot app for Samsung Galaxy S22. Select your preferred app then follow the onscreen instructions to download and install the app on your phone.
After installing the app, you can start creating screenshots using its preloaded screenshot commands and features.
Taking a Screenshot on other Galaxy S22 variants
If you own the top-tiered Galaxy S22 ultra, you can take a screenshot using the S-Pen.
To do so, remove the S Pen from the phone holder, open the S Pen menu and then tap Smart Select. Finally, select the area of the screen that you want to capture then tap the Screenshot icon from the quick menu.
Alternatively, you can use the Screen write command from the S Pen menu and then select the part of the screen that you want to capture.
Where Screenshots are Saved on Galaxy S22?
All screenshot images are saved in the phone's internal storage. The default screenshots storage on the Galaxy S22 is in the Gallery app.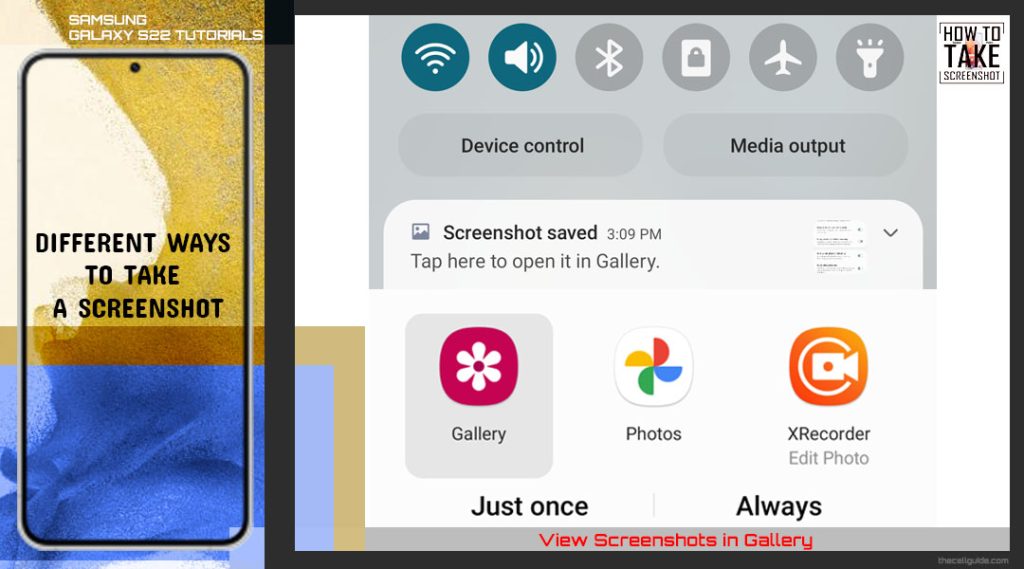 That said, you can go straight to the Gallery app to view all screenshots taken on your device. Built-in editing controls are also available for you to use whenever you'd like to do some basic editing to enhance a screenshot.
Just don't forget to save the recent changes to update the screenshot.
Opening Screenshots from the Notification Panel
When a new screenshot is taken, a screenshot notification will also be created. You can use that notification to immediately access the recent screenshot and make necessary edits.
To do this, simply swipe down from the top of the screen to open the notification panel and then tap on the screenshot notification header/preview. If prompted, select the app that you'd like to set as the default app for opening screenshots on your phone.
After that, you'll be routed straight to the screenshot or captured image.
Depending on the default app, you can use the built-in controls to modify the screenshot by adding some text and other available attributes.
Accessing Galaxy S22 Screenshots on a computer
Screenshots can also be accessed through the internal storage of your phone. You can use this method to access screenshots from your Galaxy S22 on your Windows computer.
To do this, just connect your phone to the computer via USB cable. Select and open the Galaxy S22 storage from your computer's storage directory then go to the phone's Internal Storage-> DCIM menu.
Find the folder named Screenshots then double-click or right-click on it to open and access its contents.
All recently saved screenshots on the phone will then be displayed. From there you can copy or move the screenshots from the Galaxy S22 to a dedicated folder on your Windows computer for further and better editing options.
Removing old and unused screenshots is recommended to optimize your phone's storage and to ensure optimum mobile phone performance.
Hope this helps!
Please check out our YouTube channel to view more tutorial and troubleshooting videos for popular iOS and Android devices.
You Might Also Want To Read: