This post will walk you through activating a Samsung Galaxy feature that allows you to set parental controls and content restrictions for your kids when using their smartphones. Here's a quick guide on how to enable and set up parental controls and content restrictions on Galaxy A73 5g.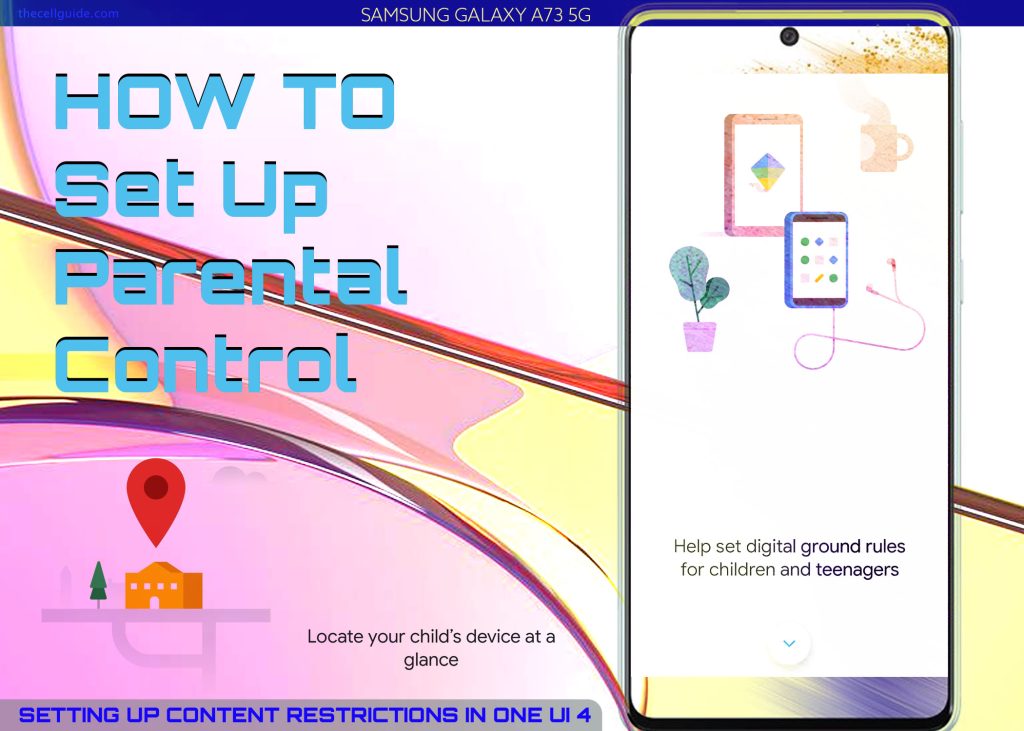 Samsung Galaxy Parental Controls
More and more kids these days are already using smartphones and tablets. In fact, smart devices are already becoming part of many children's daily routine especially when the pandemic struck the globe. Because of this, parents are trying to find and use available means to limit and control their kids' smartphone usages.
Thankfully, modern smartphones like many Galaxy phones and tablets are already equipped with dedicated modes and features that are specifically designed for kids to use. The Samsung Kids and relevant apps with parental controls are among them.
In recent Samsung smartphones, there is a built-in feature called Digital wellbeing and parental controls that you can activate whenever you find the need to monitor and control your child's smartphone activities.
If you're new to Android 12 and need some input on how to activate and use this feature, the following steps will help you get started.
Steps to Enable/Set Up Parental Controls and Content Restrictions on Galaxy A73 5g
The following steps will help you monitor your child's onscreen activities using the Family Link app on the Galaxy A73.
These steps are also applicable when setting up parental controls and content restrictions with Family Link other Samsung phones that are running on Android 12 with One UI 4.1 OS version.
Actual screens and menu options may vary between device models and carriers so individual device's user interface may likewise vary slightly.
Feel free to start once you've got everything set.
Step 1: Tap Settings from the Home screen or Apps tray to launch the settings app.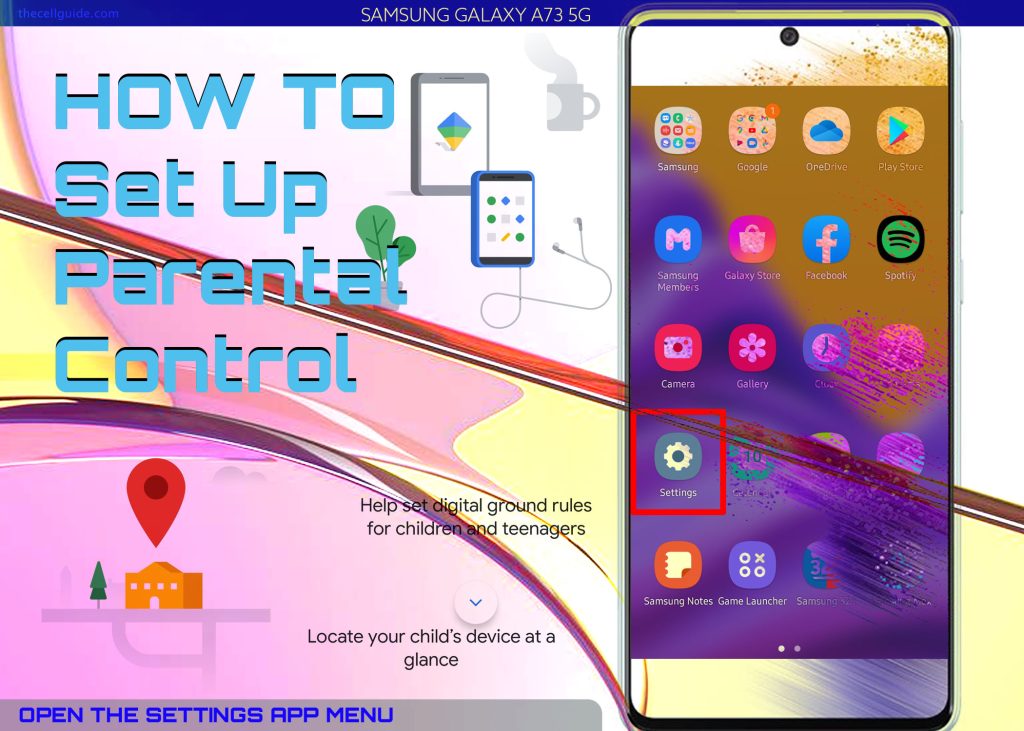 Step 2: While in the main settings menu, find and then tap Digital Wellbeing and parental controls.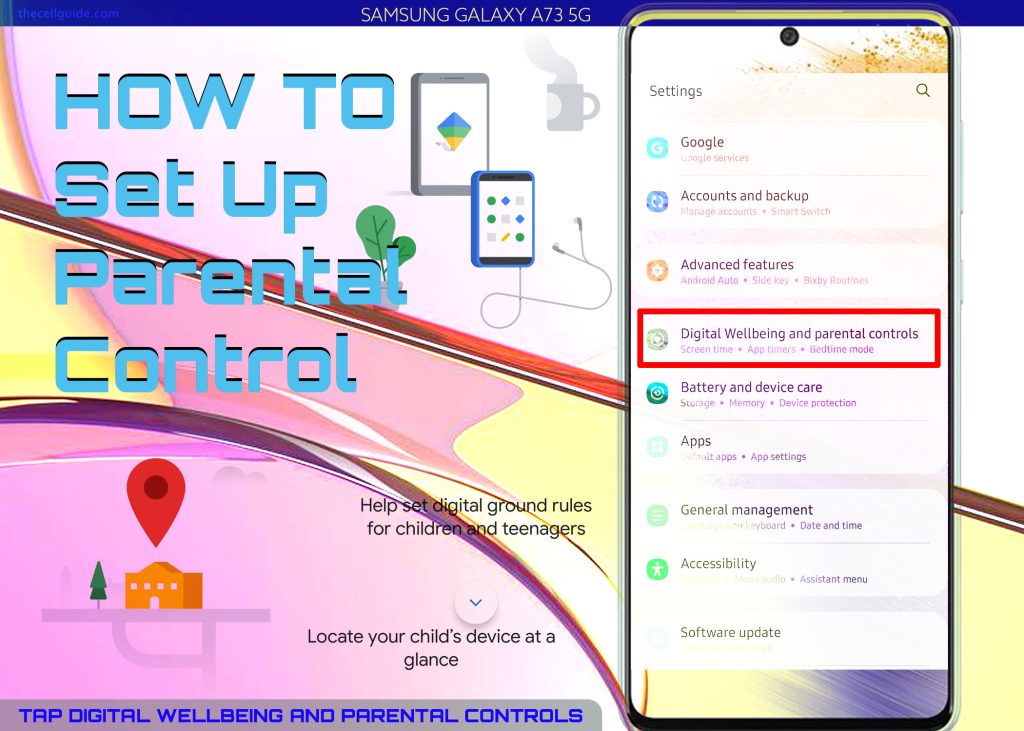 Step 3: On the succeeding menu, tap Parental controls. A setup wizard will load up next.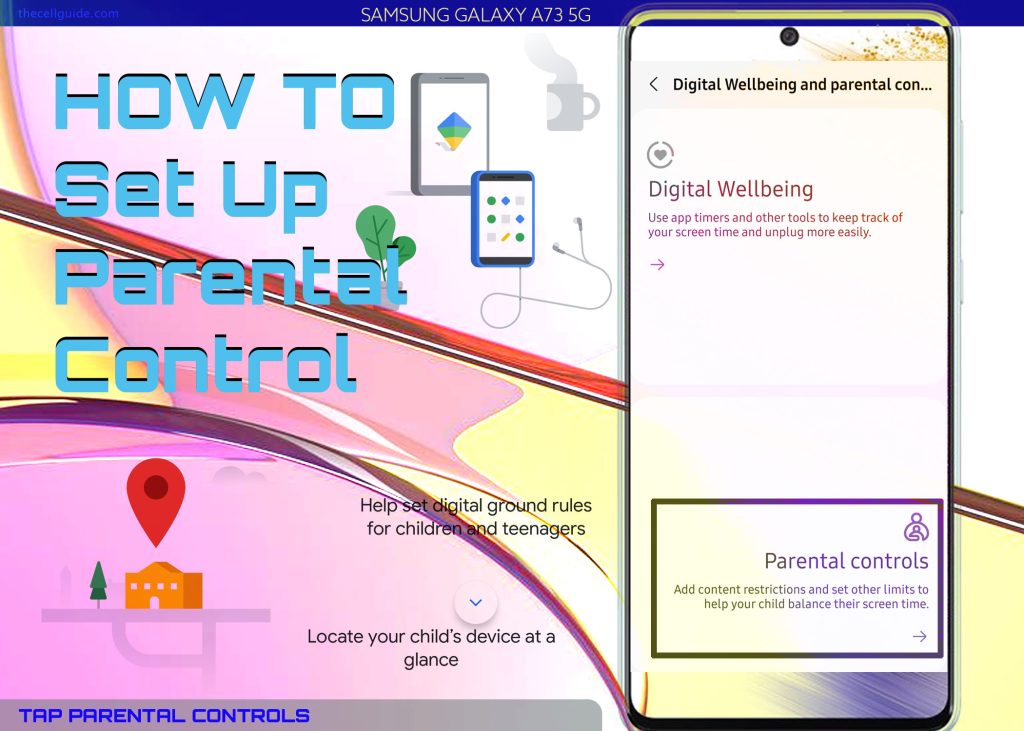 Step 4: Tap Get started to continue.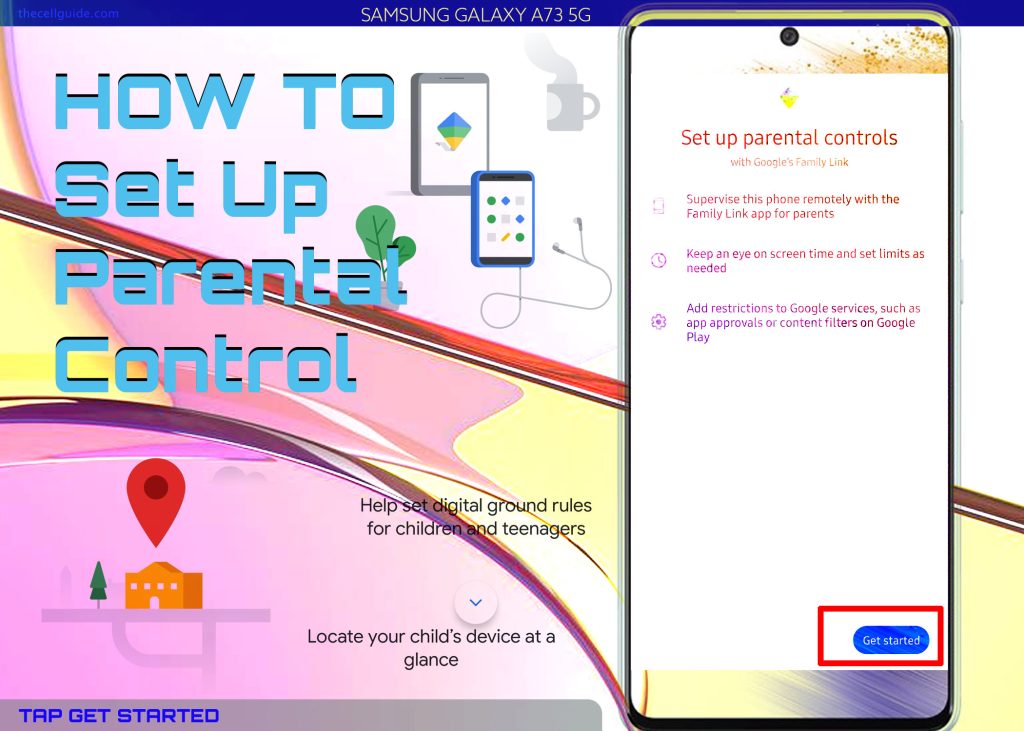 Step 3: On the next screen, select Child or Teenager, or Parent depending on who uses the device. To proceed with this guide, let's choose Parent.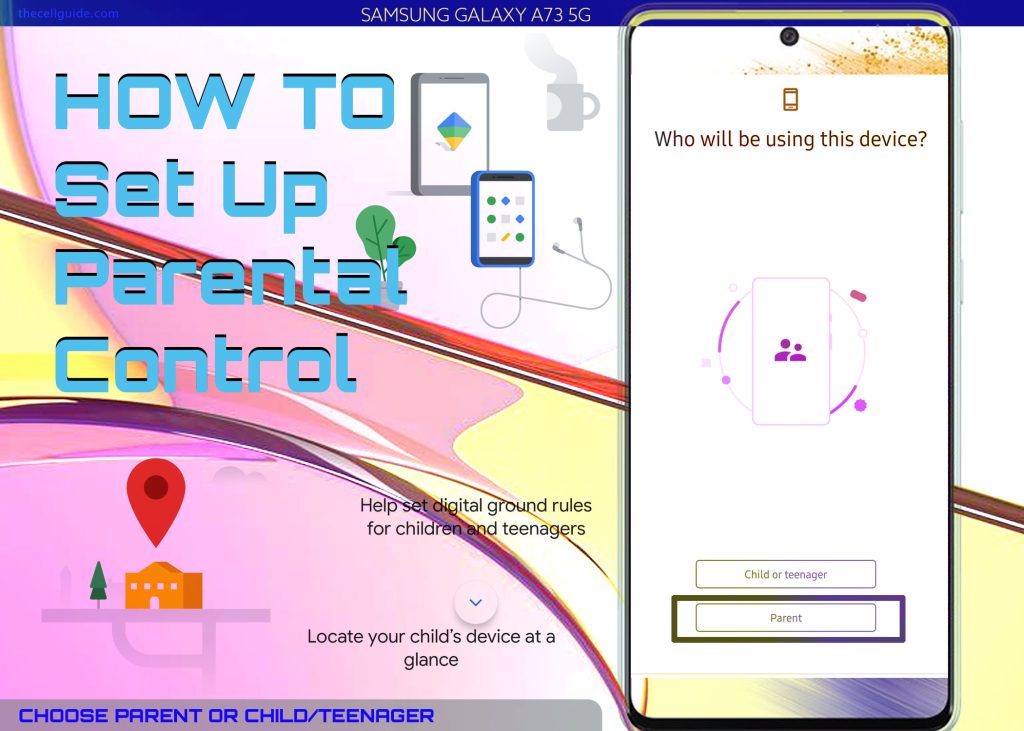 Step 4: To continue, tap the Get Family Link button and follow the onscreen prompts to download and install the Google Family Link for Parents app on your phone.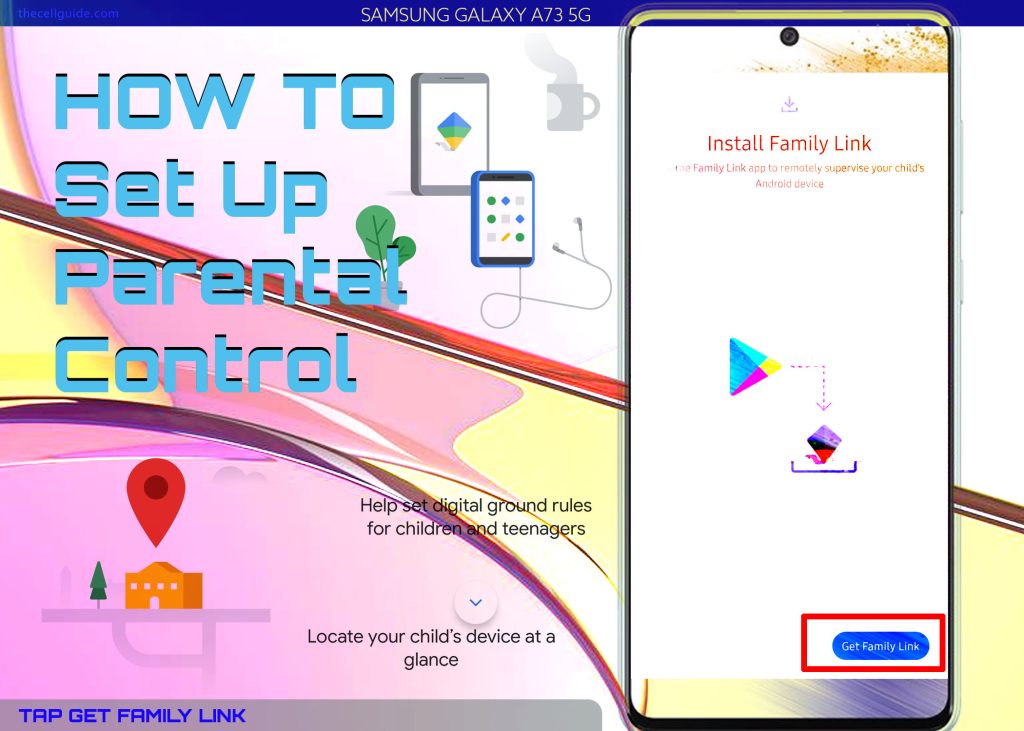 Step 5: After installing the app, tap Open and then tap Get started to proceed.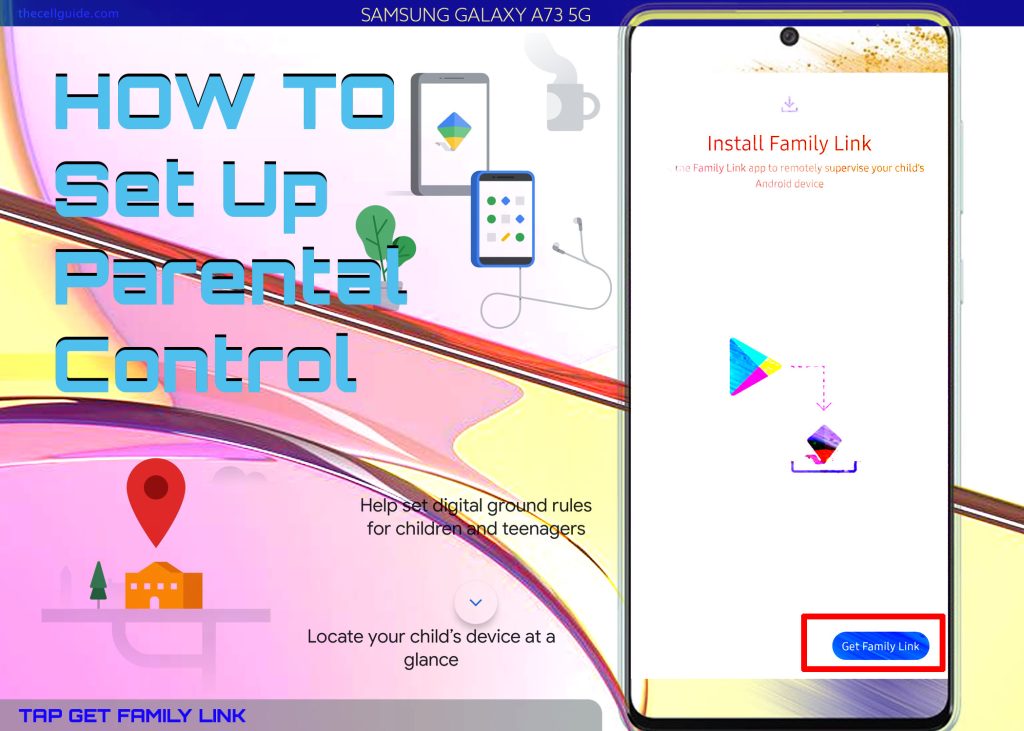 Step 6: Select the desired Google account to use and then choose Parent on the next screen when asked to choose who will be using the device.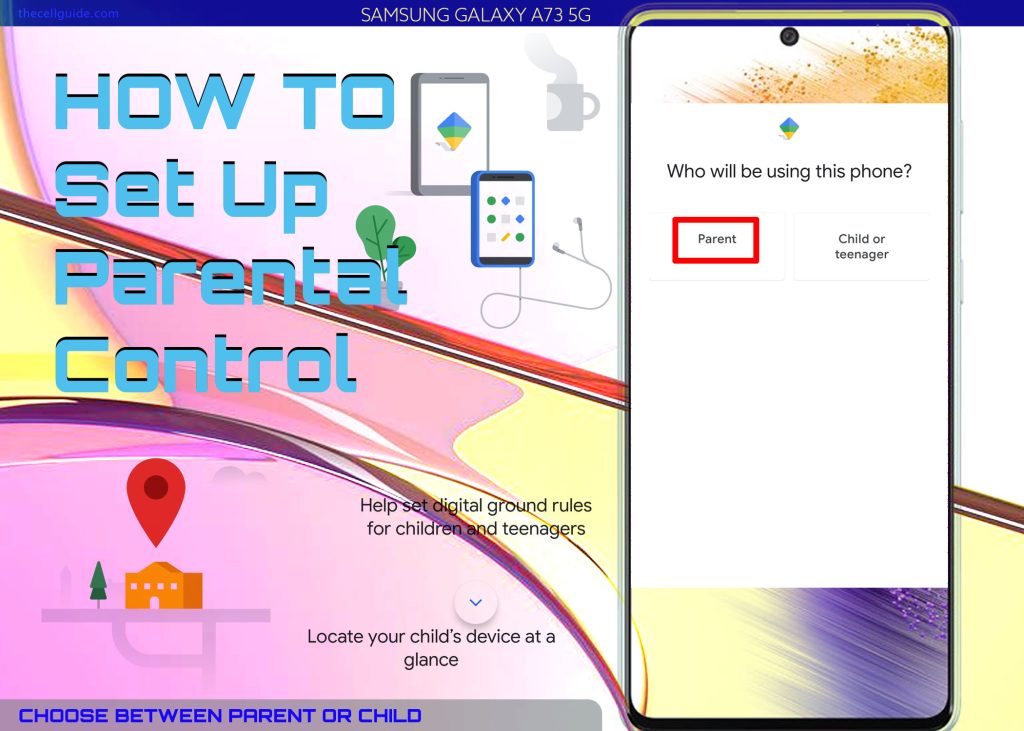 Step 7: Tap Next on the next screen and then read the next details.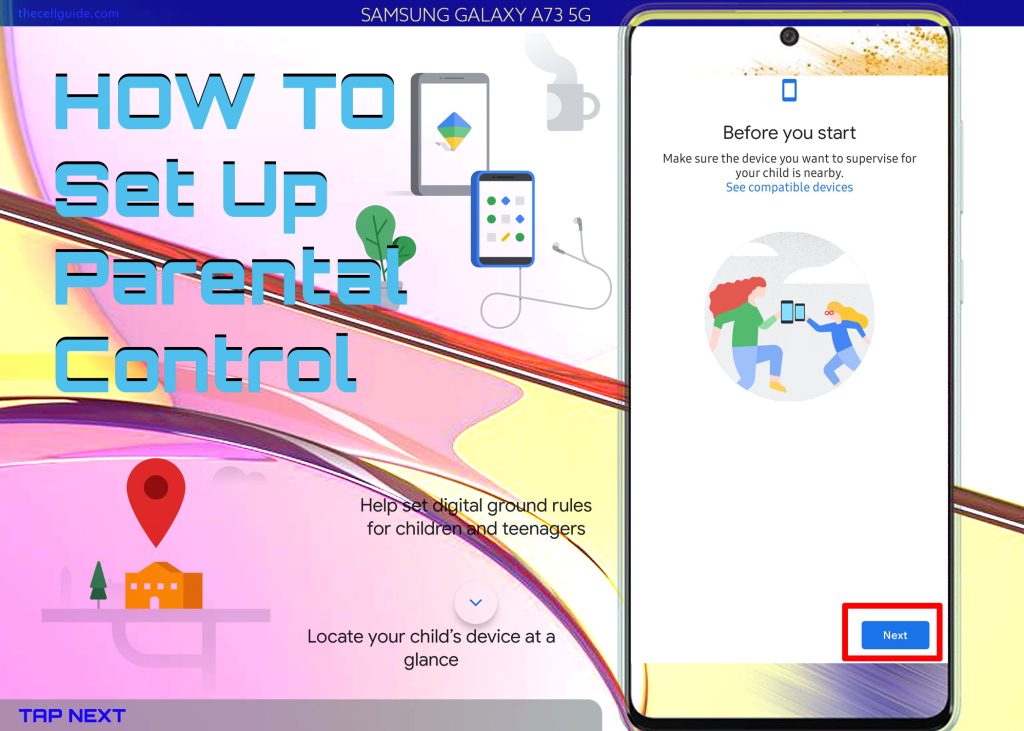 Step 8: Tap I'm ready then select Yes or No when asked if your child has a Google account. To continue with this guide, let's choose Yes.
Step 9: Tap Next to set up your child's device and then download the Google Family Link for children & teens on your child's device.
Step 10: Enter the provided Family Link setup code then follow the rest of the onscreen instructions on both devices to connect them.
When the Family Link setup is finished, you can use the app to keep track of your child's activities.
You can also add another child to supervise through the same app. To do this, just launch the Family Link app then tap Add to add your other child's Google account.
Aside from preventing your child from accessing explicit content, setting up parental controls can also help ensure your child does not incur unexpected expenses from unauthorized in-app purchases.
Parental Control App: Samsung Kids
Aside from the built-in digital wellbeing feature, you can also use Samsung Kids for your child's app usage. With Samsung Kids, you can let your child make use of a Samsung phone to access various kid-friendly apps and services. This app is specifically designed to have easy access and navigation tools.
To use Samsung Kids, you'll need to set it up on your phone beforehand. To do so, just head over to the quick panel and then tap on the Kids icon. Doing so will load up the Samsung Kid set up screen that contains step by step instructions to complete the setup process.
To make the app even more accessible to your child, you can add the Samsung Kids icon on the welcome or parental control settings on your device.
And that's one way to restrict access to explicit contents by setting up parental controls and content restrictions on a Samsung Galaxy A73 5g smartphone.
Hope this helps!
Please check out our YouTube channel to view more tutorial and troubleshooting videos for popular iOS and Android devices.
You Might Also Want To Read: