This post will walk you through adding medical details for first emergency responders to refer to on the new Samsung Galaxy Flip smartphone even when it's locked. Here's a quick guide to set up medical info on the Galaxy Z Flip4.
Estimate Cost : 0
Time Needed : 3 minutes
Just like iPhones, Android phones including high-end Samsung Galaxy devices also have a number of safety and emergency features that users can activate for emergency purposes. 

Depicted below is the actual process of setting this feature up on the new Galaxy Z Flip4 device. Feel free to refer to this guide if you need help adding your medical information on your newly acquired Samsung Galaxy smartphone.
1. Open the Settings app to get started. To do this, simply tap on the gear-shaped (settings) icon on the Home screen or Apps screen.




You can also access the Settings app shortcut straight from the quick settings panel of your device.

2. In the Settings menu, scroll to find then Safety and emergency.




Doing so opens the Safety and emergency menu of your phone.

3. In the Safety and emergency menu, you will see inbuilt features including medical info and wireless emergency alert options. Tap Medical info to proceed. 




On the next menu, you will see a quick overview about the phone's medical info feature.

4. To continue, tap the Pencil icon located on the top-right corner of the screen.




Doing so opens another screen that contains different fields for you to fill up. 

5. Enter all important details such as your medical conditions, allergies, current medications, blood type, and other. Simply tap on each of the fields then type in the required details.




The information you enter doesn't have to be lengthy. Just enter the necessary details that responders often need to know about you in case of emergency.

6. After entering all necessary information, tap Save. Your medical information will then be added and saved in the system.




A brief summary of your medical info will then show up on the next menu.
This information will be made accessible to emergency responders and others even when the phone is locked.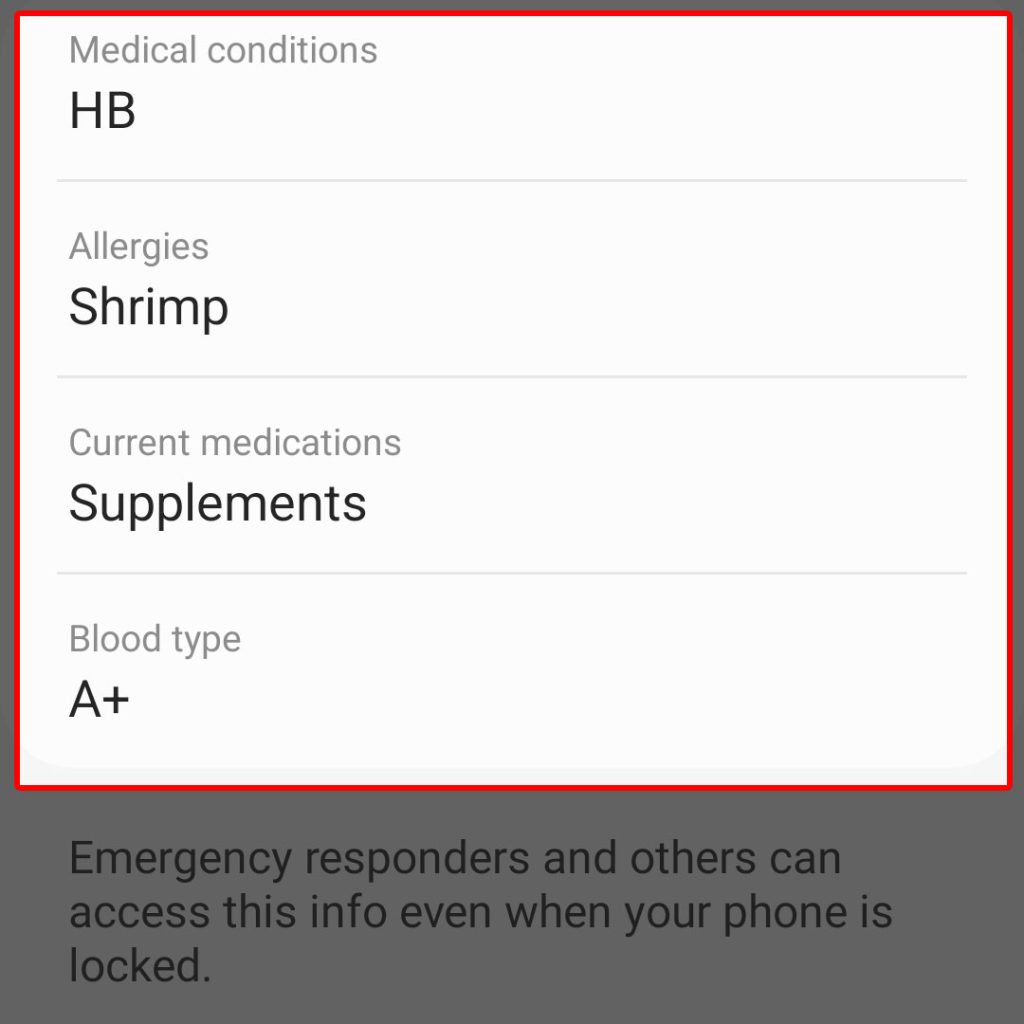 Should you wish to add or edit some details, just repeat the same steps to return to the Medical info screen then enter all important updates.
Why add your Medical Information?
If you have an existing health condition or illness that may need to be disclosed to paramedics or emergency responders, better put that information on your lock screen. Doing so will save you time from explaining your illness to medical responders if ever you fall ill.
Since this information is accessible and visible on the lock screen, access to your device won't be necessary. This is such a life-saving feature that every Samsung phone owner should utilize.
And that's all about setting up medical information on the new Samsung Galaxy Z Flip 4 smartphone.