Need help setting up and syncing your new Apple Watch Series 7 and iPhone 13? This post highlights a step-by-step guide that might be able to help you get started. Here's how to set up and pair Apple Watch Series 7 and iPhone 13.
Pairing a new Apple Watch with an iPhone is fairly simple. All you have to do is follow the setup and pairing wizard until your devices are paired synchronized.
For the sake of those who are new to the iOS platform who need some input on how to pair their new Apple Watch series 7 with their iPhone 13, I've mapped out a simple walkthrough as follows.
Prerequisites:
Valid Apple ID and password – this information is necessary for you to disable activation lock.
Sufficient battery life (at least 50 percent battery on both the Apple Watch and iPhone)
Your iPhone must have a stable internet connection either via Wi-Fi or cellular data.
Bluetooth must be enabled on your iPhone.
Both Apple Watch and iPhone must be next to each other.
Both devices must be turned on.
For starters, follow these steps to turn on your Apple Watch Series 7:
Press and hold the Side button for a few seconds and then release when the Apple logo appears.
If this is the first time you turn the watch on, it may take a few minutes for the Apple logo to show up so just keep pressing on the Side button until then.
If your watch won't turn on, let it charge for about 15 to 30 minutes and then try to turn it on again using the same steps.
Easy Steps to Set Up and Pair Apple Watch Series 7 and iPhone 13
The following steps are also applicable when setting up and pairing a new Apple Watch 7 with other iOS 15 devices (initial setup and pairing).
Please note though that actual screens and menu items may vary between device models and carriers so expect some slight differences on the graphical user interface.
Once you've got everything set, you may begin setting up and pairing your devices with these steps:
Step 1: To begin setting up your new iWatch, place it next to your iPhone and wait for the Use Your iPhone to set up this Apple Watch message prompt.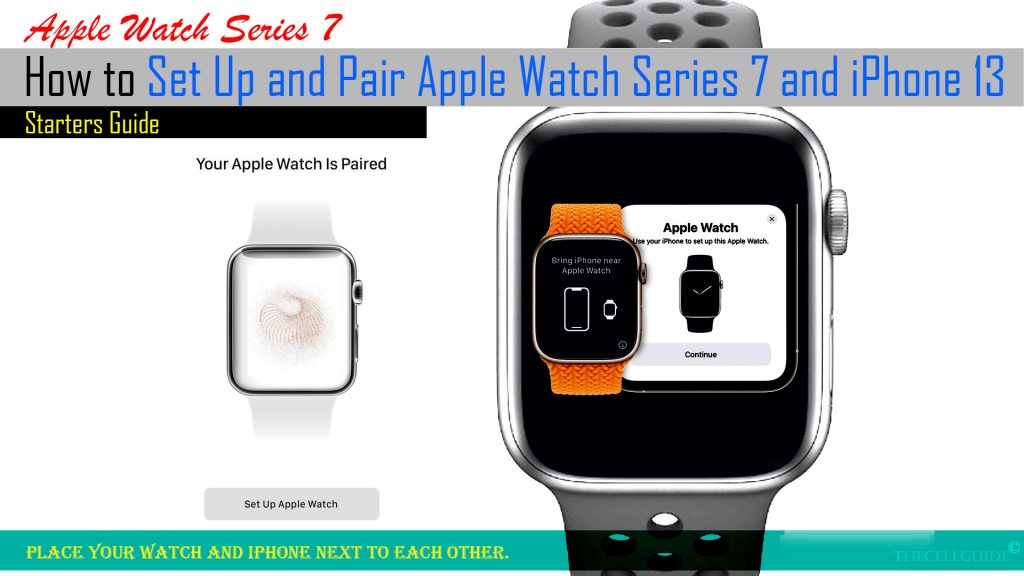 Step 2: If you see the message prompt, tap Continue.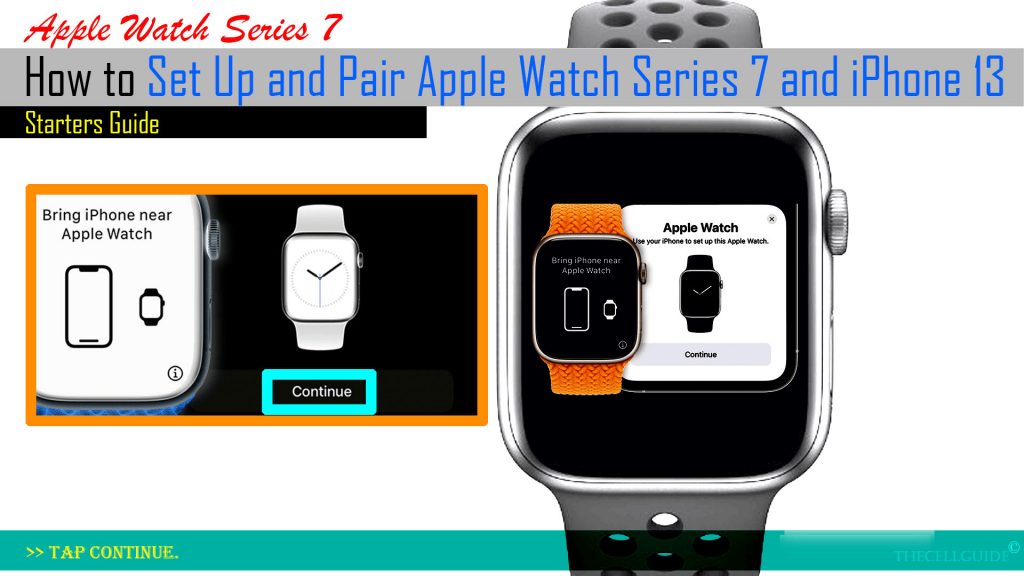 Step 3: Then, open the Apple Watch app by tapping on the Watch icon on your iPhone's home screen.
Step 4: Tap All Watches to proceed.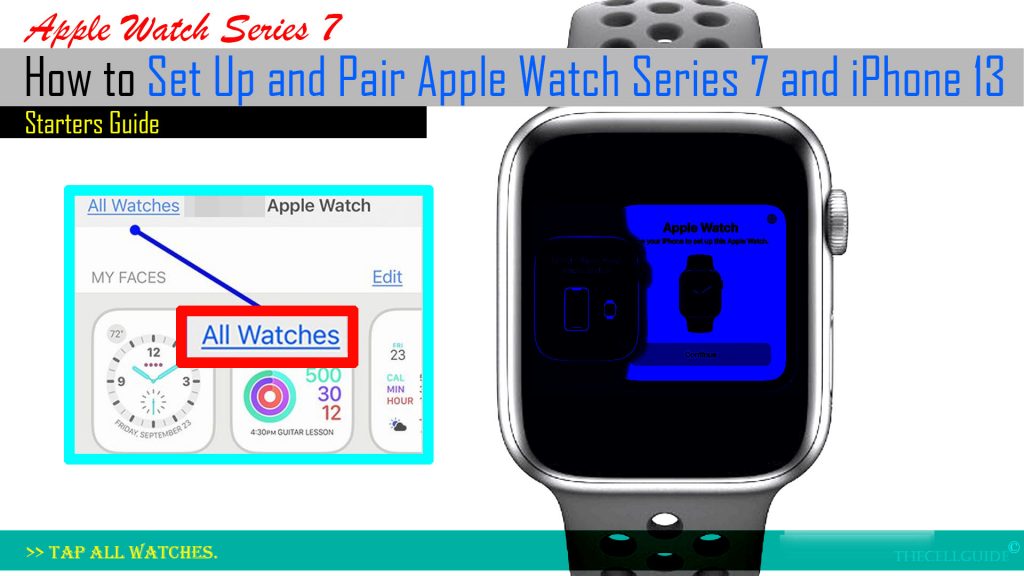 Step 5: On the next menu, tap Pair New Watch and follow the rest of the onscreen instructions to begin pairing your devices.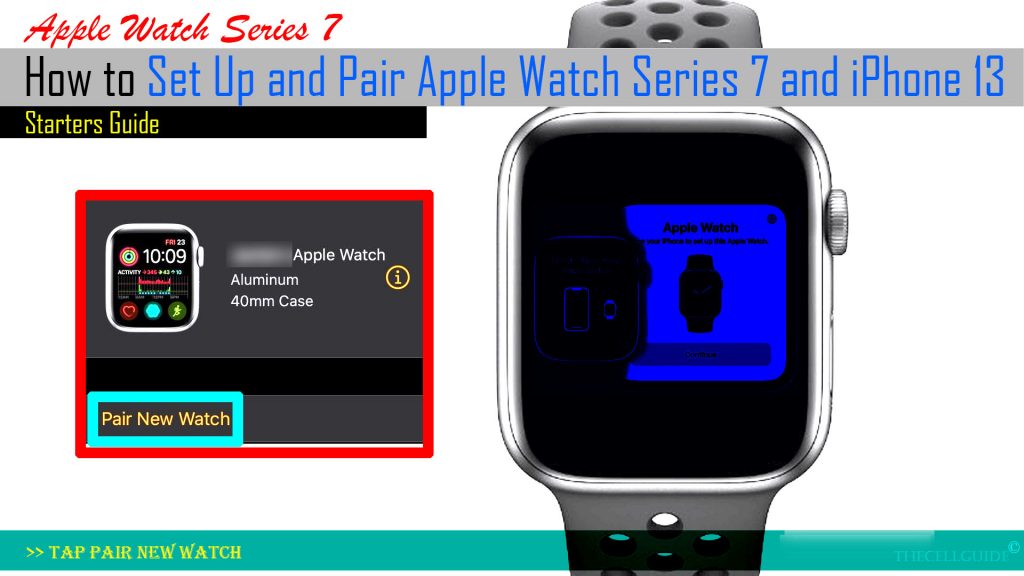 Be sure to keep your Apple Watch and iPhone close together until the pairing process is finished.
Step 6: If prompted, position your Apple Watch in the provided frame. Be sure to center the watch face in the viewfinder on your iPhone to avoid any errors.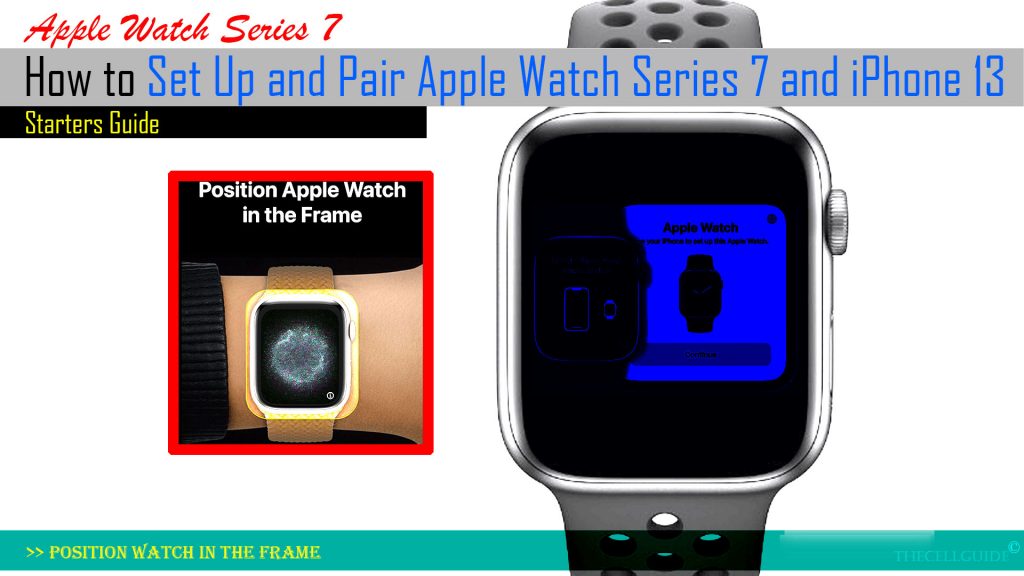 When the pairing is complete, you will see a message saying that your Apple Watch is paired. Your devices will then start syncing.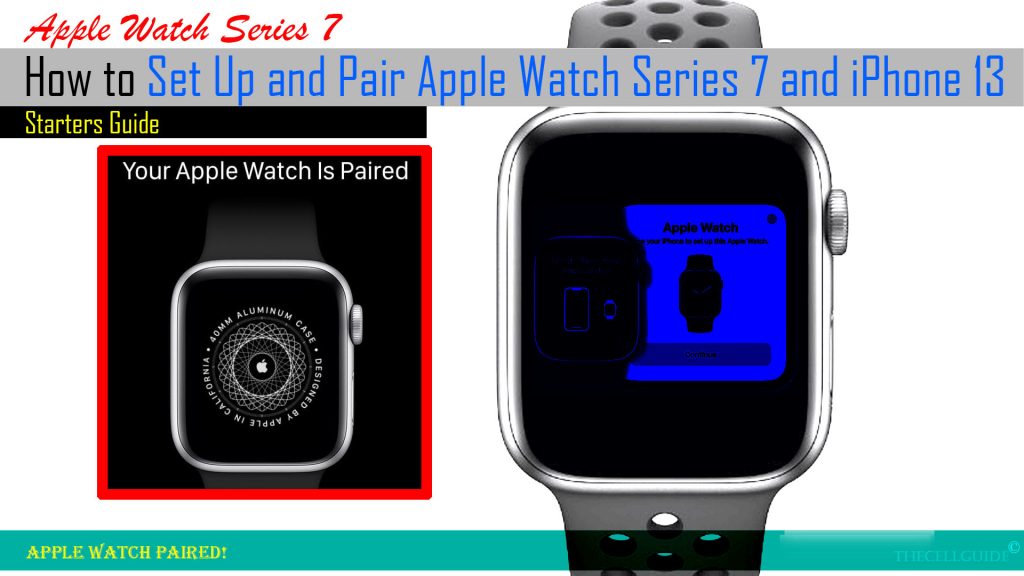 When you hear a chime and feel a tap from your Apple Watch, just press the Digital Crown and you should be all set.
Apple Watch Security
While the process of creating a passcode is skippable, creating one as early as possible is highly recommended.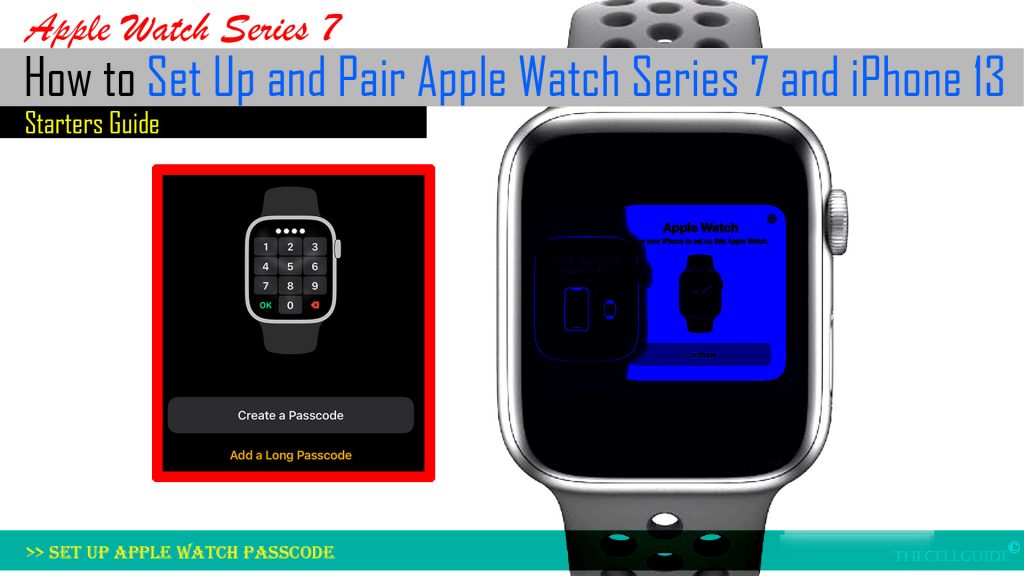 With a passcode set up on your Apple Watch, unauthorized access will be barred as your watch will require the passcode to unlock it.
Should you wish to set up Apple Pay on your watch, just add your card and follow the rest of the onscreen instructions.
Aside from Apple Pay, automatic watchOS updates, SOS, and Activity features can also be set up on your watch.
Apple Watch Apps Installation
Aside from the preloaded applications, you can also download and install more compatible apps with your Apple Watch individually.
Pair Apple Watch Manually
Alternatively, you can manually pair your Apple Watch and iPhone 13. To do this, just tap the Pair Manually option at the bottom and then follow the rest of the onscreen instructions.
If this is the first Apple Watch that you're trying to set up, select the option to Set Up as New Apple Watch. Otherwise, tap the option to Restore from Backup.
Setting Up Apple Watch via VoiceOver
You can also set up your Apple Watch using VoiceOver. To get this done, you will first need to activate the VoiceOver feature by triple-clicking the Digital Crown on your Apple Watch.
Once VoiceOver is enabled, place your iPhone next to your Apple Watch and follow the on-screen prompts to set up the Apple Watch and pair it with your iPhone.
If Pairing is Successful…
After setting up and pairing your Apple Watch and iPhone 13, you can start configuring your iWatch settings according to your preferences.
You may opt to turn on necessary features such as Location Services, Find My device, iPhone Diagnostics, Wi-Fi calling, Siri, Route Tracking and the like.
You can also customize your Watch display according to your needs by changing the default font or text size.
By then you should be able to start using your Apple Watch 7 with your iPhone 13 as you desire.
Cannot Pair Apple Watch with your iPhone 13?
If for some reason your devices won't pair, review the setup and pairing requisites as highlighted above. Also make sure that both your watch and iPhone are close together.
Keeping the devices software up-to-date is also recommended to ensure all new system features and security enhancements are currently implemented.
To rule out minor software errors that might have halted the setup and pairing process, restart both your devices and then retry pairing.
And that's all about setting up and pairing a new Apple Watch 7 with the iPhone 13.
Hope this helps!
Please check out our YouTube channel to view more tutorial and troubleshooting videos for popular iOS and Android devices.
You Might Also Want To Read: