With Do Not Disturb enabled on your smartphone, you can mute sound notifications for messages and incoming calls with or without exception. Wondering how to utilize this feature on your new Samsung Galaxy phone? This post will help you get started. Read on to learn how to set up and manage DND settings on Samsung Galaxy S21 running on the latest One UI 4.0 platform.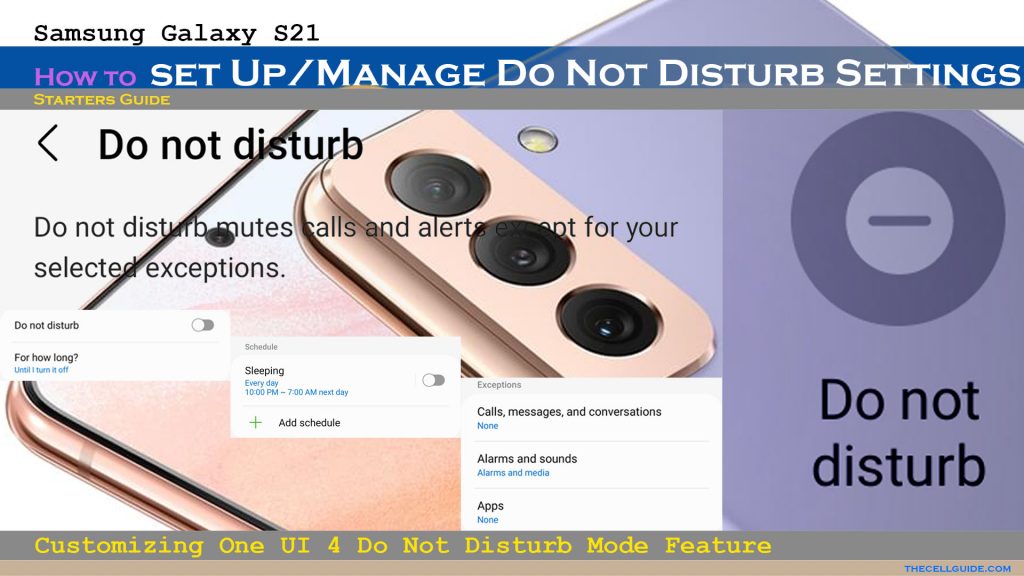 Galaxy S21 Do Not Disturb Mode
One way to limit interruptions from unwanted phone calls and notifications is by putting the device in Do Not Disturb (DND) mode.
As the name implies, the Do Not Disturb feature works by muting calls, alerts, and notifications immediately, at scheduled intervals or until the feature is turned off.
When enabled, all incoming calls that were unanswered will be sent to your voicemail. Messages will still be received but arrive without any audible notifications.
Activating DND mode in Samsung devices can be done straight through the settings menu or from the quick settings panel.
The steps portrayed below depict the former method, which is through the settings menu. Keep reading for more detailed instructions.
Easy Steps to Set Up and Manage DND Settings on Samsung Galaxy S21
Apart from the typical silent mode, modern Android smartphones including the latest Galaxy S21 series do come with an alternative method for muting phone calls and notification sounds. This feature is disabled by default and thus manual configuration of the device settings is required should you wish to activate it.
The following steps depict the actual process of setting up and managing DND options through the Galaxy S21 settings menu. These steps are also applicable when configuring DND settings on other Samsung Galaxy phones running on the same One UI version with that of the Galaxy S21 series.
Actual screens and menu options may vary between device models and carriers so expect some slight differences on each device's user interface.
Step 1: Open the Settings app by tapping on the Settings icon from the Home or Apps screen.
Step 2: While on the Settings menu, find and then tap Notifications.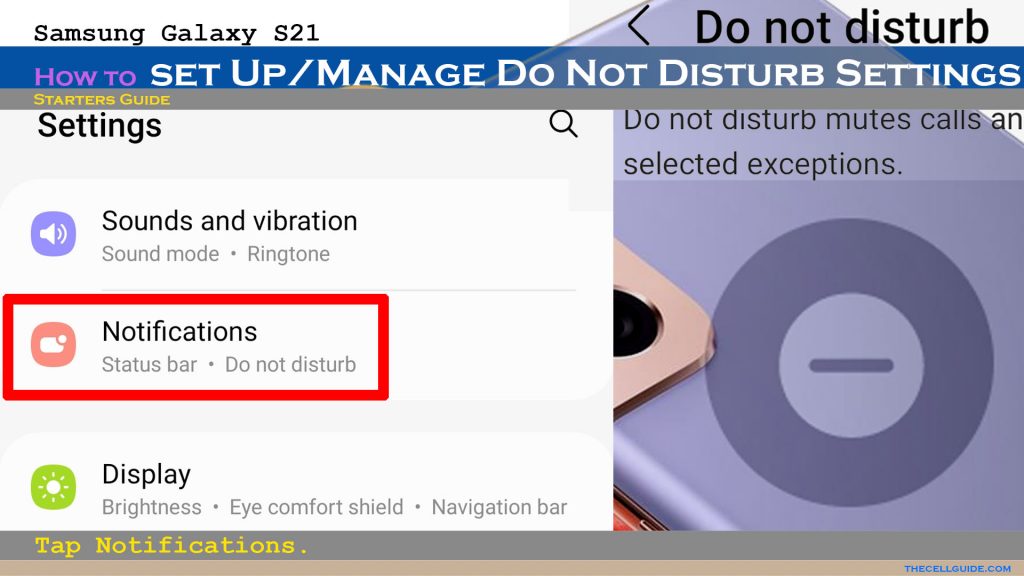 Step 3: Scroll down to view more options and then tap Do not disturb to proceed.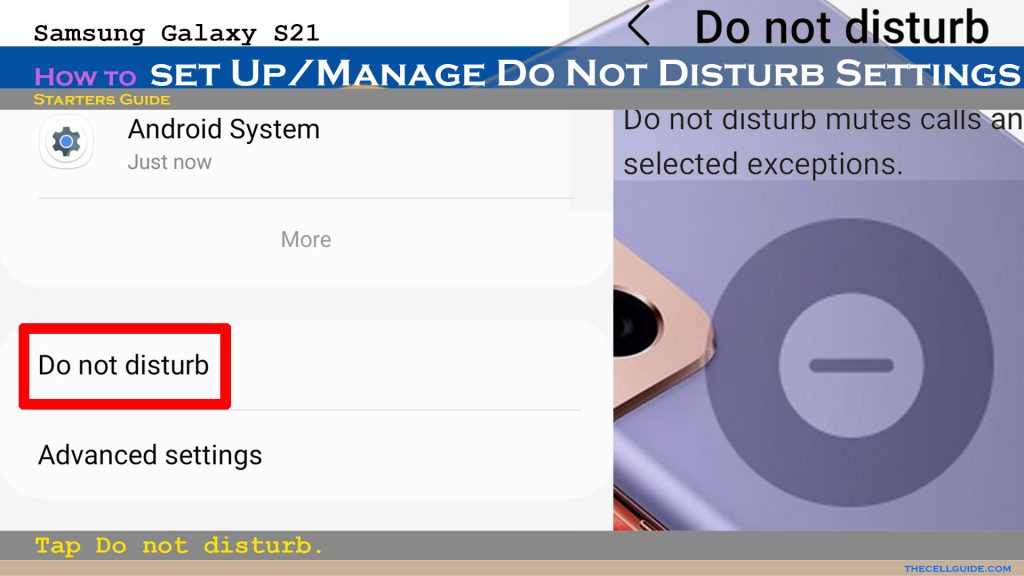 Step 4: On the succeeding menu, toggle to turn on the Do not disturb switch.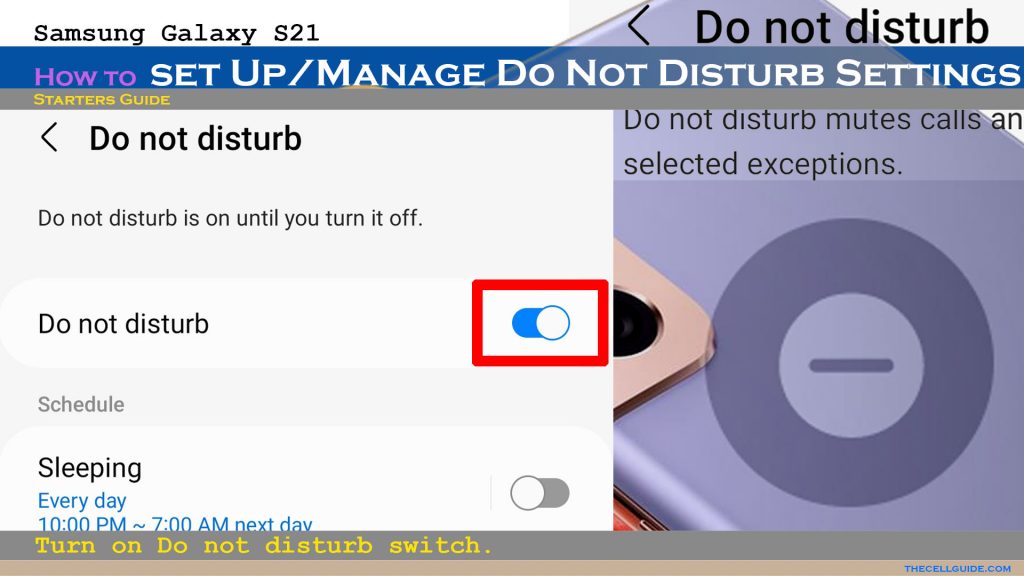 Doing so will immediately put the device in Do not disturb mode and thereby mutes all notification alerts for incoming calls and messages until the feature is disabled.
To specify how long you'd like your phone to stay in DND mode, simply tap For how long? and then select any from the available durations.
DND Mode Custom Schedule
DND settings can also be customized according to every user's preferences. That said, you can set your device to automatically switch to DND mode for a certain period of time.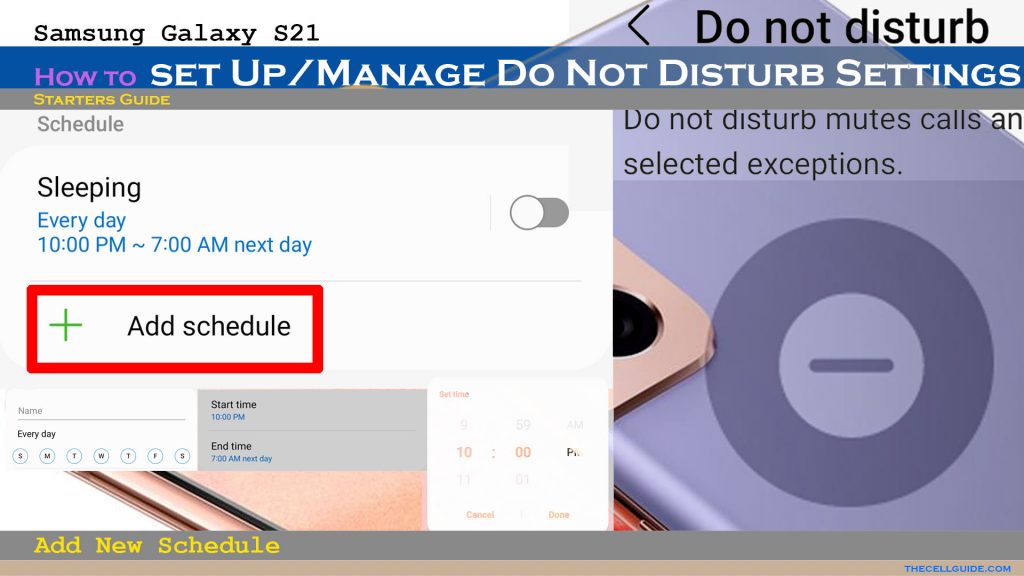 Just head over to the Do Not Disturb menu and then navigate to the section named Schedule.
To set a schedule for DND to activate automatically, tap the option to Add schedule and then enter all necessary information. After providing all the details, tap Save.
The recently created schedule will then be added to the list. To use it, simply tap to turn on the switch next to the recently added schedule.
Repeat the same steps to add another schedule as needed so you won't be distracted by any unwanted notifications during those times.
Do Not Disturb Mode Exceptions
In order not to miss any important phone call you expect while on DND mode, setting up DND mode with exceptions is recommended.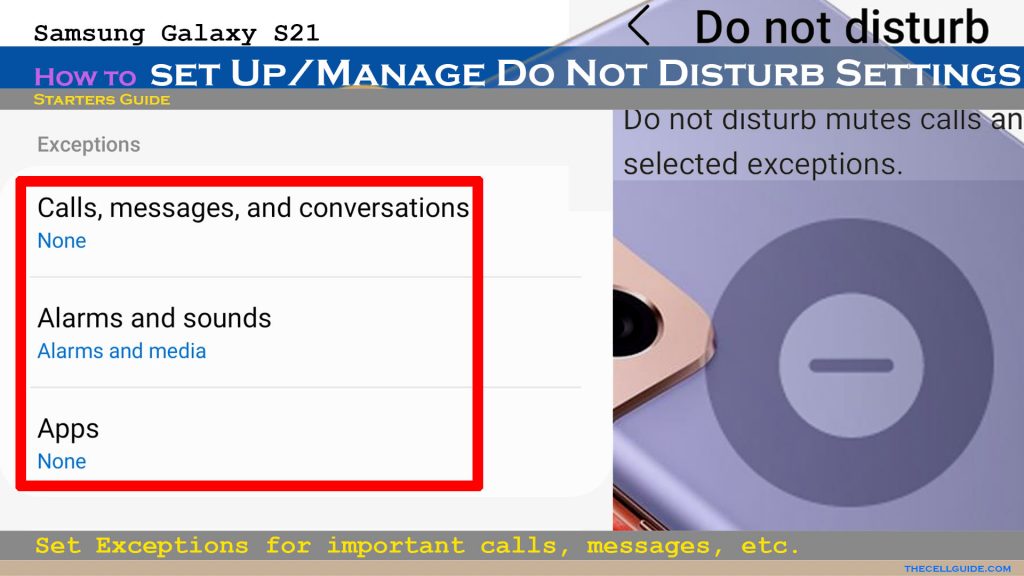 To set up and manage DND mode exceptions, just head back to the Do Not Disturb settings menu and then navigate to the Exceptions section. Once you get there, select your preferred options that you'd like to set exceptions for. Among the available choices include Calls, messages, and conversations, Alarms and sounds and Apps.
Just add or enter the specific phone numbers, alarms, apps and other necessary details to your list of exceptions and customized alerts.
You can also edit an existing schedule if you want.
To do so, simply tap on the desired schedule name and then enter all necessary details including the updated Start time and End time. Once you're done making necessary edits, tap Save to apply the recent changes to your DND schedule.
There's also an option for you to allow calls received from the same number if the calls were placed more than once within 15 minutes. To make this happen, simply turn on the Repeat callers switch from the Do not disturb Exceptions menu for calls, messages, and conversations.
Activating Do Not Disturb mode via Quick settings panel
The quickest way to turn DND mode on and off is through the notification panel or quick settings panel in recent Samsung Galaxy smartphones.
To access the quick settings panel, simply swipe down from the top of the screen. Different shortcut icons or controls will then appear. Find and then tap the Do not disturb icon to turn the feature on or off.
When the icon turns blue, it means that the feature is turned on or enabled. If it is gray, it means that Do not disturb is disabled or turned off.
And that's all about setting up and configuring the Do Not Disturb mode settings on the updated Samsung Galaxy S21 device.
Hope this helps!
Please check out our YouTube channel to view more tutorial and troubleshooting videos for popular iOS and Android devices.
You Might Also Want To Read: