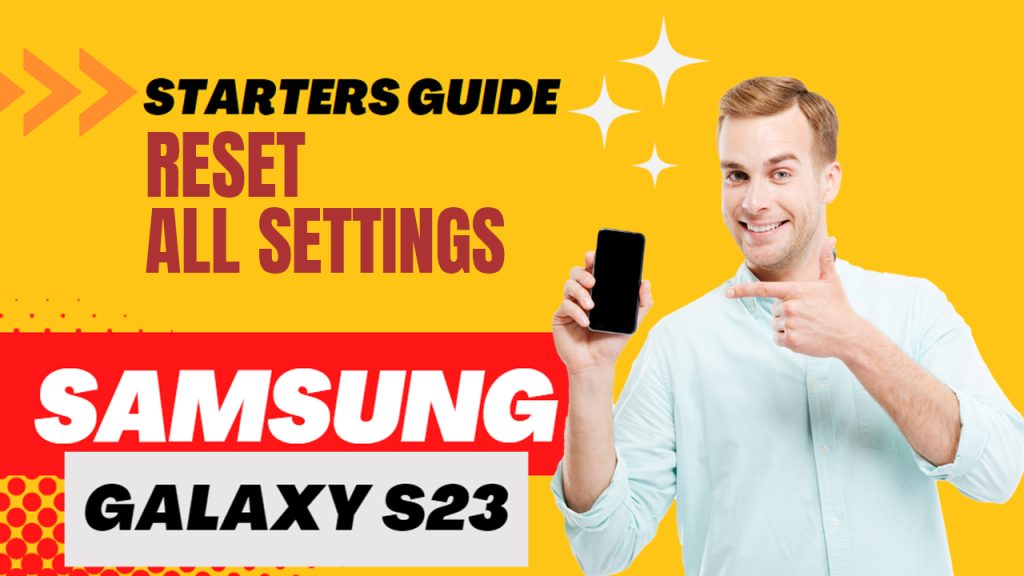 Need to restore the default settings on your Samsung Galaxy S23 without deleting your downloads and other saved information from the internal storage? If that is so, then resetting all settings is the better option for you.
In this tutorial, we will walk you through resetting all settings on the recently rolled out Samsung Galaxy smartphone without deleting your personal information. Read on for more detailed instructions.
Steps to Reset All Settings on the Galaxy S23
The process of resetting all settings on a Galaxy S23 is fairly straightforward and can be done in just a few simple steps. Here's what you need to do:
Step 1: First, navigate to the Home or Apps screen and then tap on the Settings icon.
Just look for the gear-shaped icon on either screen or access the Settings app shortcut from the quick settings panel.
Step 2: In the Settings app menu, scroll to find and then tap General management.
Doing so will load up another menu with a list of system-management features and services.
Step 3: Scroll down to the bottom section and then tap on Reset.
A list of all available reset options will populate the next display.
Step 4: Select Reset all settings from the given options to proceed.
A quick summary about resetting all settings will load up next.
Step 5: Read and review the details and then tap Reset settings to proceed.
Depending on your phone's security setup, you may be asked to enter the unlock method before you can continue.
Step 6: If prompted, enter your phone's security PIN, pattern or password and then tap Reset on the succeeding window to confirm action.
The phone will then start resetting all settings and then instigates an automatic system reboot.
When the reboot is finished, the phone will launch and return to its normal operation. All recent system changes and app customizations are now deleted and default apps and system configurations are restored.
This denotes the need for you to connect to the Wi-Fi network and establish Bluetooth connections like the first time. Default apps and data protocols are likewise reinstated so you will need to choose and set your preferred application when using a certain file type or data protocol like downloaded images, videos, and the like.
Common problems that can be fixed by resetting all settings
Performing this reset has been proven to work wonders when dealing with common system issues including the following:
Performance-related issues. If your device is running slow or not responding quickly, resetting all settings can help boost its performance.
Software Bugs and Malware. If you're experiencing bugs or glitches on your device, resetting all settings can help resolve these issues.
Random App crashes. If you're encountering frequent app crashes, resetting all settings can help resolve the issue.
Minor (software-related) Display issues. If you're experiencing display issues, such as a distorted screen or incorrect resolution, resetting all settings can help resolve the issue.
Software-related (post-update) battery draining issues. If your device's battery life is shorter than normal, resetting all settings can help improve its battery life.
Connectivity issues. If you're experiencing connectivity issues, such as slow Wi-Fi or inconsistent Bluetooth, resetting all settings can help resolve these issues.
Whether you're experiencing an unusual sluggish performance or random in-app glitches that you can't seem to rectify, resetting all settings on your phone can help resolve these issues. On top of that, you won't lose any important files and apps because unlike a factory data reset, resetting all settings only clears out the recent system changes you've made and leaves all other user data intact in their respective storage directories.
And that's all about resetting all settings on the new Samsung Galaxy S23 smartphone.