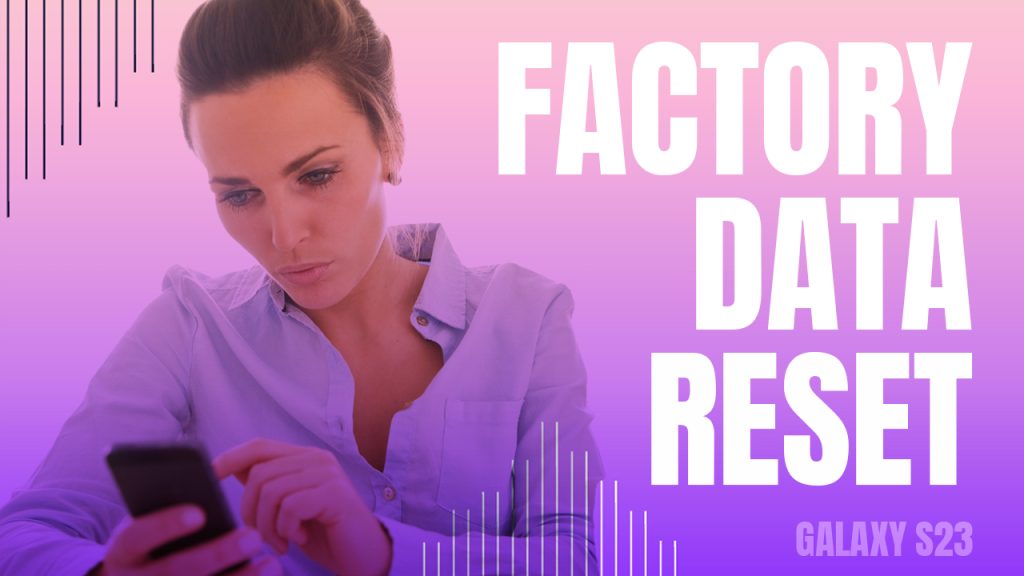 A factory reset, also known as a hard reset, is a process of restoring a device to its original factory settings. This process erases all data stored on the device, including personal files, apps, and settings.
The process of performing a factory reset can vary depending on the device and its operating system, but generally, it can be done through the device's settings menu or using a combination of buttons.
In this tutorial, we will walk you through performing a factory reset on the new Samsung Galaxy S23 through the Settings app. Read on for more detailed instructions.
Things to do before a factory reset
Before performing a factory reset on your phone, it's important to take the following steps to ensure that your data and personal information are protected.
Backup important data. Backup any important files, such as photos, videos, music, and documents, to a computer, external hard drive, or cloud service. This will ensure that your data is not lost during the factory reset process.
Log out of apps. Log out of any apps that store personal information, such as email or social media accounts, to ensure that this data is not lost during the reset.
Remove SD card. If your phone has an SD card, remove it to avoid losing any data stored on it during the reset.
Turn off device encryption. If your device is encrypted, turn off encryption before performing the factory reset. This will make the reset process faster and more efficient.
Make note of important settings. Make a note of any important settings, such as Wi-Fi network passwords, that you'll need to re-enter after the factory reset.
Once you've got all the prerequisites met, you may go ahead and proceed with a factory data reset through the Galaxy 23 settings menu:
Estimate Cost : 0
Time Needed : 5 minutes
Start only when you've already secured a backup of all important information on the phone.
To get started, navigate to the Home or Apps screen and then tap the Settings icon.

Doing so will launch the Settings app menu on your device.

While in the Settings menu, scroll down to find and then tap General management.

Another menu will launch with system management features and options.

To continue, scroll down to the bottom section of the screen and then tap on Reset.

Doing so opens another window with all available system reset options.

Select factory data reset from the given options to proceed.

The phone will then show more details about the factory reset including the types of data that will be erased.

Read and review the displayed information and then tap the Reset button to continue.

If prompted, enter your device's PIN, pattern or password.

Finally, tap Delete all on the succeeding window to confirm action.

The device will then instigate the factory reset process.
The entire process may take several minutes to complete depending on the amount of data to be deleted. Once the process is finished, the phone will instigate an automatic system reboot. 
By then you should be all set to proceed with the initial setup process as soon as it's done rebooting. You'll need to go through the initial setup process, including setting up your Google account, Wi-Fi network, and other basic configurations.
Types of data that will be deleted during a factory reset on the Galaxy S23 are as follows:
Device settings. All custom settings and configurations, such as Wi-Fi networks, sound profiles, and display settings, will be reset to the factory defaults.
Downloaded and installed apps. All installed apps, including those from the Google Play Store, will be deleted.
Personal files. All personal files such as photos, videos, music, and documents will be deleted. It's important to back up any important data before performing a factory reset.
System data. Any system data or settings that have been modified will be erased and restored to their original state.
Operating system. The operating system will be restored to its original version without any updates or customizations.
A factory reset can be performed for several reasons, including:
Troubleshooting fatal system errors. If a device is experiencing issues such as slow performance, crashes, or other software problems, a factory reset can be a step to try and resolve these issues.
Before Selling or Giving Away the Device. A factory reset is a good way to erase personal data from a device before selling or giving it away. This helps to ensure that the new owner doesn't have access to personal information or files.
Clearing Storage/Personal Data. A factory reset can be a way to clear personal data and start fresh with a clean device. This can be useful if a user wants to sell their device or if they simply want to erase their personal data for privacy reasons.
OS Upgrading. A factory reset can also be a step to take before upgrading the operating system on a device. This helps to ensure that the upgrade process goes smoothly and that any compatibility issues are addressed.
Clearing out Virus or Malware. If a device is infected with a virus or malware, a factory reset can be a way to remove the infection and start fresh.
Performance issues transpiring on the device including slow performance, app/system crashes, lags and freezes that are tied to some errant apps and corrupted system data can likewise be resolved by a factory reset. Random system glitches that emerge from a recent software update may likewise require a full system reset in order to be rectified.
The above steps are only applicable when performing a factory reset on a responsive device. To factory reset a stuck or frozen Galaxy S23, you will need to execute the alternative method which is a hard reset/factory data reset via Android Recovery Mode.
Hope this helps!