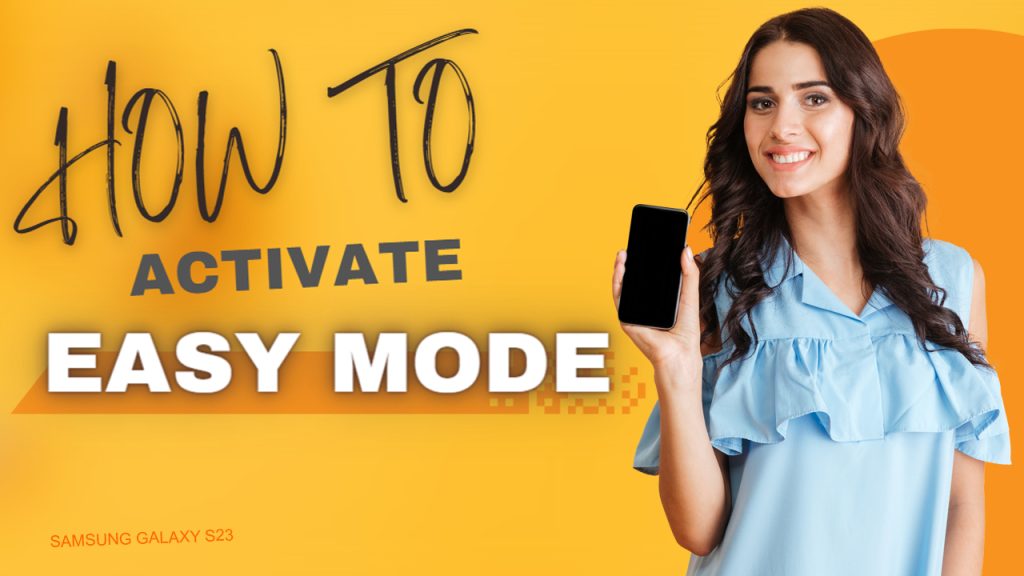 High-tiered Samsung Galaxy smartphones generally have a complex user interface given the various features and services they integrate. Nonetheless, these phones can also operate in plainer modes depending on individual user's needs and preferences.
For first time Samsung users who are still familiarizing with the Android system interface, switching to Easy mode can be considered a better option. This post highlights important details of the Samsung Galaxy S23 Easy Mode feature so as to give some input on how to set up and use this feature. Keep reading for a more detailed explanation.
What is Easy mode?
As the name suggests, Easy Mode refers to a simplified user interface designed to make a Samsung smartphone easier to use. This feature is specifically intended to aid those who are still new to the device as well as those who have visual or motor impairments.
Easy mode can likewise be useful for older users or people with special needs and disabilities, as it can make the device's interface less overwhelming and easier to navigate. This feature however, may not be suitable for more advanced users, as this mode may not be able to provide access to all of the features or may limit customization options.
How does Easy Mode work?
Switching your Samsung phone in easy mode will likewise change the entire system interface. While in this mode, icons and text are enlarged, increasing the spacing between them, and removing some features that might be more advanced or unnecessary for some users.
The home screen will display larger icons for commonly used apps such as Phone, Messages, and Camera. The font size of text displayed on the screen will likewise increase, making it more visible and easier to read.
The notifications and settings menus will also be simplified. You may have the option to choose which apps are shown on the home screen so you will have easy access to the apps that you use more often.
Overall, easy mode makes the phone's interface more accessible and user-friendly, particularly for those who may have difficulty navigating a more complex user interface.
What to do before enabling Easy mode?
Before enabling easy mode on your Samsung phone, it's a good idea to familiarize yourself with the easy mode features like how it works and what it offers. Doing so will give you a hint on what to expect while using your device in this mode.
Aso make sure that your phone is running on the latest software version to ensure that all new system enhancements and bug fixes are implemented.
How to enable & set up Easy Mode on Galaxy S23
Once you've got everything set, you may go ahead and enable Easy Mode on your Galaxy S23 with these steps:
Step 1: To get started, launch the Settings app by tapping on the gear icon from the Home or Apps screen. Alternatively, you can launch the Settings app by tapping on the same gear icon from the quick settings/notification panel.
Step 2: While in the Settings menu, scroll to find and then tap on Display. Doing so will take you to the Display settings menu with relevant features and options to manage.
Step 3: Scroll down to find Easy mode from the given options and then tap on it to proceed. The Easy Mode screen will load up next. Here, you will see the main toggle to disable and enable Easy Mode on the phone.
Step 4: To enable the feature, simply tap to turn on the switch next to Easy Mode. When the switch turns blue or highlighted, it means that Easy mode is activated.
By then, you should see that your phone switches to a simple interface with a simple Home screen layout that has bigger on-screen items. A longer touch-and-hold delay is also activated to prevent any accidental actions and a high contrast keyboard is used for better readability.
Any customizations you've made to the Home screen settings will be discarded.
Features and services that work in Easy Mode
Running the Galaxy S23 in Easy Mode may limit the overall system functionalities of your device. Among the most noticeable changes while running the device in Easy Mode are as follows:
1. Larger icons and text 
In easy mode, icons and text on the home screen are enlarged, making them easier to see and tap on.
2. Simplified home screen
Easy mode removes some of the clutter from the home screen and displays only the most commonly used apps.
3. Easy-to-read notifications
Notifications are displayed in a larger font, making them easier to read.
4. Simplified settings menu
The settings menu is simplified, and some of the more advanced settings are removed.
5. Limited app access
In easy mode, some of the more advanced apps may be hidden or removed, making it easier for users to focus on the apps they use most often.
6. Easy-to-use dialer
The dialer in easy mode is simplified and displays larger buttons for ease of use.
7. Voice commands
Users can use voice commands to interact with their phone in easy mode, making it even easier to use for those with visual or motor impairments.
How to exit Easy Mode on Galaxy S23
Exiting easy mode on a Samsung phone is a simple process. Here's how it's done on the Galaxy S23:
Step 1: To begin, swipe down from the top of the screen to open the notification shade.
Step 2: Next, find and then tap on the Easy Mode icon.
Step 3: On the succeeding window, tap Standard Mode to switch back to the regular interface.
Step 4: If prompted, confirm that you want to switch back to standard mode then follow the rest of the onscreen instructions.
Alternatively, you can exit Easy Mode by heading to Settings-> Display-> Easy mode menu then turn off the Easy Mode switch.
Your phone will then exit Simple Mode and return to the standard system interface.
Enabling easy mode on a Samsung phone does not typically affect other system settings, aside from those related to the user interface.
Putting the phone in this mode can also help preserve its battery life and therefore can be considered among other battery-saving tweaks.
And that's all there is to simplifying the complex OneUI system interface by activating the Samsung Galaxy S23 Easy Mode (Simple Mode) feature.