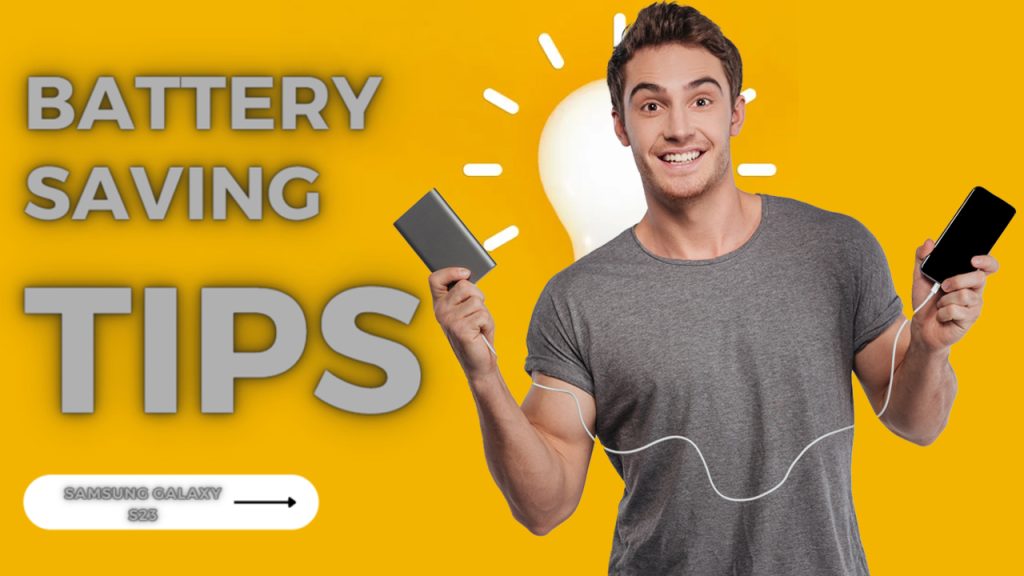 Every Samsung smartphone comes with a power saving option that you can turn on whenever you need to stretch the battery life of your phone. Such is a handy feature whenever your device is running low on power but couldn't charge it yet.
In this post, we will demonstrate a few effective means to preserve battery on the Galaxy S23 by activating power saving mode and utilizing other battery saving features. If you've landed into the page in the search for relevant information, read on for more detailed instructions.
Galaxy S23 Battery Saving Feature
Like any other Samsung smartphones, the Galaxy S23 lineups also integrate a number of battery-saving features that you can activate when needed. Among these features is the Power saving mode.
For starters, Power Saving Mode is a feature found on Samsung Galaxy smartphones that helps conserve battery life by limiting device performance and reducing power consumption.
When Power Saving Mode is activated, the device will adjust settings such as screen brightness, CPU speed, and vibration feedback to use less power. Some apps may also be restricted or turned off to reduce power consumption.
There are typically two levels of Power Saving Mode available on Samsung Galaxy smartphones. The first level reduces screen brightness, limits CPU speed, and disables some features such as background data syncing. The second level takes these measures even further, and may also limit the use of certain apps and services.
You may opt to set your device to run on either Power saving mode levels depending on your needs. Just keep reading to learn the steps.
Booting the Galaxy S23 in Power Saving Mode
The process of activating power saving in Samsung Galaxy smartphones is pretty straightforward. All you have to do is access the Battery settings menu where you can find the Power Saving switch. Just follow these steps whenever you're all set to proceed.
Step 1: To get started, open the Settings app menu by tapping on the gear (settings) icon from the Home screen or Apps viewer.
Step 2: While in the Settings menu, find then tap Battery and device care. The device care menu will load up next.
Step 3: Tap Battery from the given items to proceed. The Battery settings menu will load up next. Here, you will see more details about the phone's battery usage.
Step 4: Find then tap Power Saving to access and manage power saving mode settings.
Step 5: In the Power saving settings menu, you can see the main toggle to activate the feature along with the power saving options.
Step 6: Select additional limits that you want to impose to save battery when power saving mode is enabled.
Among the available Power saving options that you can use are the following:
Turn off Always On Display
Limit CPU speed by 70%
Decrease brightness by 10%
There is also an option for you to limit apps and Home screen, should you wish to get maximum power saving. Enabling this option will allow only selected apps and limit all background activities. In addition, Edge panels will be turned off and the system interface switches to a dark theme.
To use this feature, simply tap to turn on the switch next to Limit apps and Home screen from the Power saving settings menu.
Step 7: After turning on the power saving option(s) to use, tap to turn on the Power Saving switch above.
Performing the above steps will put the device into a power saving state, with limited apps and system functions to reduce power usage.
Adding/Removing Apps in Power Saving Mode
Samsung Galaxy smartphones also provide end-users with an option to add and remove apps in Power saving mode. To make this happen, you will need to enable the option to Limit apps and Home screen in the Power saving mode settings menu.
With that option enabled while in power saving, you can add more apps with these steps:
While the device is in the Power saving Home screen, tap on the Add apps (+) icon at the bottom section.
Select the app(s) that you'd like to add and follow the rest of the onscreen instructions to finish the process.
If you want to remove some apps while in power saving mode, just follow these steps:
While in Power saving mode, tap the three dots icon located at the top-rightmost corner of the Home screen then tap Edit.
Find the app(s) that you'd like to remove then tap on the Minus (-) icon on top of the app icon.
After deleting apps, tap Done to exit edit mode and return to the normal Power saving mode interface.
Actual screens and menu items may however vary between device models and carriers.
Other ways to preserve battery life and minimize power usage on your Samsung Galaxy S22 series:
Lower the screen brightness. This can make a significant difference, especially on devices with high-resolution screens. Most phones allow you to adjust this in the settings or via the notification bar.
Switch to a dark screen theme and wallpaper. This can also help save power, and many Android devices come with a "Dark mode" setting.
Set a shorter screen timeout. This ensures that your phone's screen will turn off quickly when not in use, saving power and preventing accidental touches.
Manage power-hogging apps. Identify which apps are draining your battery and either turn them off or adjust their settings to minimize background activity.
Turn on power-saving mode. This mode can help conserve battery life by adjusting various settings on your phone.
Turn off location services. GPS can be a major power hog, so consider turning it off when not needed.
Turn off data roaming. If you're in an area with poor cell signal, turning off data roaming can help extend battery life.
Use intelligent performance management. Some phones have built-in AI that can optimize battery usage based on your habits.
With these simple adjustments, you can help ensure that your phone stays powered throughout the day.
And that's all there is to utilizing the Samsung Galaxy S23 Power Saving Mode and other battery saving options.