This post will walk you through resolving a wireless connectivity issue on the Galaxy S21 that has unstable or intermittent Wi-Fi connection. Read on to learn what to do if your Samsung Galaxy S21 keeps disconnecting from Wi-Fi network.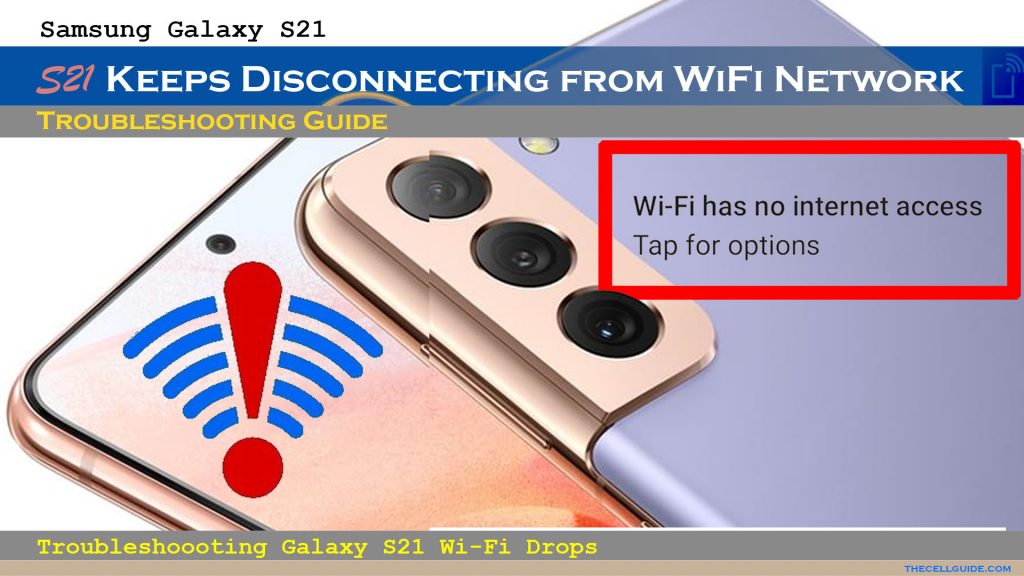 Wi-Fi problems are evidently among the most prevalent dilemmas faced by many smartphone users. And the fact that many factors can affect wireless internet services makes such a problem inevitable. On a positive note, random Wi-Fi issues are likely to be rectified by performing some basic tweaks.
What Causes Wi-Fi Drops?
Determining the underlying cause of the problem will help speed up the resolution process. However, there are some problems that will just suddenly emerge without a vivid trigger. This is when individually ruling out potential culprits comes in handy.
In the case with the Galaxy S21 that keeps disconnecting from the Wi-Fi network, troubleshooting both the network equipment and the phone is needed.
To give you some input on what to work on when dealing with Wi-Fi drops on your Samsung Galaxy phone, I've summarized the common culprits as follows:
Problematic router/modem
Random software issues on the phone
Erratic third-party apps
Update bugs and malware
Complex Android errors
In worst case scenarios, frequent Wi-Fi drops can be directly attributed to a damaged modem/router. Should this be the case, you will need a new modem/router replacement from your wireless internet service provider.
If all your other devices have stable Wi-Fi internet connection and they're all connected to the same Wi-Fi network in which your Galaxy S21 is connected to, then that clearly denotes that the problem is isolated to the Galaxy S21.
This is when you need to rule out software-related factors that might have made your Wi-Fi internet unstable.
Troubleshooting Issue on Galaxy S21 keeps disconnecting from Wi-Fi Network
The following solutions are also applicable when dealing with intermittent Wi-Fi access on other Samsung Galaxy phones running on the same One UI or Android version with the Galaxy S21 series.
Actual user interface however may vary between device models as screens and menu items differ between wireless carriers and devices.
Solution #1: Reboot router, modem, phone.
A modem/router reboot (power cycle) is usually the first recommended solution given by many ISPs' technical support people. This simple method effectively works when dealing with random internet issues inflicted by minor software glitches or firmware crashes on the router or modem in use.
This process refreshes your Wi-Fi network and thereby eliminates any transpiring symptoms including slow connection, no internet and Wi-Fi drops.
If you can access your modem/router right now, then try to reboot or power cycle the equipment with these steps:
Turn off the modem/wireless router as you normally do. It's usually done by pressing the Power key for a few seconds until the device shuts down.
While it's powered off, unplug its AC adapter from the power source and keep it unplugged for about 30 seconds to 1 minute.
After the elapsed time, plug it back in then turn it back on. The modem/router should then be refreshed.
Just wait for all the modem light indicators to become stable and your iPhone should re-establish Wi-Fi network reception.
If your phone does not auto-connect to Wi-Fi, then you should connect it manually instead.
Phone Restart/Soft Reset
Restarting the phone is also recommended to eliminate minor software errors that might have caused conflicts with your Wi-Fi internet and thereby results in Wi-Fi network drops.
To reboot or soft reset your Samsung Galaxy S21, just follow these steps:
Launch the notification panel by swiping down from the top of the screen with your two fingers.
Tap the Power icon on the upper-right side of the panel and then tap Power Off from the menu options. Your phone will then shut down completely.
After about 30 seconds, press and hold the Side/Power button and then release when the Samsung logo appears.
Alternative Method
Press and hold both the Side/Power button and the Volume down button for a few seconds and then release both buttons when your phone restarts.
Rebooting doesn't affect user data so none of your saved contents and downloads will be deleted.
Solution #2: Refresh Wi-Fi access.
Another simple yet effective solution to minor Wi-Fi internet problems in Android smartphones is the Wi-Fi refresh.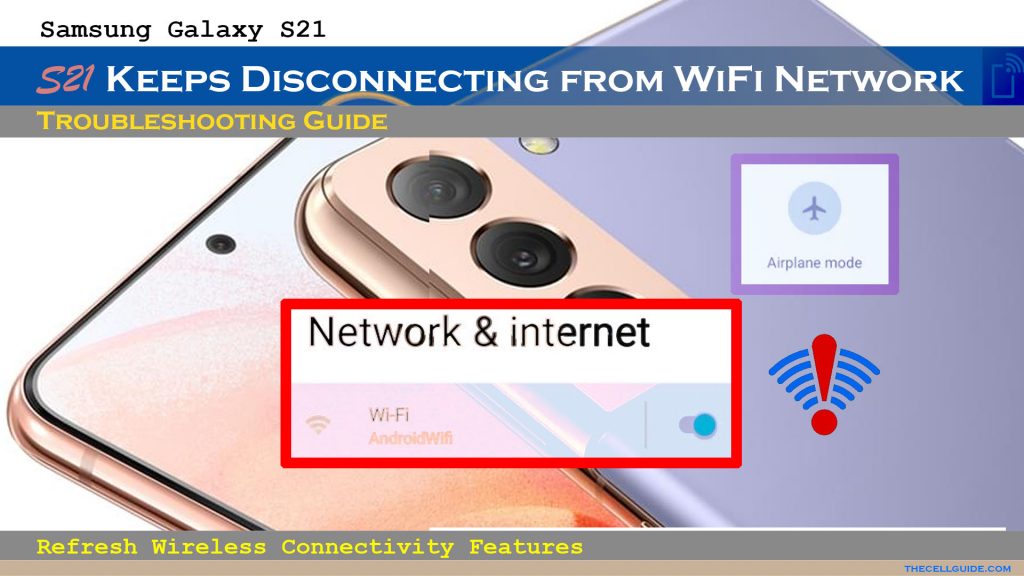 This is also deemed among the simplest ways to optimize the phone's wireless features and services.
To do this, go to Settings-> Wi-Fi menu and then toggle the Wi-Fi switch to turn the feature off and on again.
Once the Wi-Fi network shows up on the list of available networks, retry joining and see if you can now connect. Also be sure to enter the correct network password.
Airplane Mode Trick
Another effective solution to wireless connectivity issues on a smartphone is the so-called Airplane mode tweak. It works by giving a simultaneous restart and refresh to all wireless features on the phone.
Here's how it's done on the Galaxy S21:
Tap the Settings icon from the Home screen to launch the Settings app.
Next, tap Connections.
Then, toggle to turn the Airplane mode switch ON. All wireless features are then disabled simultaneously. This means you'll be disconnected from Wi-Fi and cellular data networks.
While Airplane mode is enabled, restart the phone.
As soon as it's finished rebooting, turn Airplane mode OFF again.
Wait for the phone to re-establish wireless signal and then retry connecting to your Wi-Fi network to see if it goes through this time.
Solution #3: Forget then re-add Wi-Fi network.
Deleting the problematic Wi-Fi network is also a potential solution, especially if the unstable Wi-Fi network access is attributed to a corrupted network.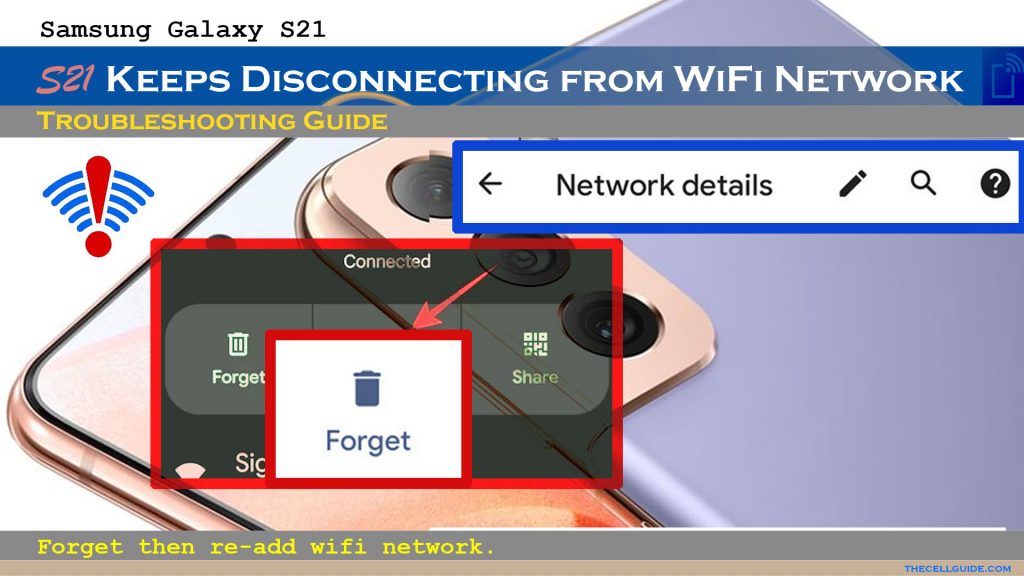 To forget a Wi-Fi network on the Galaxy S21, just follow these steps:
Tap the Settings icon from the Home or Apps screen to open the Settings app.
While on the Settings app menu, tap Wi-Fi.
On the Wi-Fi menu, tap the triple-dot icon (menu icon) on the upper-rightmost corner of the screen then tap Advanced.
Navigate to the Network settings section and then tap Manage networks.
On the succeeding window, tap to select the Wi-Fi network(s) that you want to forget.
After selecting the Wi-Fi network(s), tap Delete or Forget network at the bottom.
You can also configure your phone to automatically remove suspicious networks. Doing so can help prevent your device from connecting to random networks it detects. Just toggle to turn on the switch next to Delete Suspicious network from your phone's Wi-Fi settings menu.
After forgetting the network, restart your phone and then re-add and set it up your Wi-Fi network as new.
To manually re-add the Wi-Fi network, go to Settings-> Wi-Fi-> then select the option Add network. Enter the network name (SSID) and other security details and follow the rest of the onscreen instructions to finish adding the network.
Deleting any other unused Wi-Fi networks saved on the phone is also recommended to prevent any of them from causing conflict with the current Wi-Fi network in use.
Solution #4: Reset network settings.
Performing a network settings reset is usually regarded among the last resorts when dealing with recurring wifi network connectivity issues in mobile devices. This reset works by deleting all current network settings including custom networks, APNs, VPNs, Bluetooth connections and other relevant information and then restores the default network values. Any associated errors will likewise be obliterated in the process.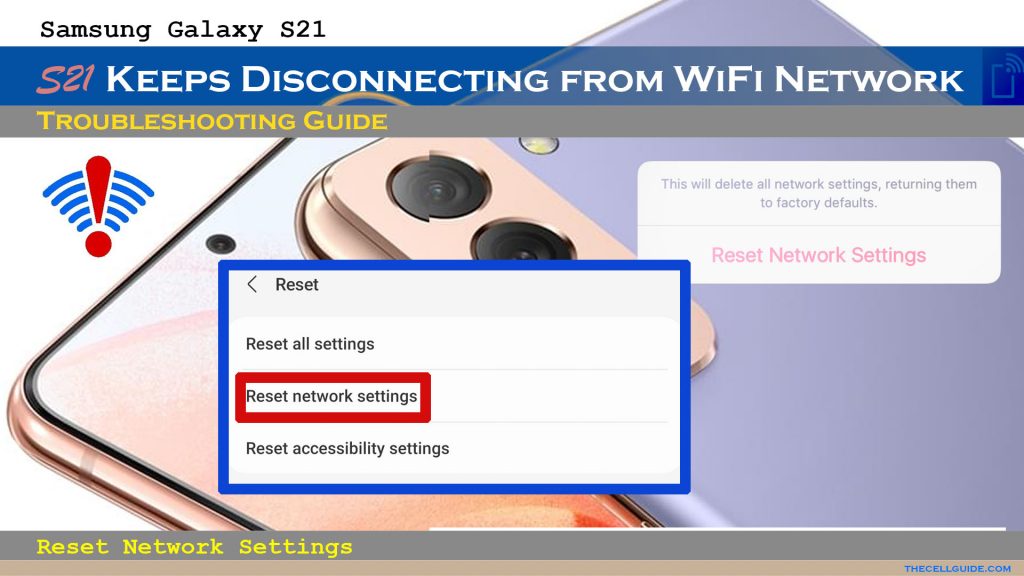 This reset doesn't affect any saved information on the phone storage so creating backups isn't needed. Just follow these steps:
Tap the Settings icon from the Home or Apps screen to access the Settings app menu.
On the Settings menu, tap General management.
Tap Reset to continue.
Then, tap Reset network settings.
Read and review the reset details then tap Reset settings.
Enter your device PIN, pattern or password if prompted.
Review the final warning and then Reset to confirm.
When the reset is finished, your phone reboots by itself. Just wait until it's finished rebooting and once it's up, you can go ahead and set up your Wi-Fi network as new.
Solution #5: Reset all settings without deleting user data.
If the network reset doesn't fix the problem, you can try another Android reset called reset all settings. Performing this reset deletes all custom settings including app permissions and restrictions, network settings and other customized options. After the reset, default values and options are restored.
All your saved files and downloads will not be affected so they'll remain as is.
Should you wish to proceed, just follow these steps:
Open the Settings app by tapping on the Settings icon from the Home screen or Apps viewer.
On the succeeding menu, tap General management.
To continue, tap Reset.
Select Reset all settings from the given options
Read and review the reset details then tap Reset settings.
Enter your device PIN, pattern or password if prompted.
Review the final warning and then tap Reset to confirm.
Just like the network reset, your phone reboots automatically after resetting all settings and then loads up all the original configurations on the phone.
Network-related issues are typically rectified in the process and so as the transpiring symptoms.
This denotes the need for you to re-enable and reconfigure necessary features, particularly those that are disabled by default.
You also need to set up and connect to the Wi-Fi network like the first time.
Still Experiencing Wi-Fi Drops?
Contact your wireless internet service provider to escalate the problem for further assistance and recommendations. You can also ask and/or confirm if a widespread outage is transpiring and currently affecting wireless internet services in your place.
If you suspect that the problem is with the wireless modem or router you're using, then you can request a remote modem reset or reset it manually on your end, if possible.
In the case where Wi-Fi drop is only affecting your line, then your service provider will most likely send a field technician to check and fix any line problem that made your internet connection unstable.
Furthermore, verify your account and make sure that it's in good status. Service providers would typically impose automatic soft disconnect to accounts with billing issues. This is usually a system-generated action made to delinquent accounts so make sure you clear that out too.
Could it be a Physical or Liquid Damage?
Meanwhile if the problem instigated after you accidentally dropped or got your phone wet and it's not fixed after performing all the aforementioned solutions, then you're more likely dealing with a hardware damage.
Should this be the case, your device needs repair. You can take it to the nearest Samsung-authorized service center in your place and ask a technician to diagnose your device.
Hope this helps!
Please check out our YouTube channel to view more tutorial and troubleshooting videos for popular iOS and Android devices.
You Might Also Want To Read: