This post will walk you through resetting the password on the iOS 15 Notes app. Read on to learn how to reset notes password on iPhone 13 with the iOS 15.3 interface.
Forgetting passwords is inevitable. Thus, you taking note of recently created passwords for an app, website and other relevant services is highly recommended.
And in the case where the password is forgotten and no available backup notes to refer to, resetting the password would be a better option.
The steps outlined below depict the actual process of resetting password on the iOS Notes app on an iPhone 13 device.
Feel free to refer to this guide if you forget your Notes password and need help carrying out a password reset.
iOS Notes App Password Reset
The iOS Notes app allows you to create checklists and other quick notes and keep them updated across all your other Apple devices through iCloud. To make full use of the latest Notes app features, be sure to set it up with iCloud. Although the Notes app works with other email service providers, not all Notes features are supported.
Only a single password is required for all locked notes in an account on all supported devices. Aside from a unique password, you can also use Touch ID or Face ID to lock and unlock your notes.
And in the case where you find the need to change or update your Notes password and Face ID or Touch ID was set up, re-entering your password is necessary.
One way to lessen the chance of forgetting the password is to create or add a password hint. But if you still forget the password despite adding a hint, then you've got no other choice but to reset it to unlock notes.
Easy Steps to Reset Notes Password on iPhone 13 with iOS 15.3
The following steps are also applicable when resetting the Notes app password on other iPhone models that are running on the same iOS firmware version with the iPhone 13 series.
However, there may be some slight differences on every device's user interface given that actual screens and menu items vary between device models and service providers.
Just keep your device's software updated and follow these steps whenever you've all set to reset the password to unlock and access the Notes app on your iPhone 13.
Step 1: To get started, tap Settings from the Home screen to open the Settings app menu.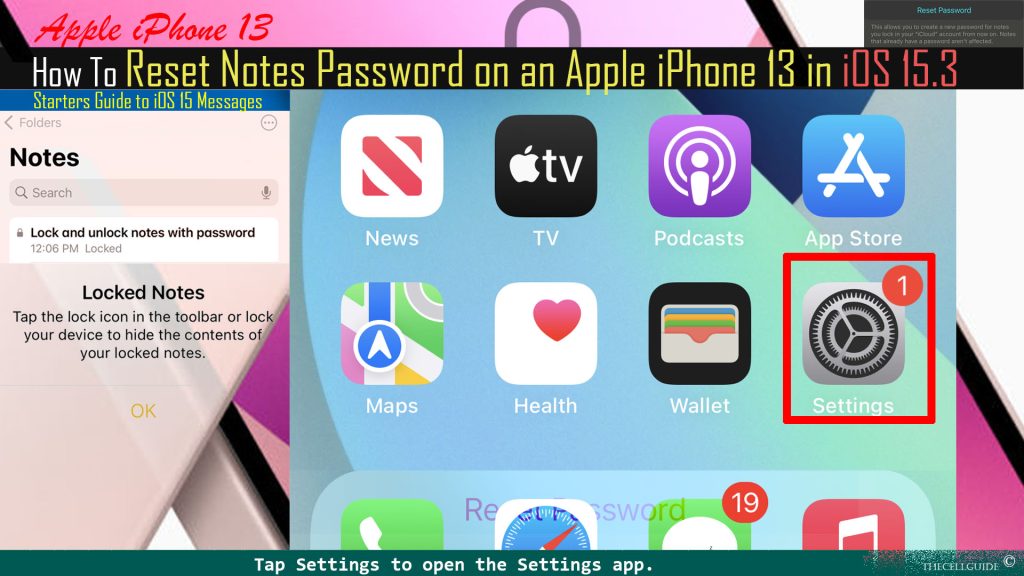 Step 2: While on the Settings menu, scroll to find and then tap Notes.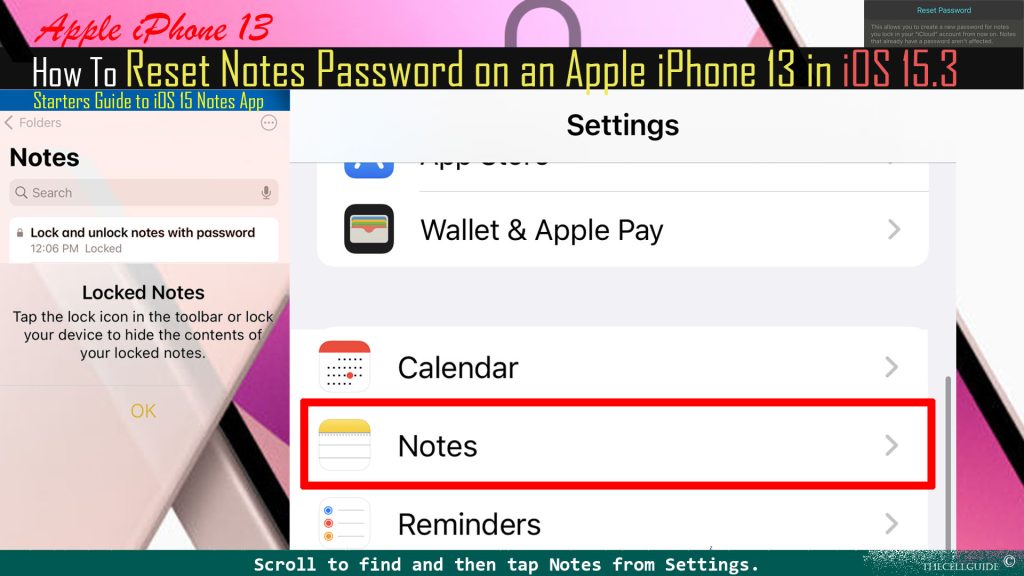 Step 3: Tap Password on the succeeding menu to proceed.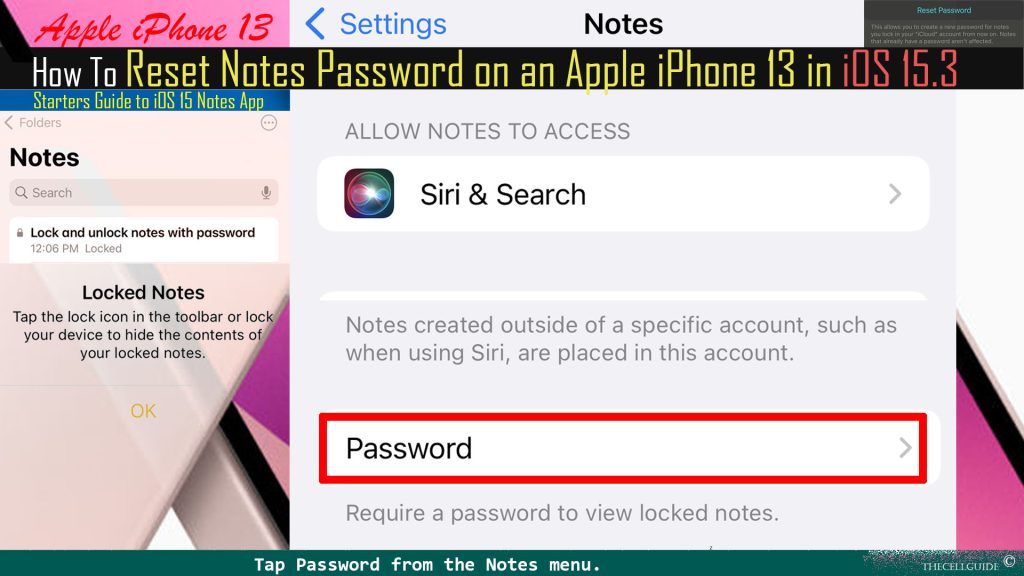 Step 4: Finally, tap Reset Password from the given options.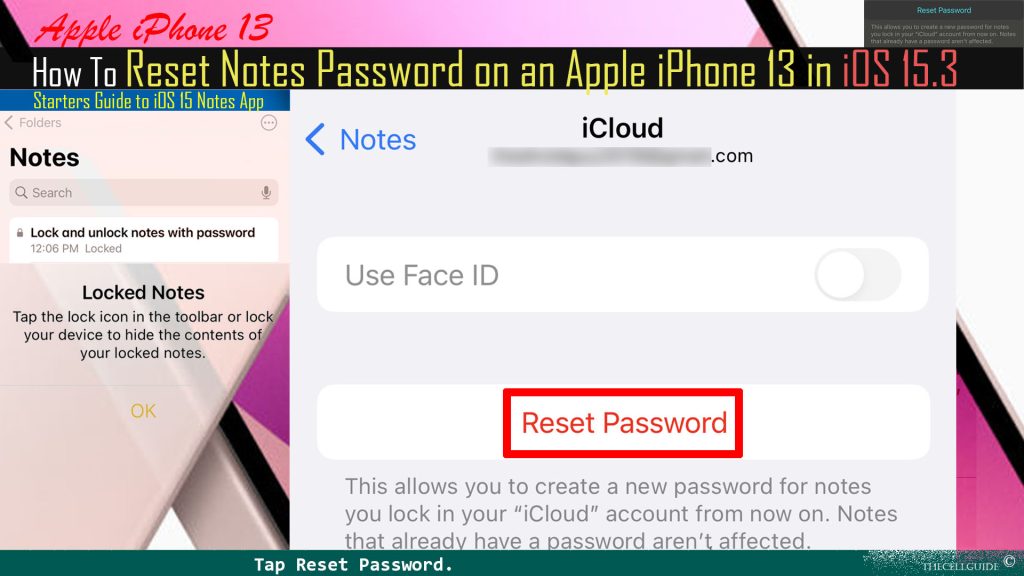 Step 5: If prompted, enter your Apple ID Password to authenticate and confirm reset.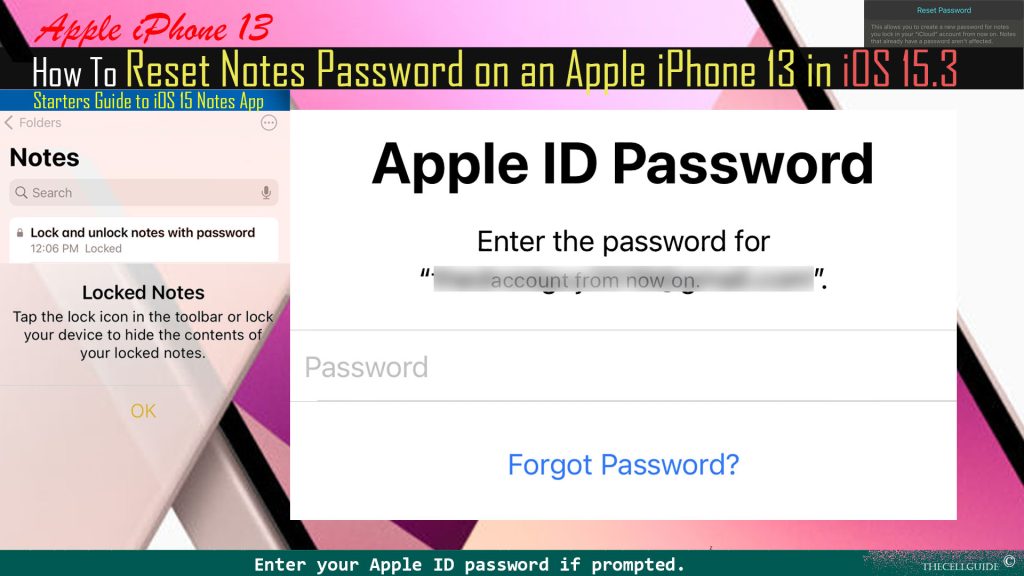 Step 6: Read and review the warning message then tap Reset Password to confirm. Follow the rest of the onscreen instructions to finish resetting the password on your locked note.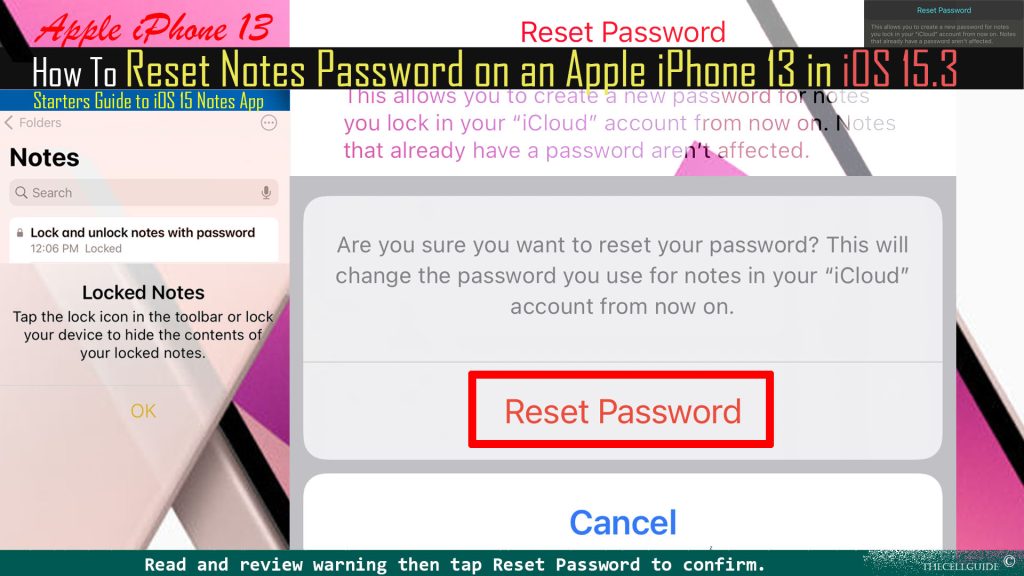 After successfully resetting your notes password, you should be all set to create new notes and lock it with a new password. This time, be sure to take note of your password so you won't have to reset it again.
Locking and Unlocking your Notes
One way to keep your notes private from anyone else that might use your device is to lock it. This is when using Face ID or Touch ID along with a unique password to lock and unlock your notes comes in handy.
Setting up Notes password on an iPhone only requires access to Settings-> Notes-> Password menu. Once you get there, select the account that you'd like to set a password for (if you've got multiple accounts set up on your device). Enter your password and a password hint to make it easier for you to remember.
If you're using Notes on your other Apple devices, you can access your notes on these devices using the same password that you set on your iPhone 13.
If you prefer, you can enable Face ID Or Touch ID to add convenience and for faster unlocking.
Locking a note only requires a few steps from opening the desired note and then tap Lock from the menu options. Locked notes only show the title and last modified date in the notes list. The notes also appear with a lock icon
To open and access a locked note, you will have to tap on the desired note then tap the option to view the note. Finally, enter your Notes password, Face ID or Touch ID to confirm access to secure notes.
But it's also worth noting that your Face ID or Touch ID alone won't be able to unlock your notes if you forget your Notes password.
That being said, locked notes are still not accessible. Even Apple Support wouldn't be able to help you regain access to locked notes. Thus, the only option you've got is to reset password for notes on iPhone.
The option to reset forgotten notes password won't give you access to previously locked notes.
Hope this helps!
Please check out our YouTube channel to view more tutorial and troubleshooting videos for popular iOS and Android devices.
You Might Also Want To Read: