This post will walk you through restoring the default network options on Samsung recent Galaxy A 5g smartphones. Here's a quick guide on how to reset network settings on Samsung Galaxy A13 5g.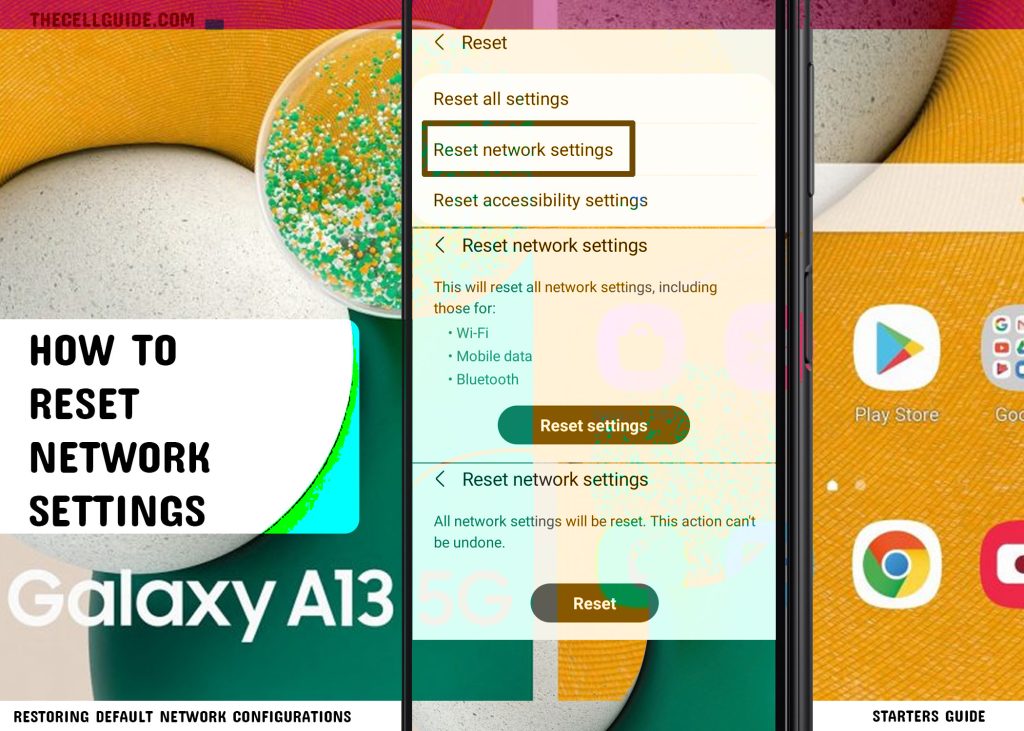 Having trouble connecting to the internet, sending/receiving text messages, making/receiving phone calls or pairing with a Bluetooth accessory? If that is so, then there's a good chance that your phone is experiencing some complex network system errors. To fix the problem, clearing out all custom network settings and restoring the default network options might help. Keep reading for more information.
Samsung Network Reset Overview
There are different types of reset commands integrated into every Samsung smartphone's operating system and one of these is the command to reset network settings.
Resetting network settings will reset all data connections on the phone back to the factory defaults. Among the types of information that will be deleted from this reset include stored Wi-Fi networks and paired Bluetooth devices.
Background data sync settings will be re-enabled and the network selection mode will be set to automatic.
Data restrictive settings in apps that you manually disabled or enabled will be reset to the default values.
Key features such as Airplane mode, Bluetooth, Data roaming, Mobile hotspot, VPN, and Wi-Fi will be disabled as they are turned off by default. Mobile data on the other hand will be turned back on as it's set to be enabled in the system by default.
If you're new to Android and need some input on how to execute this reset on your Samsung Galaxy A13 5g smartphone, just refer to the outlined steps below.
Steps to Reset Network Settings on Samsung Galaxy A13 5g
Performing the following steps will erase all your current network configurations and then put back all the default network settings on the phone. These steps are also applicable when resetting the network settings on other Samsung phones that have the same software version with the Galaxy A13 device.
Actual screens and menu items may vary between device models and wireless carriers so expect some slight differences on every device's graphical user interface.
Go ahead and start whenever you're all set to reset your device.
Step 1: Tap Settings from the Home screen or Apps tray to get started.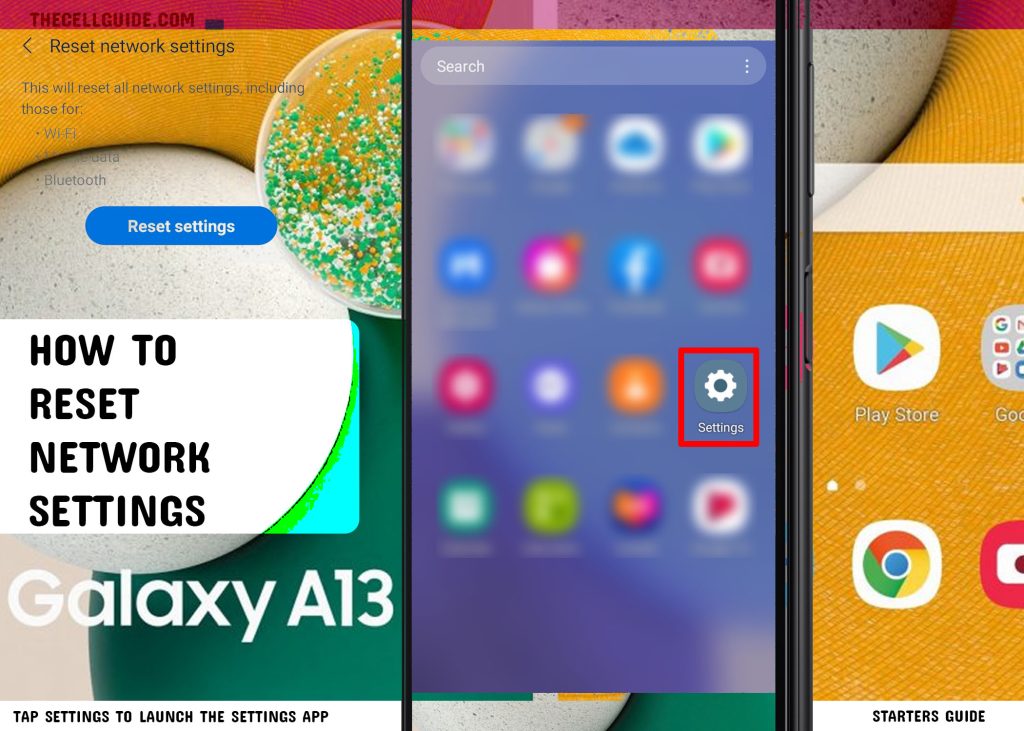 Step 2: While in the main settings app menu, find and then tap General management. Another set of options will load up on the next screen.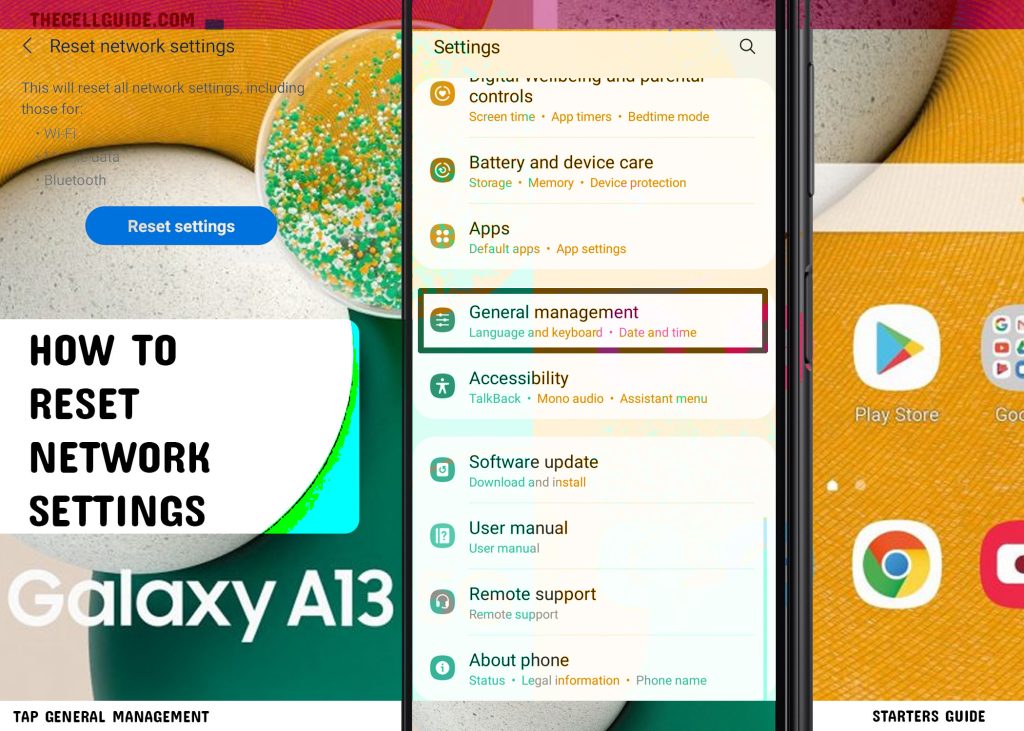 Step 3: Scroll down and then tap Reset to continue. A list of different reset options will be displayed.
Step 4: Tap Reset network settings.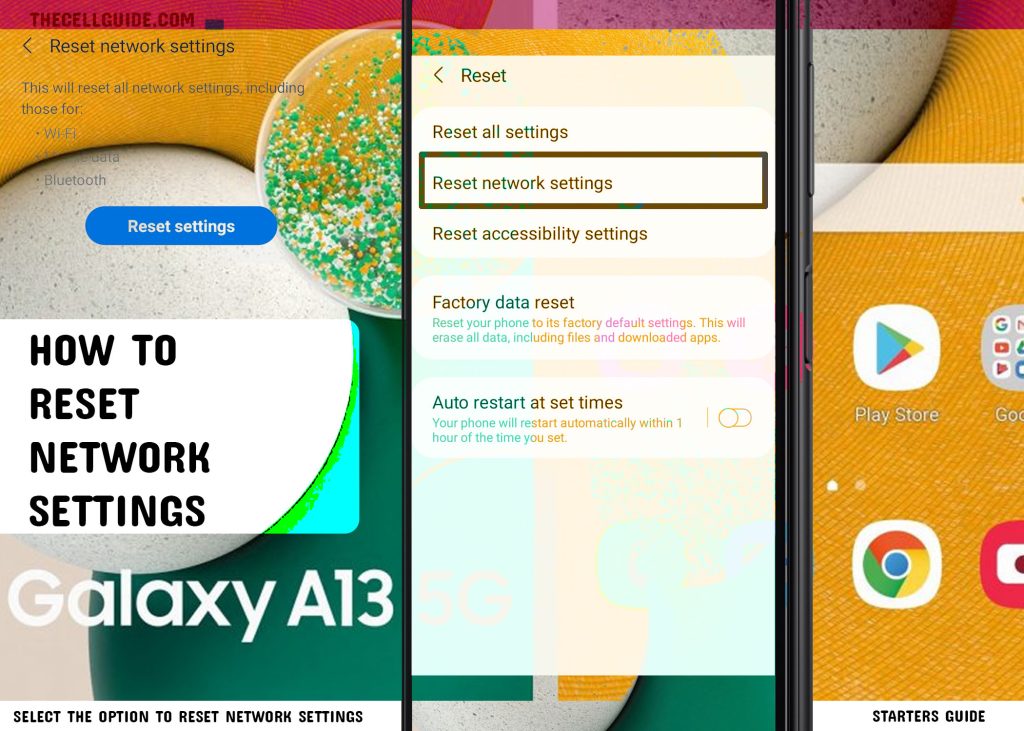 Step 5: Read the reset details to learn how this reset works and then tap Reset settings to continue.
Enter your unlock PIN, pattern or password if prompted.
Step 6: Review the final warning message and then tap Reset to confirm action.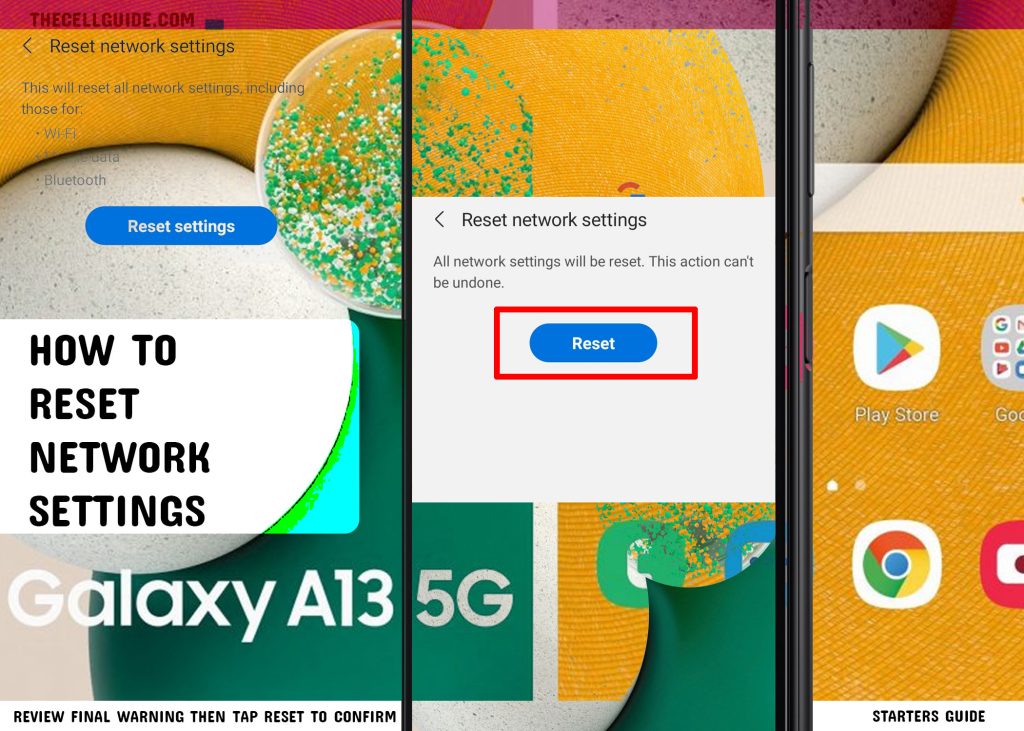 The phone will then start deleting all custom network changes and then restores the network defaults.
When the reset is finished, automatic system reboot instigates. Just wait for your device to finish rebooting and once it's back up, you can start reconfiguring individual network features including Wi-Fi, Bluetooth and Cellular data connections.
When to reset network settings on your phone?
Every reset option found on the Samsung and any other Android phones has distinct purposes. A factory reset for instance is usually regarded as the last resort when dealing with complex system issues that require full system wipe out and restore.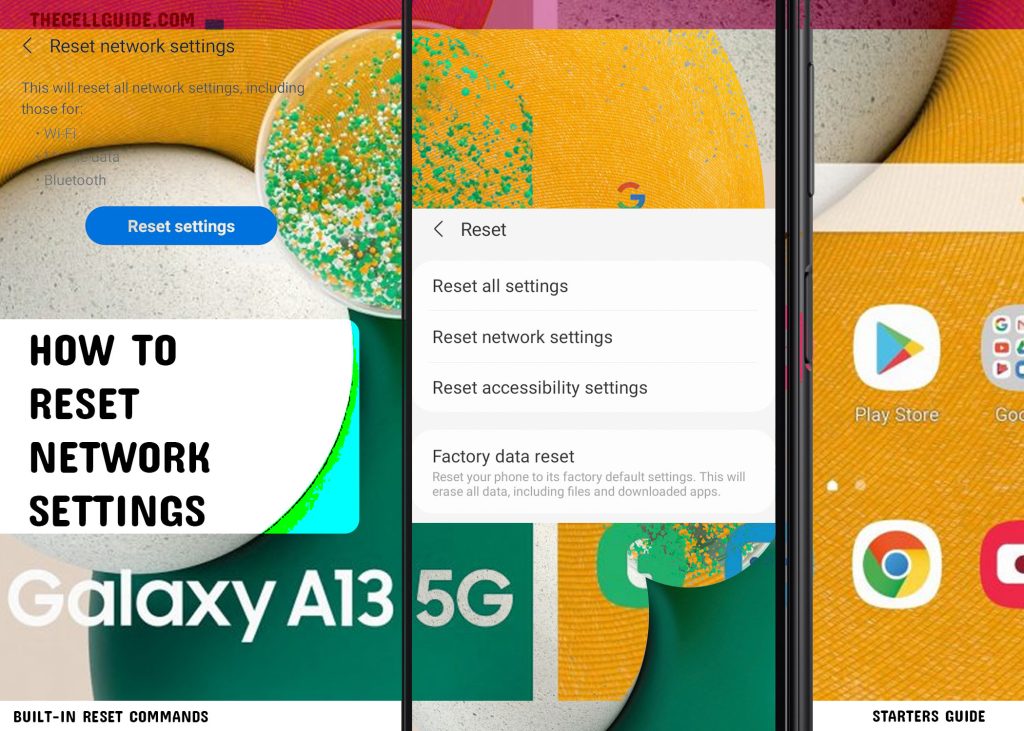 Other reset options embedded into the recent One UI system are reset all settings to reset settings in the system without affecting user information and reset network settings to restore default network configuration.
As the name implies, the option to reset network settings is typically carried out when dealing with various types of network connectivity issues that could not be remedied by basic tweaks like a soft reset, Wi-Fi refresh, and other applicable simple solutions.
Common problems that can be addressed by resetting network settings include post-update network errors, SIM card issues, signal issues, Bluetooth pairing problems, and Wi-Fi connectivity issues.
This reset does not affect any user data so none of your saved files and documents will be deleted. App settings are also not affected with this reset so you won't have to reconfigure your current app settings and preferences.
And that's all about restoring the default network options with the Galaxy A13 5g reset network settings option.
Hope this helps!
Please check out our YouTube channel to view more tutorial and troubleshooting videos for popular iOS and Android devices.
You Might Also Want To Read: