Need help restoring the original configuration on your Galaxy S21 Samsung keyboard app? If so, then this quick guide might be able to help you. This post will show you how to restore the default settings on the Galaxy S21 Samsung Keyboard. Here's a simple guide on how to reset keyboard settings on Samsung Galaxy S21 and restore the default keyboard options.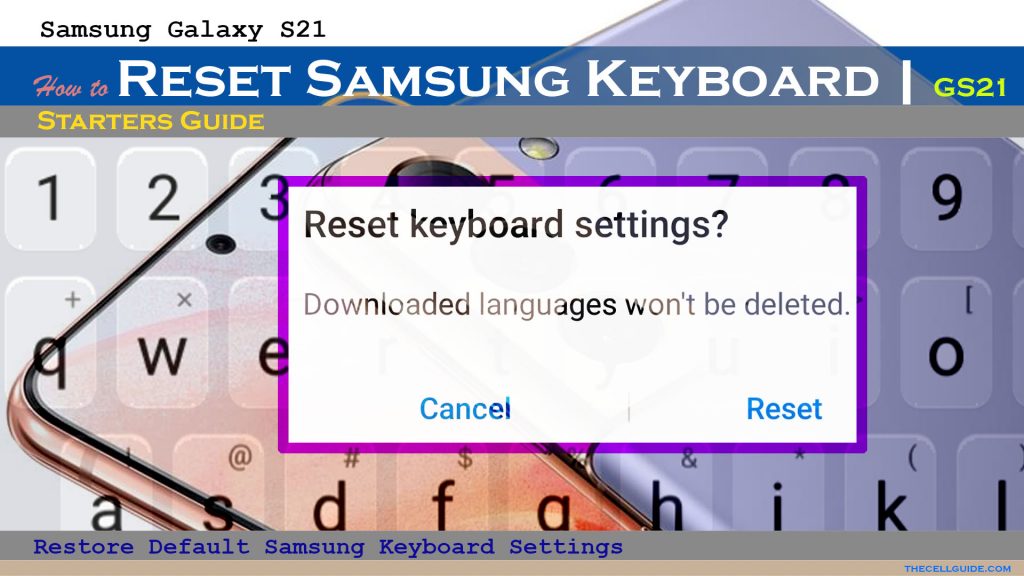 Most of the built-in features of a Samsung Galaxy device are customized through the initial setup except for the language and downloaded applications.
That said, you can customize the default keyboard layout, change the on-screen keyboard, add more languages and change the default keyboard according to your needs and preferences. All you have to do is access the phone's language and input settings and apply the changes.
And if something went wrong or the custom keyboard just doesn't suit your taste after making a series of tweaks, there's always a reset button for you to tap on.
Samsung Keyboard Reset
Samsung Galaxy devices do come with an integrated reset command for language and input features including the Samsung Keyboard application. Making use of this reset command is by far the best way to get your Samsung Keyboard back to normal.
The Samsung Keyboard Settings reset works by deleting all custom keyboard settings and then restores the native feature including keyboard layout, size, theme, mode and the like.
After resetting, you can change individual features and required settings per your preferences.
If you're new to the One UI platform and need some input on how to access and use this reset command on the Galaxy S21, I've mapped out a step-by-step walkthrough for your reference.
Easy Steps to Reset Keyboard Settings on Samsung Galaxy S21
The following steps are also applicable when restoring the default options and settings for the Samsung Keyboard app on other Samsung Galaxy smartphones with the same software or One UI version with that of the Galaxy S21 series.
Actual screens and menu items may vary between device models so expect some slight differences on each device's user interface.
Feel free to start whenever you're all set to reset keyboard settings on your new Samsung Galaxy smartphone.
Step #1: Tap the Settings icon from the Home or Apps screen to launch the Settings app menu.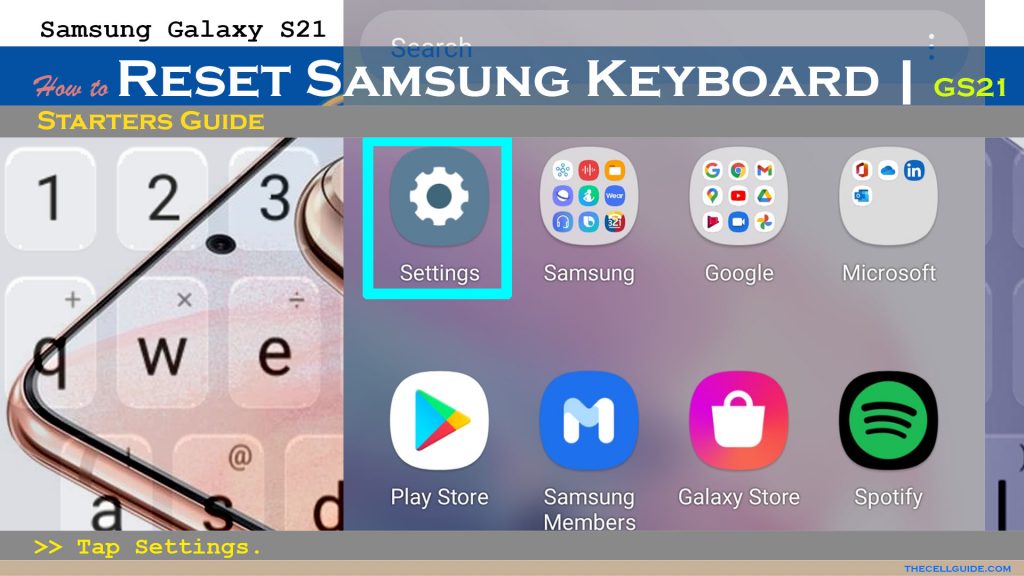 Step #2: While on the main settings menu, tap General management. Another window opens with relevant options and features to manage.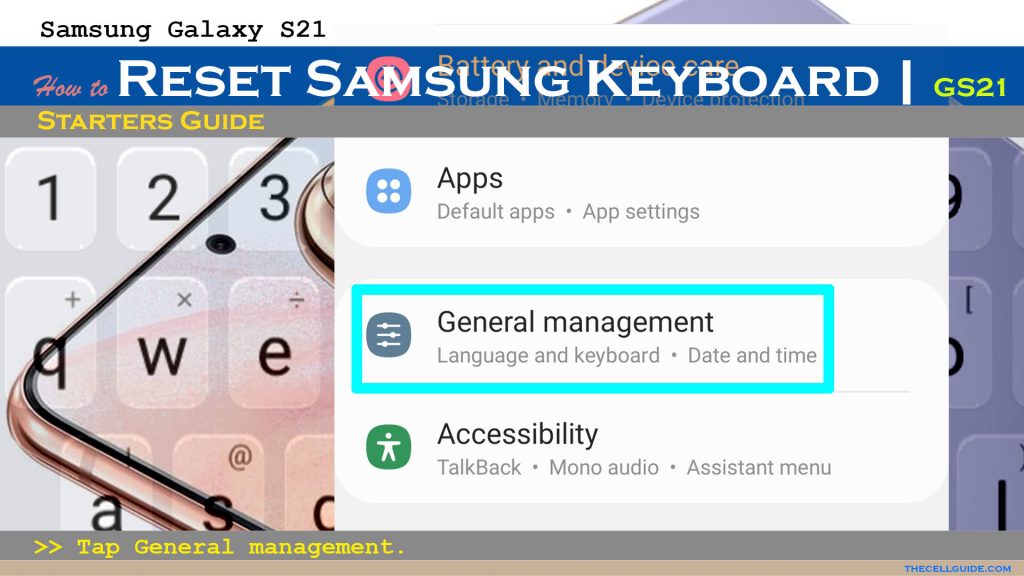 Step #3: Tap Samsung Keyboard settings to proceed. Doing so will take you to the Samsung keyboard menu.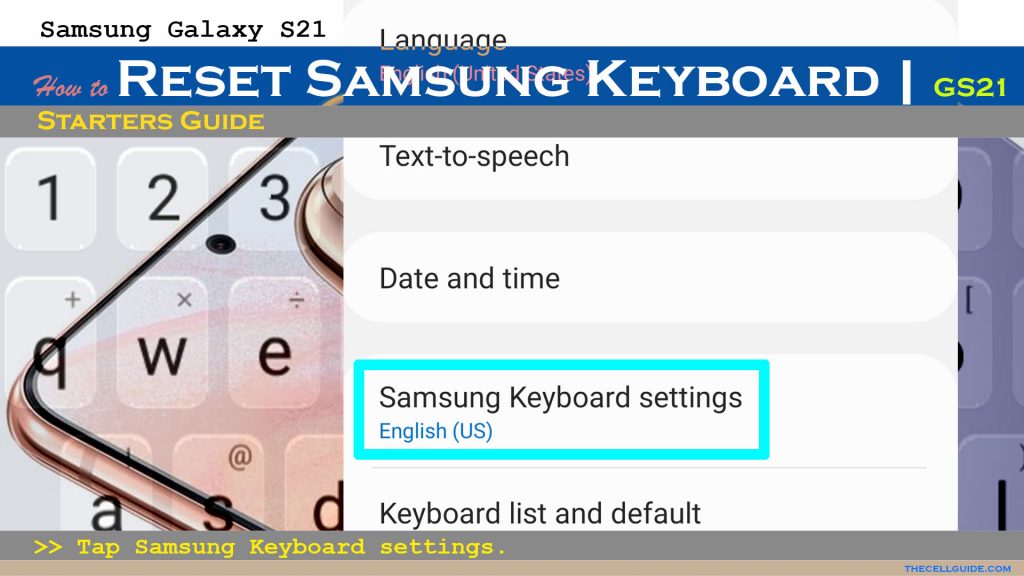 Step #4: Scroll to find and then tap Reset to default settings.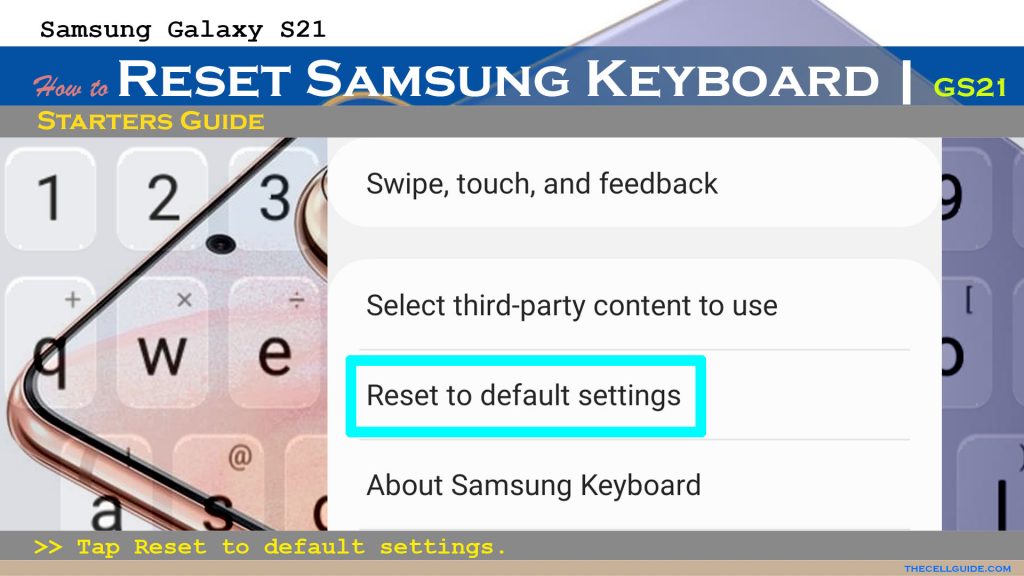 Step #5: On the succeeding menu, you will see two preloaded reset options for Samsung Keyboard. To restore the default keyboard settings and options, tap Reset keyboard settings.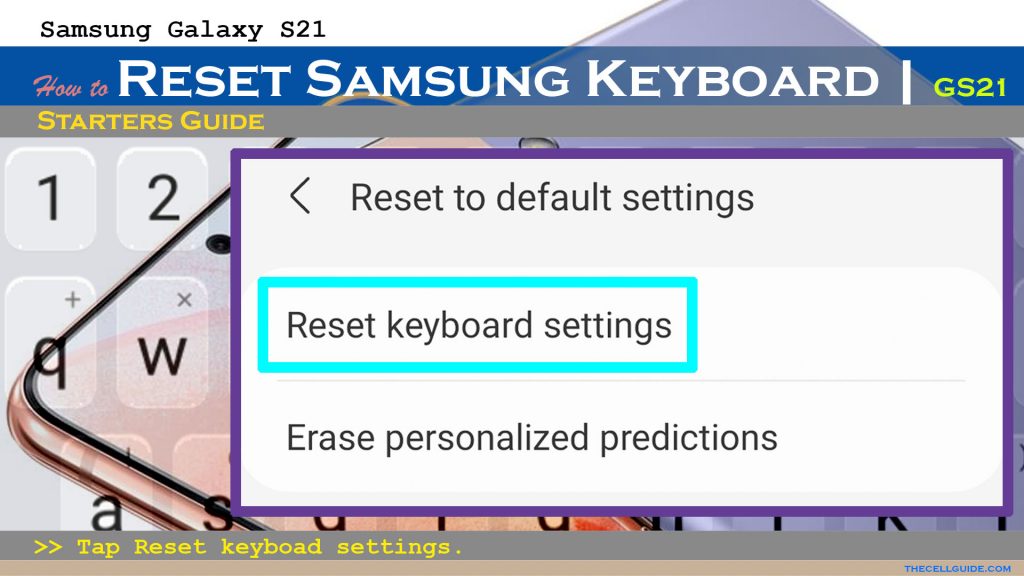 Step #6: Read the pop-up message and then tap Reset to confirm.
All recent changes made to the phone's keyboard settings will be deleted and the default keyboard options are restored.
You will see a reset confirmation appearing shortly at the bottom of the screen. That's a heads up that the Samsung keyboard reset is complete. The Samsung Keyboard will then be restored back to its original state.
Resetting the Samsung Keyboard settings will not delete all downloaded languages from your phone so you can still use them later when needed without having to re-download.
When to Reset Samsung Keyboard?
Resetting the Galaxy S21 Samsung Keyboard is also recommended when dealing with relevant issues such as when the Samsung Keyboard has stopped working, delayed keyboard input response, frozen or unresponsive keyboard.
Keeping the device software up-to-date is likewise highly recommended to ensure optimum performance to all built-in apps and services including the preloaded Samsung Keyboard on your Galaxy phone.
Other Options than Complete Keyboard Reset
If you don't want to reset the Samsung Keyboard completely and just delete all custom predictions, then just choose the option to erase personal predictions instead. This command is also accessible through the same menu with the reset Samsung keyboard option.
If your concern is with the keyboard size that doesn't suit your needs, you can use the command to Reset Keyboard Size instead.
To access and activate this command, you will need to open the Samsung Keyboard app settings by heading over to your Galaxy S21 Settings-> General Management-> Language and input-> Samsung Keyboard menu.
While on the Samsung Keyboard menu, tap Size and transparency. Finally, tap the Reset button on the succeeding menu.
And that's all about restoring the default values and keyboard settings for the preloaded Samsung keyboard application on the Galaxy S21 smartphone.
Hope this helps!
Please check out our YouTube channel to view more tutorial and troubleshooting videos for popular iOS and Android devices.
You Might Also Want To Read: