This post will walk you through restoring the default configurations on the built-in Samsung Keyboard application. Here's a quick guide on how to reset keyboard settings on Samsung Galaxy A53 5g.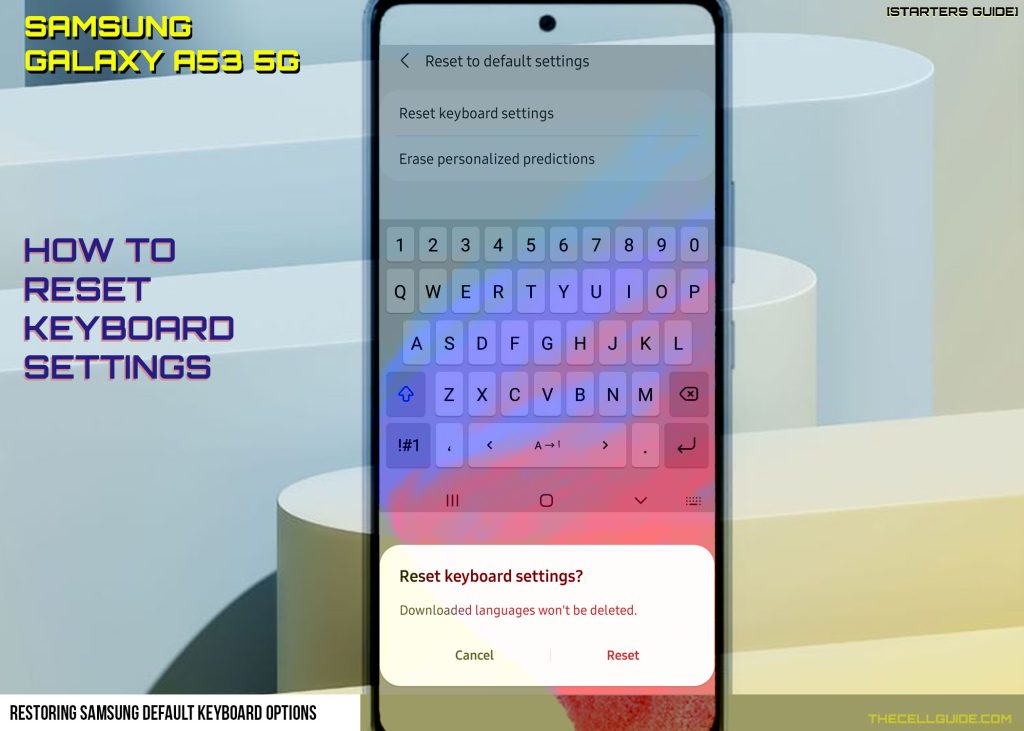 Is your Samsung keyboard acting up after altering the default modes, themes or other attributes? It might be due to some settings conflicts. In this case, restoring the default keyboard options might help. Just keep reading for more detailed instructions.
Samsung Keyboard Reset
As the name implies, Samsung Keyboard is the company's official keyboard app that's set as the default keyboard in every Samsung Galaxy phone.
Like other keyboard apps, the Samsung keyboard is designed for convenience and ease of use as you can input any character or text in just a matter of seconds in different options.
Just like other preloaded system apps, the Samsung Keyboard also comes with numerous features that can be customized according to every user's needs and proclivity. More advanced features are also available for you to activate to make text inputs more fun and smarter. For as long as you've already familiarized yourself with the keyboard's intuitive features and overall interface, you should be all set to make full use of it.
And if things go wrong after making a series of changes, restoring the default options is also possible.
Aside from system resets, in-app reset options are also available for users to trigger whenever a certain app is experiencing unresolvable issues following an update or customization process.
Depicted below is the reset process that's specifically carried out on the Samsung keyboard application. You can refer to this quick walkthrough when needed.
Steps to Reset Keyboard Settings on Samsung Galaxy A53 5g
These steps are only applicable to the preloaded Samsung Keyboard application. If you're using a third-party keyboard on your Samsung Galaxy device, restoring the default configurations would be carried out in a different manner based on the available menu options and in-app reset commands.
Feel free to start whenever you're all set to configure your phone and reset the Samsung keyboard app to its factory default state.
Step 1: First, open the Settings app by tapping on the Settings icon from the Home screen or Apps viewer.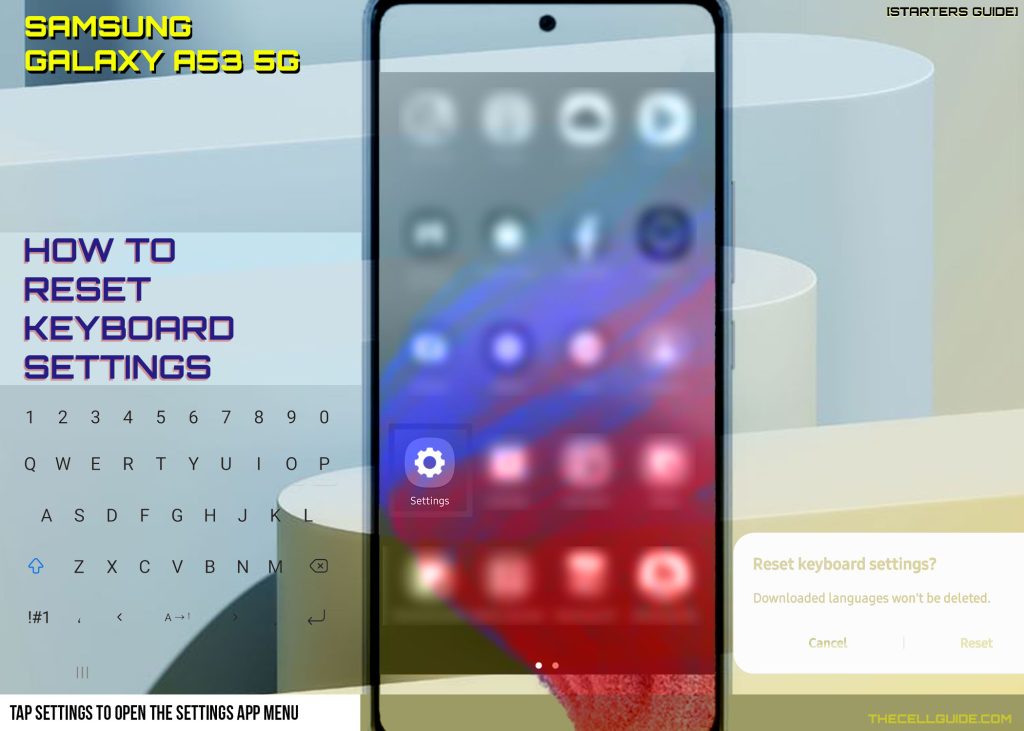 Step 2: In the settings menu, scroll to find and then tap General management. Doing so will launch another menu with relevant features and options to manage.
Step 3: Find and then tap Samsung Keyboard settings to continue.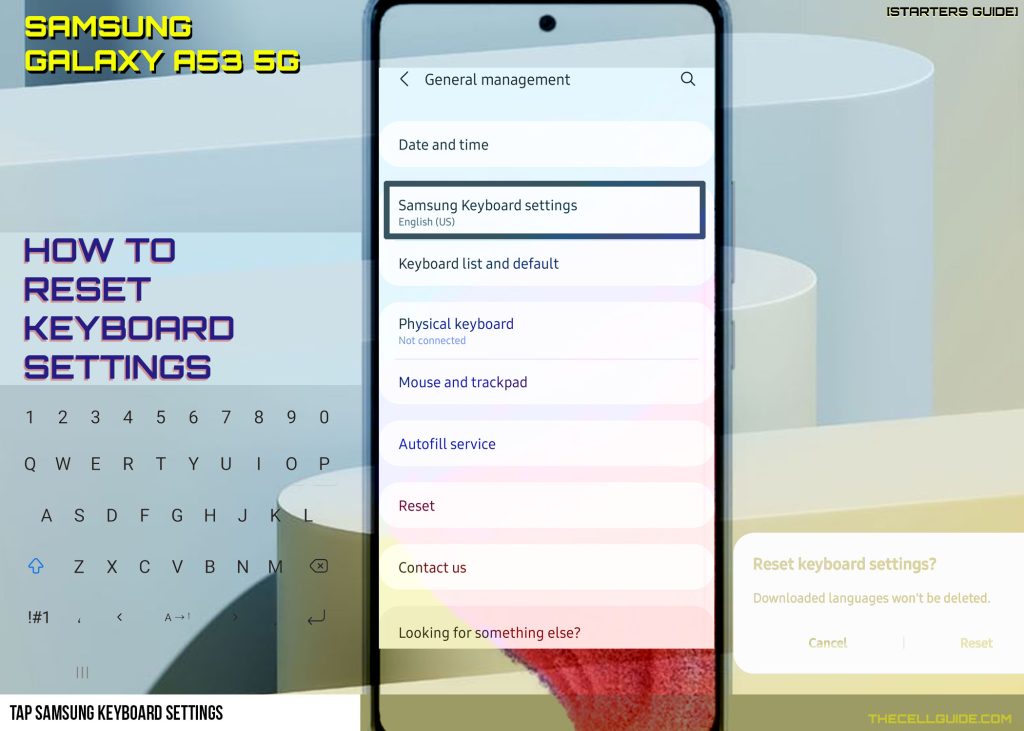 Step 4: On the next screen, scroll down and then tap Reset to default settings. You'll be prompted with another menu with two selections namely, reset keyboard settings and erase personalized predictions.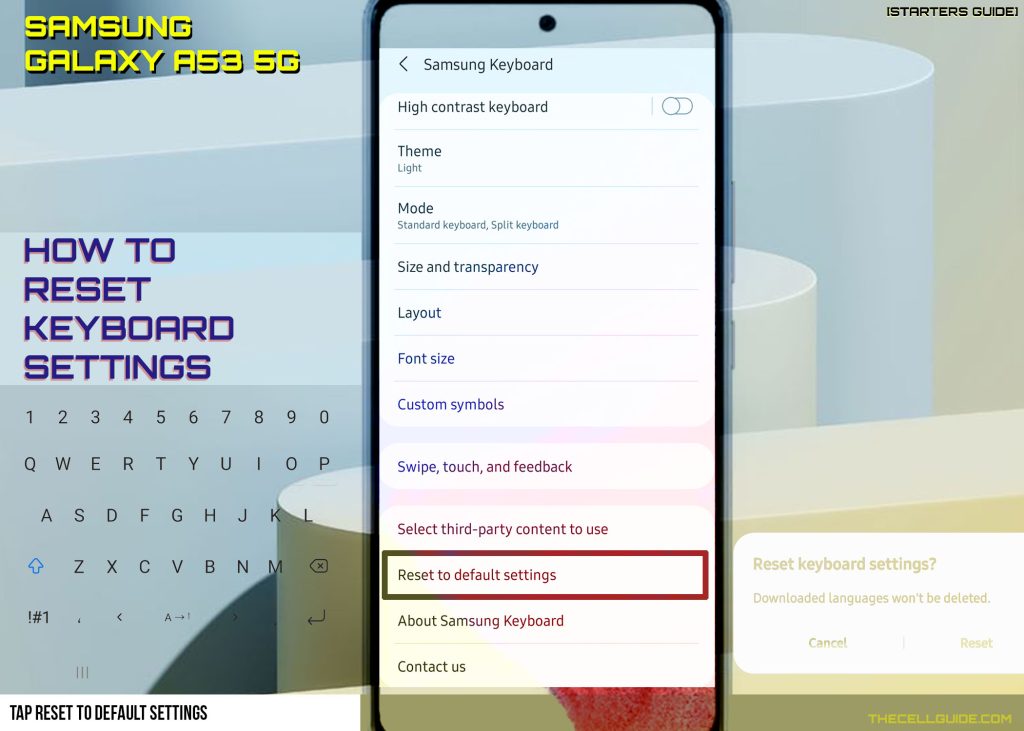 Step 5: Select the option to Reset keyboard settings.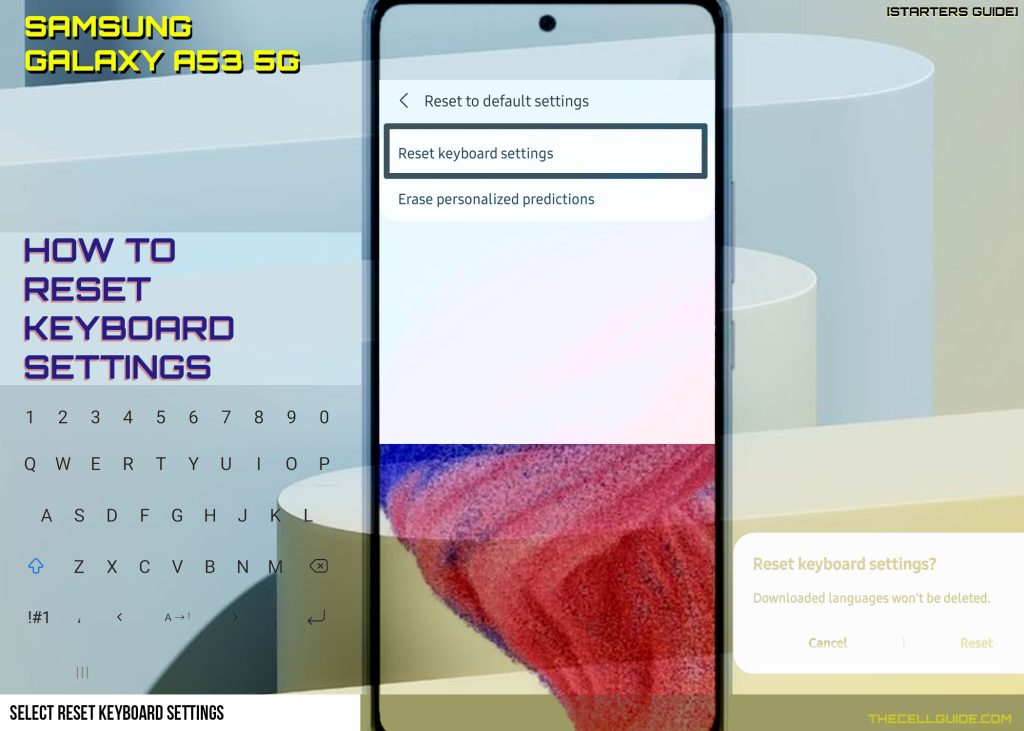 Step 6: Read the pop-up message and then tap Reset to confirm.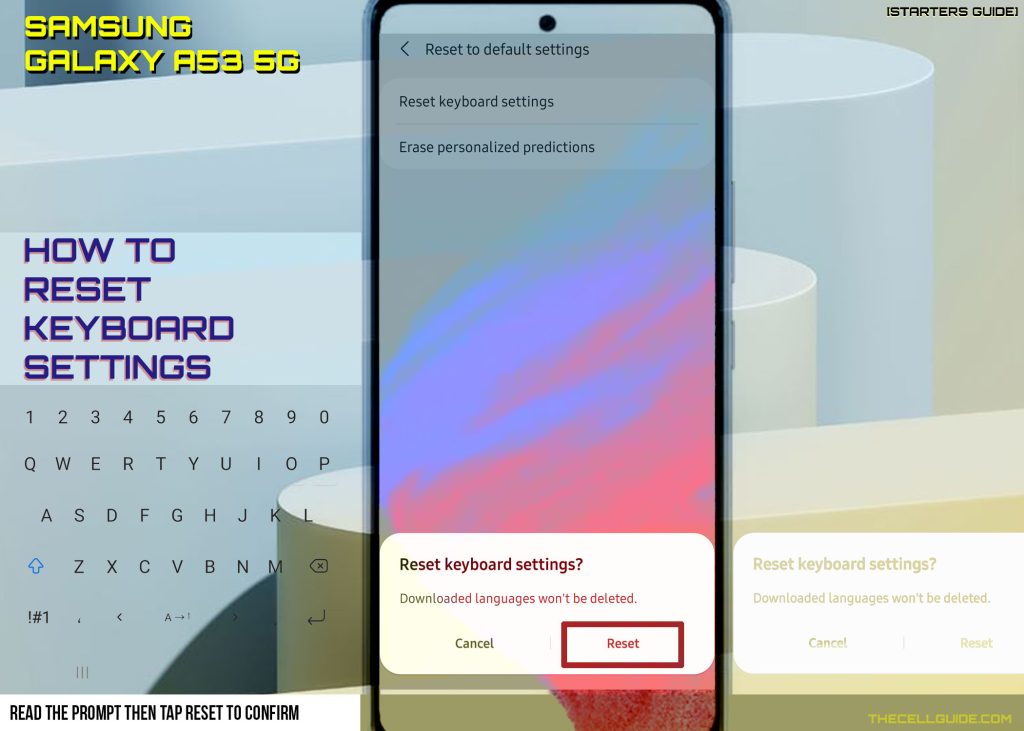 All recent custom settings made to the Samsung keyboard app will be removed and the default values and options are restored. This puts the stock keyboard app back to its factory state.
Note:
This reset does not delete any downloaded languages so you'd still be able to use all your saved languages as is.
Erase Personalized Predictions
The option to erase personalized predictions only applies to the predictive texting feature of the app. That said, only the recently added personalized predictive data that's used for word prediction will be deleted.
If you don't want your phone to automatically use predictive text, you can disable the feature through Samsung keyboard settings menu by toggling the Predictive text switch OFF.
Other keyboard features also have individual reset commands that you can trigger if you'd only opt to reset a specific keyboard feature like keyboard theme, keyboard symbols, keyboard mode and the like.
When to reset Samsung keyboard?
Performing this reset is usually recommended as a potential solution when dealing with keyboard input (language and input) issues on the phone. Among the common symptoms that are likely to be rectified with a keyboard reset include delayed typing, frozen or stuck keyboard, random keyboard crashing, and keyboard loading errors among others.
Keeping the device software updated is also recommended to ensure optimum performance of all built-in applications including the preloaded Samsung keyboard app on your Samsung Galaxy device.
And that's all about restoring the default settings for the built-in Samsung Keyboard app on the Galaxy a53 5g smartphone.
Hope this helps!
Please check out our YouTube channel to view more tutorial and troubleshooting videos for popular iOS and Android devices.
You Might Also Want To Read: