This post will walk you through restoring the default keyboard values on a Samsung phone that's running on Android 12 with One UI 4 or later operating system version. Here's a quick guide on how to reset keyboard settings on Samsung Galaxy A23 smartphone.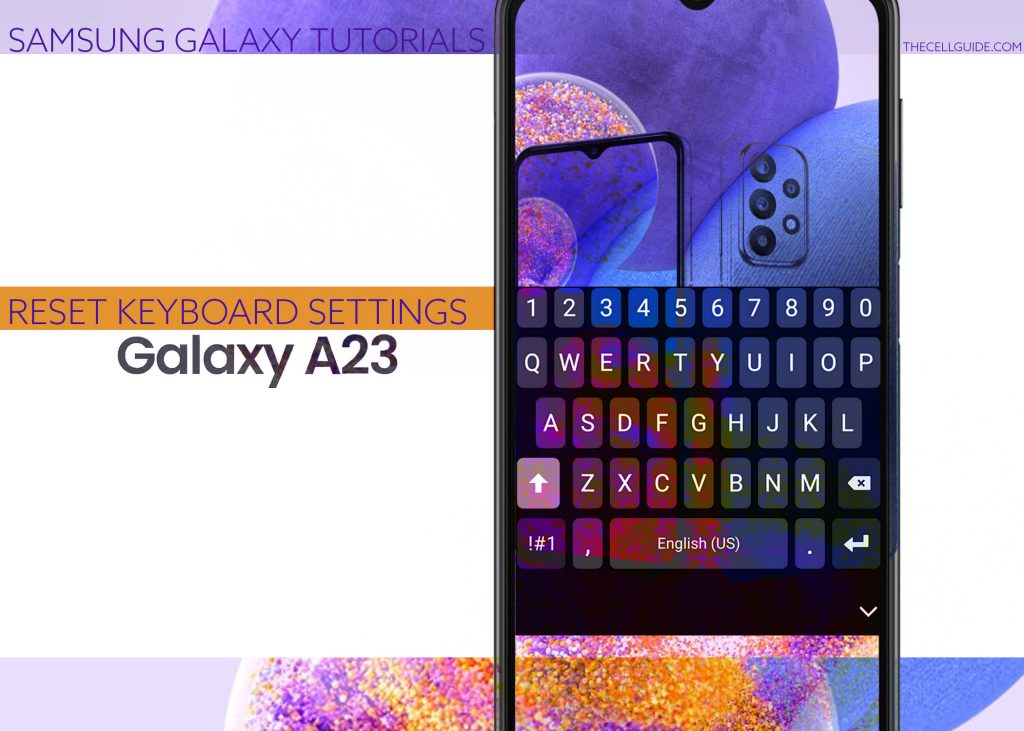 Samsung Keyboard Reset
Similar to other Samsung Galaxy A variants, the Galaxy A23 also comes with the Samsung keyboard as the default keyboard used for text inputs.
And just like what it features in other Samsung devices, the Galaxy A23 Samsung keyboard also offers a number of useful features including translation, voice recognition, Samsung Pass and more.
Many of the built-in keyboard features are also designed to be customizable and thus, users can adjust keyboard settings and configure the features to work according to their needs and preferences.
Altering the default keyboard settings on your Samsung smartphone is made faster and easier as you can do it while using the Samsung keyboard app. In fact, opening the Settings app menu from the Home screen is no longer necessary as you can change the keyboard format and other options straight from the keyboard app itself.
To do so, simply launch the Samsung Keyboard app then tap the Settings (gear) icon on the right side of the screen. Doing so will open the keyboard app settings menu with all the list of features and options for you to manage.
And if things go wrong after making changes, there's always a way to revert to the previous options by reconfiguring individual features or restoring the default values at once.
Depicted below are the steps to restore the Samsung keyboard back to its original state using the Samsung Keyboard Reset command on the Galaxy A23. 
Feel free to refer to this guide if you need help getting this done on the same Samsung device.
Steps to Reset Keyboard Settings on Samsung Galaxy A23
This method is based on the Android 12 with One UI 4.1 OS. That said, these steps can be likewise applicable when restoring the default Samsung Keyboard options on other Samsung Galaxy models that are running on the same platform.
However, there may be some slight differences on every device's user interface given that actual screens and menu options may likewise vary between device models and network operators.
To ensure all the key features and options are present, be sure to keep your device software updated.
Once you've got everything set, you may go ahead and proceed with these steps.
Step 1: First, tap Settings to open Settings. You can find the Settings icon from the Home screen or Apps viewer.
Step 2: In the Settings app menu, find and then tap General management. Another window will launch, prompting a list of relevant options and features.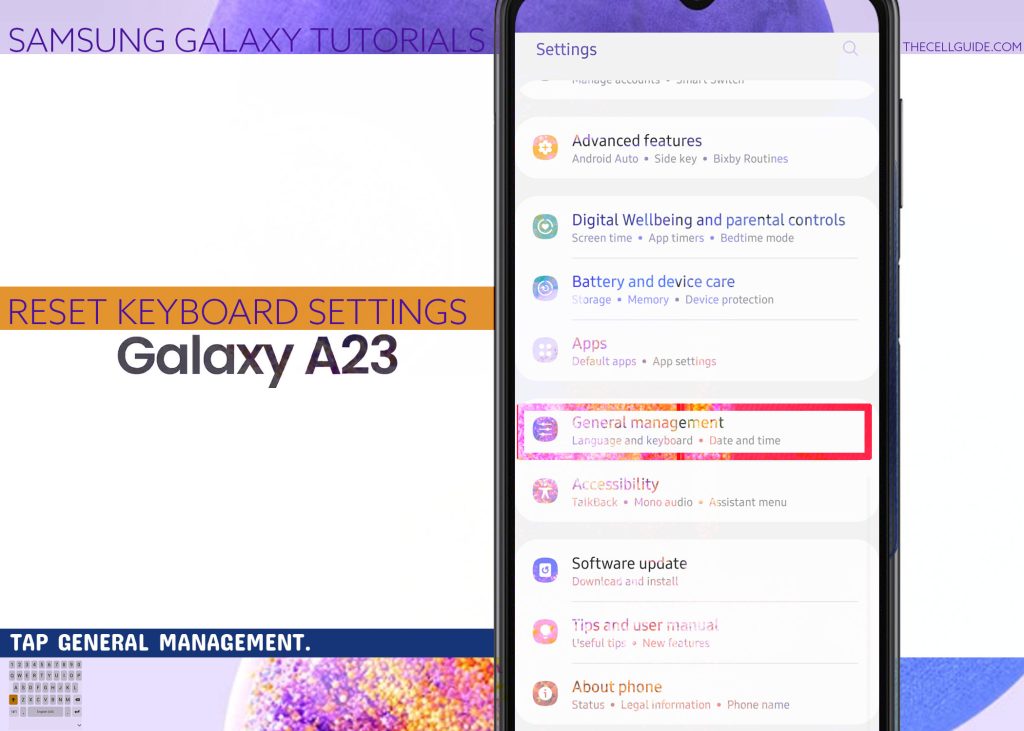 Step 3: Find and then tap Samsung Keyboard settings to continue.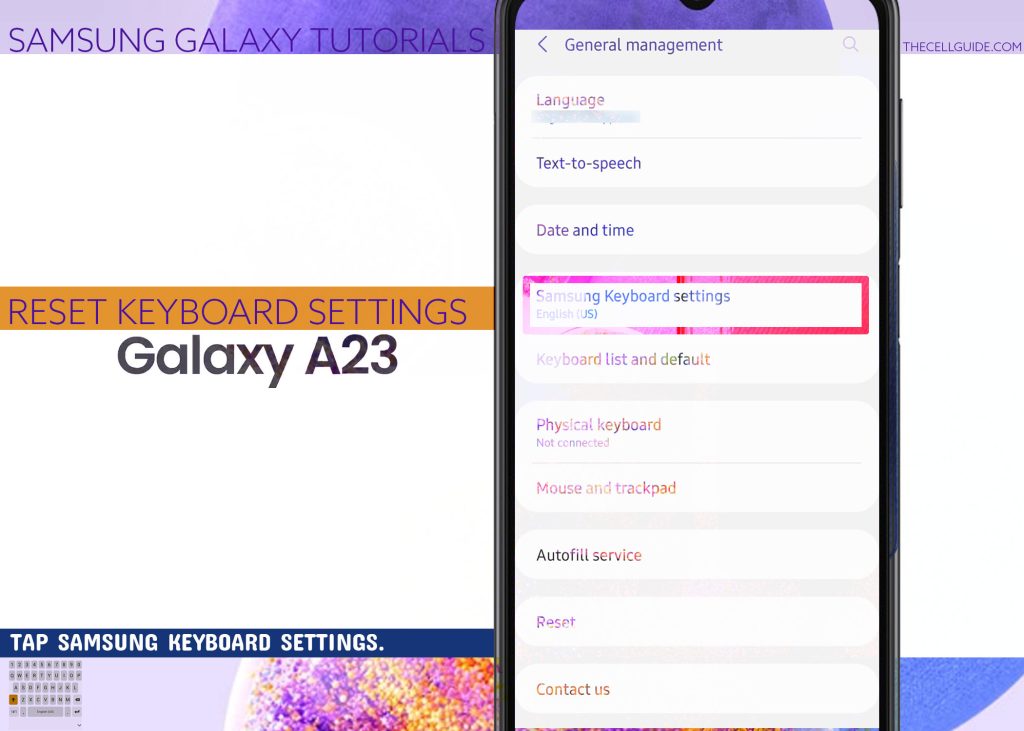 Step 4: On the succeeding screen, find and then tap Reset to default settings.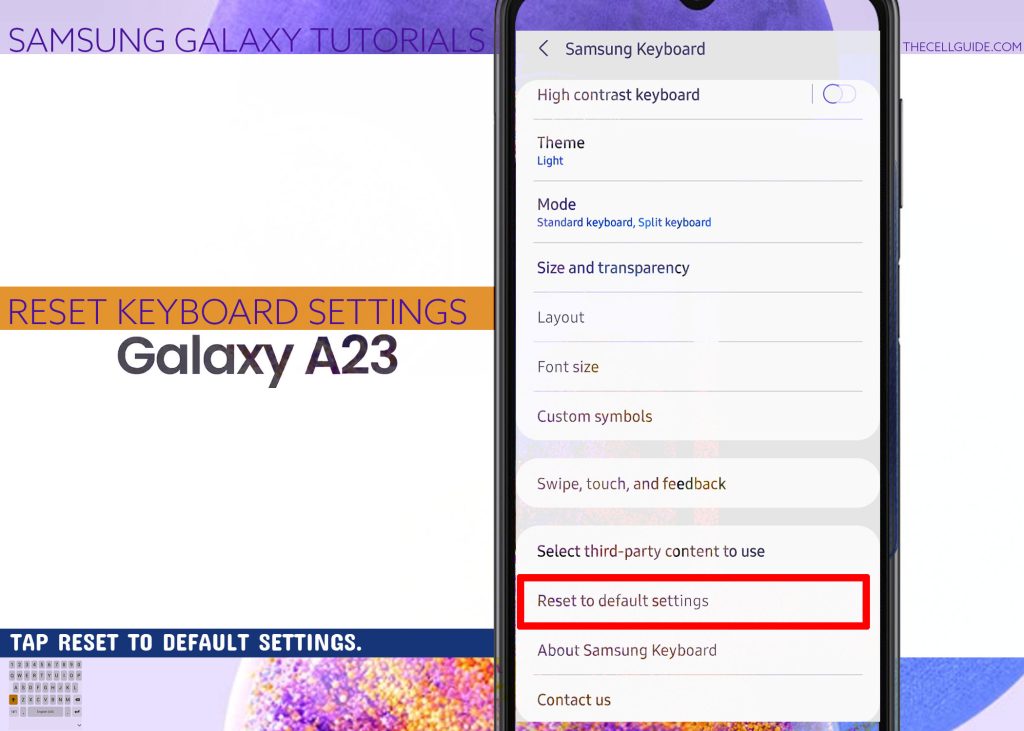 Step 5: Tap Reset keyboard settings to proceed.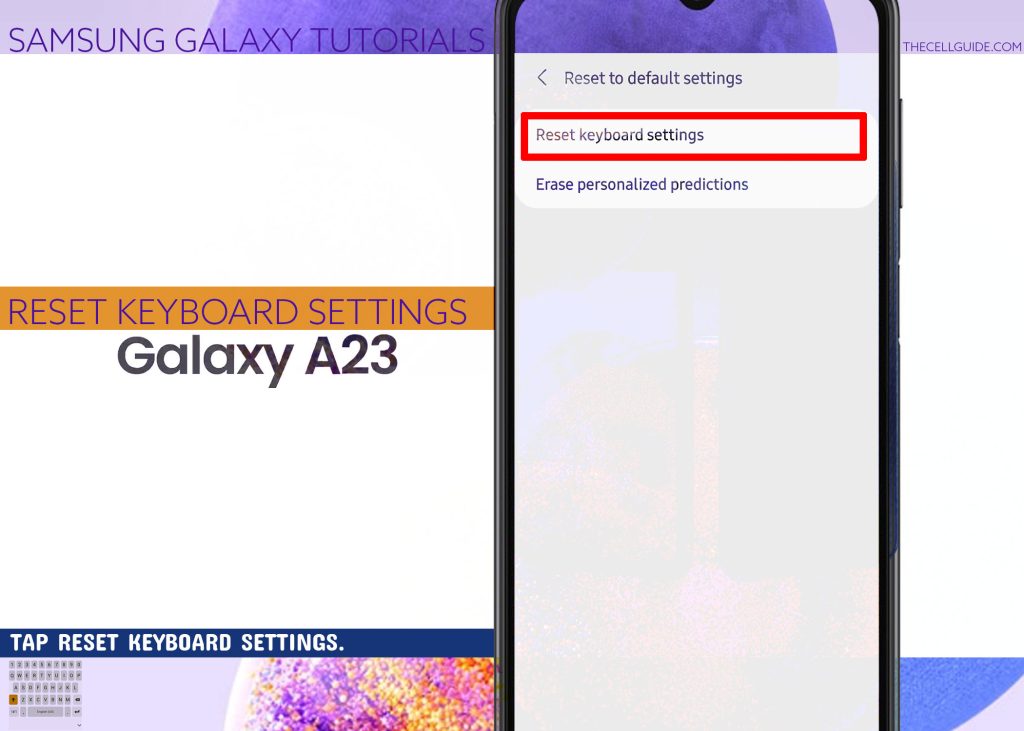 Step 6: If prompted, read and review the warning prompt and then tap Reset to confirm.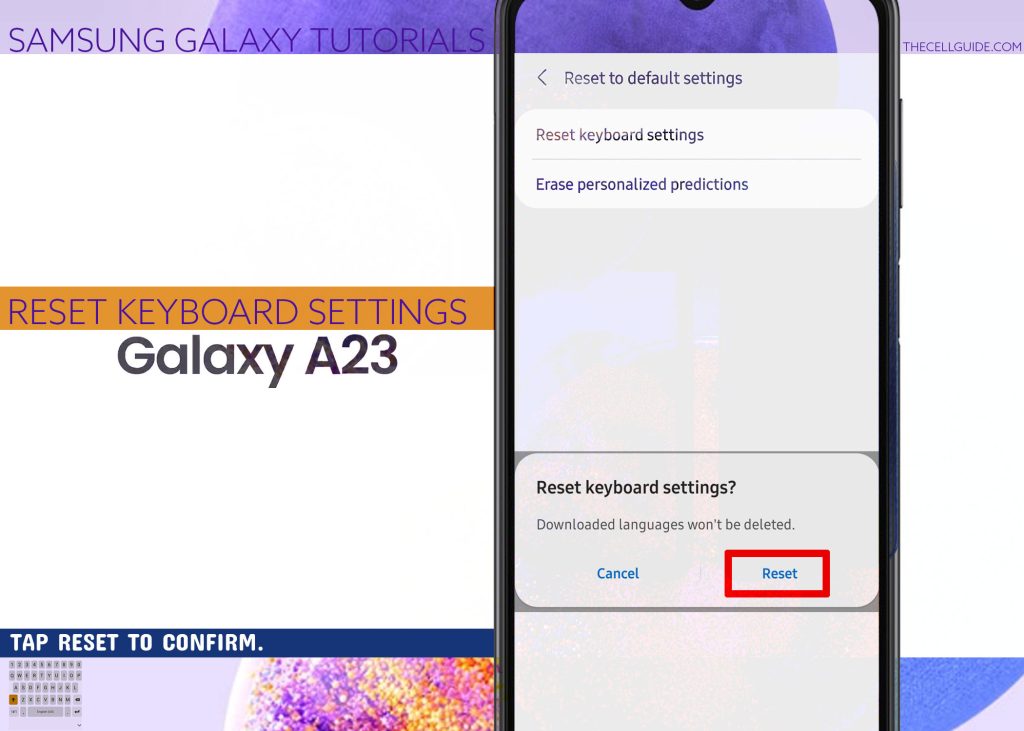 All recent custom changes made to the Samsung Keyboard settings including keyboard mode, keyboard theme, size and transparency as well as added symbols will then be deleted and the keyboard is restored to its factory state.
When to Reset Samsung Keyboard Settings?
Performing a keyboard reset is typically deemed among the last resorts when dealing with input problems like delayed keyboard responses, ghost touch and random lags and crashes when using the Samsung Keyboard app on the phone.
This reset can also rectify post-update keyboard bugs that cause unexpected errors to the Samsung Keyboard and relevant services.
Highlighted among the best keyboard apps for Android and Samsung Galaxy phones are Google Keyboard Gboard, SwiftKey, Chrooma, Typewise, Fleksy, and Grammarly, to name a few.
You can download and install any of these keyboards and set it as the default keyboard in case you would want to try other alternatives to the stock Samsung Keyboard application.

To set any of these third-party apps as the default keyboard on your Samsung Galaxy phone, just head over to Settings-> General management-> Keyboard list and default menu and then tap Default Keyboard. Here, you can find and select your preferred keyboard to set.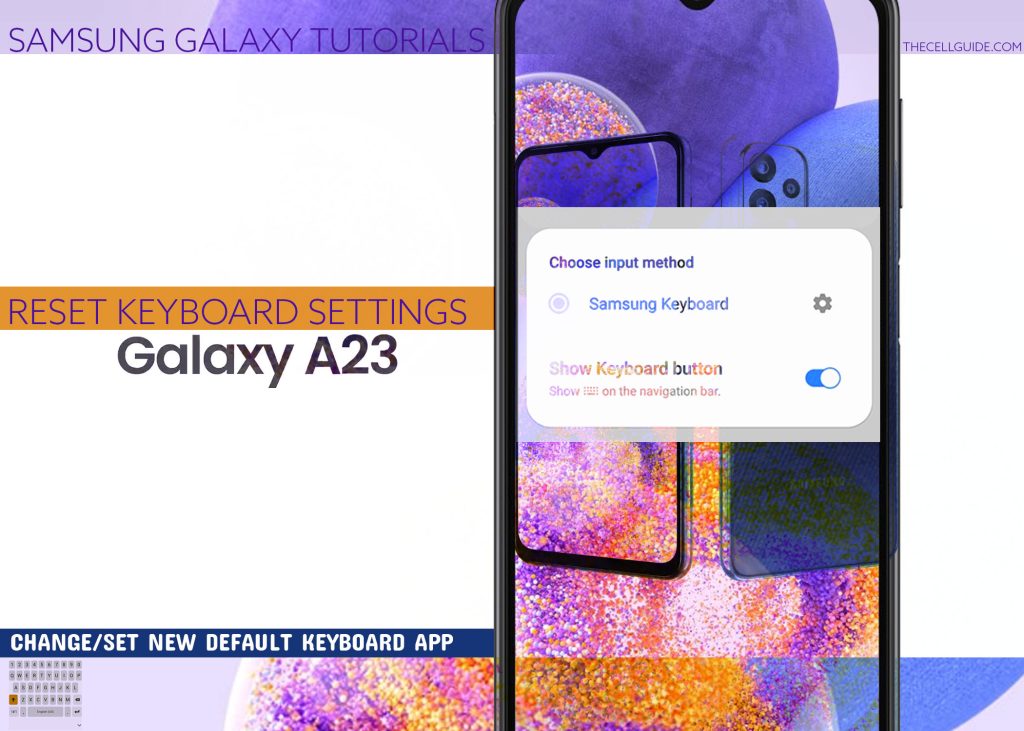 If you're using any of these third-party keyboard apps on your Samsung Galaxy phone, the reset process varies depending on individual app's settings.
And that's all about resetting the Samsung Keyboard settings and restoring keyboard app defaults on the Galaxy A23 smartphone.
Hope this helps!
Please check out our YouTube channel to view more tutorial and troubleshooting videos for popular iOS and Android devices.
You Might Also Want To Read: