This post will walk you through restoring the default Home screen interface on the new iPhone 13 and other iOS 15 devices. Read on to learn how to reset home screen layout on iPhone 13.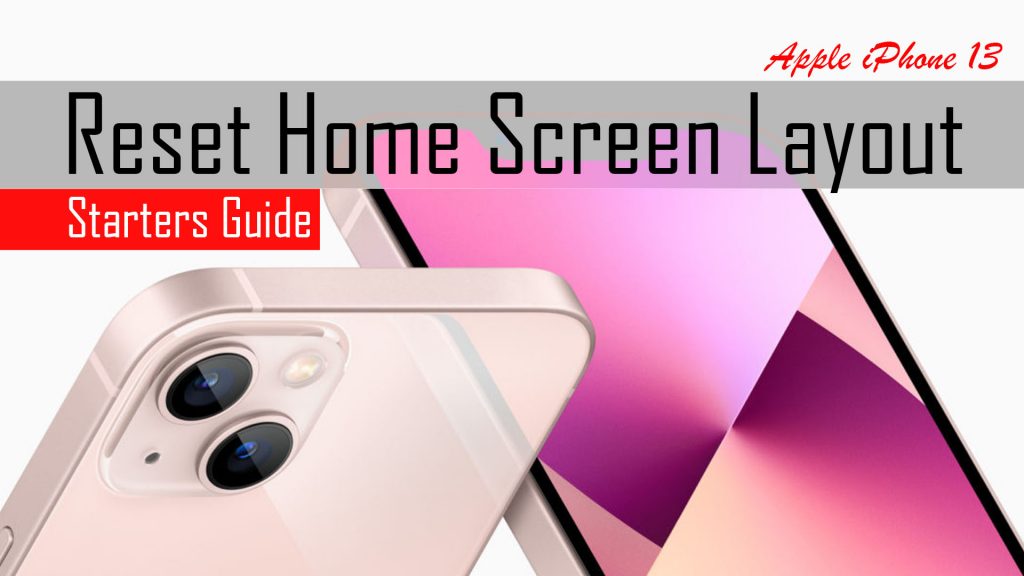 Want to change how your iPhone Home screen looks? The iOS 15 interface makes it a lot easier for you to do so. There's no need to worry about messing up the Home screen interface because Apple also integrates a dedicated command to restore the default home screen layout.
With the constant updates and revisions rolled out by Apple, new iOS devices are now a lot easier to customize even by novice users.
How does reset home screen layout work?
One of the reset options embedded in new iPhone's is the reset home screen layout or home screen reset. Triggering this reset will erase custom home screens and restore the original screen layout on your iPhone.
Many iPhone users opt to customize home screens according to their preferences. While the standard (default) iOS home screens are already made presentable, not everything in it can address and satisfy every user's proclivity. In fact, some of the Home screen items aren't necessary while some essential items aren't present.
To address this matter, Apple ensures that new iOS devices must have an option to customize Home screens to grant every user the interface they wanted.
With the iOS 15 interface, users can easily rearrange the order of the Home screen pages, app icons, thumbnails and widgets.
And should things go wrong after restructuring the Home screens, there's always an accessible reset button to tap on. And that's when resetting the Home screen layout comes into play.
Will this reset delete apps and user data?
As the name implies, this reset only deletes and restores the iPhone Home screens and so everything else remains as is.
However, shortcut icons and controls that you've recently added on the Home screen and widgets will be removed. What you'll get as a final output is the iPhone 13 home screen layout that looks like the first time it appears from the first bootup.
Easy Steps to Reset Home Screen Layout on iPhone 13
These steps are also applicable when carrying out a home screen layout reset on other iPhone models that are running on the same software version with that of the iPhone 13 (iOS 15 or later).
Actual screens and menu items may vary between device models and service providers.
Just follow these steps whenever you're all set to begin.
Step 1: To get started, go to the Home screen and then tap Settings. Doing so will launch the settings app.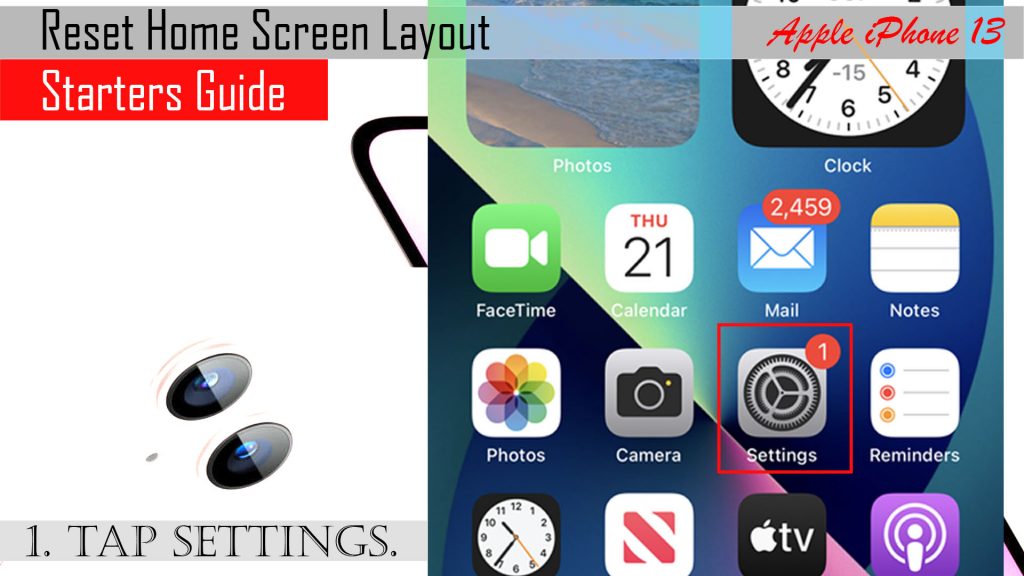 Step 2: While on the main settings menu, tap General. Another menu opens, showing the iPhone's general settings and options.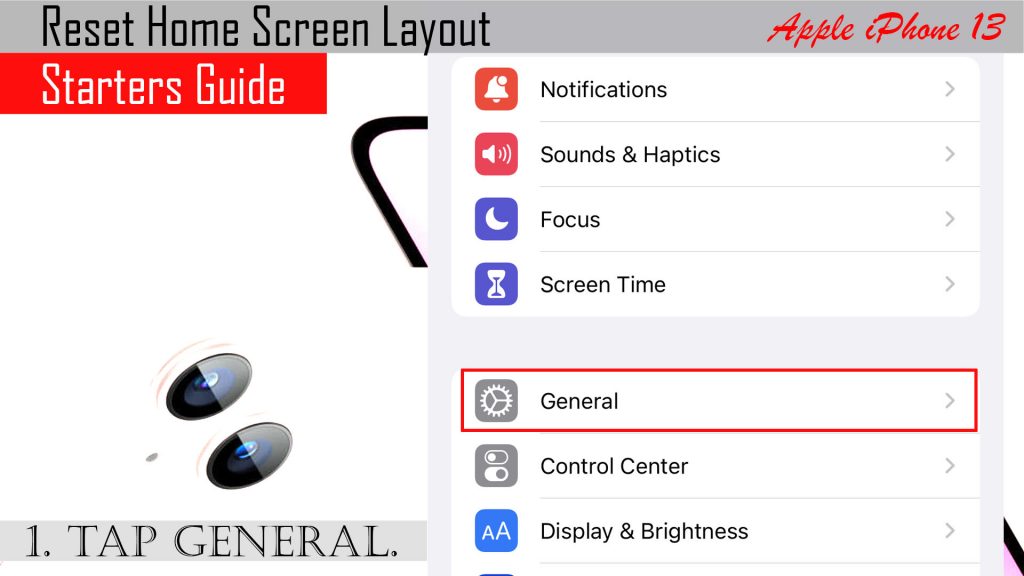 Step 3: Next, tap Transfer or Reset iPhone to proceed.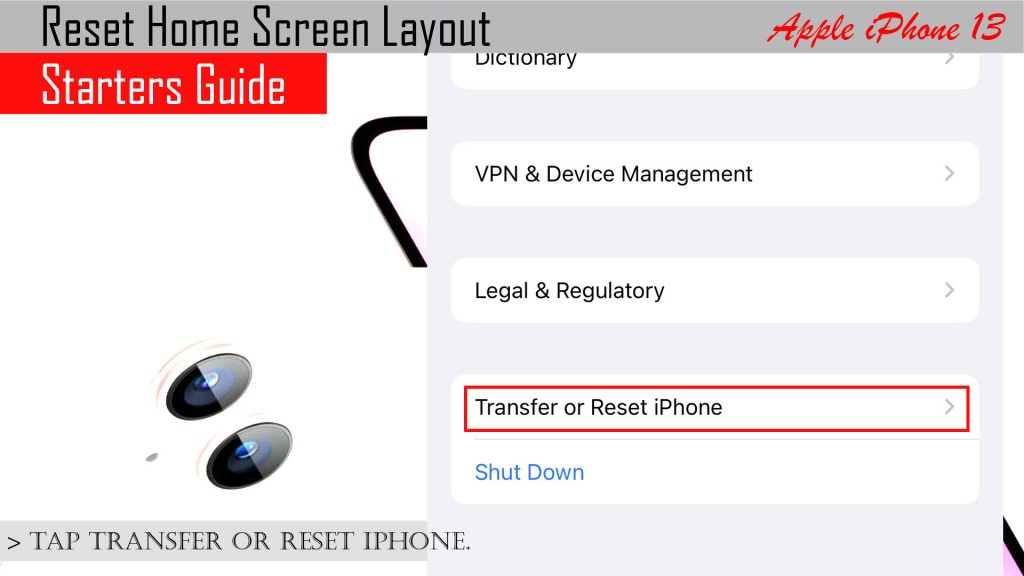 Step 4: On the succeeding menu, scroll down to the bottom and then tap Reset. A list of all reset commands or options will show up next.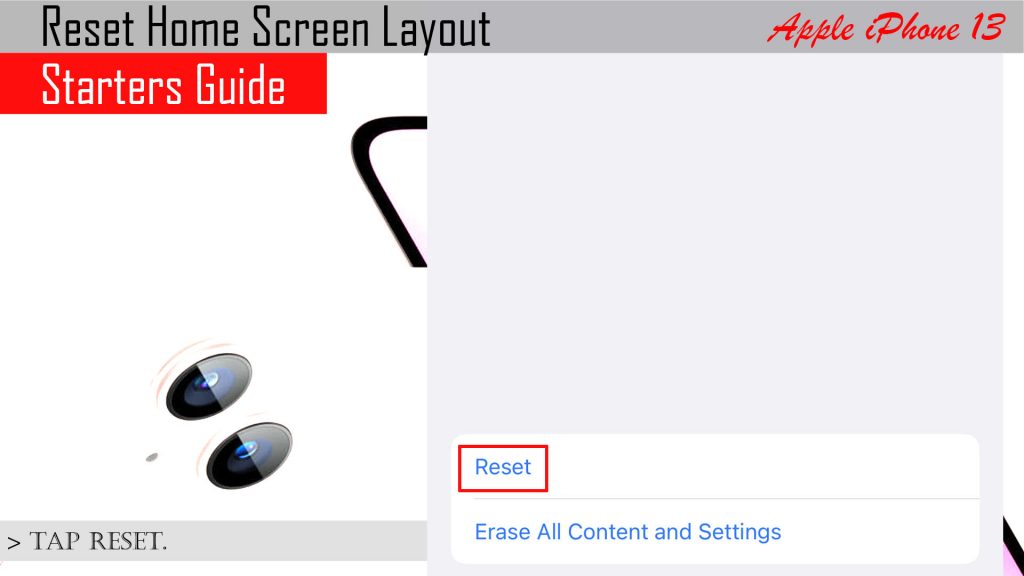 Step 5: Select Reset Home Screen Layout from the given options.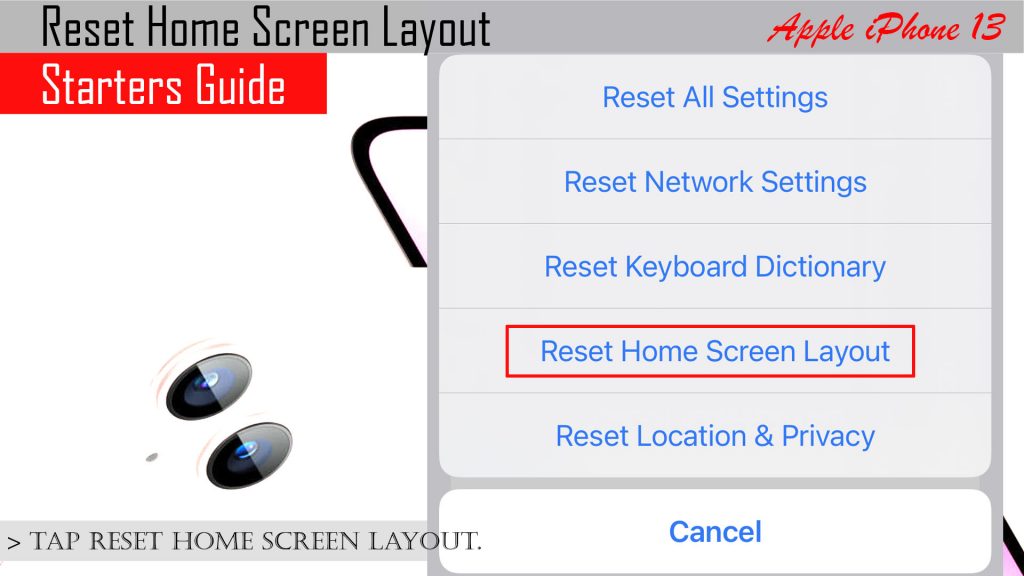 If prompted, enter your device passcode and then tap reset home screen to confirm that you'd like to restore the default Home screen layout on your device.
Wait for the phone to execute the reset. Once it's finished, the original layout of the Home screens is restored.
Still, you can restructure your iPhone's home screen whenever you find the need to revamp the display interface.
Is your Home screen layout the same after the reset?
While this may not normally be the case, there are some rare instances when the Home screen layout remains even after resetting. Should you bump into the same scenario, just perform a soft reset or restart your iPhone. Doing so will clear out random glitches that might have caused the Home screen system to fail.
And that's all about resetting the Home screen layout on the Apple iPhone 13 smartphone.
Hope this helps!
Please check out our YouTube channel to view more tutorial and troubleshooting videos for popular iOS and Android devices.
You Might Also Want To Read: