This post will walk you through restoring default app settings through the One UI reset app preferences command on Samsung's latest Galaxy A flagship smartphones. Here's a quick guide on how to reset apps on Samsung Galaxy A73 5g.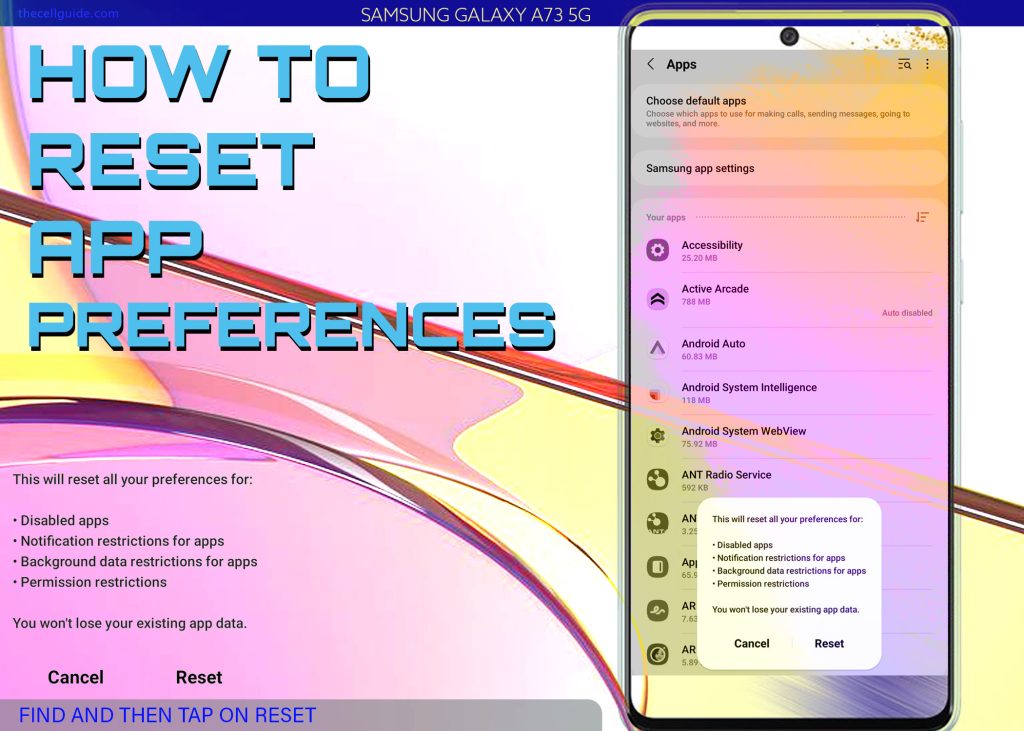 One UI 4 Default App Reset
You might have noticed that your phone asked you to choose a default app when opening a certain file type or data protocol on a web browser.
This is usually the case if you've downloaded a third-party application that has the same function or works the same as any of the default applications on the phone.
For example, if you've downloaded a third-party gallery app, you will be asked to select a default app when you open an image file through the internet or file explorer.
You'll also be asked if you'd like to set your current app selection as the default app to open the same files in the future. You may opt to set it Just Once or Always depending on the file type or data protocol.
Depending on your choice, the app you'd selected will be set as default. So the next time you open a similar file type, the phone will automatically use the default app. That applies to other types of files you open for the first time.
If you'd like to clear all the default apps, you can trigger a built-in command to reset app or reset app preferences..
In Samsung devices, this reset command is tagged among other options in the quick menu of the Apps screen.
If you're wondering how to access and use this command on the Samsung Galaxy A73 5g smartphone, then you can refer to the quick walkthrough as follows.
Steps to Reset Apps on Samsung Galaxy A73 5g
This method is also applicable when resetting app preferences on other Samsung Galaxy phones running in Android 12 with One UI 4 or later OS version.
Every device's screens and menu items may vary so the actual interface may also differ slightly.
Resetting default app preferences does not affect existing app data so you'd still be able to retrieve all your data and use them afterwards.
Just follow the outlined steps below whenever you're all set to configure your phone's default app settings.
Step 1: First, go to the Home screen or Apps screen then tap Settings. Doing so will launch the Settings menu with all built-in functions.
Step 2: While in the main settings app menu, find and then tap Apps.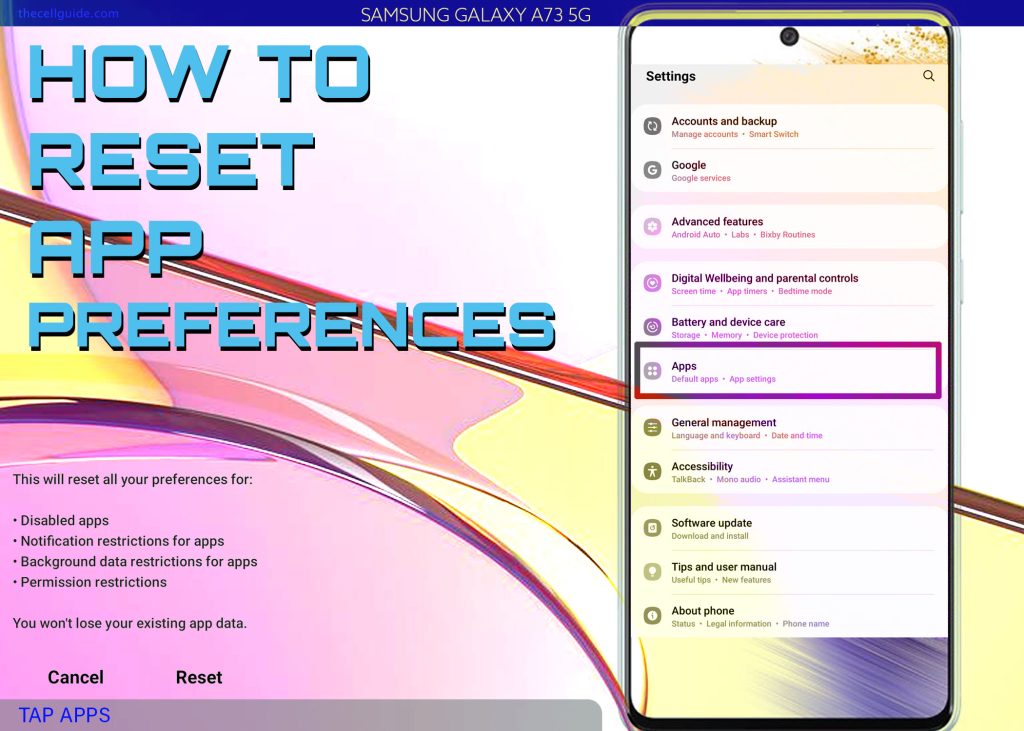 Step 3: On the Apps screen, find the triple dots (quick menu icon) located on the top-right edge. Doing will open a side menu that contains additional options.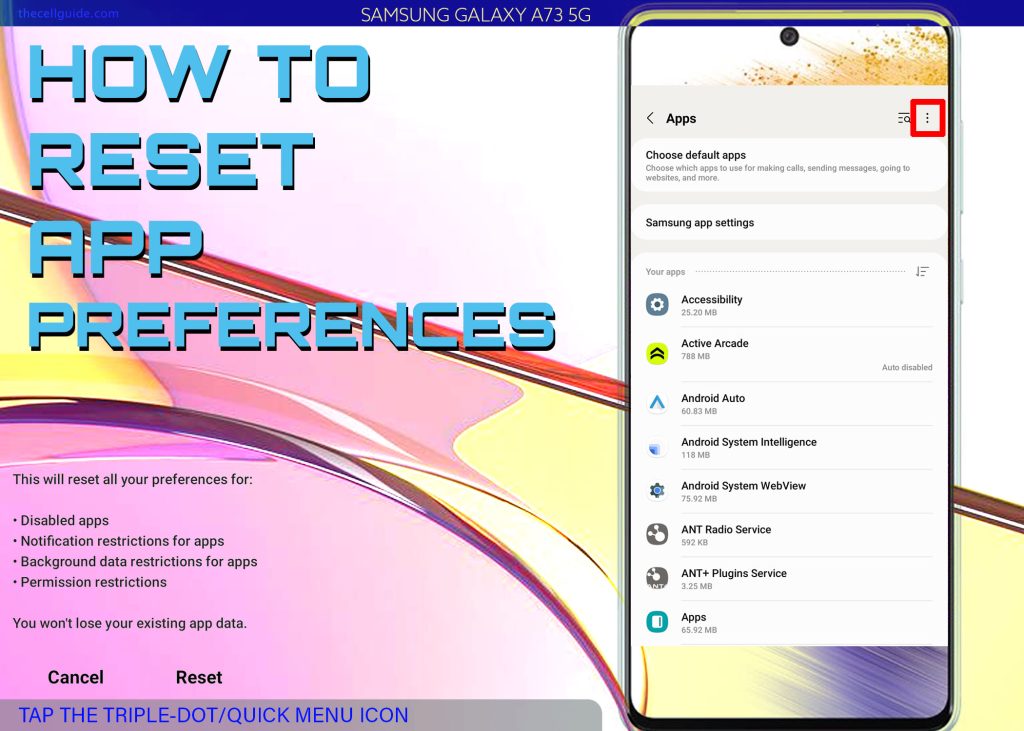 Step 4: Find and then tap Reset app preferences from the given options to proceed.
Step 5: Read the message prompt and then tap Reset to confirm.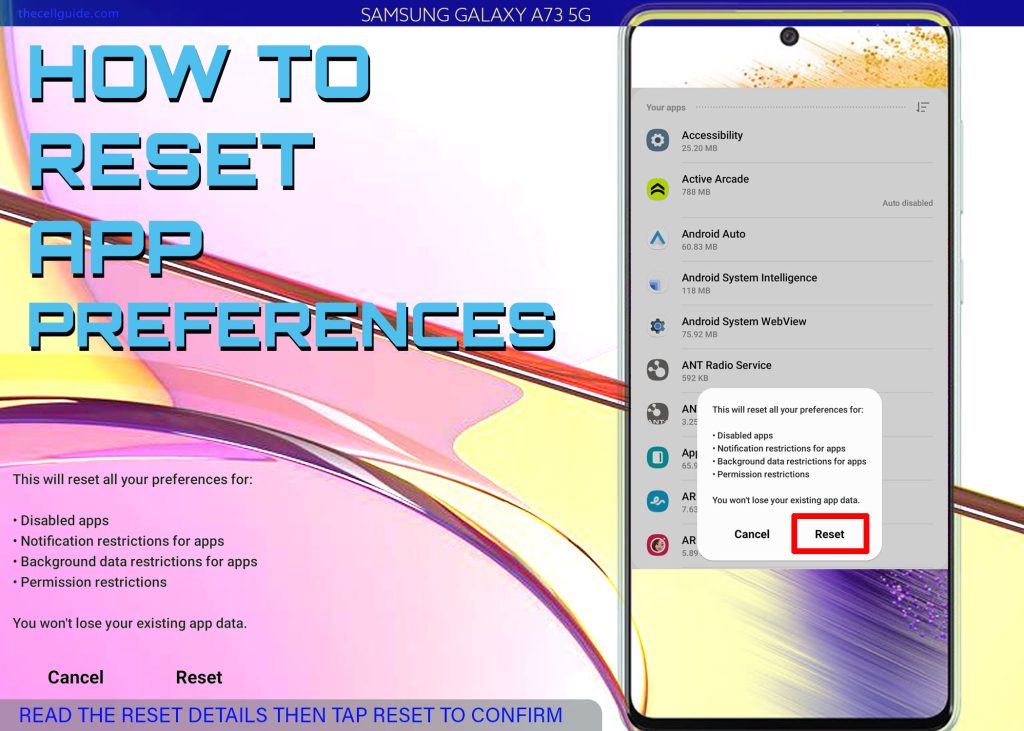 The phone will then start resetting all your preferences for disabled apps, default apps, permission restrictions, notification restrictions for apps and background data restrictions for apps.
What does reset app preferences do?
Resetting app preferences will clear the defaults for all the installed apps on the phone. It enables all the disabled apps.
As for app notifications, these too will be reset if you've disabled or changed the notification settings for an app.
The same goes for individual app restrictions as those restrictions are likewise removed when resetting app preferences. This means that you'll have to manually set restrictions again for each app.
When to reset apps on your Samsung Galaxy A73?
Bumping into some minor software glitches on a smartphone is inevitable. Oftentimes, these glitches are tied to some in-app conflicts that eventually affect the entire system functions. App problems may likewise be due to some settings conflicts.
There are many different ways to deal with these app glitches and resetting app preferences is among them.
Unlike a full system reset or factory data reset, resetting apps does not affect any user data in the internal memory so you won't lose critical files and documents saved on the phone.
Any complex settings conflicts from the recent customizations of apps are likewise rectified as default options are restored.
Resetting app preferences is therefore deemed among the potential solutions that you should try on when dealing with app-related issues on your phone.
And that's all about resetting app preferences and restoring default apps on the Samsung Galaxy A73 5g smartphone.
Hope this helps!
Please check out our YouTube channel to view more tutorial and troubleshooting videos for popular iOS and Android devices.
You Might Also Want To Read: