This post will walk you through restoring default settings and options without deleting any user information on the new Samsung Galaxy Z Flip phone. Here's a quick guide to reset all settings on the Galaxy Z Flip 4 device.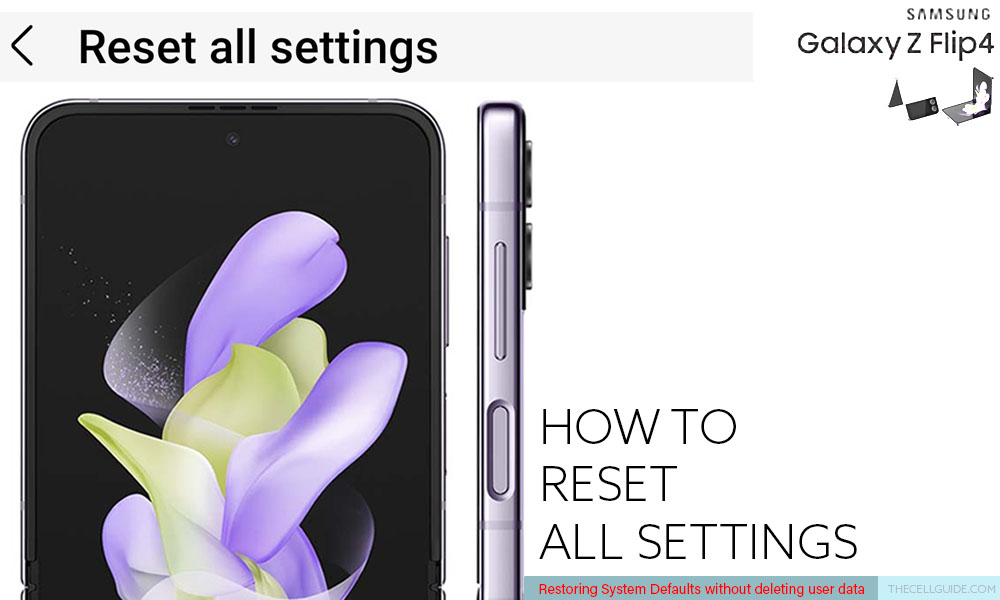 Restoring Galaxy Z Flip4 Defaults
The Samsung Galaxy Z Flip4 comes with the latest OS version (Android 12 with One UI 4.1.1 OS) and therefore has the same reset options and system commands as that of other prior Galaxy phones like the Galaxy S22 series.
Tackled in this guide is an important reset command called reset all settings. This reset is often carried out when dealing with various types of system issues that are attributed to settings conflicts, post update bugs and minor in-app glitches.
When triggered, this reset erases all recent changes made to the system settings and restores them to their defaults. Deleted settings cannot be recovered.
Security settings, language settings, accounts, personal data and settings for downloaded apps are also not affected by this reset so whatever your previous configuration for these settings remain as is.
If you're new to the updated Galaxy Z Flip interface and wondering how to reset all settings without deleting any saved information and downloaded applications, you can refer to the outlined instructions as follows.
Steps to Reset All Settings on Samsung Galaxy Z Flip 4
Performing the following procedure does not affect any saved information from the internal storage of your phone including downloaded apps, saved contacts, files, documents and other important information. However, you may still opt to backup files beforehand for safekeeping.
Once you've got everything ready, you may go ahead and proceed with these steps:
Step 1: Launch the Settings app menu to get started. Just locate the Gear icon on the Home screen or Apps tray and then tap on it to launch the app.
An alternative way to access the settings app is through the Quick Panel (notification panel). To access this panel, simply swipe down from the top of the screen using two fingers. Once the panel is open, just find the Gear icon on the top-right side and then tap on it to access the main settings menu of your device.
Step 2: In the Settings menu, find and then tap General management. Doing so pulls up another menu with system management features and relevant options.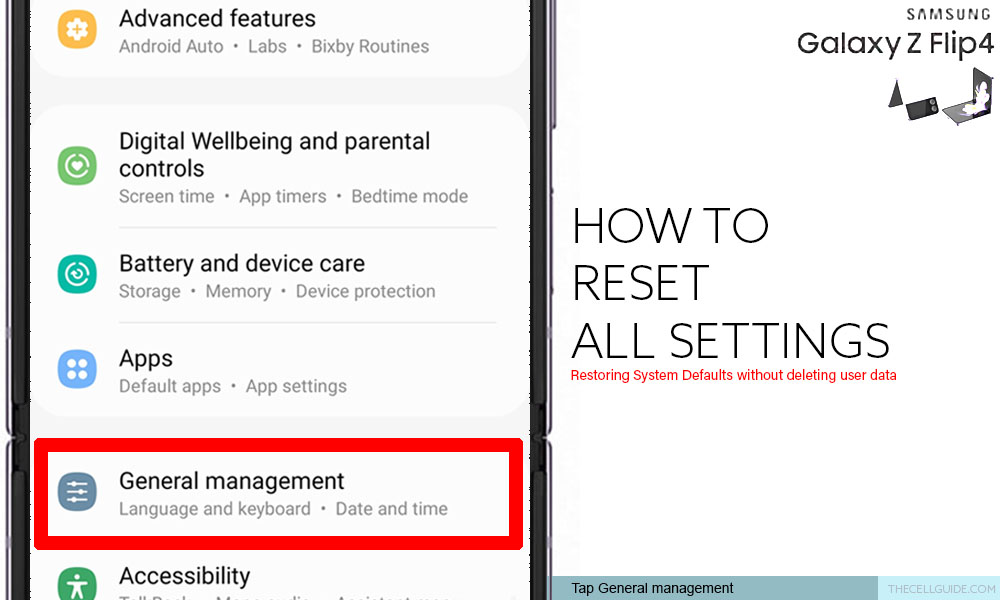 Step 3: Scroll down then tap Reset to proceed.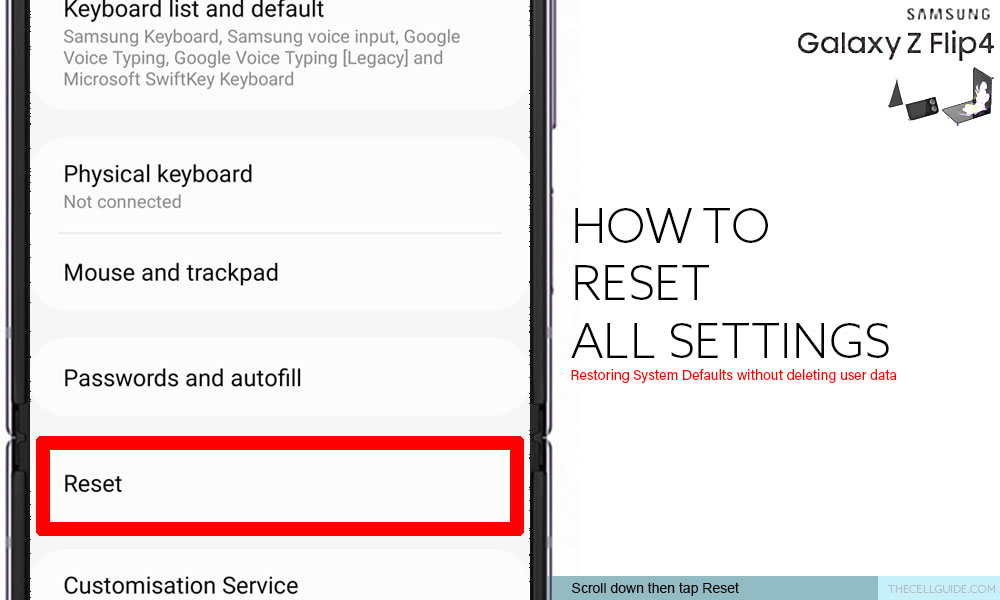 Step 4: On the following screen, you will see a list of system reset options including reset network settings, reset all settings, reset accessibility settings and factory data reset. Select Reset all settings from the given options to continue.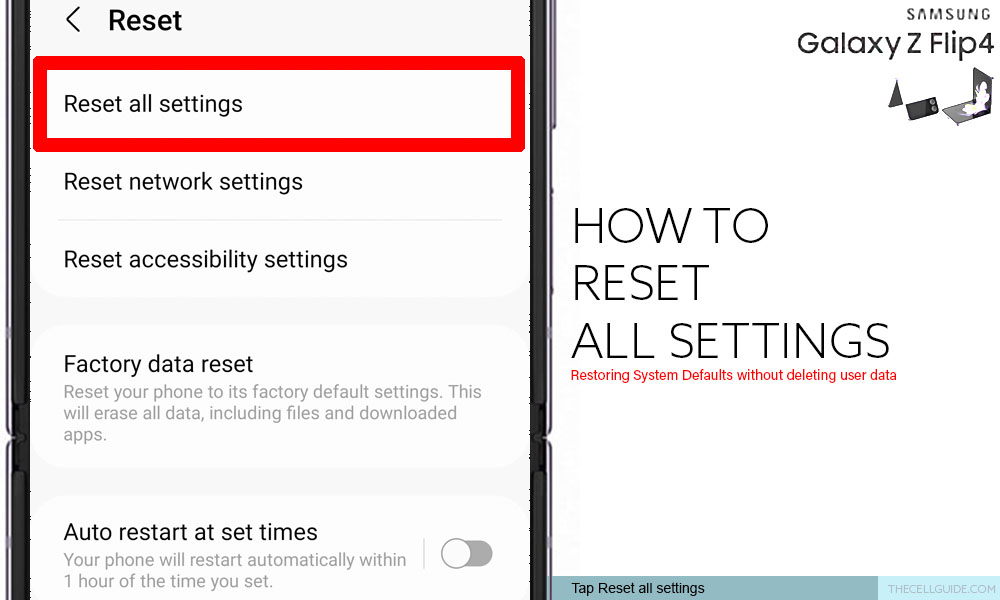 Step 5: A quick overview about the selected reset option will show up on the next window. Read the reset details then tap Reset settings to proceed.
Step 6: If prompted, enter your device PIN, pattern or password then tap Reset on the next pop-up message to confirm.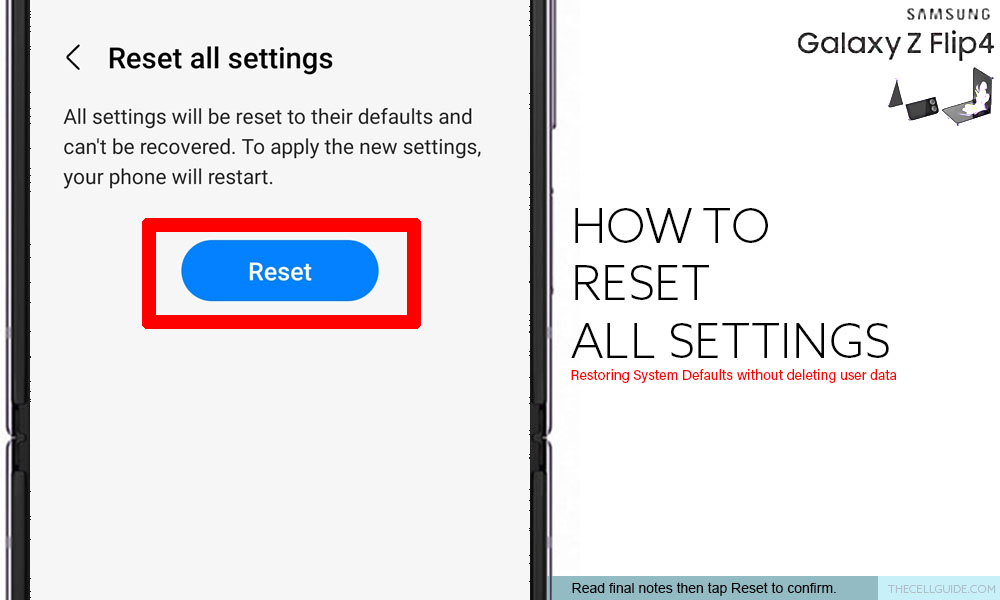 The phone will then start deleting all recent changes made to the system settings including app permissions, restrictions, preferences and the like. The phone will then instigate an automatic system restart to apply the new changes and restore defaults.
By then you can start enabling individual features that you want to use on your phone including Wi-Fi and Bluetooth connections. Setting a default app to process specific files types or data protocols is also necessary.
If resetting all settings does not resolve any transpiring system issues, then that's when you should do a factory data reset (factory reset Samsung Galaxy Z Flip4). Just repeat the same steps to get back to the Reset menu then select factory data reset from the given options. You can also perform a factory reset via Android recovery mode.
Hope this helps!
Please check out our YouTube channelto view more tutorial and troubleshooting videos for popular iOS and Android devices.
You Might Also Want To Read: