This post will walk you through deleting the current advertising ID assigned on your new Samsung Galaxy phone. Read on to learn how to reset advertising ID on Samsung Galaxy S21 with the latest One UI platform.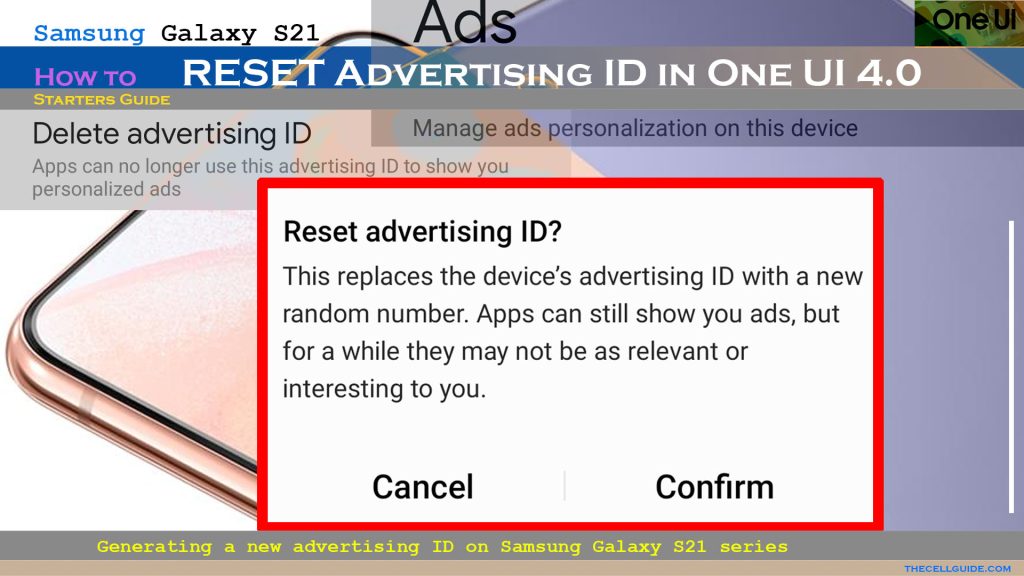 Wondering how to limit or change the type of ads you see when browsing the internet on your Samsung Galaxy S21? If that is so, then all you have to do is to reset the phone's advertising ID to delete the existing identifier and generate a new one.
Keep scrolling to view more detailed instructions.
Reset Advertising ID in One UI 4.0
Most of the ads that are popping up on your screen when visiting a website or using an online app have matched your interest.
This happens because your every browser activity is being tracked by tech entities based on the advertising ID assigned to your device. As a result, ads containing products that you will likely get interested in are being catered.
In an effort to safeguard every end-user's privacy, tech giants, particularly leading smartphone manufacturers, have already integrated a dedicated feature that would make most of your browsing activity private.
In modern Android smartphones including the latest Galaxy S21 series, users are allowed to manage or limit ads showing on their respective devices.
For starters, the advertising ID serves as a unique primary key identifier that's assigned to every Android device and is mainly used for advertising purposes. This ID is composed of unique alphanumeric codes generated based on individual user profiles.
In order to access the ID on every device, app developers use the advertising identifier API that identifies users and devices for targeted ads.
While you cannot completely turn off the ad ID, Android devices offer a way to reset it.
Easy Steps to Reset Advertising ID on Samsung Galaxy S21 (One UI 4.0)
The process of resetting Advertising ID is essentially the same for all Android versions but actual screens and menu items may vary slightly between device models.
Just refer to these outlined procedures whenever you're all set to manage the ads privacy settings and limit interest based ads and targeted ads from showing on your updated Galaxy S21 smartphone.
Step 1: Tap the Settings icon from the Home screen or Apps view to launch the Settings app.

Step 2: While on the main settings menu, scroll down to find and then tap Privacy.
Another screen opens, highlighting all built-in privacy settings and relevant features.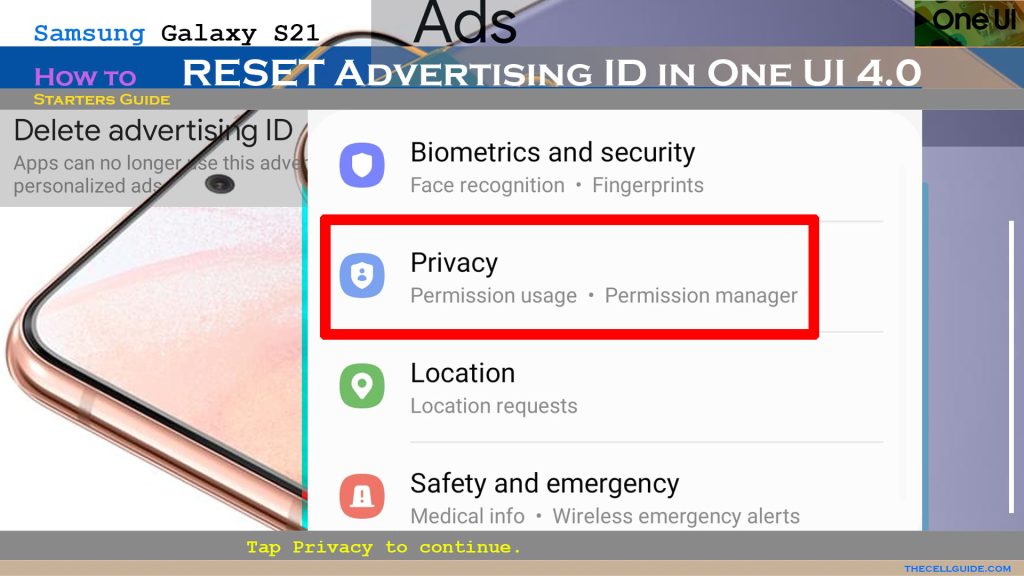 Step 3: Scroll down to the Google section and then tap Ads.
The Ads menu will show up next along with the latest ads personalization features.

Step 4: While on the Ads menu, tap Reset advertising ID to continue.
Doing so triggers a pop-up warning message.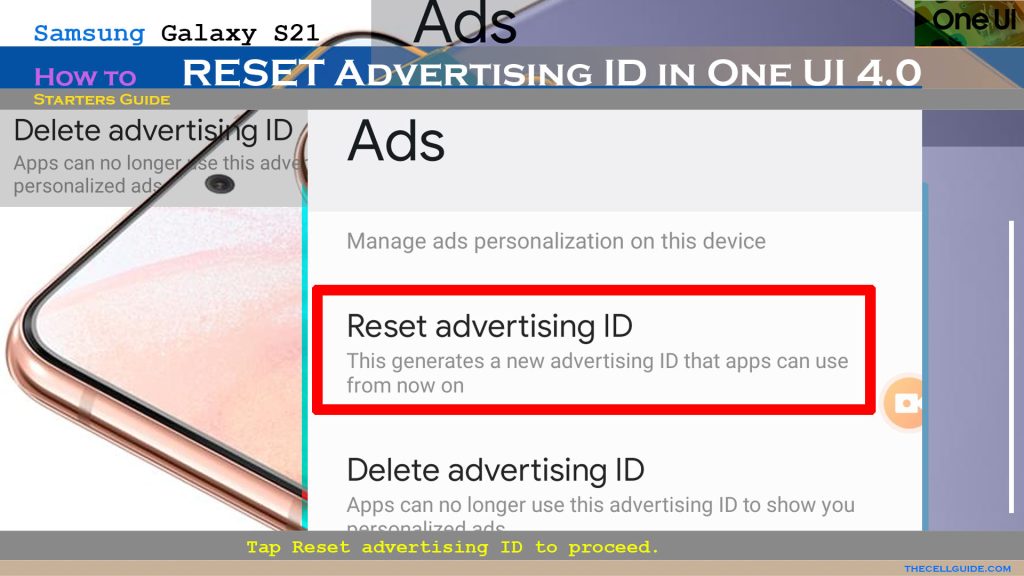 Step 5: Read and review the message and then tap Confirm to proceed.
A quick pop-up "Advertising ID reset" confirmation will show up beneath the screen.
That's an indication that the current advertising ID assigned to your device will then be deleted and replaced with a new set of unique numbers that serves as the new key identifier for your user profile.
Again, this does not stop ads from showing on your device completely but can help limit tracking of your browsing habits.
Doing this reset could come in handy to bar malware-containing ads and likewise when you're already seeing too many of the same ads when using online apps and services on your device.
Other Ads Privacy Options in One UI 4.0
Aside from generating a new advertising ID via reset advertising ID command, there is also an option to Delete advertising ID on your device. In One UI 3.0, this was equivalent to disabling ads personalization.
Triggering the latter command will stop apps from using the device's advertising ID to show personalized ads.
However, some apps may still be able to show you ads but they may no longer be as relevant or interesting to you. You can always get a new advertising ID later if you want.
And that's all about limiting the appearance of interest-based ads or limit ad tracking by resetting the advertising ID on the updated Samsung Galaxy S21 smartphone.
Hope this helps!
Please check out our YouTube channel to view more tutorial and troubleshooting videos for popular iOS and Android devices.
You Might Also Want To Read: