This post will walk you through restoring the default accessibility options on the new Samsung Galaxy devices. Read on to learn how to reset accessibility settings on Samsung Galaxy S22 and other Samsung phones running on OneUI version 4.1.
Smartphone owners who have special needs and those that are having trouble using their phones can make use of the Galaxy S22's accessibility features as a helping hand.
With these features, users can make the phone read messages aloud, improve visibility by adjusting screen brightness and animations, push alerts when a doorbell rings for those with hearing impairments or mute sounds when needed. You will also be able to install more accessibility services from the Galaxy Apps or Play Store app.
OneUI 4.1 Accessibility Settings
Accessibility features are generally intended to address special needs of smartphone owners with a range of disabilities such as hearing, visual, physical or speech impairments. These features make it easier for people with special needs to use their respective devices.
Recent Android devices have a built-in accessibility menu that contains various options and features to control relevant phone features such as gestures, navigation, hardware buttons and the like.
These controls are basically used for customizing the device to make it work according to the end-user's specific demands.
And because every smartphone owner has different needs, device manufacturers including Samsung programmed their products system that would let users customize accessibility settings according to their needs. And should there by any adverse system behaviors manifesting from a series of settings alteration, a reset option is also there for you to tap on.
Every smartphone comes with different reset options. In Android 12 devices including the newest Samsung Galaxy variants, there's an option to reset the network settings, accessibility settings, app permissions and preferences and a full system reset, to name some.
Depicted below are the actual steps to reset all settings on the newest Galaxy S22 smartphone. If you own this device and need help on how to carry out this reset, just keep scrolling to view more detailed instructions.
Steps to Reset Accessibility Settings on Samsung Galaxy S22
The following steps are also applicable when restoring the default accessibility options on other Samsung Galaxy devices that have the same OneUI version with the S22 variants. But the actual user interface on every device may slightly differ given that screens and menu items vary between device models and wireless carriers.
Just keep your phone software updated to ensure all key features and menu options are present.
Important note:
This reset does not affect accessibility settings in downloaded apps as well as the keyboard and font settings. Personal data that stored on the phone's internal storage won't be deleted so creating backups is not needed.
Whenever you're all set, just proceed with these steps:
Step 1: Go to the Home or Apps screen and then tap the Settings icon to open the Settings app.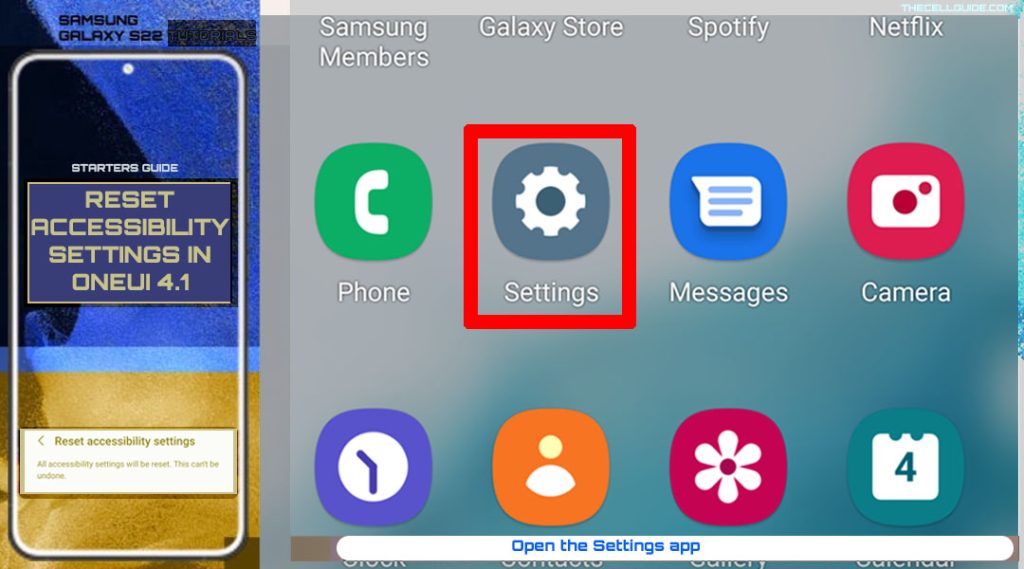 Step 2: While in the Settings menu, scroll down and tap General management.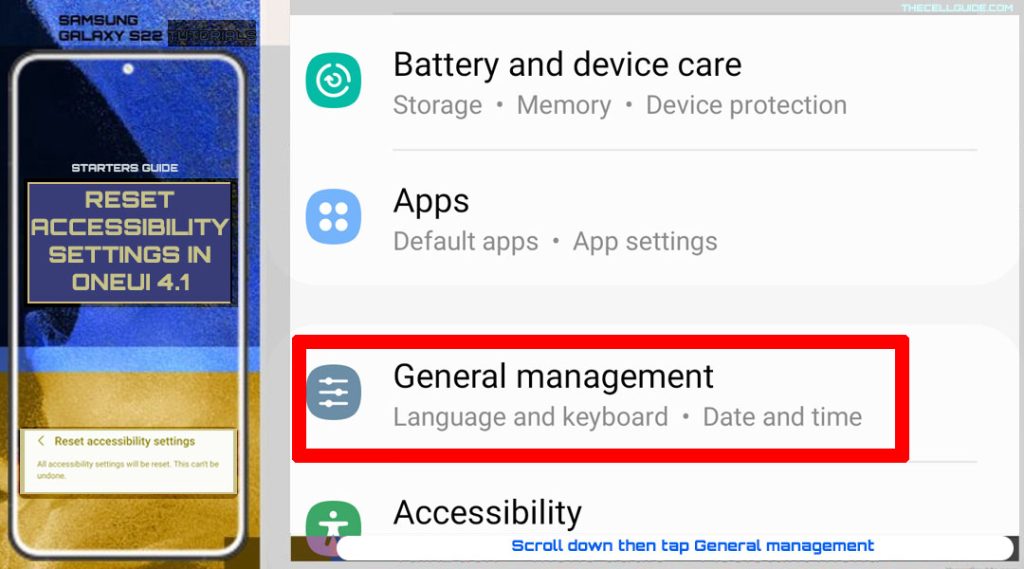 Step 3: General settings and features will load up next. Tap Reset to continue.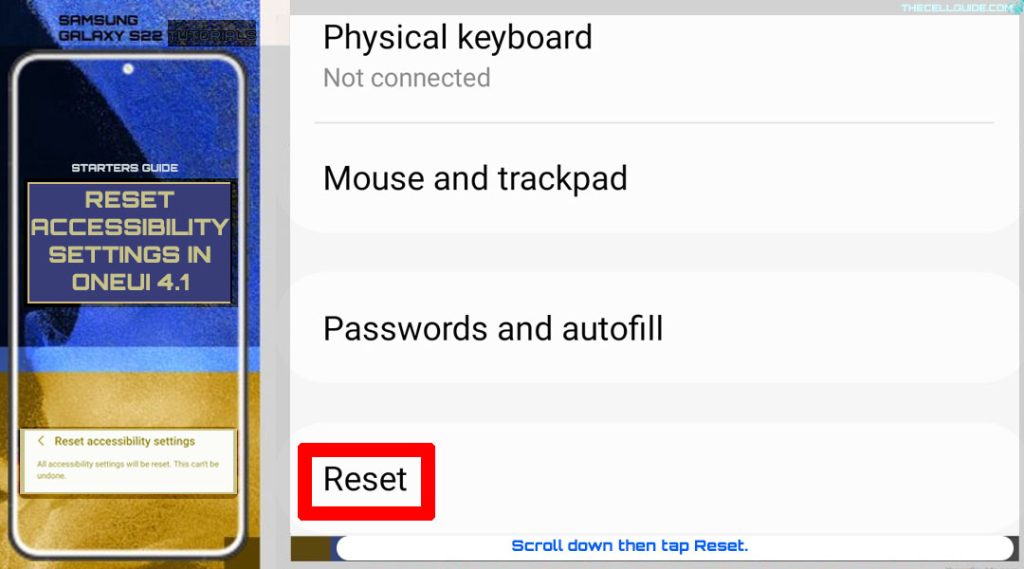 Step 4: Another menu opens with all available reset options. Find and then tap Reset accessibility settings.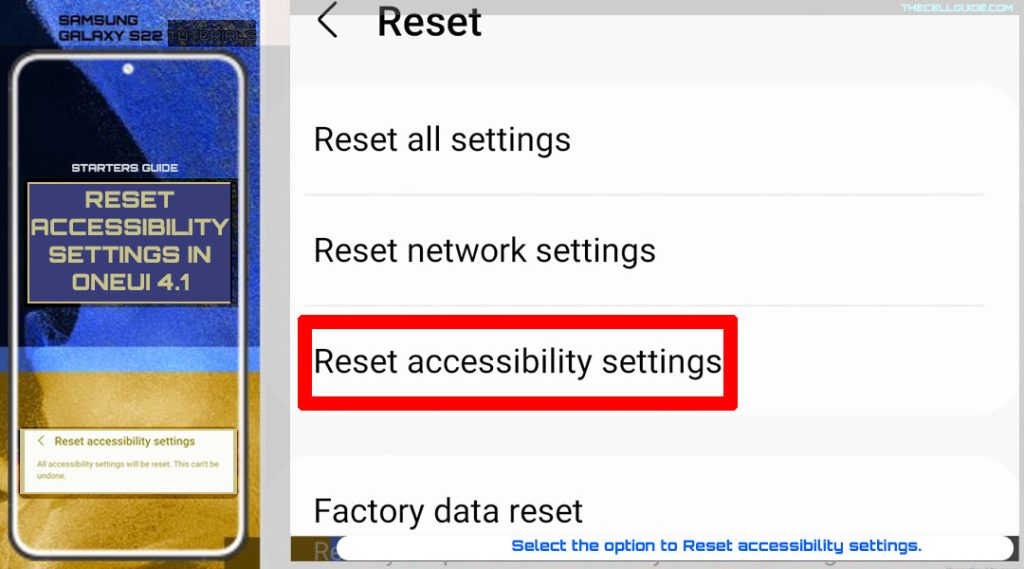 Step 5: Read the reset details to how the reset works and then tap Reset settings to proceed.
When asked, enter the device PIN, pattern or password to authorize the selected reset command.
Step 6: Read the final message prompt on the next screen then tap the Reset button to confirm action.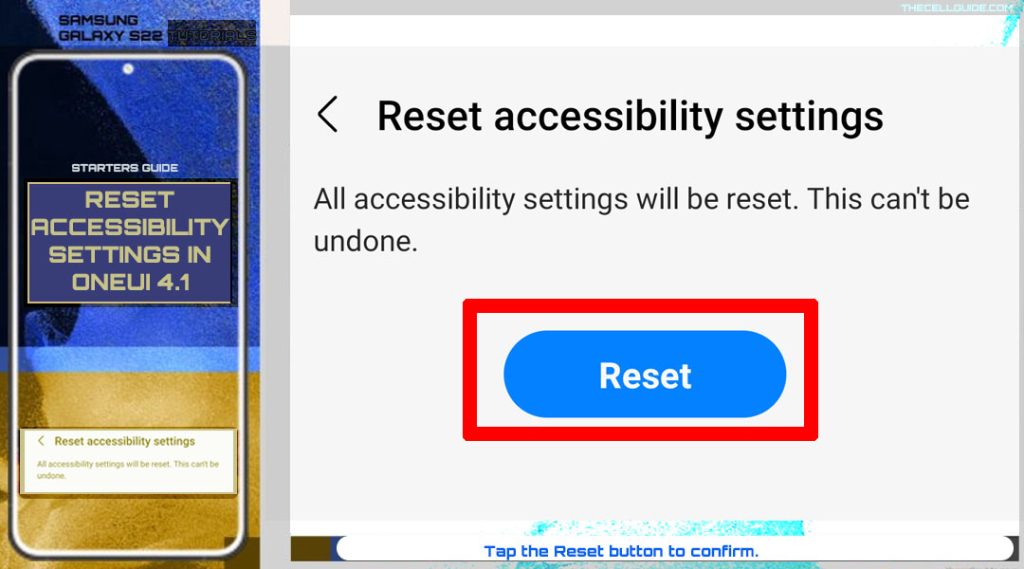 All recent changes made to the accessibility features will then be deleted and the default options and settings are restored.
Unlike other resets, a system restart won't be necessary after the reset as default settings are immediately applied.
When to Reset Accessibility Settings on your phone?
Resetting accessibility settings is often deemed necessary whenever things go wrong after customizing the phone's accessibility features. The same thing when the user finds the need to revert certain attributes such as contrast and color options, captions, magnification gestures, display and font size, and other relevant features back to their default values.
It can also be regarded among other potential solutions to in-app glitches transpiring in relevant applications.
Should you wish to reconfigure any of the accessibility features after the reset, just head back to the Settings-> General management-> Accessibility menu and then implement necessary changes.
And that's all about resetting accessibility settings on the new Samsung Galaxy S22 and other OneUI 4.1 Samsung devices.
Hope this helps!
Please check out ourYouTube channelto view more tutorial and troubleshooting videos for popular iOS and Android devices.
You Might Also Want To Read: