This post will walk you through restoring the default options for Samsung's built-in accessibility features including the screen reader Voice Assistant, font size and color, and high contrast mode among others. Here's a quick guide on how to reset accessibility settings on Galaxy A23 5g.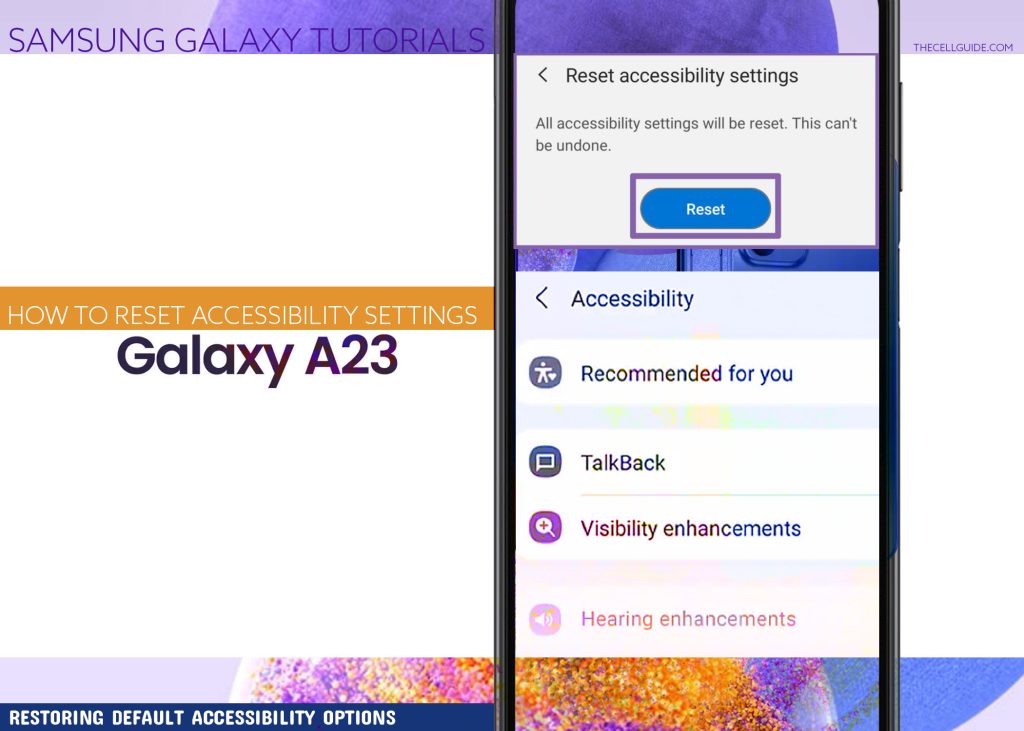 Samsung Accessibility Features
Every Samsung Galaxy phone is programmed to offer assistance to users with special demands. With the preloaded accessibility features, users of Samsung devices particularly those with hearing impairments, limited sight and those who have trouble with dexterity and interaction can make their everyday mobile routine a bit easier.
These features are entrenched in different Samsung phones including entry levels, mid-range and high-end variants. Available accessibility features may however vary between device models and software versions.
In Samsung phones running on Android 11 or later versions, inbuilt accessibility features include Scene Describer, Quick Reader, and Color Detector. These features are specifically designed to help users with visual impairments in navigation as well as label and sign comprehension in daily life.
And with the constant update released by Samsung's software development team, more and more accessibility features have been added to address other special users' demands.
In order to make the device work according to individual users' preferences, Samsung Galaxy phones' accessibility features are also customizable. This means that you can change the default options and configure relevant features to work according to your needs.
And if things go wrong after applying a series of settings alterations, Samsung also offers a reset button for users to tap on. Thus, the command to Reset accessibility settings is listed among other reset options on every Samsung phone.
Outlined below are the steps to reset accessibility settings on the Samsung Galaxy A23 5g smartphone. If you own this device and need help carrying out this reset, then you can refer to the outlined procedure as follows.
Steps to Reset Accessibility Settings on Galaxy A23 5g
These steps are also applicable when restoring the default accessibility features options and configuration on other Samsung phones running on the same Android or One UI version. To ensure all key features and menu items are present, keep your device software updated.
Feel free to start whenever you're all set to configure your device.
Step 1: First, tap Settings from the Home screen or Apps tray to launch the settings menu.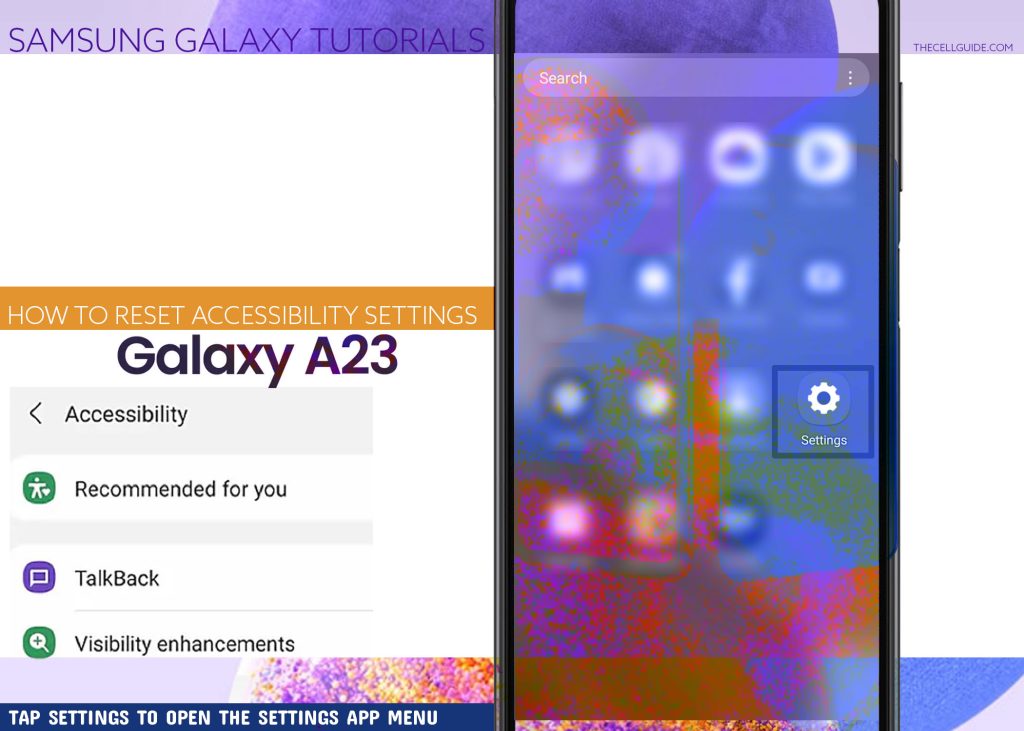 Step 2: While in the main settings menu, find and then tap General management. Another menu will launch with a list of features for general system management purposes.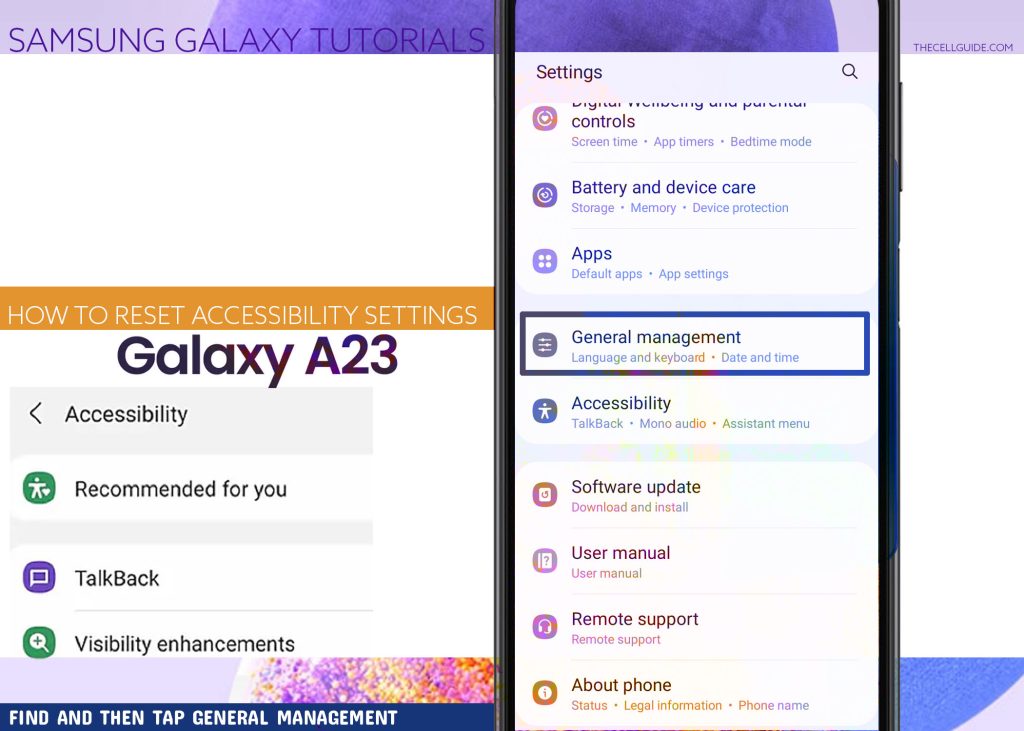 Step 3: Find and then tap Reset to proceed. Different reset options will load up on the next screen.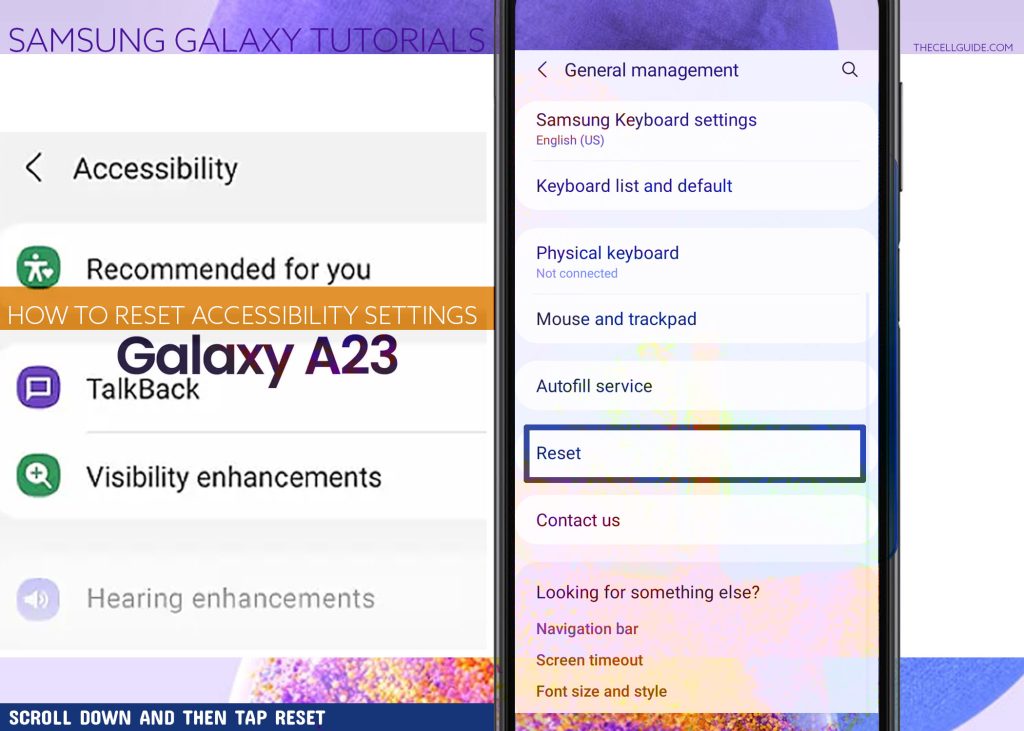 Step 4: Select the option to Reset accessibility settings.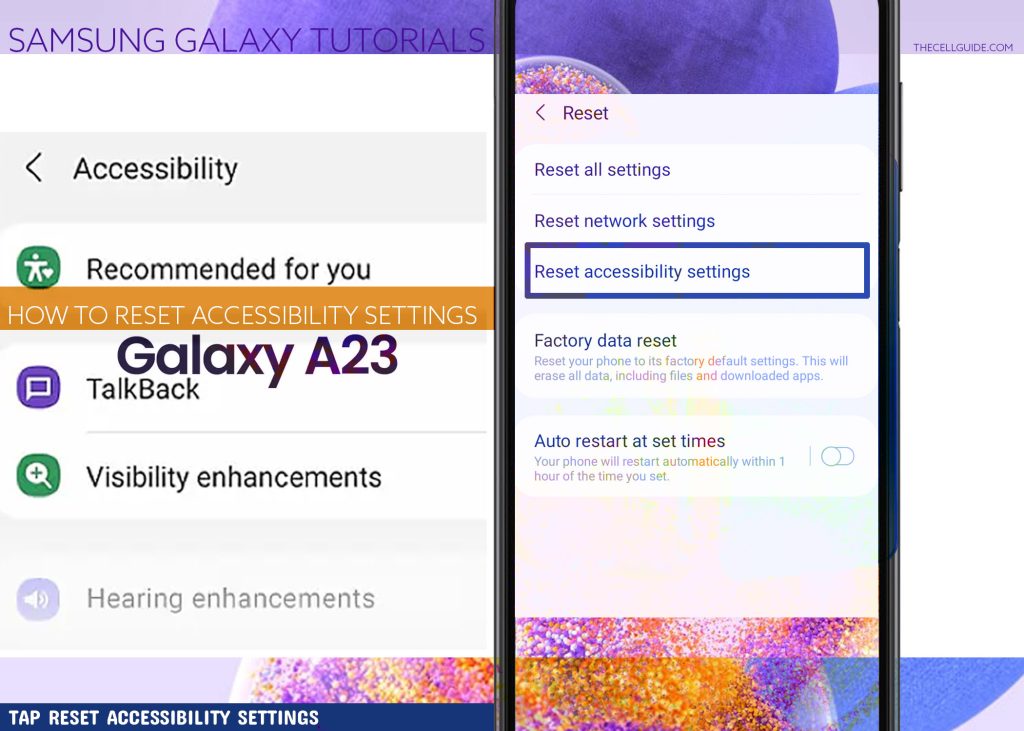 Step 5: On the succeeding menu, read the brief overview of the reset and then tap Reset settings to continue.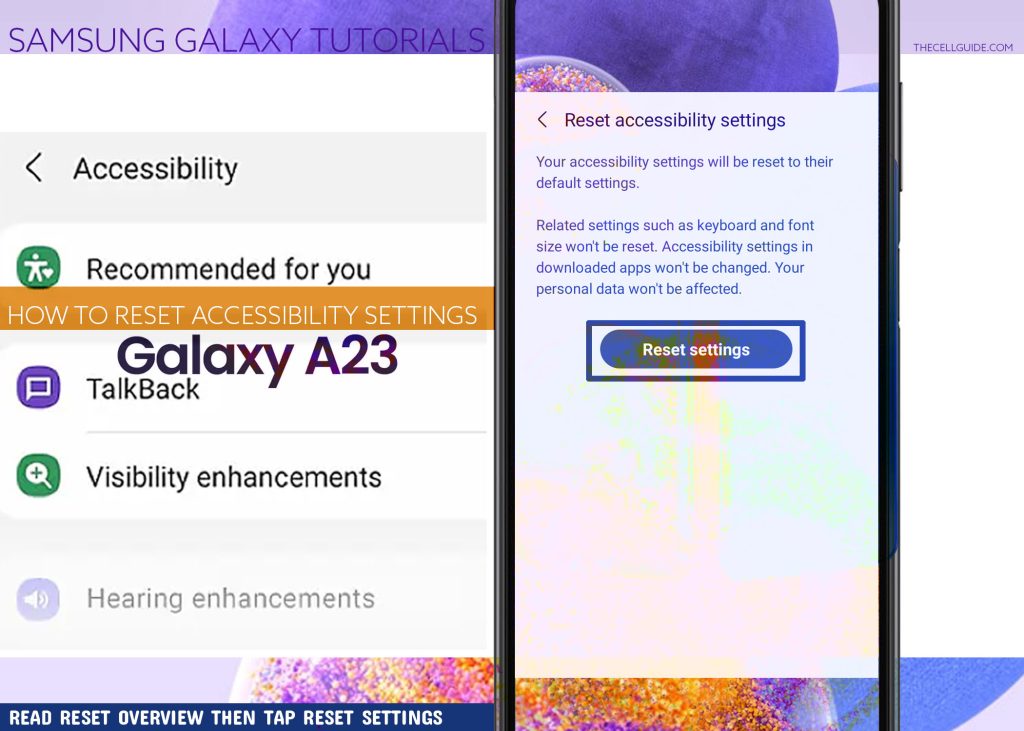 Step 6: Finally, read and review the final warning and then tap Reset to confirm.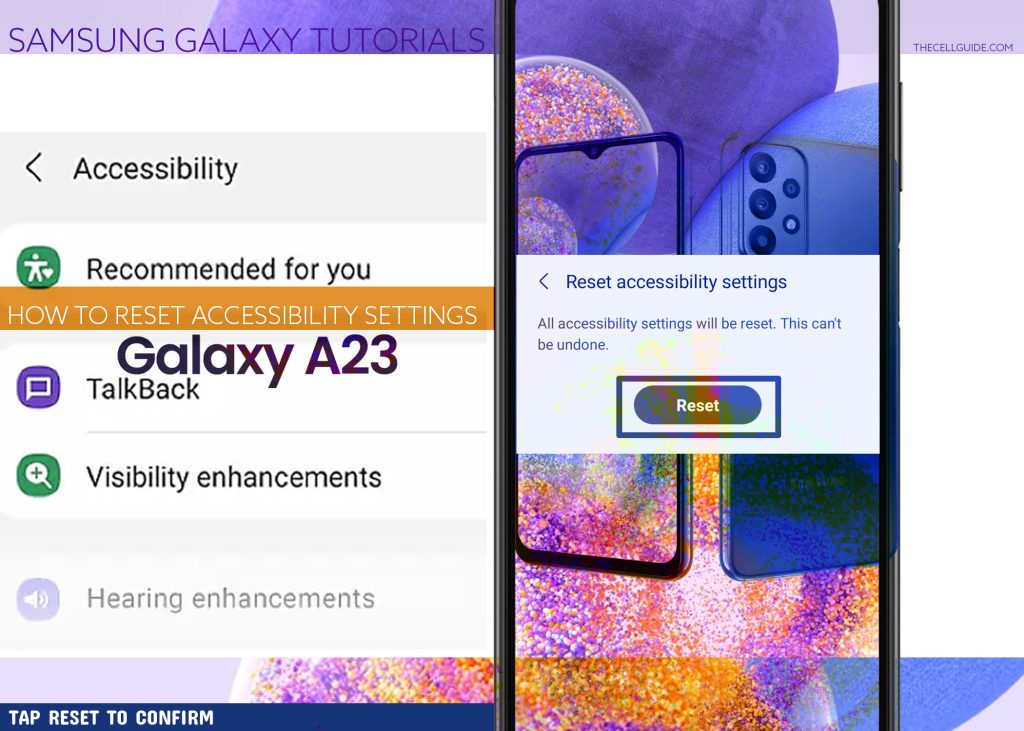 The phone will then delete all recent custom changes made to any of the preloaded accessibility features and then restore the default values and options.
This action cannot be undone so you'll need to manually reconfigure individual accessibility features to make your phone work accordingly.
What happens when you reset Accessibility Settings?
Performing this reset will restore your phone's accessibility features to their default settings.
Relevant settings for keyboard and font size will not be affected with this reset so your current keyboard and font configurations will be retained.
This reset also does not change the accessibility settings for downloaded applications as well as your personal data saved on the phone.
Resetting accessibility settings is likewise deemed a potential solution to random system flaws, particularly adverse system behaviors and symptoms that emerge after altering the default accessibility options including TalkBack, Visibility enhancements, Hearing enhancements, Interaction and dexterity, advanced accessibility settings and accessibility services you download and install from the Galaxy Store or Play Store app.
And that's all about restoring the default options for accessibility features with the integrated reset accessibility command on the Samsung Galaxy A23 5g smartphone.
Hope this helps!
Please check out our YouTube channel to view more tutorial and troubleshooting videos for popular iOS and Android devices.
You Might Also Want To Read: