Need help retrieving an important email that you accidentally deleted on your new iPhone? This post will help you do so. Read on to learn how to recover deleted emails in iPhone 13 Mail app.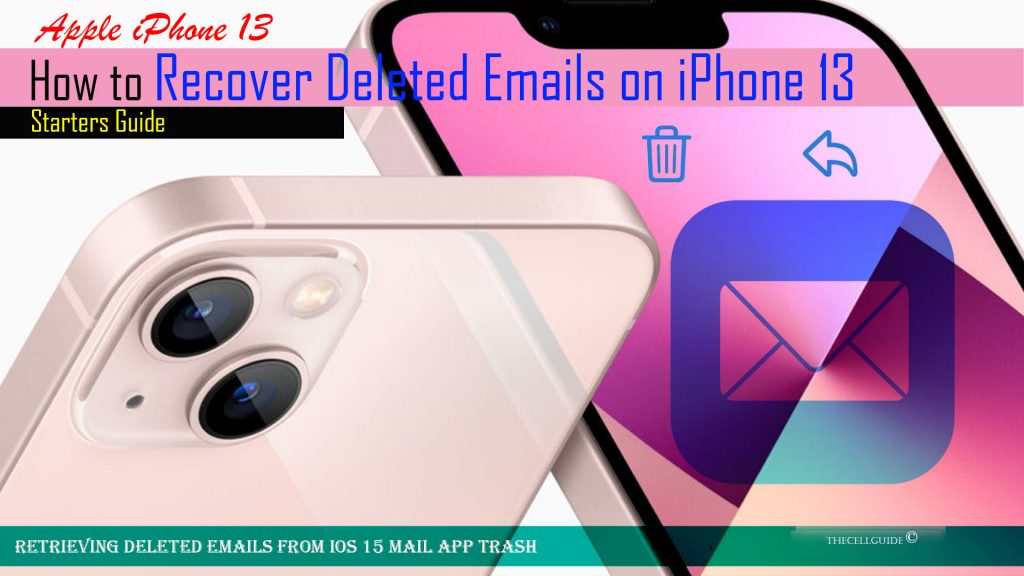 Retrieving Emails from Trash in iOS 15 Mail
Typically, most email apps are programmed to move deleted messages to a designated folder like trash or deleted items. Messages that are moved into these folders will remain in there for a certain period before they're deleted permanently. This allows users to retrieve any important message that was deleted unintentionally. Such a feature is also offered in the preloaded iOS email program, the Mail app.
Accidentally deleted emails in iOS devices are retrievable for as long as they're not permanently deleted. By default, deleted email messages on an iPhone will be stored in the Trash folder for 30 days before they will be erased permanently unless you've changed this setting on the Mail app.
If you own an iPhone 13 and are wondering how to retrieve deleted emails in the Mail app, I've mapped out a simple walkthrough for reference.
Easy Steps to Recover Deleted Emails in iPhone 13 Mail App
The following steps are also applicable when retrieving accidentally deleted emails on other iPhone models for as long as they're running on the same iOS version with the iPhone 13 series.
Actual screens and menu items may vary between device models and service providers so expect some slight difference on the user interface.
Prerequisites:
Before you begin, verify and ensure that you've already set up your email account on your iPhone 13 mail app and that you're currently logged in. Otherwise, sign into your account by entering the correct account credentials (email address and password).
Also make sure that your iPhone is connected to the Internet and that the connection is stable.
Once you've got everything set, you may proceed and carry out these subsequent steps to retrieve individual email from Trash.
Step 1: Tap the Mail icon from the Home screen to launch the stock email application on your iPhone. By default, you'll be routed straight to the Mailboxes section. If not, then tap Mailbox on the upper-left corner to return to the Mailboxes menu.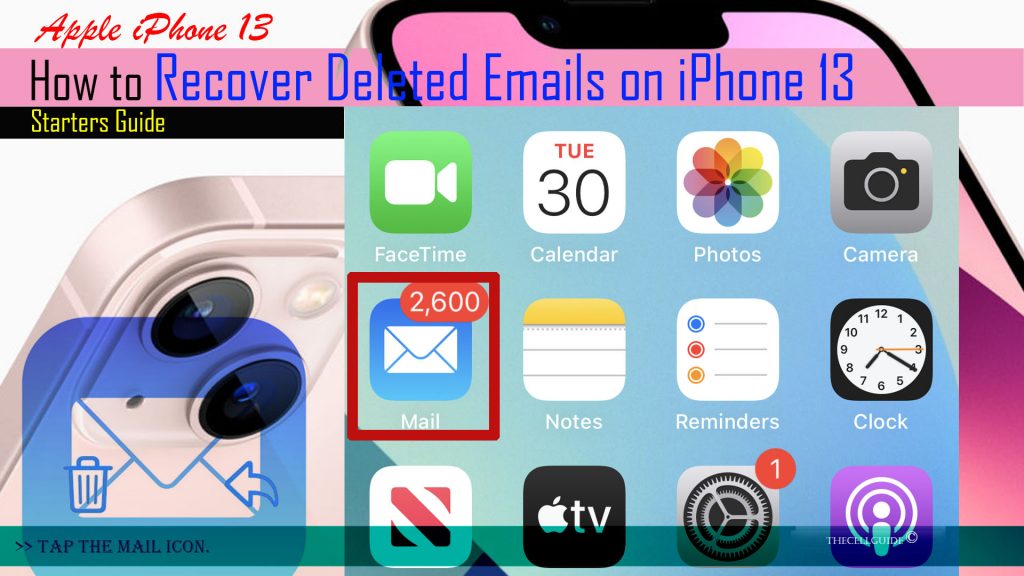 Step 2: While on the Mailboxes menu, scroll down and tap Trash. Doing so opens a list of all emails you've deleted recently.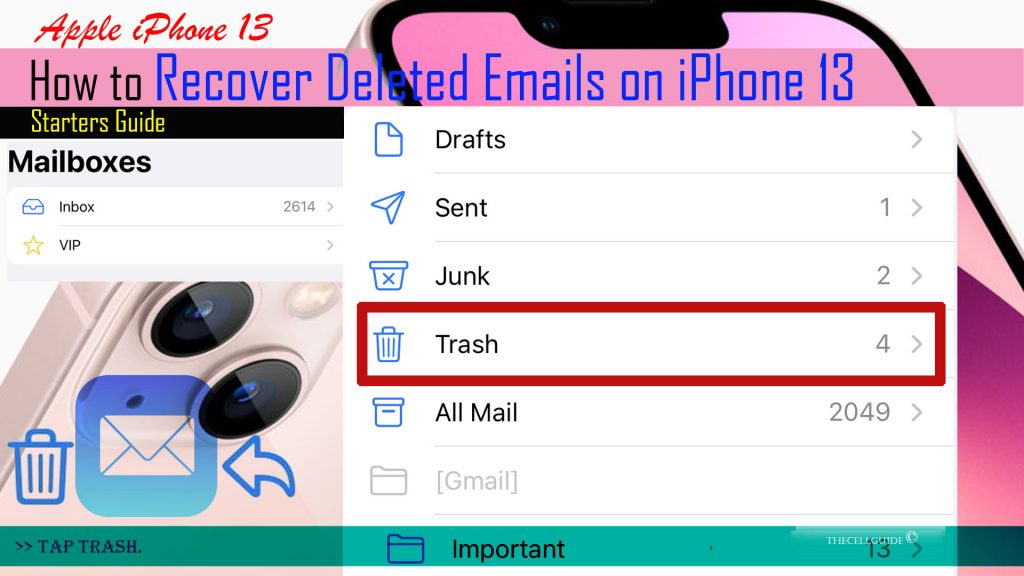 Step 3: Find the email that you want to retrieve and then tap on it. When the email message is opened, you will see different options or controls at the bottom.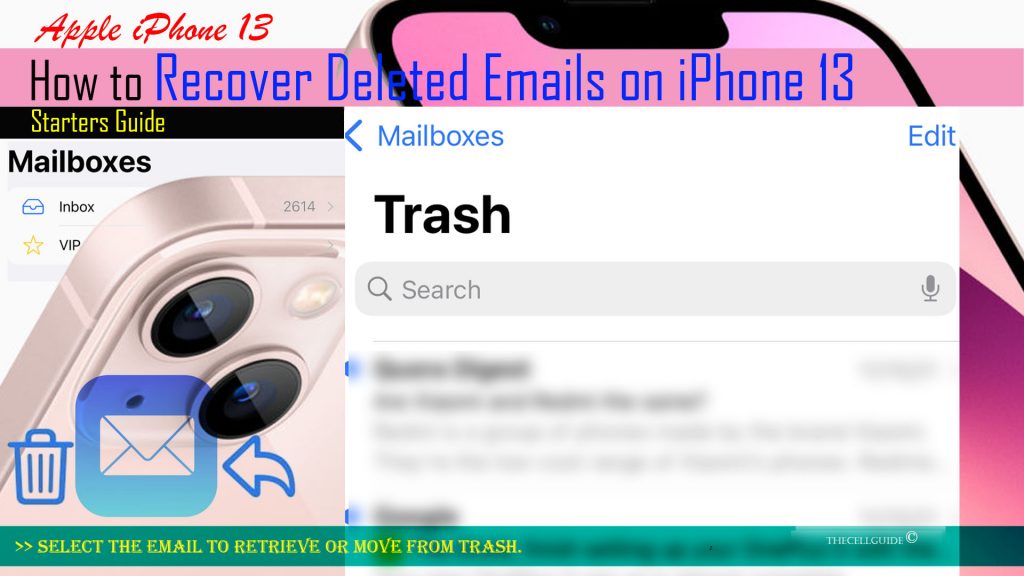 Step 4: Tap the Folder icon to proceed. Doing so will prompt you with the available locations/folders for you to move the selected email to.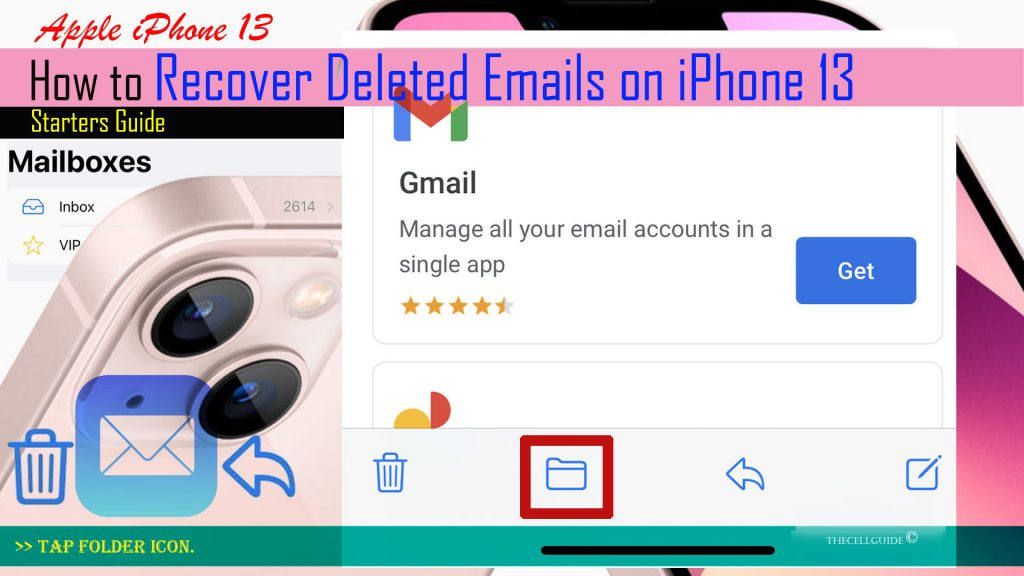 Step 5: Select Inbox to move or restore the selected email back to your Inbox. By then you should be able to view and access the email straight from your inbox. You can also move the mail to another folder if you want.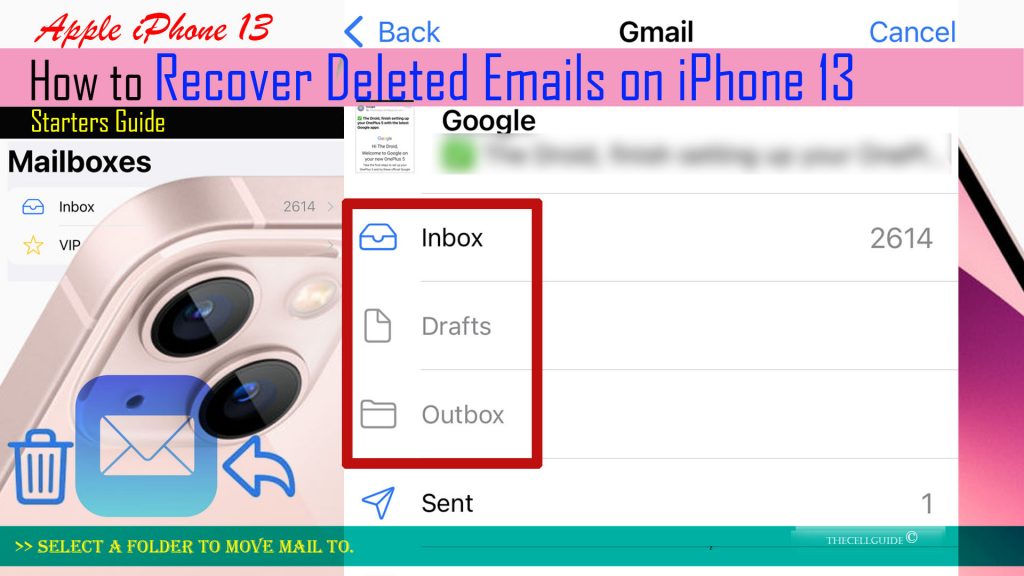 Retrieving Multiple Emails from the Mail App Trash
There is also an option for you to retrieve multiple deleted messages at once. This method will save you time from scouring through individual mails from the trash folder to move back to your inbox.
Just follow these steps:
Step 1: Tap the Mail app icon from the Home screen to access your iPhone's mailboxes.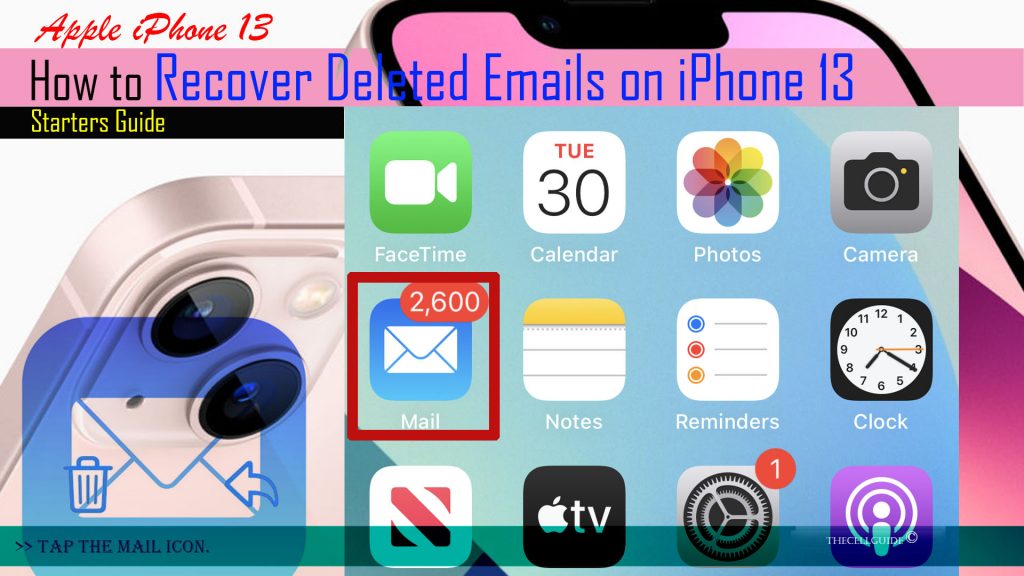 Step 2: While on the Mail app screen, tap Trash to access all recently deleted emails.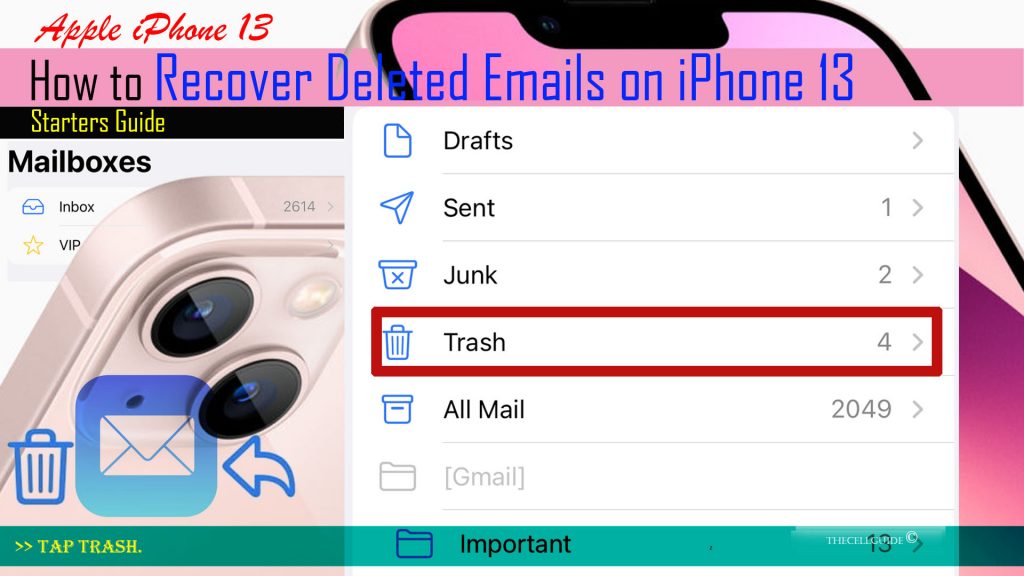 Step 3: Tap the Edit option located on the top-right corner of the screen.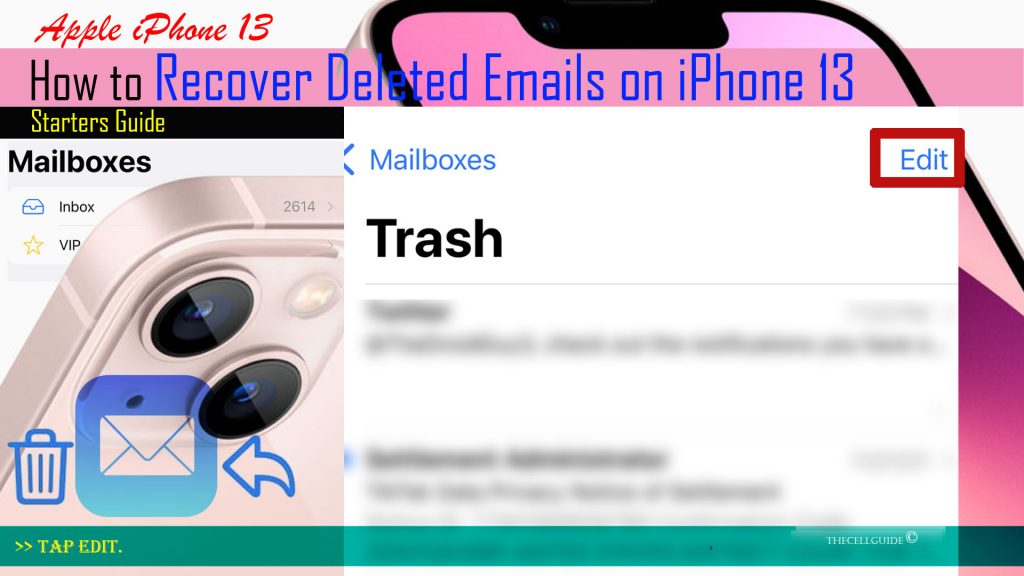 Step 4: Tap Select All to highlight all the emails inside the folder that you'd like to retrieve.
Step 5: When you're done selecting all the emails, tap Move at the bottom.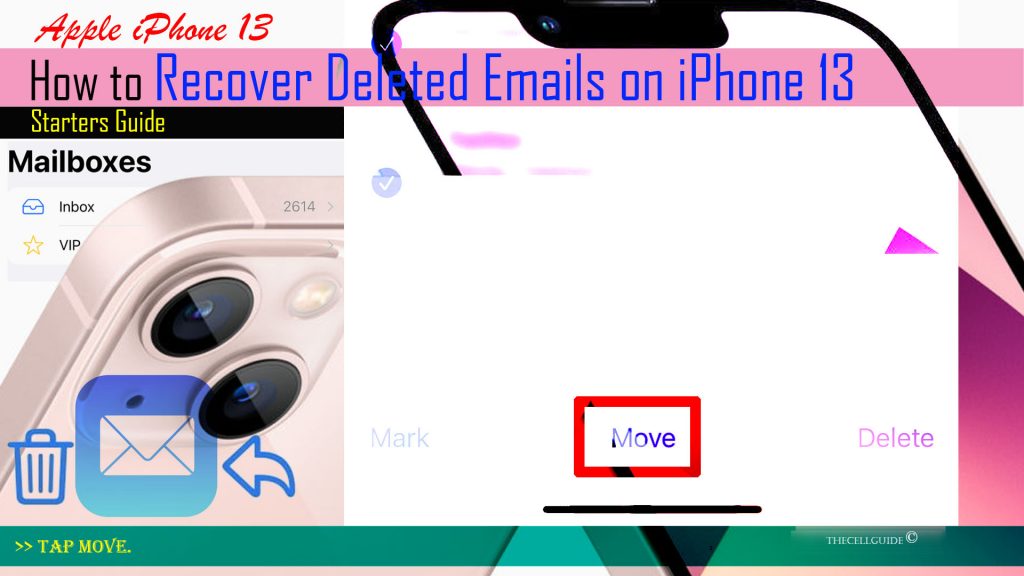 Step 6. Tap Inbox to move all selected emails back to the Inbox folder. Or, you can also specify which other folder you'd like the selected emails to be moved to.
The selected emails will then be removed from the current folder and then move back to your inbox or new specified folder.
Couldn't Find the Email from Trash?
One of the common reasons as to why you couldn't find a specific email message is that you're actually logged into a different mail account. To clear this out, check your account credentials.
In the case where the email is not found inside the Trash folder, it's possible that it's routed to another folder such as Junk, Starred, or Spam.
The easiest way to check is to open or access each of the available folders until you find the email.
There is also an option for you to view all messages in your account regardless of which folder they're in including the ones that you've archived.
To get there, simply tap the All Mail option and you should be routed to another menu that contains all your email messages.
Alternatively, you can view your iCloud backup to view and access your backup files including mails.
Unable to recover deleted messages?
Again, verify and ensure that you're signed into the correct mail account. Double-check your email address especially if multiple accounts are set up on your device.
If for some reason you can't move email from trash back to inbox, force close and then relaunch the Mail app. Once the app is finished loading up, retry retrieving the email.
Restarting or performing a soft reset on your iPhone is also recommended to clear out random software glitches that might have caused temporary Mail app problems and errors.
To avoid bumping into some email issues when using the built-in mail app on your new iPhone, be sure to keep your device software up-to-date.
And that's how you retrieve deleted emails in the iOS 15 iPhone mail app.
Hope this helps!
Please check out our YouTube channel to view more tutorial and troubleshooting videos for popular iOS and Android devices.
You Might Also Want To Read: