This post will walk you through reducing power usage by putting any idle apps on the newest Samsung flip smartphone to sleep mode. Here's a quick guide to put unused apps to sleep on the Galaxy Z Flip4 device.
Estimate Cost : 0
Time Needed : 3 minutes
There are plenty of ways for you to manage power usage among apps on your Samsung Galaxy smartphone. You can limit or put some restrictions for certain apps to stop running  in the background.

For those apps that you seldom use but don't want to be deleted from your phone permanently, you can put them in sleep mode to prevent them from utilizing power in the background.

If you're new to Android phones with One UI OS like the Galaxy Z Flip 4 and wondering how to activate this feature, then you can feel free to refer to the outlined instructions.

To start, navigate to the Home screen or Apps screen then tap the Settings icon, which appears in a gear-shaped image.




Alternatively, you can launch the quick settings panel then tap on the gear icon to launch the Settings app.

While in the Settings menu, scroll to find Battery and device care then tap on it to proceed.




The Device care menu opens next. Here, you will see the core system directories of your phone.

Tap Battery to proceed.




Battery-related features and options to manage power usage will load up on the next screen.

Find Background usage limits from the given options then tap on it to continue.




On the succeeding window, you'll see the main toggle to put all unused apps to sleep mode.

Simply tap to turn the Put unused apps to sleep switch ON.




The switch turns green or appears highlighted when the feature is activated. Any unused apps will be automatically put to sleep until you turn the feature OFF again.
Keeping this feature on will prompt your device to automatically put apps that are not in use to sleep mode, and thereby stop them from consuming power.
Different Sleeping App Categories
There's also an option for you to manually segregate unused apps and group them to the Sleeping apps, Deep Sleeping apps, or Never Sleeping apps category.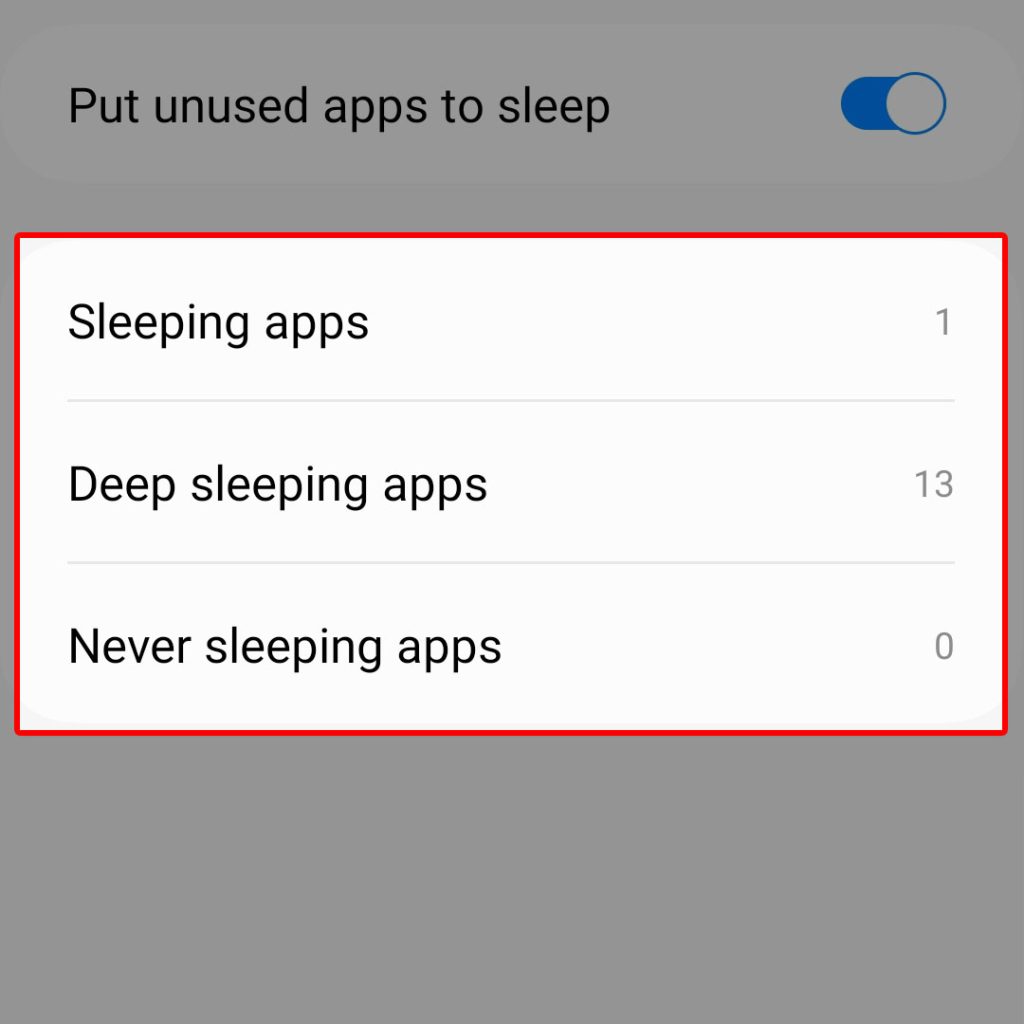 Sleeping apps are all apps that are currently sleeping but may still run in the background when triggered or used again.
Deep sleeping apps are all apps that will never run in the background and only work when you launch/open them on your phone.
Never sleeping apps are all apps that will never sleep or turn off in the background and thereby always ready for use.
To manually add individual apps to the Sleeping apps category, tap Sleeping apps then tap the Plus (+) sign on the top-right corner of the next screen. Select the app(s) then tap Add to put the selected app(s) in the Sleeping app category.
You can also remove a certain app from the Sleeping apps category. To do this, simply tap on the three dots located on the top-rightmost corner then tap Remove. Select the app(s) that you'd like to delete from the list then tap Remove to confirm.
Follow the same steps to manually add or delete app(s) to/from the other Categories like Deep sleeping and Never sleeping apps.
And that's all about limiting unused apps power usage on the Galaxy Z Flip 4 smartphone by putting them all to sleep.