This post will help you free up some storage space on the new Apple iPhone 13 using the iOS offloading app function. Here's a quick guide on how to offload unused apps on iPhone 13 running on the latest iOS 15.2 platform.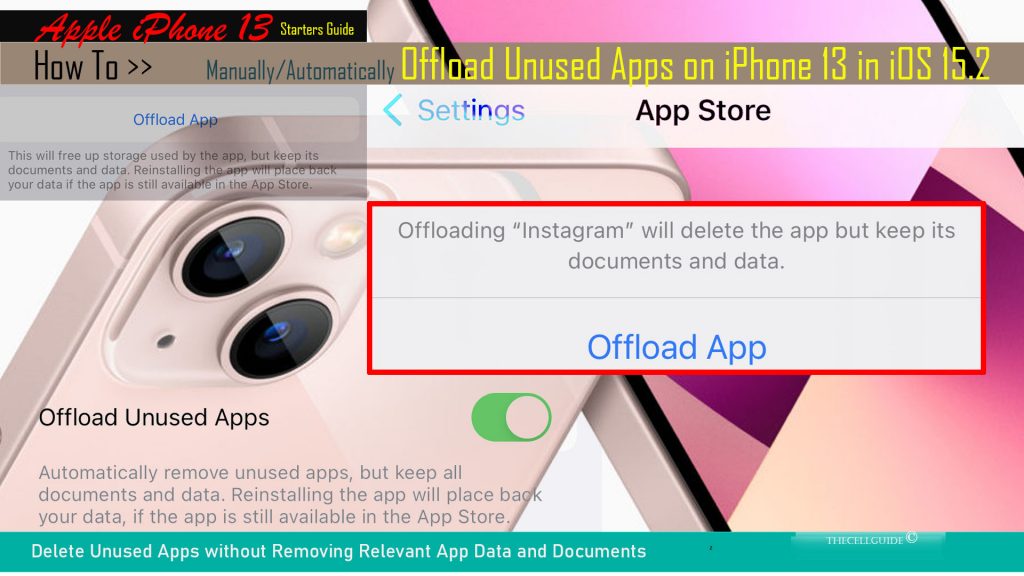 Wondering how to remove an app without deleting the relevant files and data on your new iOS device? If that's so, then you can just execute the iOS 15 command to offload unused apps. Read on for more detailed instructions.
Offloading Unused Apps in iOS 15
Most of the recently released mobile devices, particularly high-end smartphones are already packed with huge storage space to allocate more apps, quality videos and images and other multimedia content. But regardless of how big the storage these smartphones entrenched, in time this would still shrink as more and more contents are added. And this is when external and cloud storage comes to aid. Aside from supplementary storage, deleting old and unused contents is also recommended.
In iOS devices, freeing up storage space can also be achieved through a built-in iOS feature called Offload unused apps.
The main difference between deleting (Delete apps) and offloading (Offload apps) an app is that the latter deletes the app without affecting all related documents and data while deleting an app will delete or remove the app and all related data from the device.
Offloading apps on the iPhone 13 can be done manually and automatically.
To give you some input on how to carry out manual and automatic offloading of iOS apps, I've mapped out the steps as follows.
Easy Steps to Offload Unused Apps on iPhone 13 (iOS 15.2)
The following steps are also applicable when manually and automatically offloading unused apps on other iPhones that have the same iOS version with the iPhone 13 series.
However, you may see some slight differences on the actual interface given that screens and menu options vary between device models and wireless service providers.
Start whenever you're all set to configure your device.
Manually offloading individual apps in iOS 15.2
These steps depict the actual process of manually offloading individual applications on the iPhone 13.
Step 1: Tap the Settings icon from the Home screen to launch the iOS Settings app.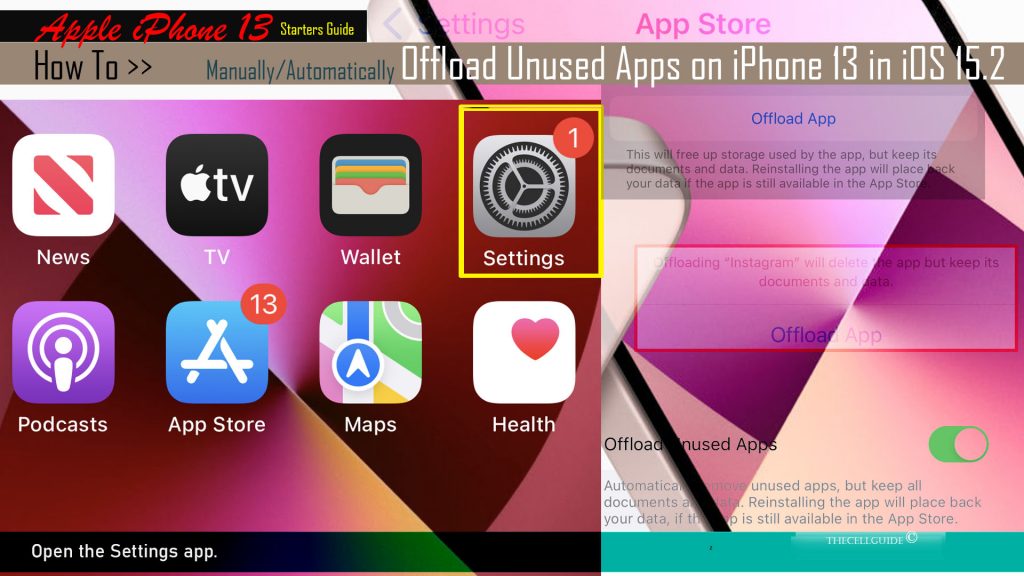 Step 2: While on the main Settings menu, scroll to find and then tap General.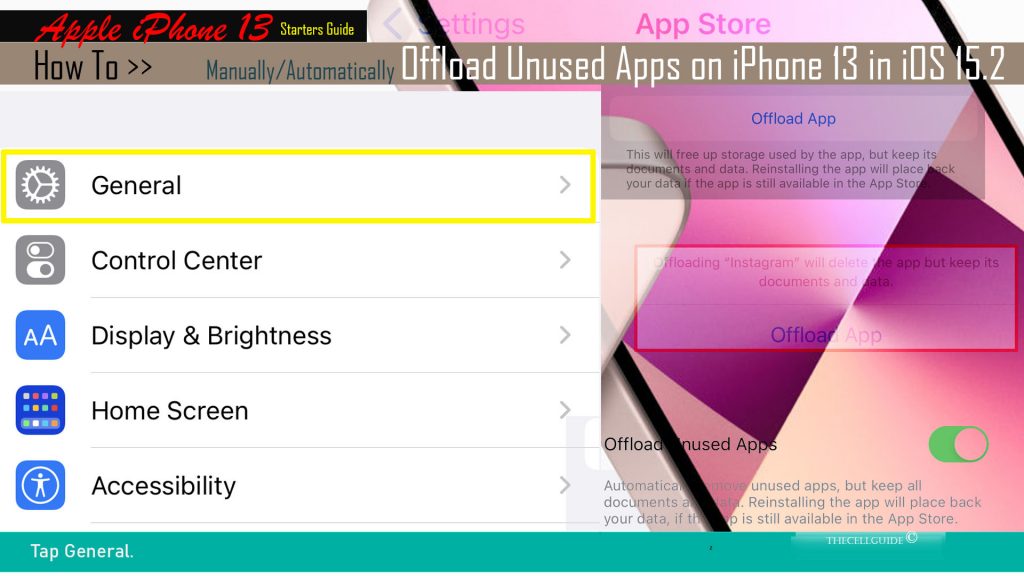 Step 3: To continue, tap iPhone Storage. More details about the current iPhone storage status will show up next. A breakdown of storage used up by individual apps will also be displayed on this menu.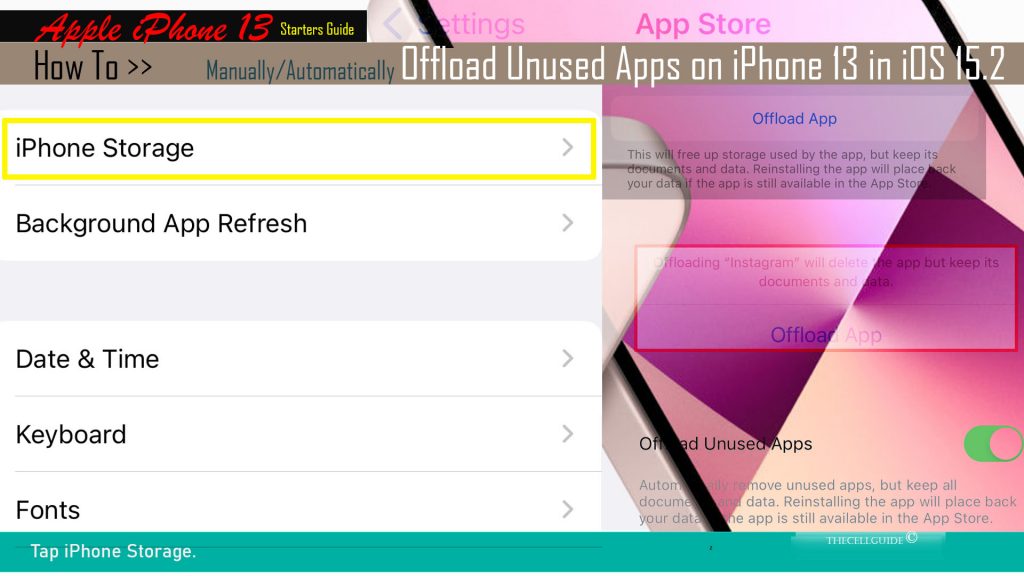 Step 4: To manually offload each app, scroll to find and then tap the app that you'd like to offload. Doing so will take you to the App Info screen.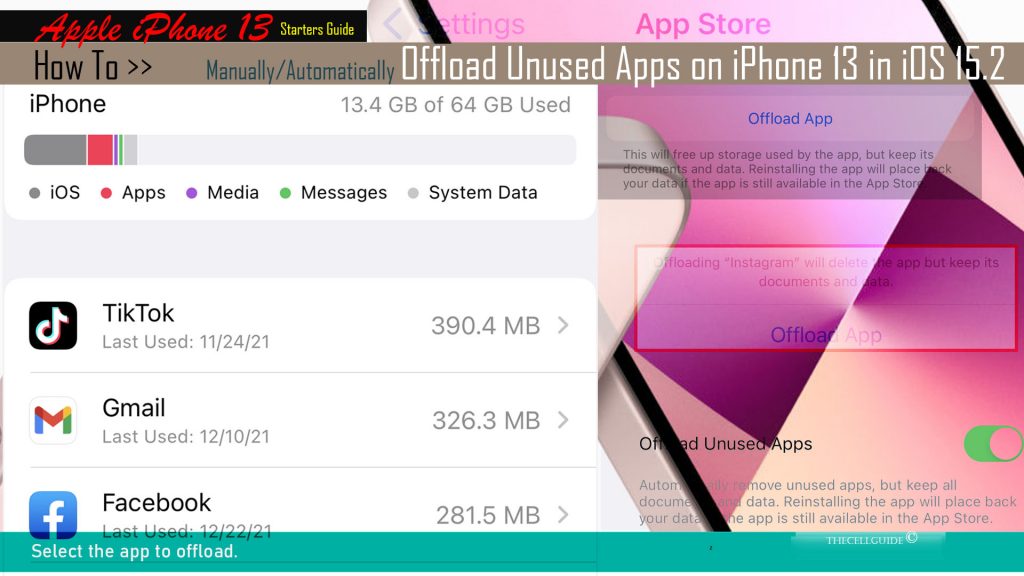 Step 5: While on the App Info screen, tap the option to Offload App.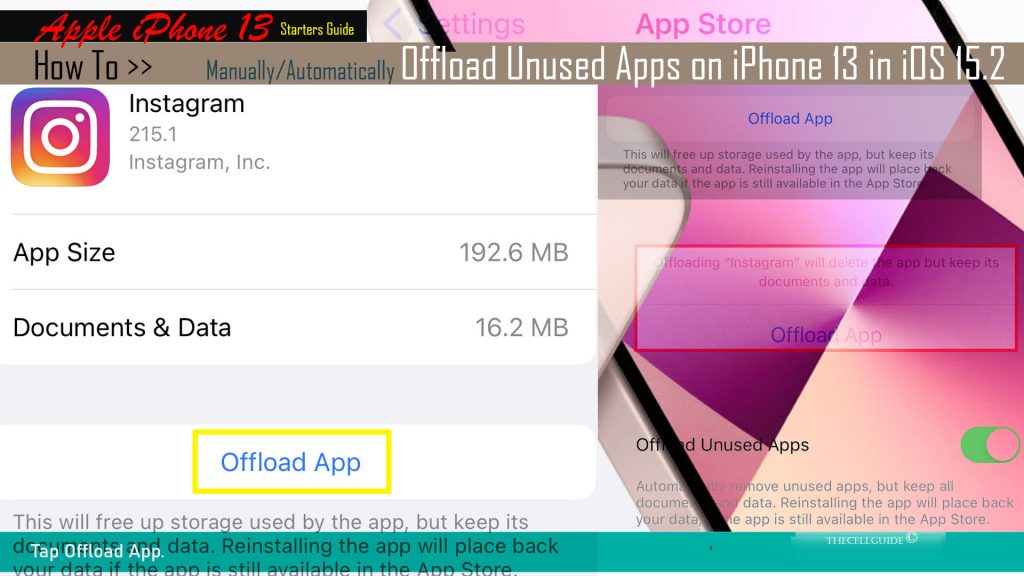 Step 6: Read and review the pop-up message and then tap Offload App to confirm.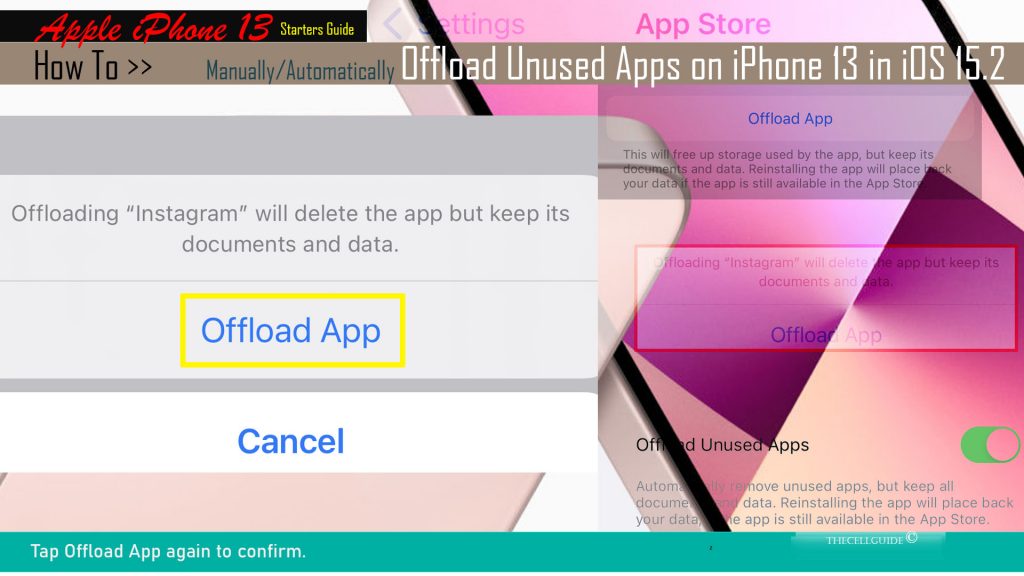 This process will free up storage used by the selected application while keeping the app's data and documents.
Automatically delete unused apps (Offload of Unused Apps) in iOS 15.2
These steps depict the actual process of activating the iOS feature to automatically offload unused apps on the iPhone 13.
Step 1: Tap the Settings icon from the Home screen.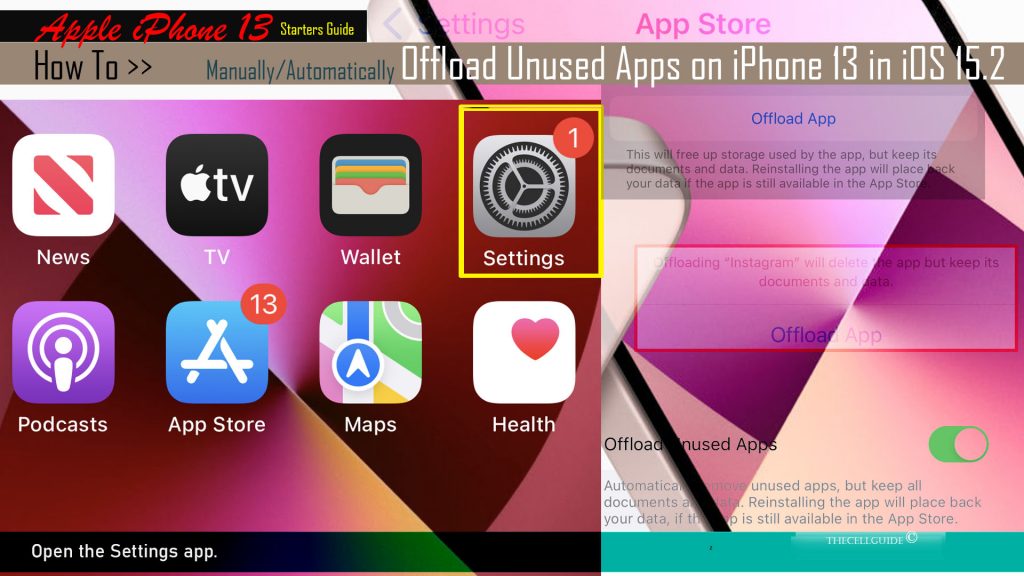 Step 2: While on the main Settings app menu, find and then tap App Store.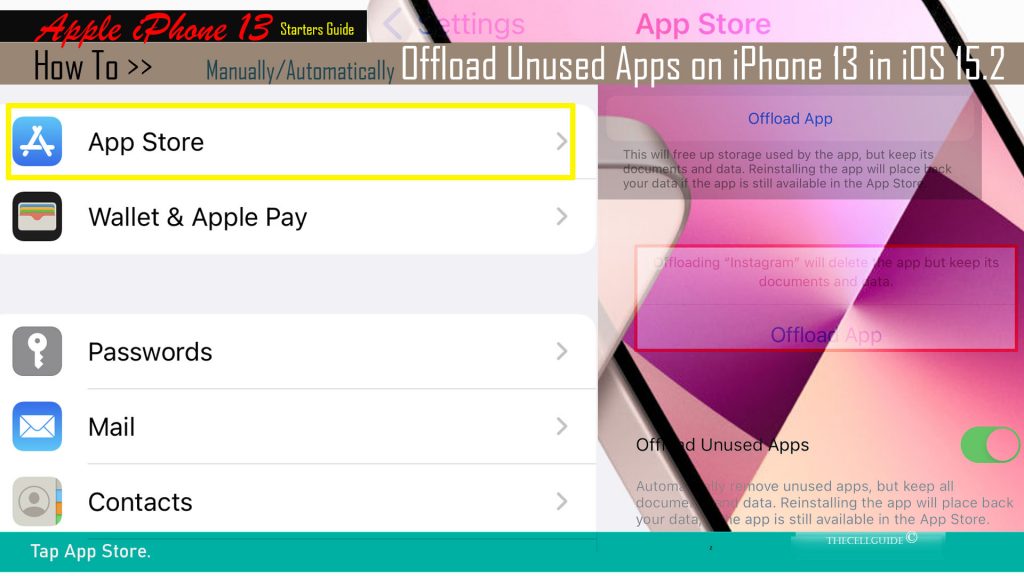 Step 3: On the App Store menu, scroll down to the lower section and then toggle to turn the Offload Unused Apps switch ON.
When the Offload Unused Apps switch turns green, it means that the automatic offloading app feature is activated.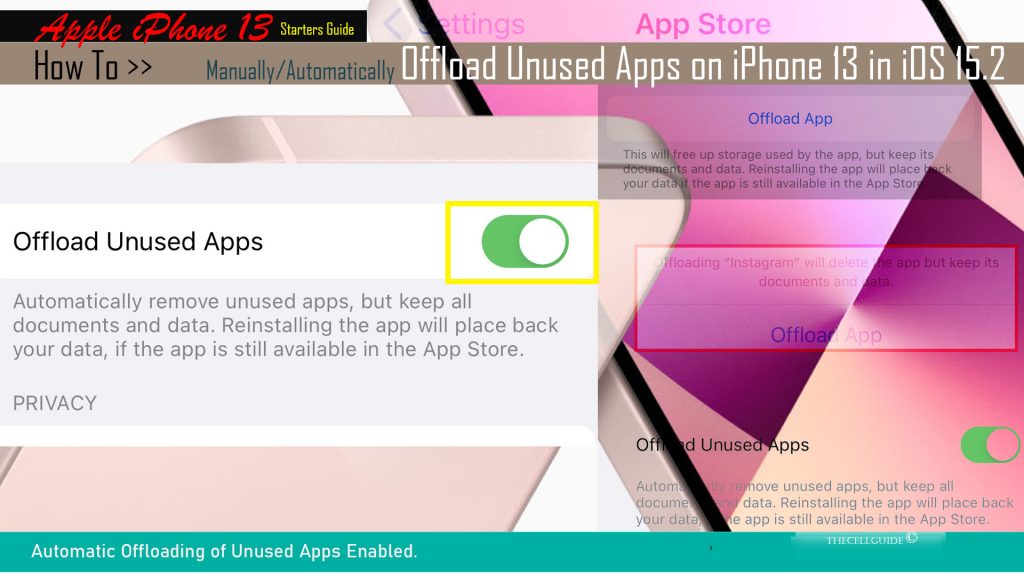 By then, your iPhone should automatically remove unused apps but retain all relevant app data and documents.
Should you wish to retrieve this data, all you have to do is reinstall the app in the App Store.
All your data should be restored for as long as the app is still available in the App Store.
When to Offload Apps on your iPhone?
Aside from freeing up storage space, offloading apps manually or automatically is also deemed among other potential solutions to various app-related issues on an iPhone. Among the symptoms that can be rectified by offloading apps include random to frequent app crashes, not loading, freezing, and crashing upon loading of a certain application.
And that's how to offload apps on the new Apple iPhone 13 in iOS 15.2.
Hope this helps!
Please check out our YouTube channel to view more tutorial and troubleshooting videos for popular iOS and Android devices.
You Might Also Want To Read: