This post will walk you through muting calls from unknown callers in iOS 15.4.1 devices. Here's a quick guide on how to silence unknown callers on iPhone 13 and other iPhone models with the latest iOS version.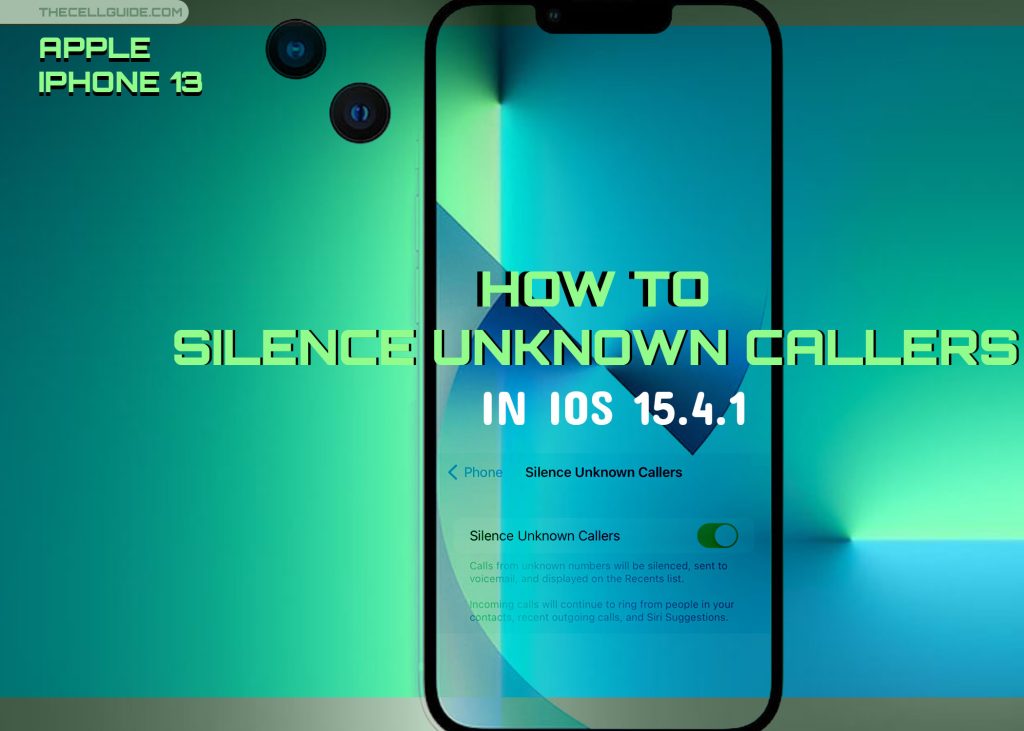 Getting scam and spam calls is becoming rampant these days and thus, any device can get calls of these types at any time. To address such forms of nuisance, smartphone manufacturers are pushing updates to augment privacy among smartphone owners. One of these is the updated iOS feature that mutes unknown callers on an iPhone.
Silence Unknown Callers in iOS 15.4.1
When Apple released the iOS 13 update, it integrated a dedicated feature to help combat spam calls in iOS devices. The new feature is called Silence Unknown Callers.
As the name implies, this feature works by silencing incoming phone calls from numbers that are not listed in your contacts. It's another type of blocking feature in iOS devices but with some exceptions as the blocked caller still has a chance to leave a voice message. The voice message from the silenced caller will be sent straight to the voicemail without the phone ringing at all.
Meanwhile, on the blocked caller's end, he/she would still be able to hear the standard number of rings before the voicemail answers. This makes the caller think that his/her call was muted or silenced.
If you don't want to waste your time answering unnecessary phone calls from unknown callers, enabling this feature is highly recommended.
Depicted below is the actual process of activating this phone feature in iOS 15.4.1 devices. Feel free to refer to this quick guide when needed.
Steps to Enable the feature to Silence Unknown Callers on iPhone 13
These steps are also applicable when configuring other iPhones to mute incoming calls from unknown numbers automatically.
Actual screens and menu items may vary between device models so expect some slight differences on individual device's interface.
Be sure to keep your iPhone software updated to ensure all key features and menu options are available.
You may proceed whenever you're all set to configure your iPhone settings.
Step 1: To get started, tap Settings from the Home screen to launch the iOS settings app.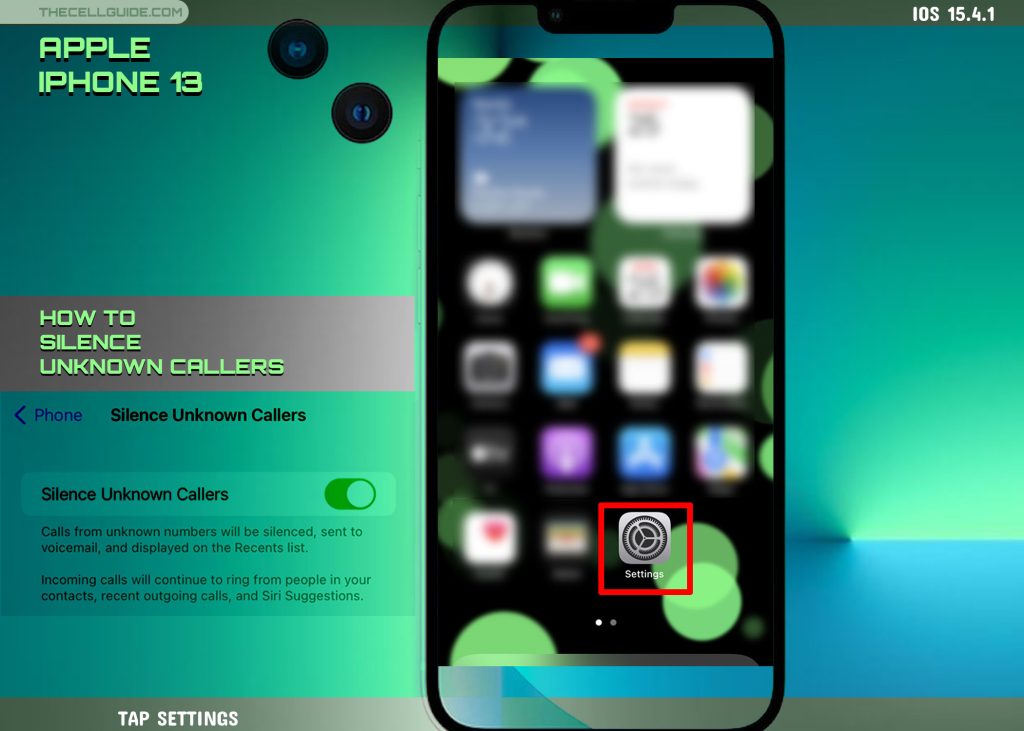 Step 2: While in the Settings app menu, scroll to find and then tap Phone. The in-built phone app settings menu opens next.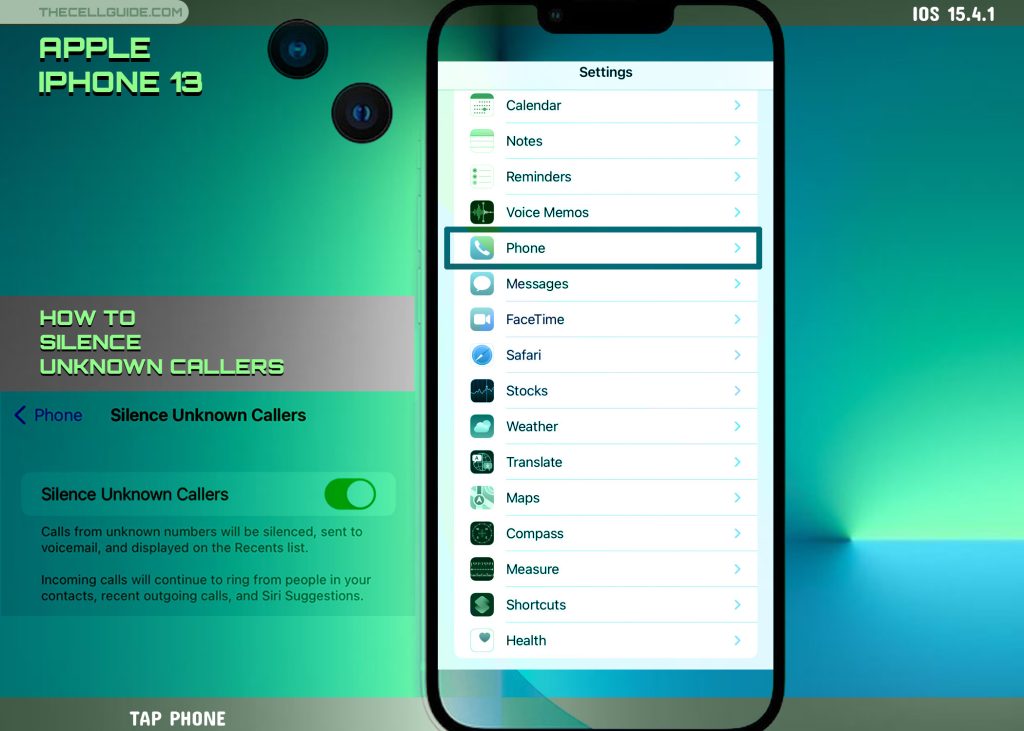 Step 3: Navigate to the Calls section and then tap Silence Unknown Callers.
Step 4: On the succeeding menu, turn on the switch next to Silence Unknown Callers.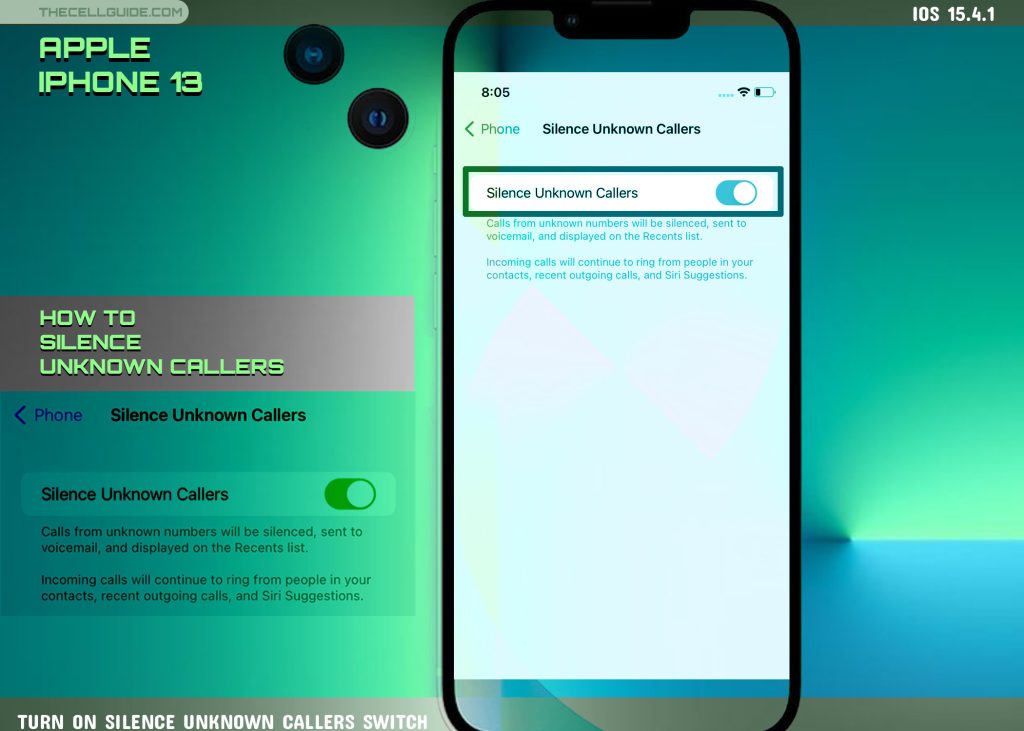 Doing so enables the in-built phone feature that mutes all calls from unknown numbers and automatically sends them to your voicemail.
The only way to make the call come through with Silence Unknown Callers switch turned on is to add the number in the contacts list.
The unknown calls will still appear on the Recents list so you can review and confirm whether or not that call is a scam or spam.
If after checking on your Recent calls tab you've found out that one of the previous calls is legit, you may opt to do a call back, when needed.
Other incoming calls from people in your contacts list, recent outgoing calls and Siri suggestions aren't affected with this setting and thus they will continue to ring.
Silence Unknown Callers Exceptions
Emergency calls are spared from this feature so you'd still be able to hear emergency calls ringing on your device.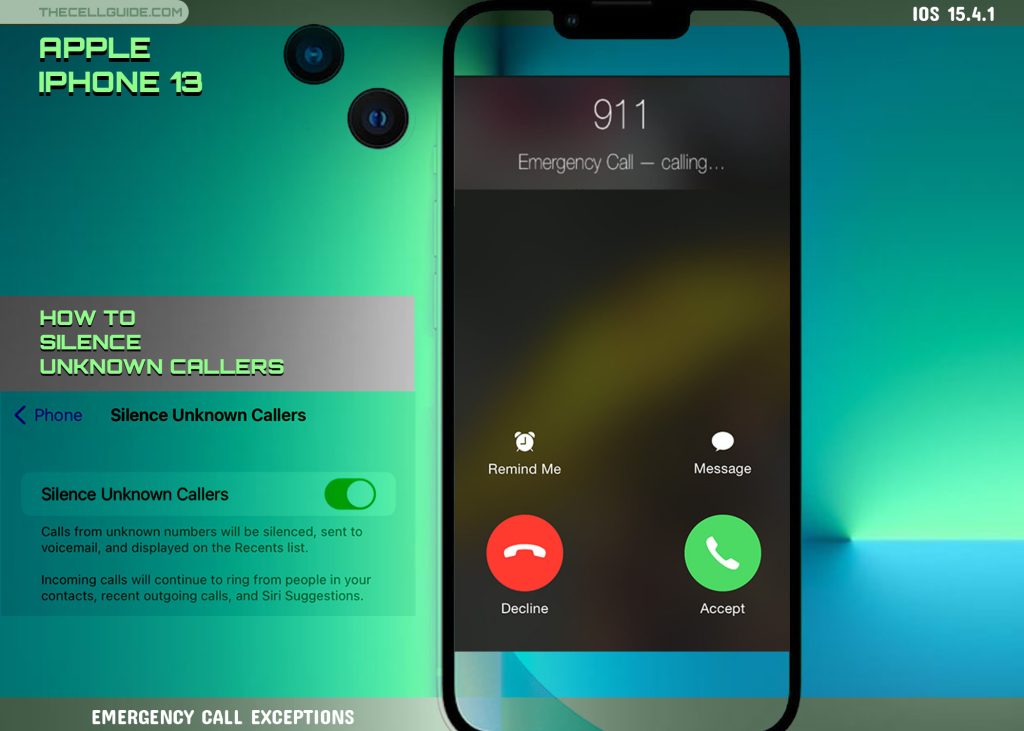 This is because the Silence Unknown Callers is designed to temporarily be disabled for the next 24 hours in order to make your iPhone reachable.
Other Ways to Filter Calls on iPhone 13
Apart from the built-in iOS feature, you can also make use of some third-party apps to filter calls on your iPhone 13.
The App Store also offers alternative tools that you can use to filter calls on your iPhone.
You can download and install any of these call blocking apps that's compatible with your iOS device.
To date, there are plenty of apps that can help protect you from being bothered by annoying scam callers.
Among the most-trusted spam call blockers for the iPhone 13 include Robo Shield, Hiya, YouMail & Spam Blocker, Nomorobo Robocall Blocking, AT&T Call Protect, T-Mobile Name ID and more.
Each of these tools offer different features that can be activated according to your needs.
In order to get the right tool for you, be sure to check user ratings and reviews, customer service offers, features and price.
Your iPhone allows you to download and install multiple apps with the said feature from different app developers.
Just be sure to grant permission to these apps so they can work on your iPhone as intended.
To access and manage this setting, just head over to your iPhone Settings-> Phone-> Call Blocking & Identification menu and then find and enable the app under the Allow These Apps To Block Calls and Provide Caller ID section.
With this setting, the phone will check the caller's number and compares it to the list of phone numbers in the third-party spam app whenever you receive a call.
You can manually block the phone numbers that are confirmed coming from spam callers. Doing so will tag and add that number in the Blocked Contacts.
And that's all about muting unknown callers and blocking scam calls on the iPhone using the iOS 15 Silence Unknown Callers feature.
Hope this helps!
Please check out our YouTube channel to view more tutorial and troubleshooting videos for popular iOS and Android devices.
You Might Also Want To Read: