This post will walk you through dealing with an issue on the built-in camera app that's not working properly on the iPhone 13. Read on to find out what to do if your iPhone 13 camera keeps crashing.
iOS Camera app crashes
Camera app crash emerges among the common problems encountered by many iPhone users following the iOS 15.0.2 update. It's when the camera app suddenly stops working and closes by itself. This issue can be attributed to some memory issues like when the device is running low on storage.
If you're experiencing the same problem after installing the latest iOS version on your new iPhone 13, then you can try some useful workarounds I've mapped out in this post.
What triggers a camera app to crash?
Aside from memory issues, there are also other factors that can trigger an app to crash and stop working on an iOS device. If the symptom instigates after an iOS update, then it's likely due to an iOS bug that's causing the camera app to glitch. If the problem started after you accidentally dropped your iPhone, then you're more likely dealing with a hardware issue.
A. Software-related factors
Incorrect/invalid settings, update bugs, random app glitches and system errors are usually among the common triggers.
If the problem started after altering or customizing the system settings, then it's likely due to some invalid or conflicting settings on the phone. In the case where the camera app started to glitch after installing a new update, then it could be due to an iOS bug. Or it could be just a random glitch transpiring in the camera app due to a firmware crash.
Ruling out each of these possible triggers will help resolve the issue unless hardware damage is present.
B. Hardware damage
This is often the case if your iPhone was accidentally dropped or exposed to some sort of liquid. Unfortunately for camera issues that are tied to physical and liquid damage, a technician's aid would be necessary. That said, you will need to take your iPhone to the nearest Apple-authorized service center for further hardware diagnosis and/or repair. If your iPhone is still under warranty, then you better avail for warranty first.
Troubleshooting iPhone 13 camera keeps crashing issue
Performing the following tweaks can help rule out software-related factors that trigger the iPhone 13 camera app to crash. Try these before taking a trip to a service center.
Before you begin, verify and ensure that your iPhone still has ample storage space. Apps usually succumb to performance issues like random crashes when the device is running low on storage.
If storage isn't the problem, then you can start eliminating common culprits from within the iPhone system with these methods.
First Workaround: Clear all background apps.
If you've left a lot of apps open or running in the background, chances are that any of these apps has gone rogue and eventually caused conflicts when using the camera app.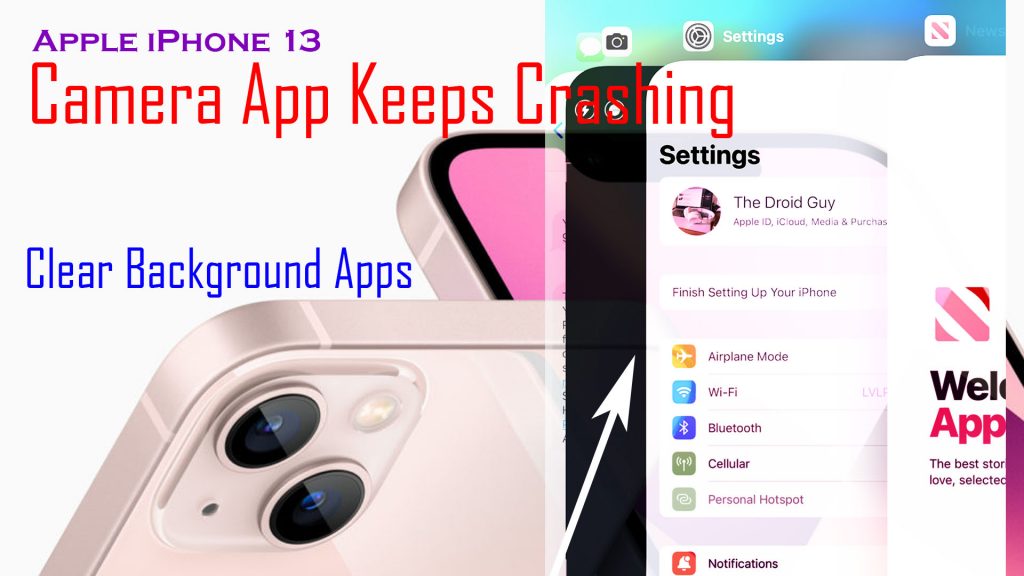 To clear this out, close all background applications including the camera app on your iPhone 13 with these steps:
Swipe up from the bottom corner of the screen to launch the app switcher/viewer, containing the previews of all apps  you've recently used and left open/running in the background.
To close individual running apps, just swipe up on the app preview.
After closing all background apps, open the Camera app again and see if the problem is gone.
Second Workaround: Soft reset/restart your iPhone.
Another simple solution to minor app problems caused by some random firmware glitches is a soft reset or iPhone reboot.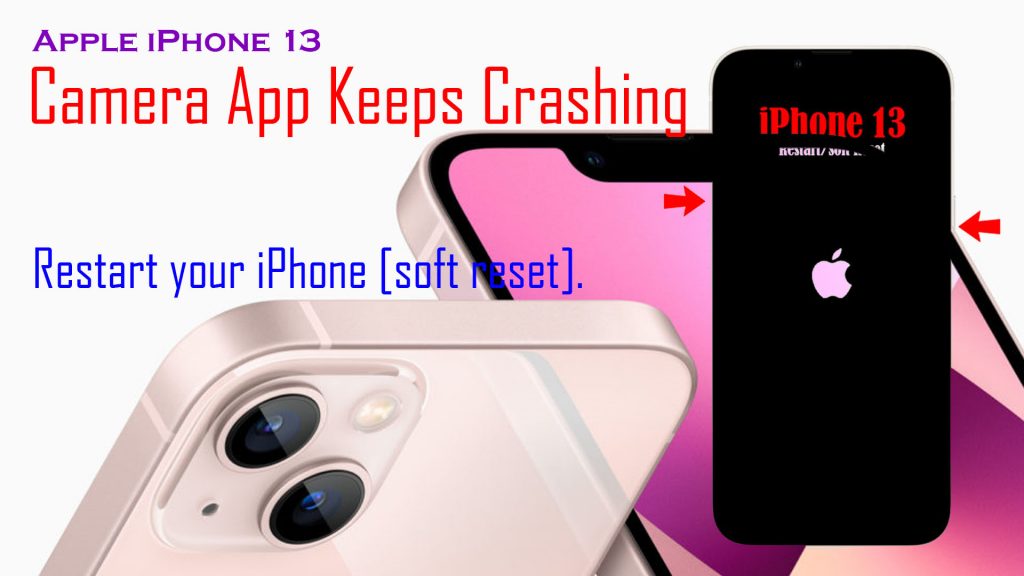 Restarting an iPhone can help clear out the iOS system cache along with any existing firmware errors that make the camera app crash. This process does not affect any saved data on the iPhone storage so there's no need to back up files. To soft reset an iPhone 13, just follow these steps:
Press and hold the Power/Side button and either Volume buttons for a few seconds and then release when the Power off slider appears.
Then, drag the slider to turn your iPhone completely off.
After 30 seconds, press and hold the Side button again until the Apple logo appears.
Wait for your phone to get past the Apple logo screen and finish the boot sequence and once it's up, test to see if the iPhone camera app is already working properly.
Third Workaround: Install pending app updates.
In some problems, the problem isn't actually with the build-in camera app itself but rather on outdated third-party applications. It's possible that any of these apps gets rogue and eventually causes conflicts to other apps in the system including the preloaded camera application.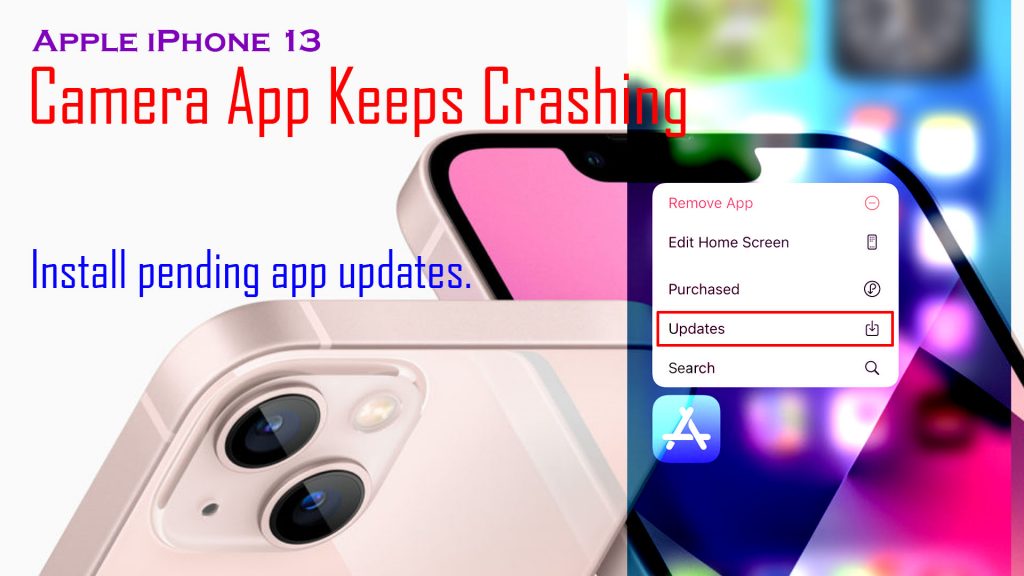 This is usually the case if the problem started after installing a new firmware update. To clear this out, check your iPhone for pending app updates to download and install. Here's how:
Go to your iPhone Home screen or App library and then long-press the App Store icon.
Select Updates to continue.
If multiple app updates are available, tap Update All. Otherwise, tap Update next to each app to install new app updates individually.
Alternatively, you can view and install pending app updates by launching the App Store. While on the App Store main screen, tap on your profile picture on the top-right corner. On the next menu, you will see all available app updates for you to download and install.
Just make sure that your iPhone has ample storage, sufficient battery life and stable internet connection to avoid bumping into some problems while updating apps.
After updating apps, restart your iPhone to refresh all apps and implement recent software changes.
Updates that are rolled out by app developers usually contain essential patches to fix existing errors that make certain apps unstable. Thus, keeping all your iPhone apps up-to-date is highly recommended to ensure optimum app performance and system stability.
Fourth Workaround: Reset all settings on your iPhone.
Performing this reset is usually needed if the problem is tied to some errant settings or misconfigured options on the phone. This reset is usually recommended before performing a factory reset. It works by deleting all your recent settings and then restores the original values. It doesn't affect user data so you won't lose any critical information afterwards.
Just follow these steps if you wish to give it a shot: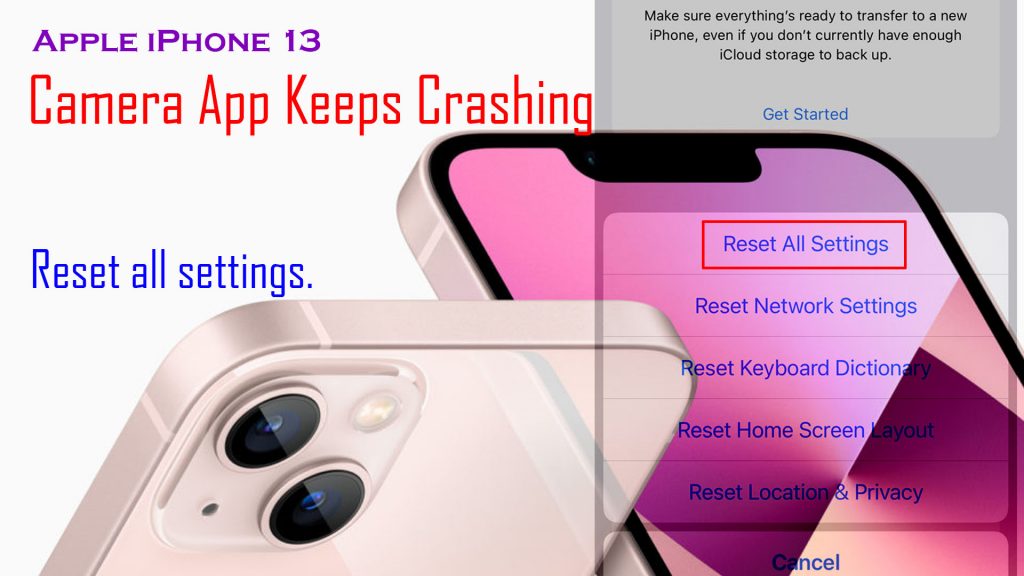 Go to your Home screen and then tap the Settings icon to open the iPhone Settings app.
While on the Settings app menu, tap General.
On the next menu, scroll down and tap on Transfer or Reset iPhone.
Tap Reset to proceed.
Then, select Reset All settings from the given options.
If prompted, enter your device passcode to confirm action and then tap Reset settings to proceed.
Follow the rest of the onscreen prompts to reset iPhone settings.
After the reset, your phone reboots by itself and then restores all the original or default values.
Fifth Workaround: Factory reset your iPhone (master reset).
A factory reset is deemed among the drastic solutions to address recurring system issues including camera app problems on an iOS device. This reset will wipe everything from the iPhone storage and then restore the device to its factory state. All downloaded apps and saved contents will then be deleted. Stubborn system bugs and fatal errors causing the camera app malfunction will likewise be obliterated in this reset. But before you proceed, be sure to back up all your important files to iCloud or in iTunes so you'd still be able to recover them later.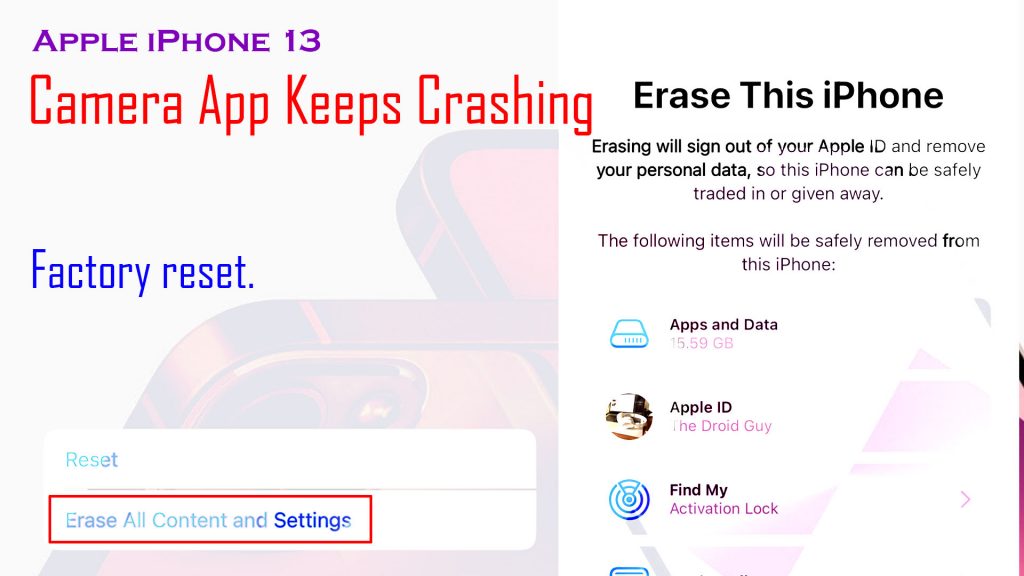 Once you've got everything set, you may proceed with these steps:
From the Home screen, tap the Settings icon to launch the iPhone Settings app.
On the iPhone settings menu, tap General.
On the next menu, scroll down and tap on Transfer or Reset iPhone.
Tap Reset to proceed.
Then, select Erase all Content and Settings from the given options.
If prompted, enter your device passcode to confirm action and then tap Reset settings to proceed.
The entire reset process may take several minutes depending on the amount of data to wipe from your device.
Just follow the rest of the onscreen prompts to finish the entire reset and then allow your iPhone to restart as new.
After it reboots, you can use the setup wizard to configure and activate necessary features like the first time.
Is your iPhone camera working already?
Normally, software-related issues in iOS devices can be resolved by any of the aforementioned procedures given that no hardware damage is present. Nonetheless, there are also some instances wherein fatal system errors and stubborn bugs are the underlying cause. To deal with these complex system flaws, performing an iOS restore can be regarded among the last options.
There are different types of system restore you can do on an iPhone. You can start with the basic iOS restore through iTunes, recovery mode restore or DFU mode restore, if needed.
Should you wish to troubleshoot further, you can try restoring your iPhone in iTunes and see if that fixes the problematic camera app.
Restore your iPhone in iTunes.
An iPhone restore will delete all your saved information, downloaded apps and files, and custom settings. Thus, be sure to back up your iPhone beforehand.
As the name implies, this restore is carried out using the iTunes app on a Windows or Mac computer. And here's how it's done:
Go to your computer and launch the iTunes app.
Connect your iPhone 13 to the computer with the supplied USB/lightning cable.
If prompted, enter your device passcode or click on the option to Trust This Computer and then follow the onscreen instructions.
Locate and select your iPhone 13 in the iTunes devices menu.
Go to the Summary panel, and then click on Restore [your device name].
Click on Restore again to confirm action.
By then, iTunes will start erasing your device and then install the latest iOS version available. Just wait until the entire restore process is complete.
After your iPhone restores all the default settings, you can proceed with the initial setup process and set it up as new or restore from a backup.
If the problem continues after restoring your iPhone in iTunes, then you can try performing a recovery mode restore next. This method is deemed among the advanced solutions to deal with fatal system issues in iOS devices. It puts your device in a recovery state and then restores the system through iTunes.
Use iPhone repair tools to fix your iPhone camera.
Aside from iTunes, there are also a lot of other iPhone repair tools you can use to fix a recurring issue, particularly the ones that are software-related.
Just like iTunes, these tools can be downloaded and installed on a compatible computer either for free or via one-time purchase.
Among the most reliable brands for this purpose include FonePawiOS System Recovery, Dr. Fone – System Repair, JoyoshareUltFix, Phone Rescue, PrimosyniOS system recovery, iSkysoft Toolbox – Repair (iOS), and FoneLab-iOs system recovery, to name some.
Just download and install your preferred software on your computer. Once you've got it all set, just connect your iPhone to the computer using the Apple-supplied USB/lightning cable. Launch the software and then start repairing your iPhone using the built-in commands.
These tools are typically programmed to deal with major iOS issues including those that trigger recurring camera symptoms.
Hope this helps!
Please check out our YouTube channel to view more tutorial and troubleshooting videos for popular iOS and Android devices.
You Might Also Want To Read: