This is a comprehensive guide on how to make the most of your iPhone XR's Bluetooth feature. New to iOS and need help with iOS 13 Bluetooth pairing? If so, then this post is for you. Keep reading for more information.
The transmission of data or voice over short-distance is made possible with the use of a short-range wireless communication technology called Bluetooth. Devices such as smartphones, computers, laptops and other audio accessories are able to transmit and share data through this wireless technology instead of using the traditional USB cable connection. Before you can use your iPhone's Bluetooth feature, there are a few things that you need to note and requirements to meet.
Getting started with Bluetooth pairing on iPhone iOS 13
The following are main requisites you should meet in order to successfully pair your iPhone with a Bluetooth accessory:
Make sure that the Bluetooth on your iPhone XR is enabled.

The Bluetooth device that you want to pair with your iPhone XR must be turned on and in discoverable mode.

The Bluetooth device that you're trying to pair with should be compatible with your iPhone XR and iOS 12 or later platform.

The distance between devices should not be less than 200 feet and up to 800 feet. Thus, it is important to consider the distance range of your devices when pairing.
If all the aforementioned criteria are met, you're all set to start pairing your iPhone XR with your Bluetooth-enabled device/accessory.
How to Enable/Disable Bluetooth on your iPhone XR settings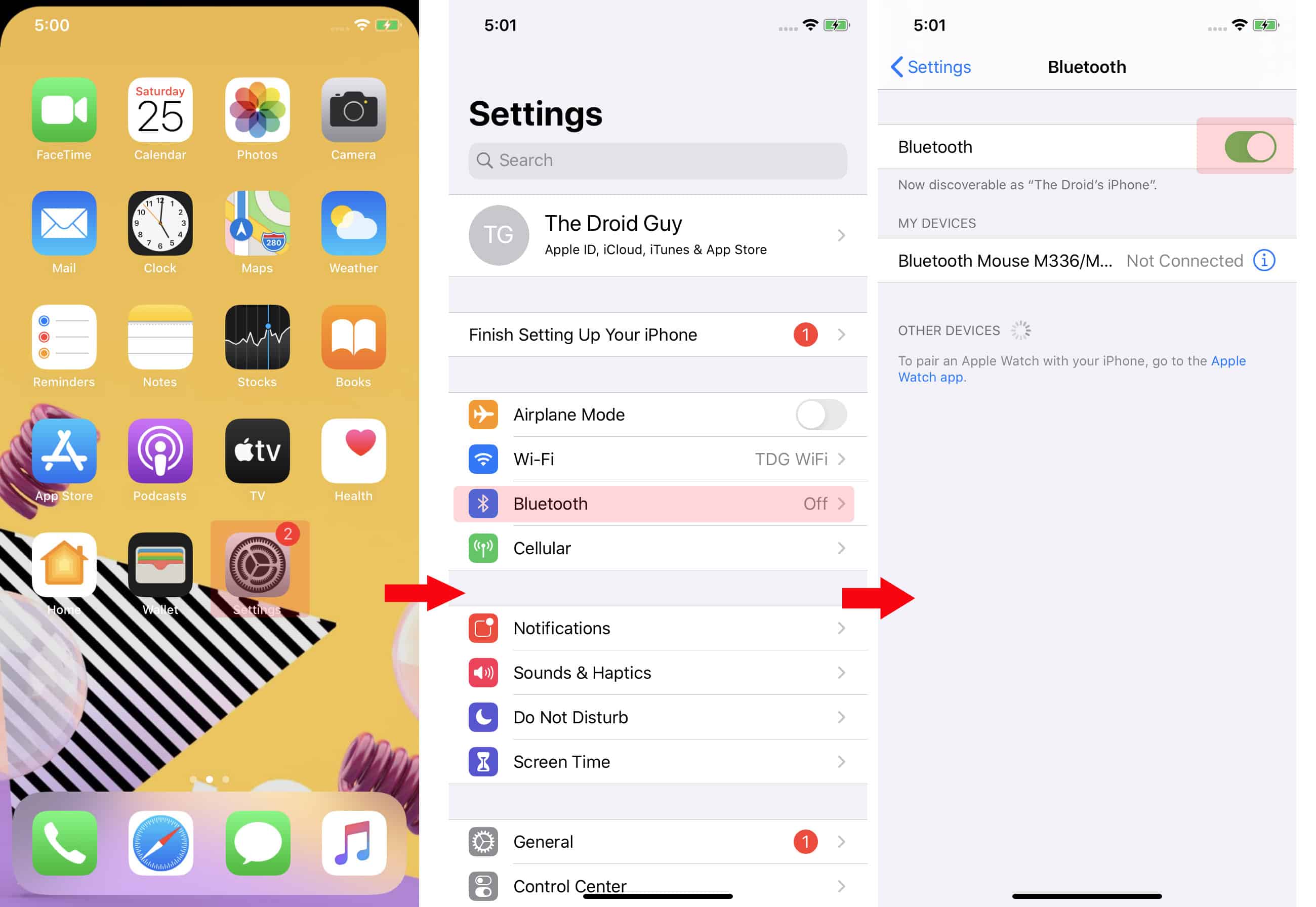 Before you can pair your iPhone with any Bluetooth accessories, you will need to enable the phone's Bluetooth feature first. In case you need help on how to get started, simply refer to these steps:
From the

Home

screen, go to

Settings

.

Then, select

Bluetooth

.

Then, toggle the switch or Bluetooth indicator to turn the feature

ON

.
When enabled, you should see a list of saved Bluetooth devices on your iPhone XR. If you don't see the Bluetooth device that you want to pair with your iPhone XR, check on it and make sure that it's turned on, in discoverable mode, and within the specified distance from your iPhone.
How to Pair your iPhone XR with a Bluetooth-enabled accessory
If Bluetooth is already enabled on your iPhone XR settings, find the Bluetooth device in the list of Available Devices. Once you found it, proceed with these steps to begin pairing:
From the

Home

screen, go to

Settings

.

Then, select

Bluetooth

.

If the Bluetooth is already turned

on

, check the list of the available devices. Then, select the Bluetooth device that you want to pair with your iPhone XR.

Once a device has been selected, you will be prompted to enter a passcode. Enter the correct

PIN

and then tap

Pair

. The default passcode

0000

(four zeros) or

1234

shall be used when you haven't set up one. You can also check your Bluetooth manual for details.

On the other device that you will be pairing, tap

Pair

or

Accept

when prompted.
Once the pairing process is successful, check if the feature is working well by sending photo or file to the other device.
How to unpair iPhone XR from a Bluetooth Device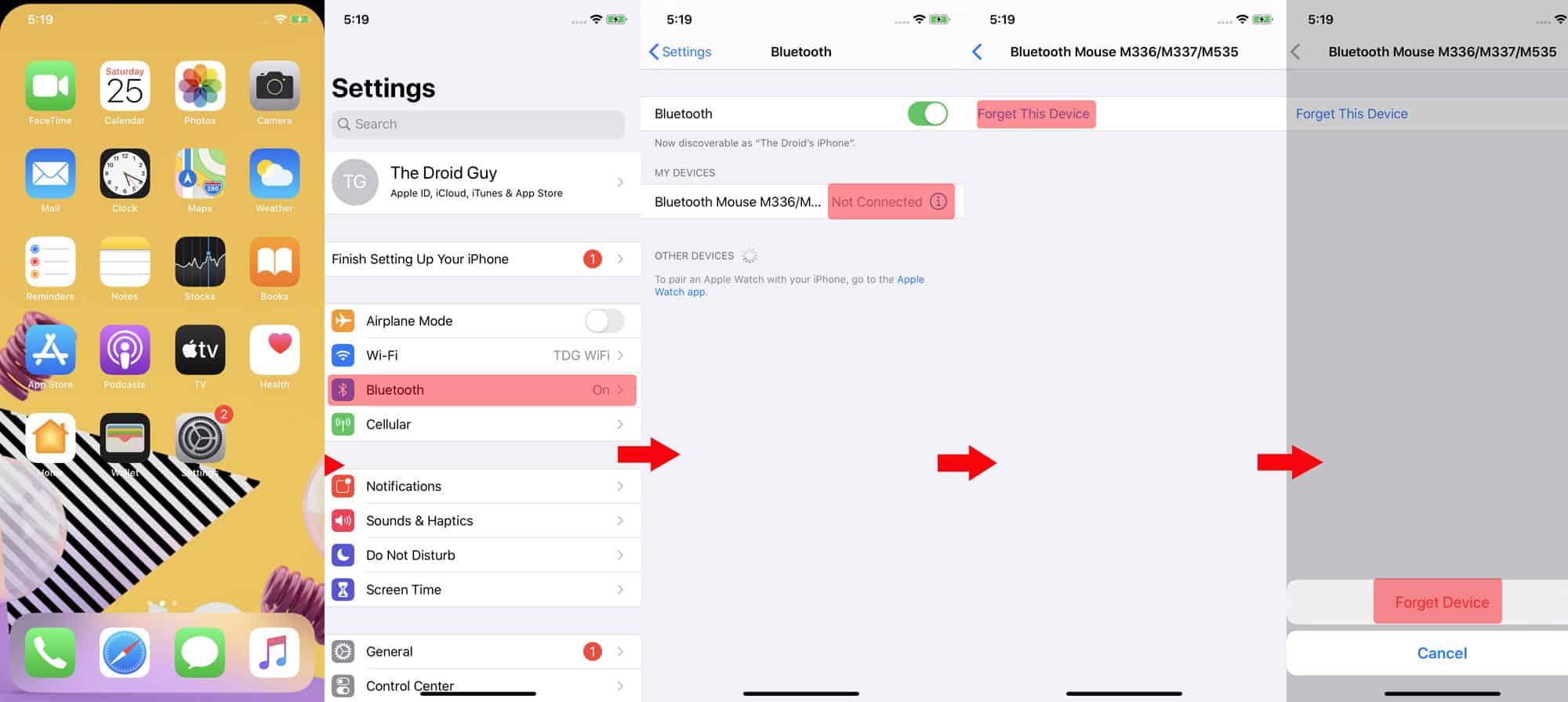 Having multiple Bluetooth devices in your iPhone's Bluetooth folder can also result in some pairing issues with other new accessories in the future. Hence, it is also imperative to delete those devices that are no longer useful. To following steps will walk you through unpairing and removing a Bluetooth device/connection from your iPhone XR:
From the

Home

screen, go to

Settings

.

Select

Bluetooth

. All saved Bluetooth devices will show up if the Bluetooth switch is turned on.

Select the device that you want to be deleted or removed by tapping the small letter (

i

) icon next to it.

Next, tap

Forget This Device

.

Tap

Forget Device

to confirm.
Turning off the Bluetooth feature will only disconnect the paired device from your   phone. Thus, the paired device's name will remain in the list and may still interfere with your current Bluetooth connection. To remove or erase these devices completely, you will need to Forget these devices using the above steps.
Bluetooth is not only useful in terms of sharing important files, audios or for gaming purposes, but also for safety precautions when driving, attending business meetings, or answering calls in crowded places. In these instances, using Bluetooth is therefore deemed as better, if not the alternatives.
Hope this simple Bluetooth pairing guide is able to help! Stay tuned for more comprehensive iPhone guides to be available soon on this site's tutorials section. If you encounter some troubles when trying to set up Bluetooth on your iPhone XR, you can also refer to our troubleshooting guides.
We would appreciate it if you helped us spread the word so please share this post if you found it helpful. Thank you so much for reading!
ALSO READ: