This post will walk you through syncing contacts on a Samsung Galaxy smartphone to a registered email account. Here's a quick guide on how to sync account contacts on Samsung Galaxy A53 5g.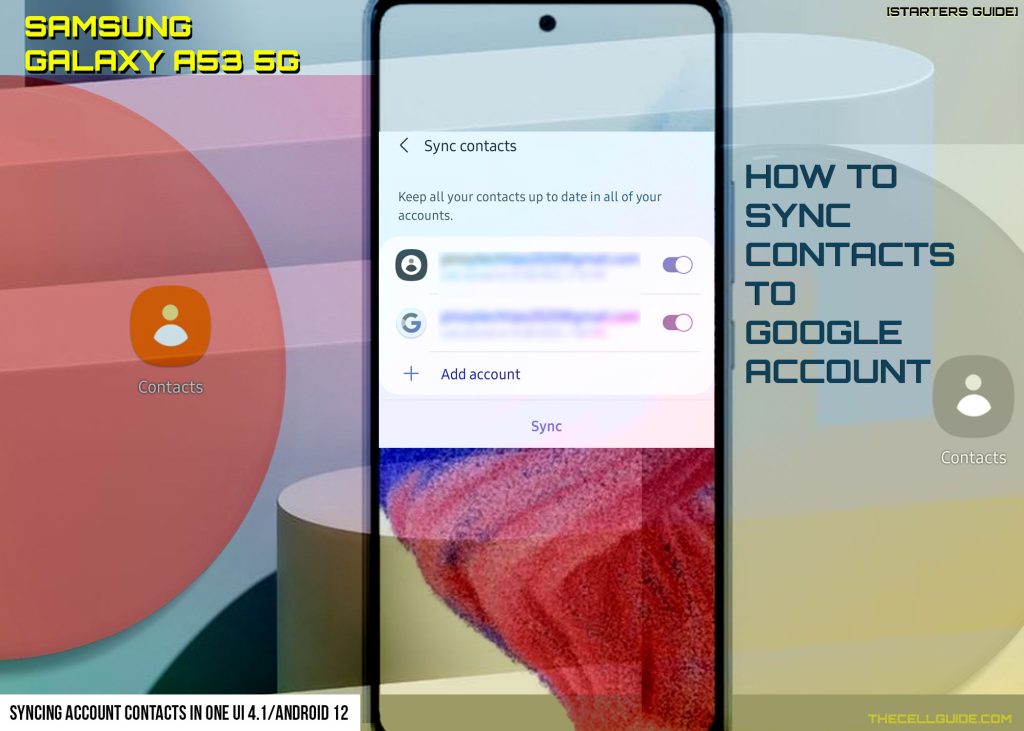 Syncing Account Contacts in Samsung Devices
One of the first things you need to set up on a new Android phone is a Gmail account. This is imperative for you to sync account-related information like contacts between your phone and the email service or vice versa.
Syncing data from your device to your Google account also allows you to personalize your experience in other Google products. The same thing happens when you sync information on all your devices with your Samsung account.
One of the common information that Samsung phone owners synced with their registered accounts are the contacts. This allows them to access their contacts on any other device for as long as the account syncing feature is enabled.
For example, your Samsung Galaxy phone can sync contacts with various services so you can check and use your contacts saved in your Google account through syncing. To make the syncing a success, your device must be connected to the internet.
Outlined below are the steps depicting the actual process of syncing account contacts on the Galaxy a53 5g smartphone. You can refer to this guide if you own this device and need some help syncing contacts.
Steps to Sync Account Contacts on Samsung Galaxy A53 5g
When your contacts are synced to your Google account, all contacts in your account will likewise sync automatically and become accessible on your device for as long as you login to your Google account.
Before you proceed, verify and ensure that your device software is updated so that all the latest system enhancements and new services are implemented.
Also be sure to back up your account contacts beforehand. To do this, log into your Google account in the web browser and back up your contacts before syncing. This is highly recommended because there's a chance that contacts would be deleted due to syncing errors. When that happens, there's no way for you to recover or retrieve deleted contacts.
Once you've got everything set, you may go ahead and begin syncing contacts to Google on your Galaxy A53 smartphone:
Step 1: Tap Contacts from the Home screen or Apps viewer to launch the Samsung Contacts app.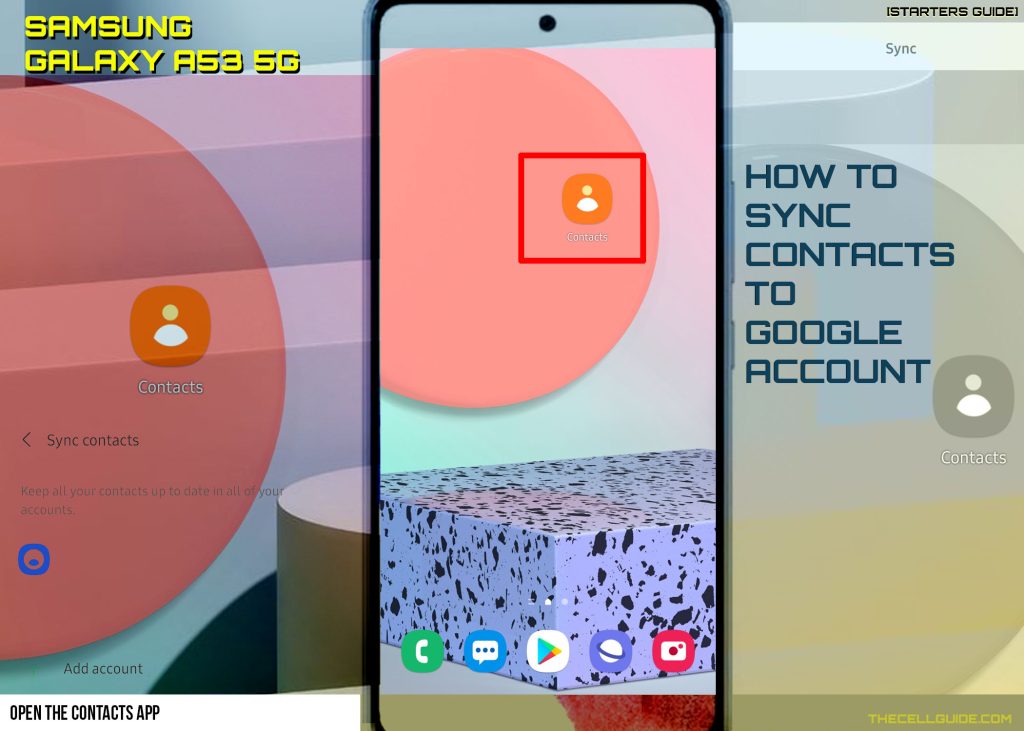 Step 2: In the Contacts app menu, tap the three short horizontal lines (Menu icon) on the upper-left corner. Doing so opens a side menu with a list of relevant options.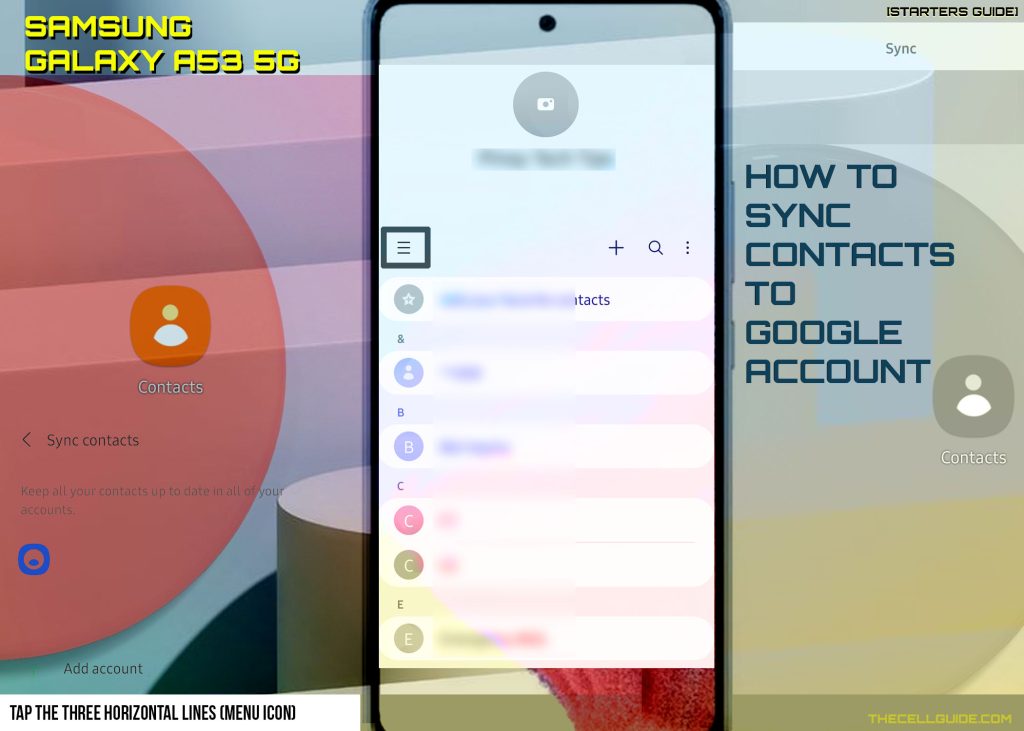 Step 3: Find and then tap Manage Contacts to continue.
Step 4: On the next screen, tap the option to Sync contacts. Another menu opens, with a list of all registered accounts on the device.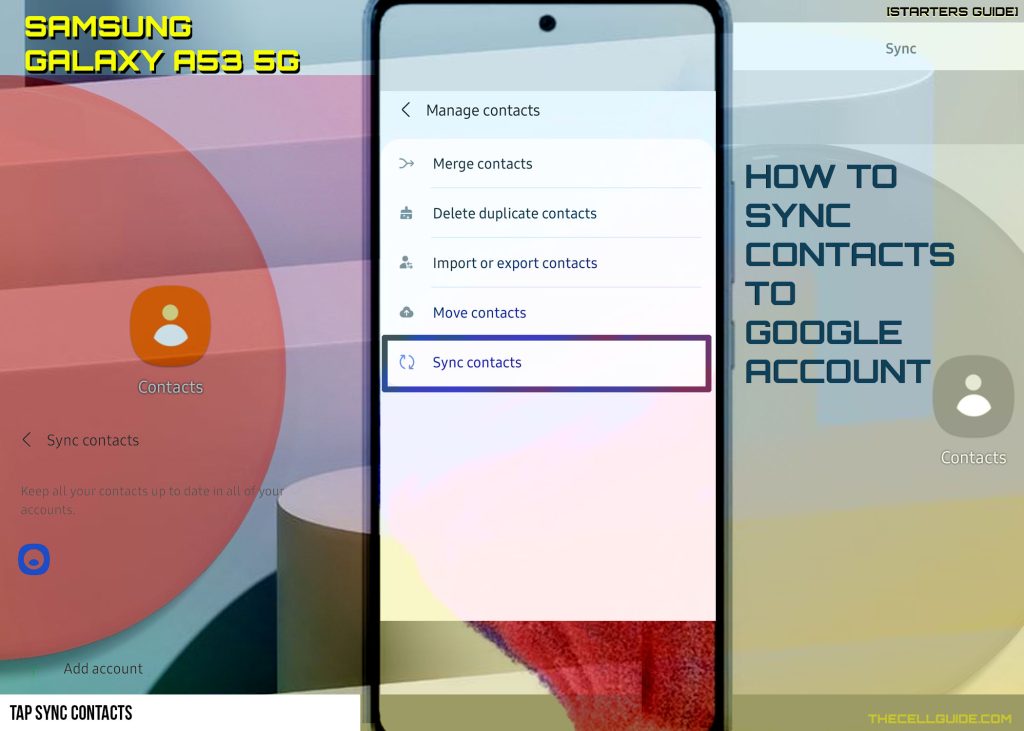 Step 5: Tap to enable the switch next to the preferred Google account that you'd like to sync contacts with your phone.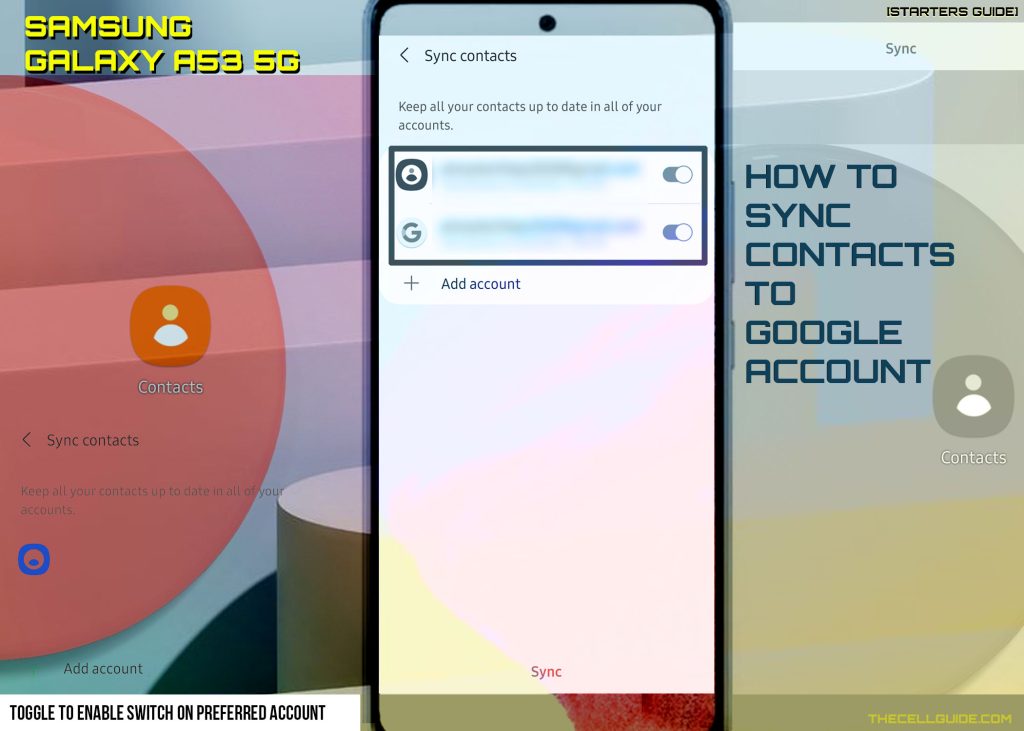 If the desired account isn't added yet, tap Add account then follow the rest of the onscreen prompts to manually add your account.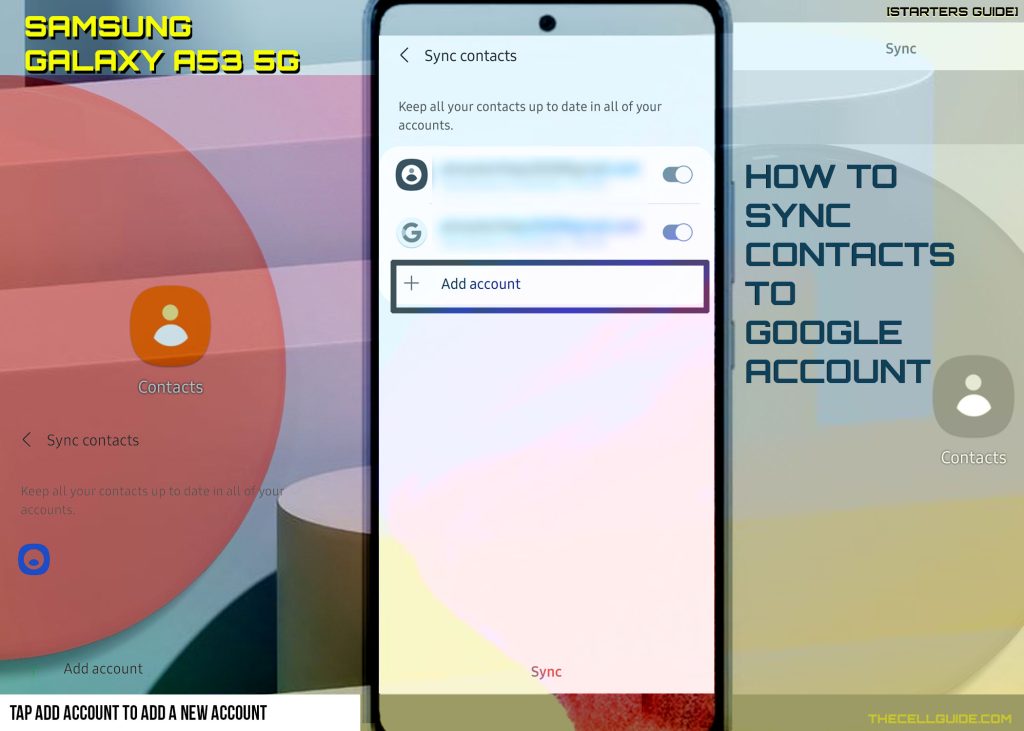 Note: You can add multiple Google accounts and sync contacts from these accounts on your device.
Step 6: After enabling the preferred Google account, tap Sync at the bottom to start syncing your contacts.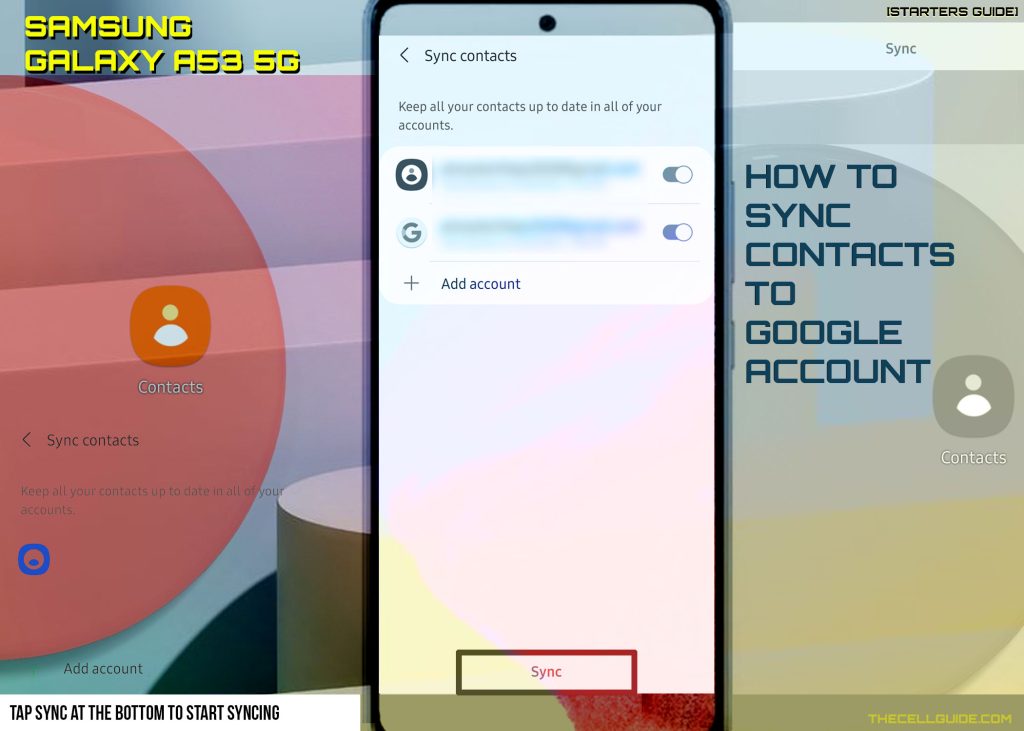 Just wait for the synchronization process to complete. When it's finished, all contacts saved in your Google account are imported into the Contacts app on your phone. The synced contacts will be added in the existing list of contacts saved on your phone.
The Last synced date will also be changed to the current date and time. This information is found under the selected email account.
The above steps are also applicable when syncing contacts to Google on other Samsung phones running on Android 12 with One UI 4 or later OS version.
Setting Google Account as new contacts default storage
Should you wish to set your Google account as the default storage location for every new contact added to your phone, you can configure the default storage location from the Manage contacts menu.
Just access the Manage contacts menu then tap Set default storage location. On the succeeding menu, select the Google account that you'd like to set as default storage for new contacts.
Your phone will then sync with your contacts in your Google account. The recently added contact will then become visible from your Google account whenever you login to it via web browser.
This information is accessible through the Contacts menu from the Contacts and Shared information section on your Google account.
If you're having trouble syncing contacts, make sure that your phone is connected to the internet and is signed into the correct Google account. Restarting the phone can also help should the error be due to some random in-app bugs or system glitches.
And that's all about syncing contacts to a Google account on a Samsung Galaxy A53 5g smartphone.
Hope this helps!
Please check out our YouTube channel to view more tutorial and troubleshooting videos for popular iOS and Android devices.
You Might Also Want To Read: