This post will walk you through restoring the network defaults on the Galaxy A33 5g smartphone. Read on to learn how to reset network settings on Samsung Galaxy A33 5g.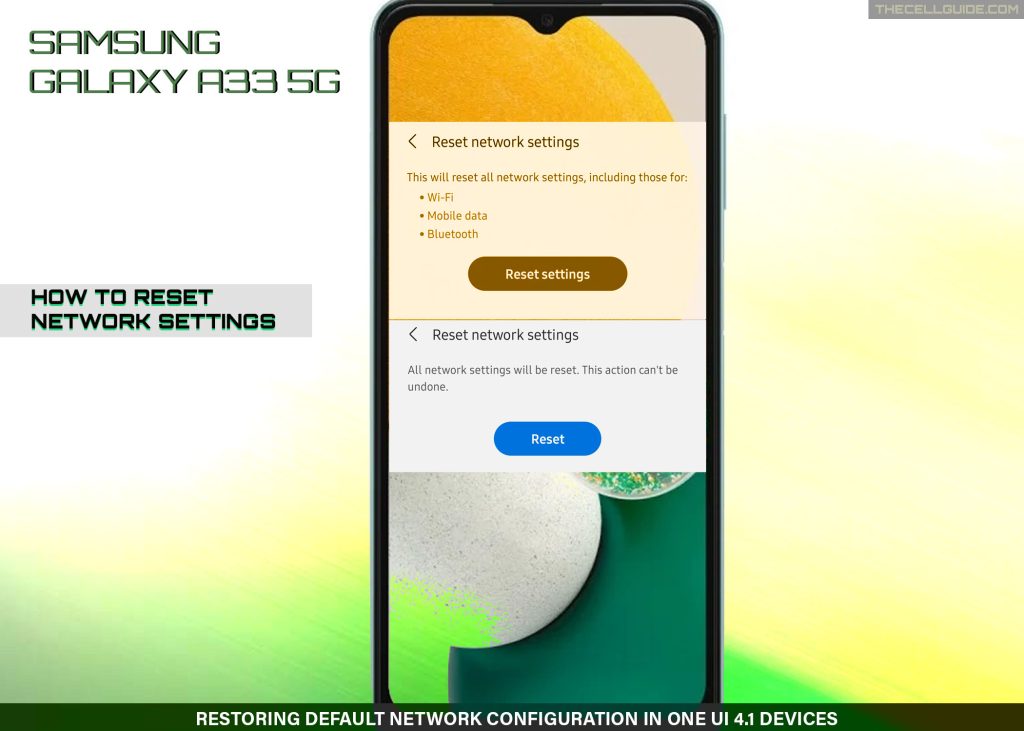 Are the recent network configurations messing up your phone's wireless network functions? If so, then restoring the default network options will likely fix it. Keep reading for more detailed instructions.
Galaxy A33 5g Network Reset
Many built-in network features on a Samsung Galaxy phone are designed to be customizable according to individual user's preferences. This means that the default Wi-Fi settings, mobile data settings, Bluetooth settings, VPN, APN and other relevant features can be altered.
A reset option is also available for users to tap on whenever things go wrong after the network settings alterations.
Listed among other default reset commands in recent Samsung phones including the latest Galaxy A lineups is the option to reset network settings.
When triggered this reset deletes all recent changes made to the phone's default network configurations without affecting any app or user data.
Resetting the network settings on your Samsung device can help resolve various types of network connection problems. It clears out all of your internet, local network and paired device's data.
Performing this reset however deletes all saved Wi-Fi passwords and Bluetooth connections. After the reset, the default network options are restored.
If you're wondering how to execute this reset on your Samsung Galaxy A33 5g device, the following steps will walk you through the entire process. You can use this guide as personal reference whenever you need help restoring the default network configuration on your Samsung phone.
Steps to Reset Network Settings on Samsung Galaxy A33 5g
Restoring network defaults through a network reset does not affect any saved information from the internal storage of your phone. That said, you won't lose any of your downloaded apps and saved files.
Before you begin, make sure that your phone is sufficiently charged. This is imperative to prevent any potential reset interruption due to insufficient power.
Note that an incomplete or unfinished reset could result in unexpected errors particularly on the network system of the phone. Should this happens, network connectivity features may not work as intended. Keep your phone's battery life at 50% if not, fully charged.
Just follow these steps whenever you're all set to reset your device.
Step 1: To get started, open the Settings app. Simply tap on the Settings icon from the Home screen or Apps viewer.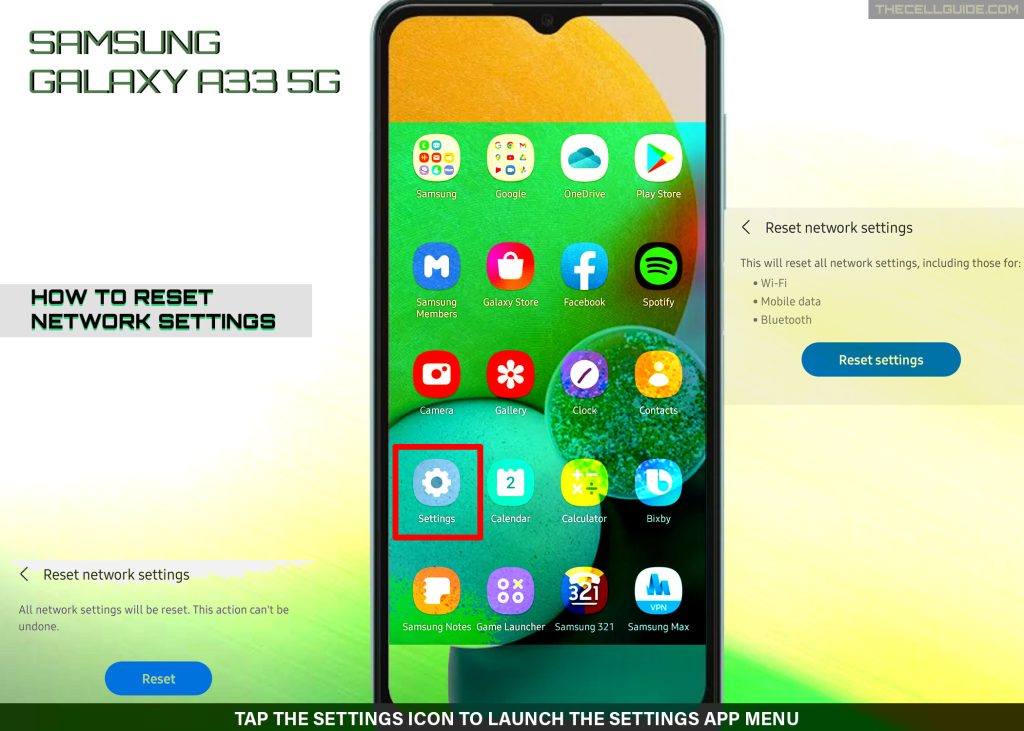 Step 2: While in the Settings menu, find and then tap General management. Another menu opens with a list of relevant features.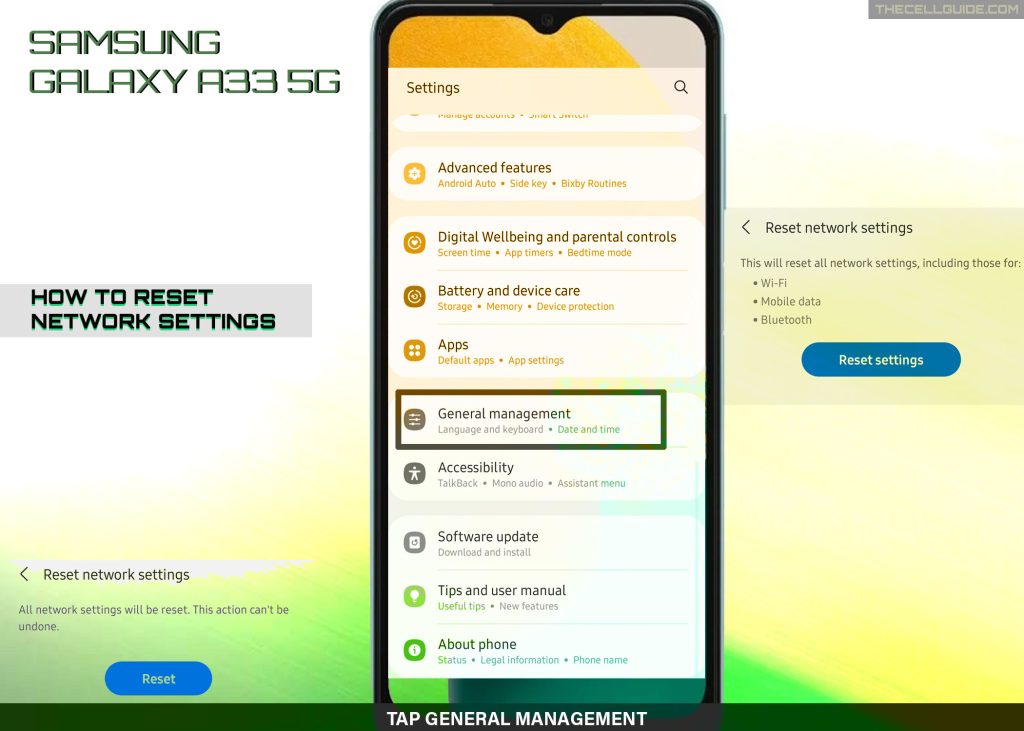 Step 3: Scroll to find and then tap Reset. Different reset options will load up on the next screen.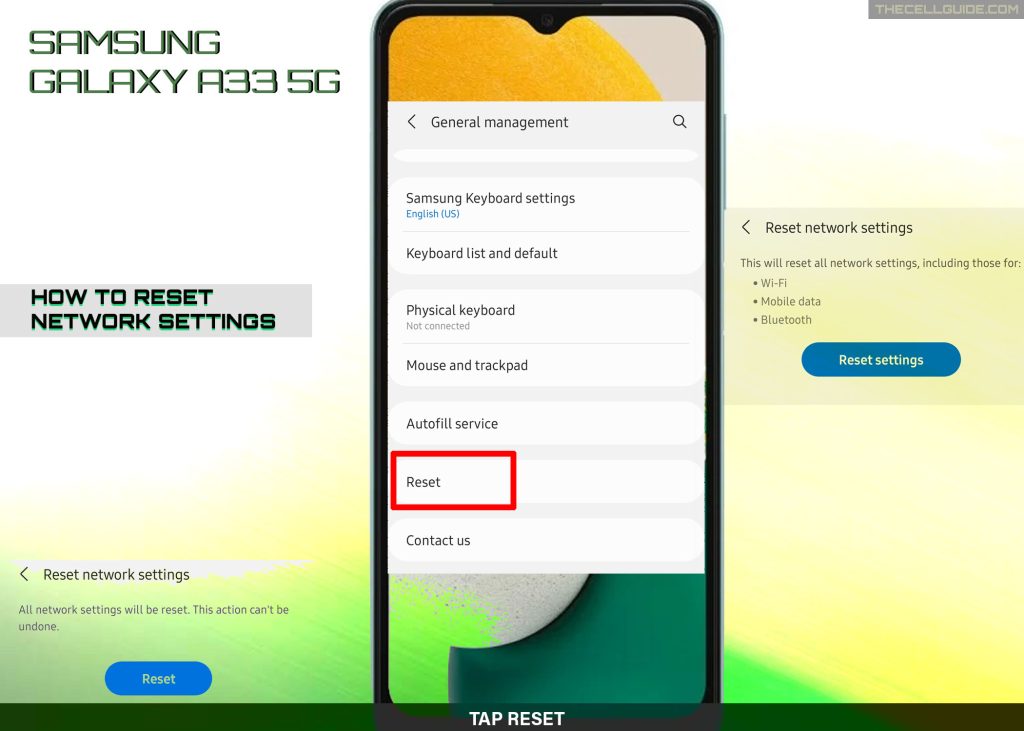 Step 4: Tap Reset network settings to proceed.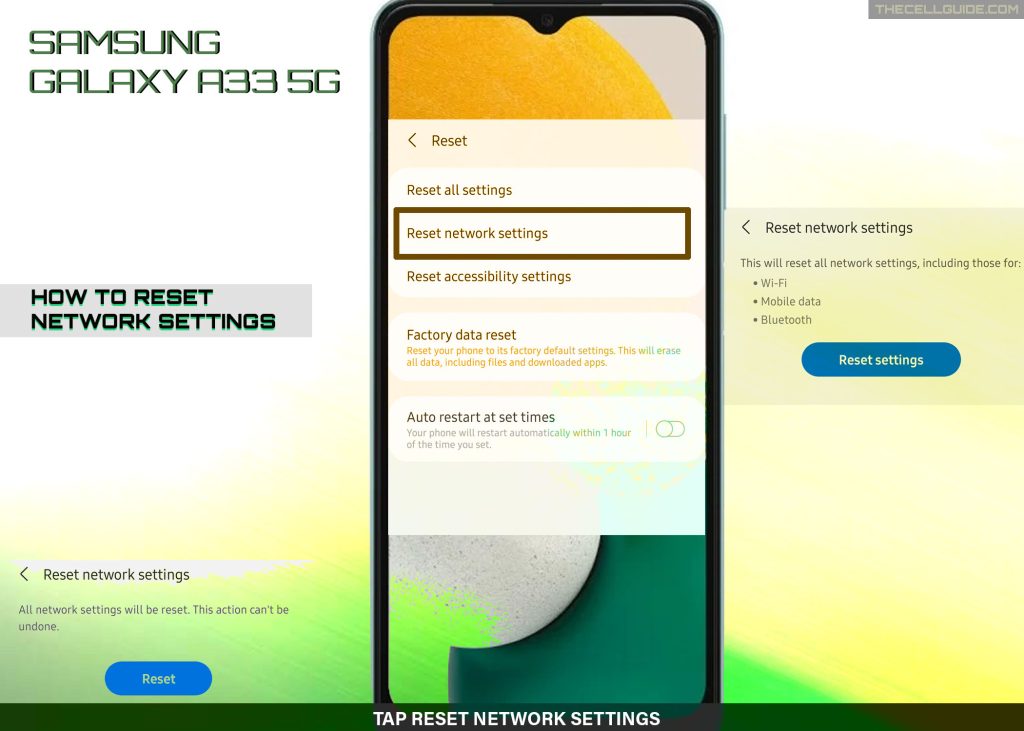 Step 5: More details about the network settings reset will show up next. Read the reset details and then tap Reset settings.
Enter your unlock PIN, pattern or password when asked.
Step 6: Read and review the final warning and then tap reset to confirm.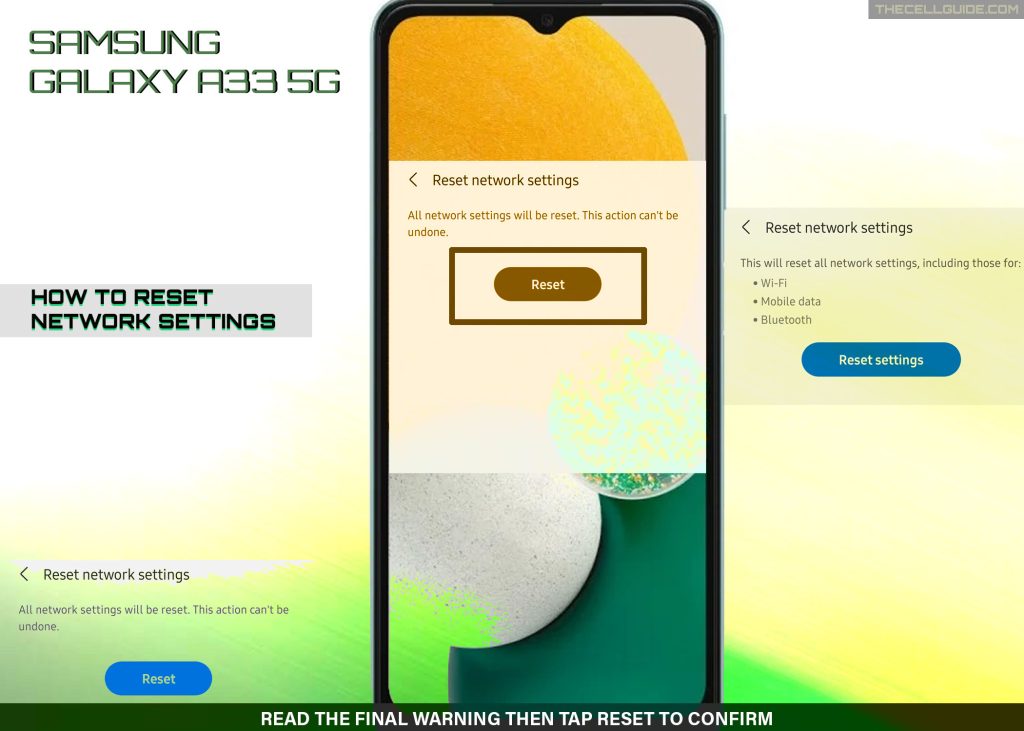 The phone will then start deleting all custom network settings including saved Wi-Fi, Bluetooth, and cellular connections. After the reset, automatic system reboot follows. Just allow your phone to complete the reboot sequence.
All default network options will then be reinstated following the automatic system reboot.
By then you can starting adding and setting up your Wi-Fi network and connect to the internet like the first time. To use your Bluetooth accessories, you'll need to pair and connect them to your phone individually.
The above procedure is also applicable when carrying out a network settings reset on other Samsung Galaxy phones running in Android 12 with One UI 4 or later OS version.
When to reset network settings on the phone?
Performing a network reset is often deemed a potential solution to recurring network issues in mobile devices, particularly those that instigated from a recent software update and after a series of network settings alteration on the phone.
A network settings reset is likewise recommended when dealing with internet connection issues such as slow internet, intermittent or unstable internet access, email sending errors as well as when resolving problems with sending/receiving of messages.
Unlike a factory data reset (factory reset), a network reset does not affect any user data stored on the phone's internal storage and thus, all your important files and documents are safe.
And that's all about resetting network settings and restore default network configuration on a Samsung Galaxy A33 5g smartphone.
Hope this helps!
Please check out our YouTube channel to view more tutorial and troubleshooting videos for popular iOS and Android devices.
You Might Also Want To Read: